On week 3 on our exclusive Steelhead fishing Santa Cruz River we had 4 customers joining us from all around the world. Some had joined us as a dedicated trip and others joined us after a weeks Sea Trout fishing at Las Buitreras.
FISHING REPORT
On arrival everyone was extremely keen to get out the rods and hit the river for the first half-day session. This week we were fortunate to have some very experienced anglers with us. Splitting everyone up into two teams it was time to wet some flies. The afternoon provided some mixed results, lots of fish were seen which is always good as it keeps the customers keen and focused for at any minute one could be attached to a Steelhead of a lifetime on the Santa Cruz River.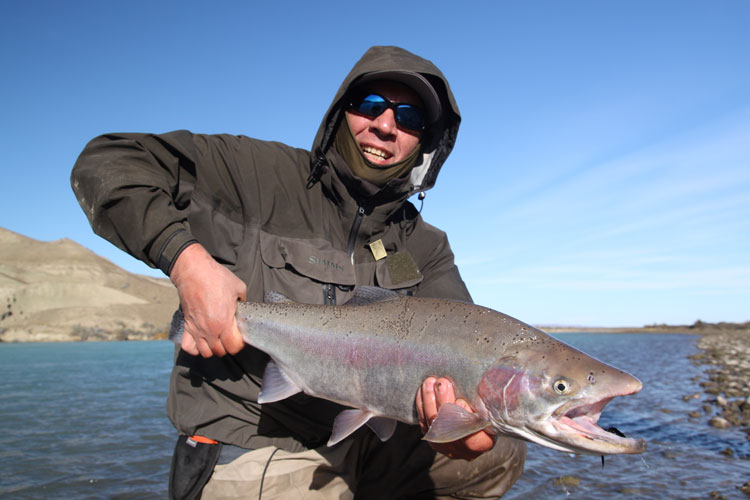 Unfortunately for the first half-day session the competition was all in the favor of the Steelhead as two big fish were hooked quite quickly, but neither of them made it to the waiting net.
The next morning was the dawn of the first full days fishing out on the river, again covering lots of water finding obliging fish our 4 customers managed between them 6 takes with 6 fish on, however this time the odds were turned with 4 of the 6 hooked fishing being landed, photographed and weighed.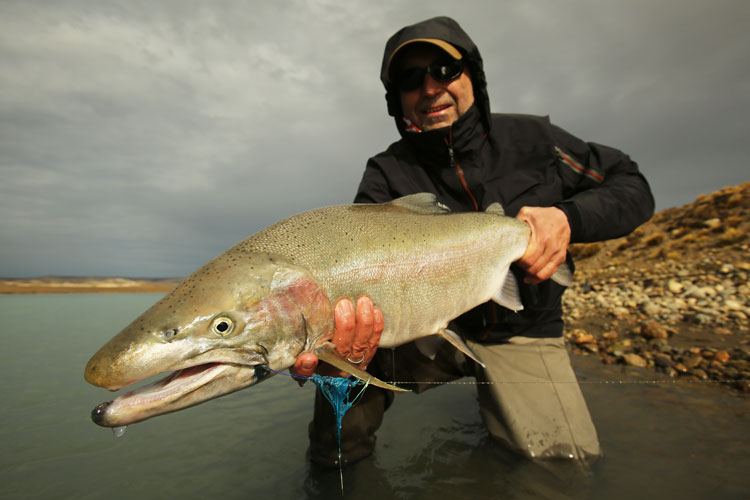 A cracking Steelhead with some very moody sky's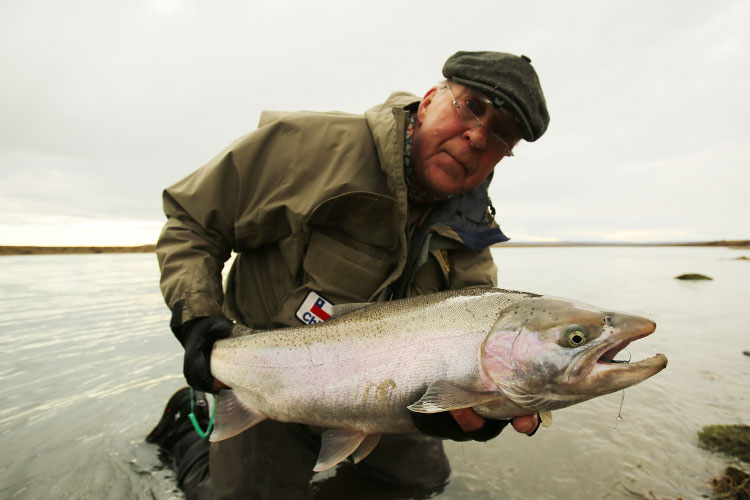 A very happy customer with a stunning Steelhead.
Monday the second full day was very similar with again 6 fish hooked but the odds were equal as 3 fish gave the customers a good beating while 3 fish graced us with their presence.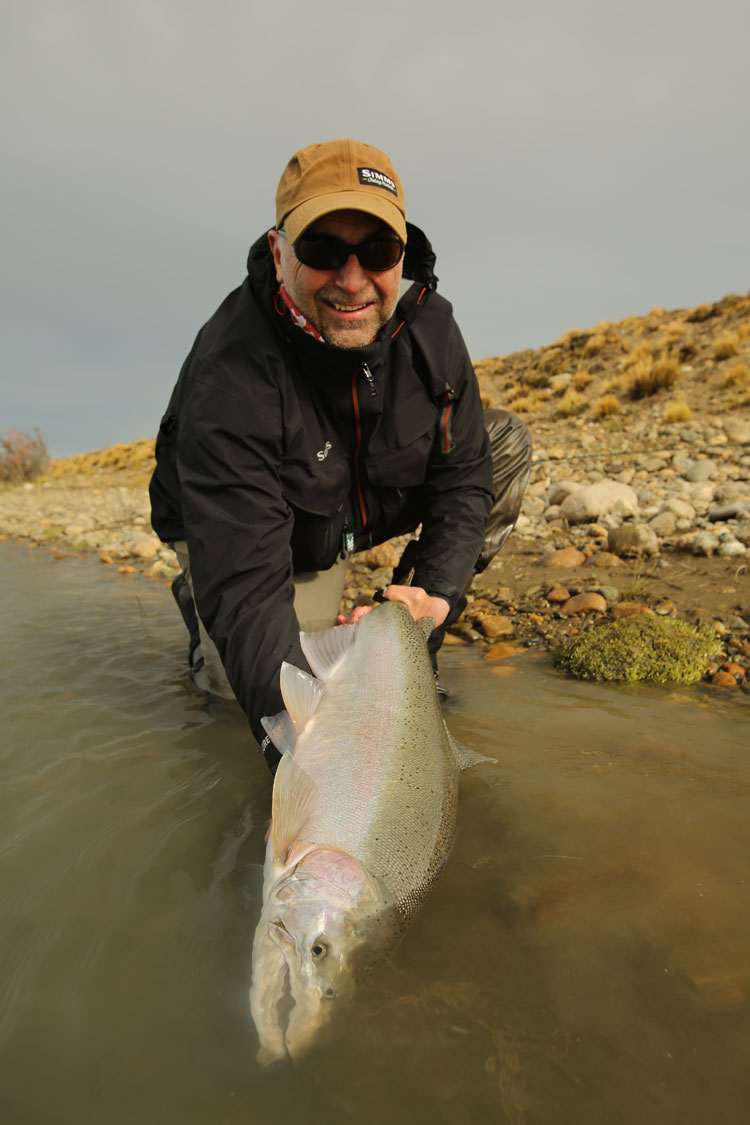 What a clean fish, long and fat, just fin perfect.
In the middle of the week it was time for one of our customers to depart as they were only fishing a half-week session. Their place was taken up by one of our regular customers who was returning for his 5 trip with us to fish for Steelhead in only 2 seasons.
The second half of the week proved much the same with each day plenty of opportunities and fish hooked and also plenty landed. Ending the week with 31 fish hooked and 19 fish landed. For the weekend we then had our good friend Diego and Sven join us for a couple of days fishing, which was perfect timing as the fishing can alive.
THE RESULTS
In total over the 10 days fishing with never more than 4 rods each day fishing:
Steelhead takes: 55
Steelhead hooked: 48
Steelhead landed: 36 
The top rod for the week was Doug with 15 Steelhead Landed giving him an average of 2.5 fish landed pr day he fished, that just goes to show the potential of this amazing river.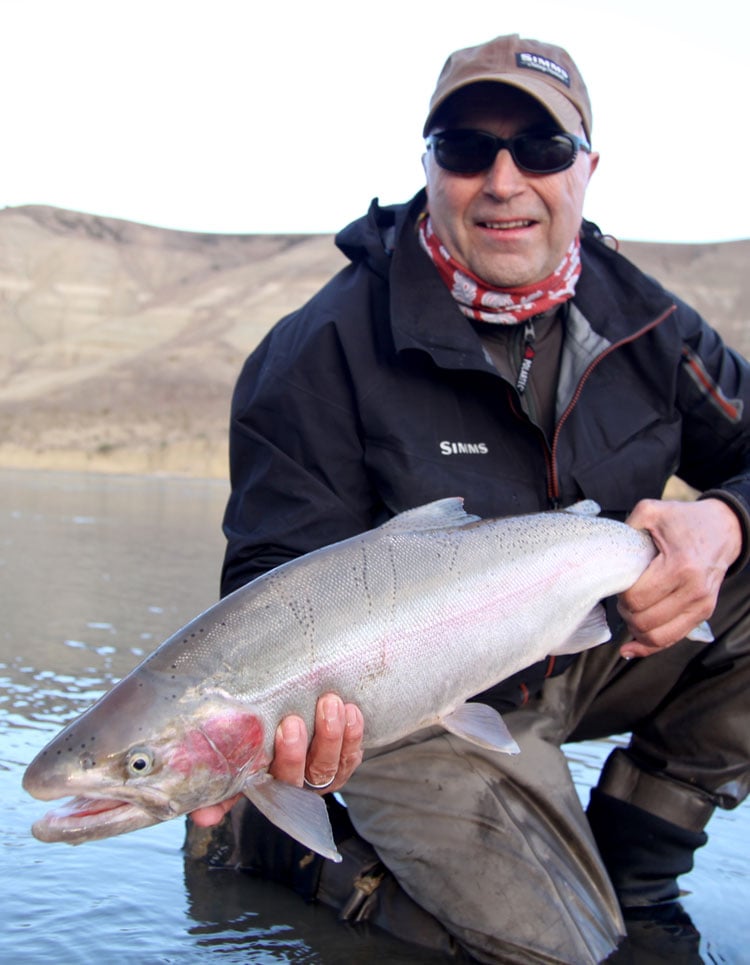 Beautiful fresh Steelhead from the Santa Cruz River
To make sure you do not miss out on fish like this see the full details below.
FULL TRIP DETAILS
If you would like to join us in 2017 Click Here to see the full trip details, remember amazing Steelhead fishing is only a direct flight away. If you have amy questions please feel free to contact me at anytime on 0044 (0)1603 407596.
Regards
Peter Collingsworth