This is the moment that so many of you have been waiting for, the very fist report to come from the one and only live aboard mother ship fishing the pristine Lakshadweep. By the looks of this very detailed report the guys have had one hell of a trip.
Remember, we only have one week left for this 2017 season, which closes April and then re opens end of September 2017. We have set aside two separate weeks, the first in October 2017, which only has one space left and the other in October 2018. These weeks are exclusive to Sportquest Holidays customers as we are aware just how quickly this has sold.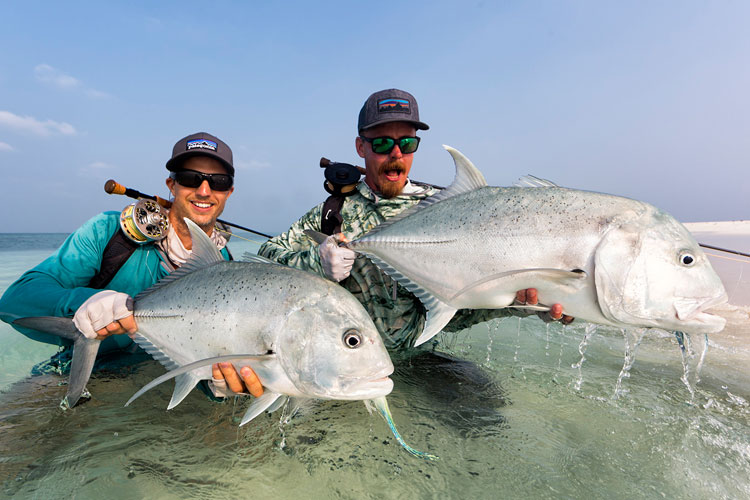 So if you are interested in putting your name down then act fast as these very limited spaces will fill quickly. The dates of these two special Sportquest Weeks will be at the bottom of this report:
FISHING REPORT
The highly anticipated opening and pre-opening week of our Indian Ocean Fly Fishing and Destination Angling Operation based in the pristine Lakshadweep Archipelago just off the coast of India has been a success on literally all ends. Despite the impressive number of species and trophy game fish that our popping and jigging division stacked up, the fly fishing efforts that we put into the scouting paid off with exceptional results…
Before the totally refurbished mother ship "Sawfish" was ready to embark on its maiden voyage towards section 1 & 3, the Solid Adventures Crew around Christer Sjöberg was accompanied by two Swedish guest to supervise the last preparations and to sneak in a couple of casts while doing so. Whilst the last little tweaks on the mother ship shaped out nicely, our transport and fishing boats were utilized to island-hop and fish the nearby areas.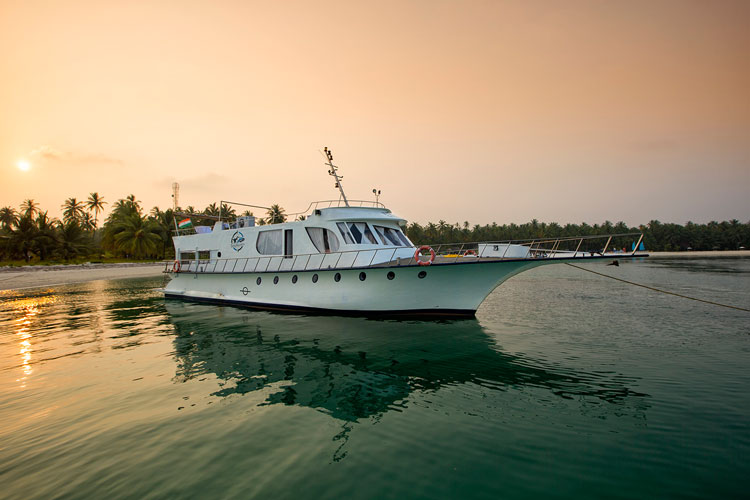 Even before the mother ship embarked on it's mission, Bonefish, GT, Triggerfish, all kinds of Trevallies and the illusive Napoleon Wrasse amongst many others were landed on the fly. Popping and Jigging brought up Yellow Fin Tuna, GT, Wahoo, etc. in the usual good numbers. The course was set for the maiden voyage of the Sawfish!
Lakshadweep Boat and Destination Manager Patrik Lind, will be Solid's arrow head on the frontier line of this undertaking. His hard work prior to the beginning of the season payed off. Upon arrival, the refurbished "Sawfish" was in perfect shape and ready to sail. In charge of the scouting progress, our in-house photographer and head scout, Stephan Dombaj, who will be spending the season on location to continue his previous efforts to find the consistent fly fishing spots for GT, Bonefish and Co. For the maiden voyage into section 1 and 3, we ran the ship with a mixed fly fishing and popping group fully loaded. Known from our GTX Voyages, the Spanish Group around Alex Rios was back in town. Heavily armed with popping, jigging, slow pitch and light spinning gear, Alex, Dani, Didac and Aaron were definitely up for the monster hunt. Aaron, a new face in the group oh his first destination trip was on a mission to land his first GT and excitment levels were high from the get go!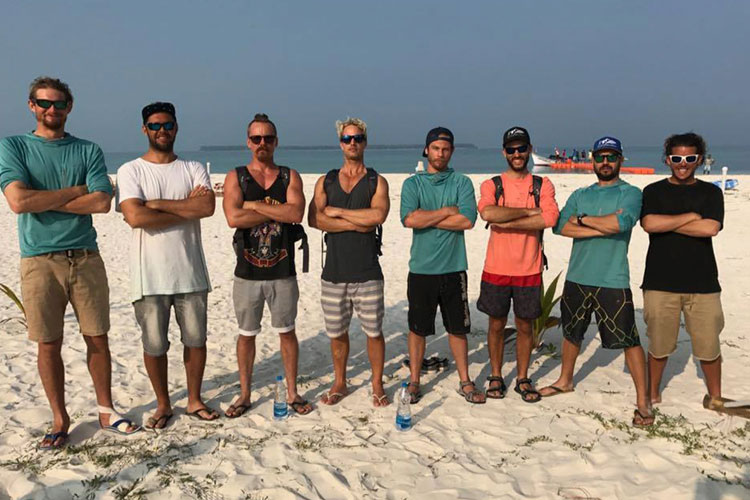 For the flyfishing part, our Solid Adventure Scouts Rickard Sjöberg and Stephan Dombaj teamed up with finish actor and skilled flyfisher Jasper Pääkkönen to explore the inshore fishery that has proven to be absolutely amazing at times. However, having the sites set on Giant Trevally every fly angler who has tried to hunt these guys on flats and shallow areas know just how tricky it can be. Patience and endurance is necessary as well as being able and ready to cast in the blink of an eye. Shots can come when you least expect it and being prepared at all times is key to success!
Weather and Water
Throughout the week, the weather was stable. Hot days with very few clouds, consistent wind from the north-west and strong tides moved a lot of water along the reefs. A massive Jelly fish hatch that hit some of the island so bad that popping in the wrong spots resulted in a Jelly Fish Jam fiesta. The gooey biomass really shut down the fly fishing in some spots (for safety reasons), but didn't affect the activity on the open water much at all. In fact, reef-fish and turtles gathered up to gobble the hatchlings up. The group fished into a ¾ moon that should hit full moon about 3 days into the upcoming week no.3. Only the last Friday of the week was slow and hot without wind and a very calm ocean.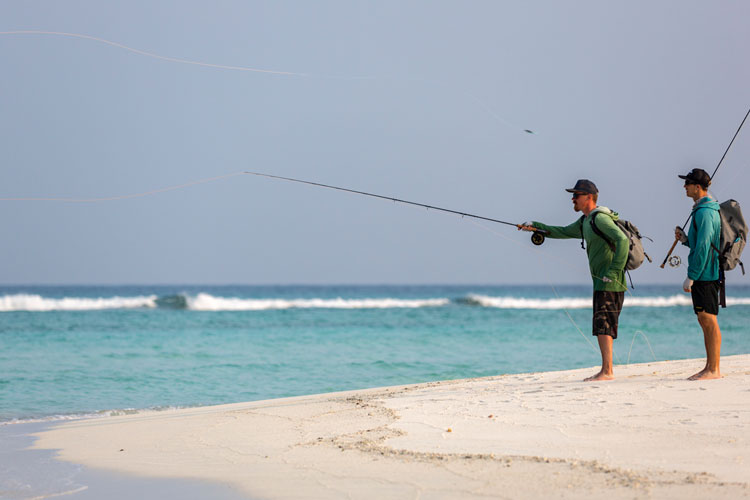 Fishing
Even before the Mothership disembarked, the explorer team managed to get a good bunch of GT's, Yellowfin Tuna, Wahoos, Boha Snappers, Groupers and Dogtooth-Tuna on both Popping and Jigging. A big Sailfish close to the reef managed to shake a Stickbait off after a spectacular first jump and run display. The Fly Fishing Explorers made their time worthwhile, scouting the inshore waters with lighter rods (8-9) to see what else they could turn up. From the spring exploration, we knew GT would roam the flats in good numbers and sizes. Bonefish, Trevallies, Snapper, Parrots, Napoleon, Triggers etc. were the targets and they delivered.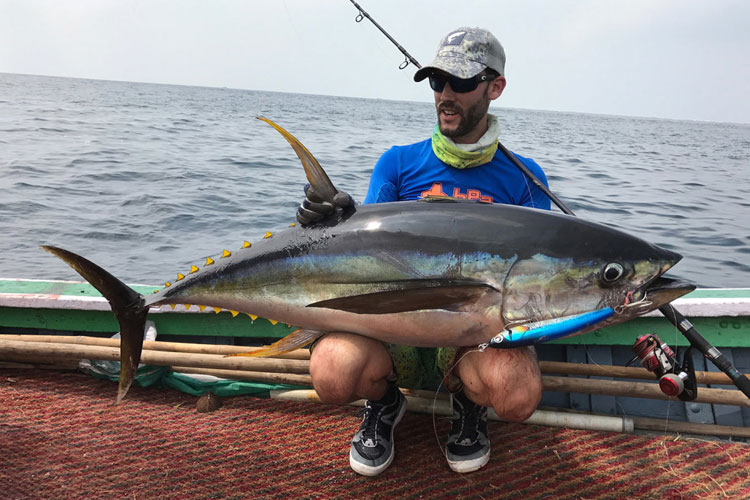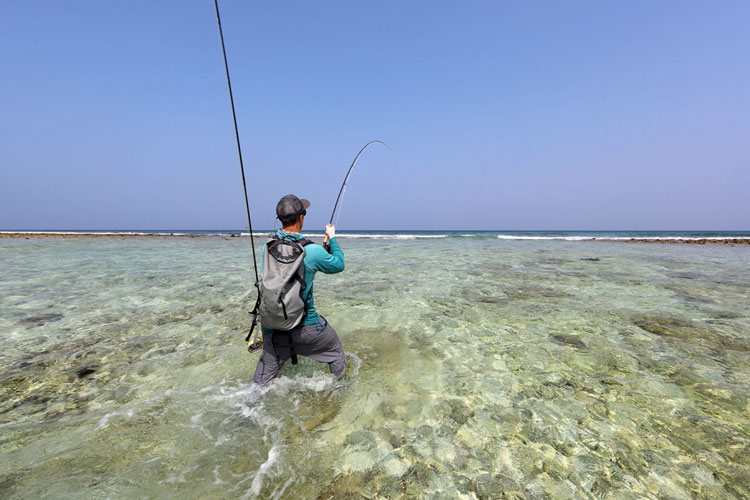 Fly Fishing
Bearing in mind that we are in the beginning of our fly fishing exploits, the number of fish and consistency proofs that we are onto something here. Especially the Bonefish fishing has proven to be not a number but a size game. Especially section 3 has potential to offer you a few shots per day, but these single and double cruisers are low double digit fish! A fish out of a school of approximately 30 fish tipped the scale at 10,5lb. This first encounter with a landed bone in Indian waters left the team baffled. Initially thought to be some other fish surfing the waves and the whitewash, this big bonefish made it into the books and with that changed the game of the flats fishing here. The heavy tides and currents demand a different approach than their Caribbean cousins. Heavier flies, longer leaders to cope with the depth and currents. Stay tuned for more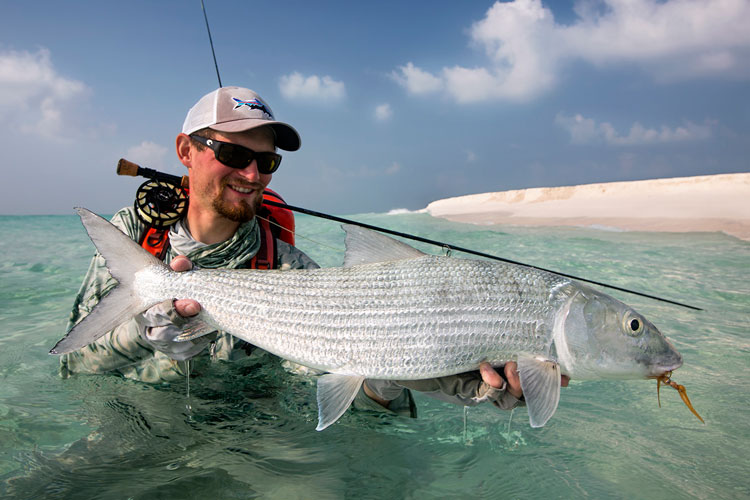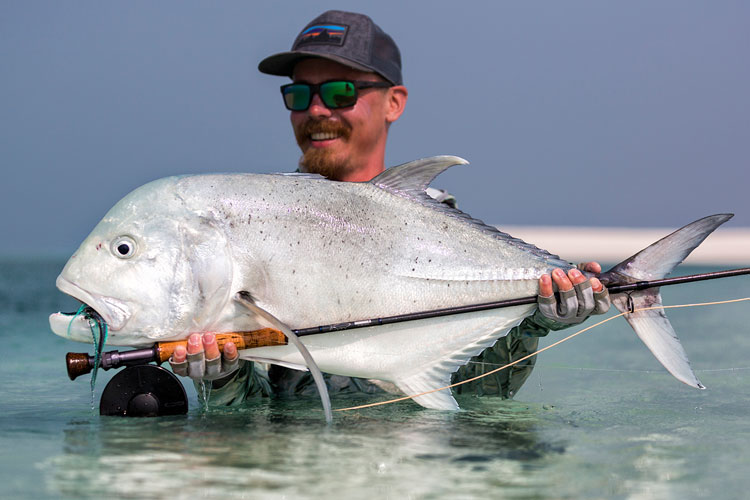 The closer we got to the Full Moon, the heavier the tide amplitude would hit us. Due to the massive amounts of water flushing in and out, our favorite sand flats would only be fishable for a fraction of time. Also, GT and Co. would pass these areas much faster than usually. Still we would see some impressive singles, doubles and wolf packs during our light line explorations. Out there, everybody is always strapped with a 12 weight ready to go, but some of the big girls we ran into were just not trigger happy or already aware of our presence. Some 30-35kg fish were bow-waving in skinny water, swimming slightly tilted into the direction of the reef-channels.
The high tides would bring Napoleon Wrasse far into the shallows and our team capitalized on this opportunity turning up two juvenile Napos on little Crab and Shrimp flies on lighter gear. Two exceptional catches. Throughout the week we would see even more and bigger individuals that demand the use of a 12 weight, but they were seemingly uninterested to hit the GT Baitfish flies. Bigger Crab and Shrimp Flies are the next stage. Stay tuned for more on that base.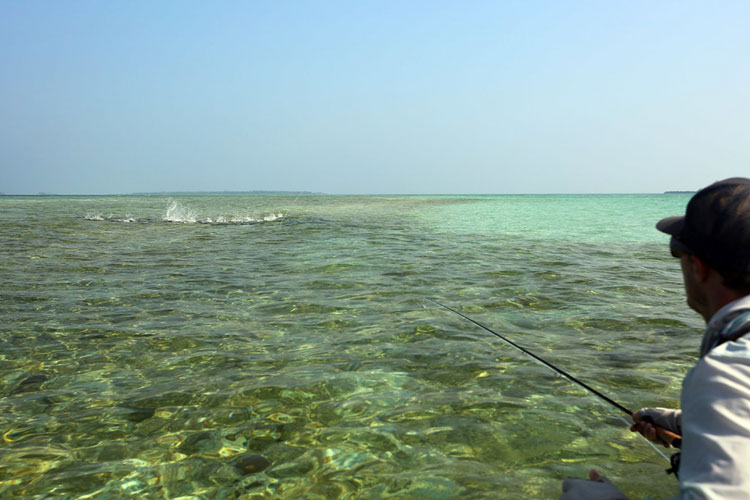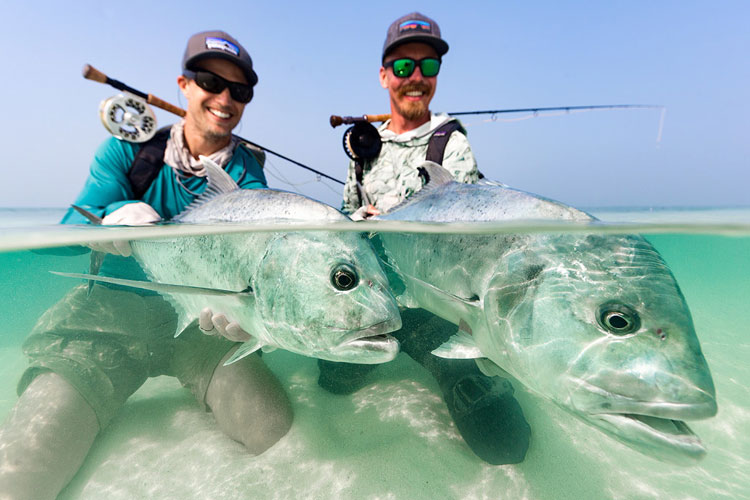 Trigger fish and Co. are ever abundant and thankful takers. Fulling Mill's Flexo Crab or Rupert Harvey's version of the Alph-Flexo have so far fooled more trigger fish than any other patterns. Bring heaps of them, especially the smaller sizes, because they will crush them with everything they have got.
Biggest GT on the Fly landed this week was a 30lb+ fish from Jasper, with shots on much bigger individuals. On one of our favorite Trigger sections we had a 1.20 meter bus of a GT coming out of nowhere. A desperate rod switch move followed by a less than stellar presentation hit the water 3 meters ahead of the fish who immediately took aim for the fly. However, probably due to the super skinny water the fish spotted a desperately ducking angler and turned away 2 meters in front of Rick's shaking legs, making its way off the reef tilted, half of the back out of the water! Smaller GTs and Trevallies were plentiful and so were the triggers.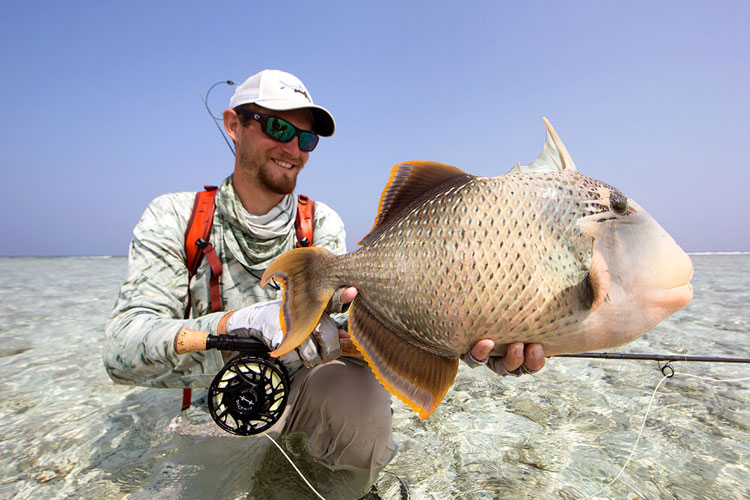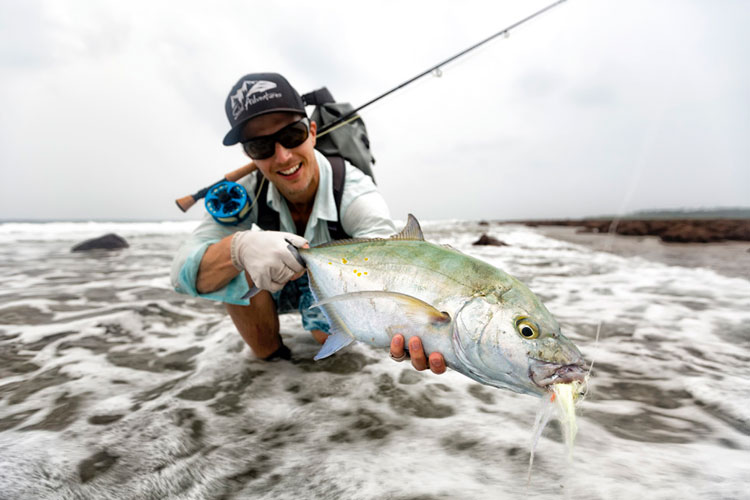 Popping/Jigging
Our Spanish friends are a guarantee for epic battles on all fronts. These guys are equipped and they have the stamina for a 24/7 game at a pace that will leave even die-hard veterans gasping for air. To make a long story short, they had more fish than they could ever ask for – it was non stop action, both on the variety and size front. Upon arrival, they told us about their individual goals and they accomplished all of it and more. Alex Rios wanted to catch a Napoleon on both Jigging and Popping: Done. Didac Soto was keen on a Dogtooth Tuna and Napoleon: Done. Dani Reyes picked up the chase of a 30kg+ GT on Popping and he also accomplished that amongst many other memorable big fish. For the new face in the group, Aaron, it was the first trip ever and he really wanted to catch a GT on topwater. He would finish with the biggest fish of the week and literally every reef game fish except Napoleon. Even the Wahoo and Tuna appeared in the mix for good measure. Over the course of the Maiden Voyage week, more than 350 pelagic and reef gamefish were landed… countless GT doubles, even quadruples. Yellowfin Tuna up to 50kg, GT up to 35kg, Napoleons up to 20kg, Boha Snapper up to 10kg, Dogtooth Tuna up to 40kg, Snapper, Grouper, Coral Trout, Wahoo, Sharks, and many more.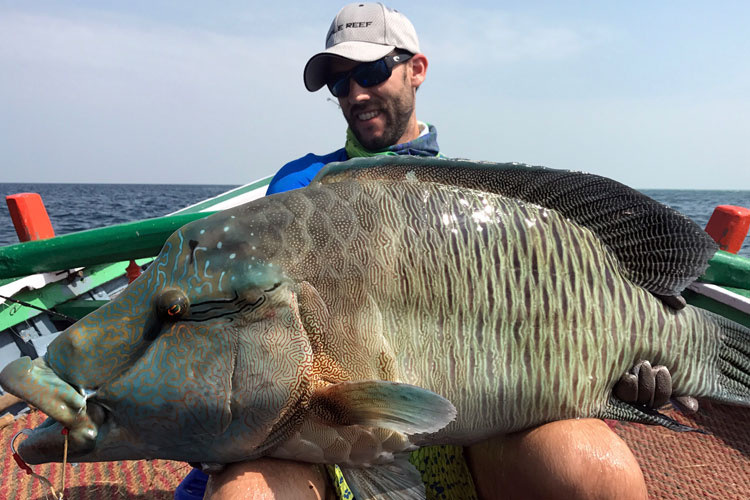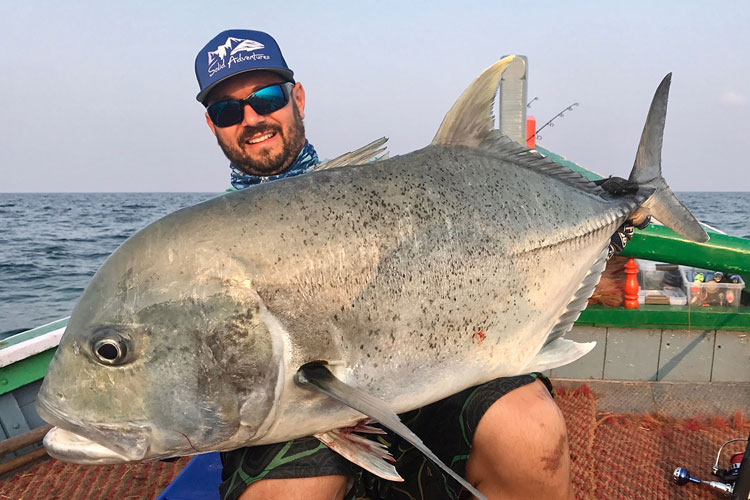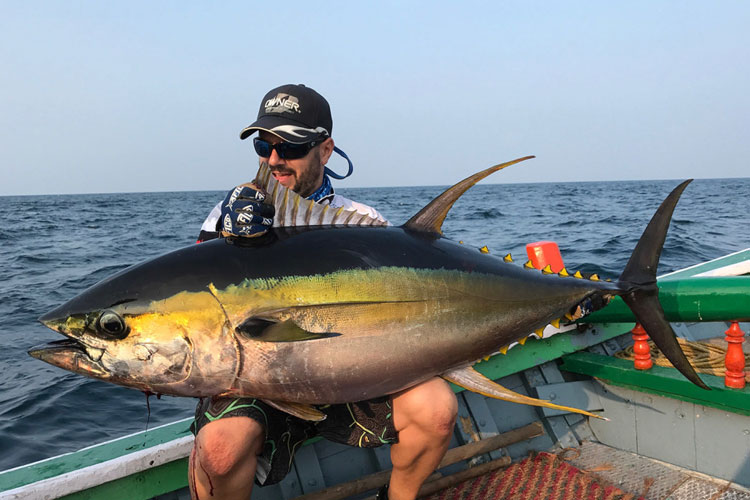 2 rods died, 2 reels disintegrated… Lines, leaders, lures were lost. Section 3 has open water access, these heavy current and wave lines hold some monster fish than made impressive appearances but would ultimately get away. BBK's GT Rex hook, one of the strongest hand made trebles in the world opened on a bus GT in the first run on Aaron. Dani fought a GT for 35 minutes in heavy currents before the line snapped. Alex Rios moved some heavy fish over deep water that were close to his personal best of 60kg… Needless to say that the crew has already looked into spring dates for a strong comeback plan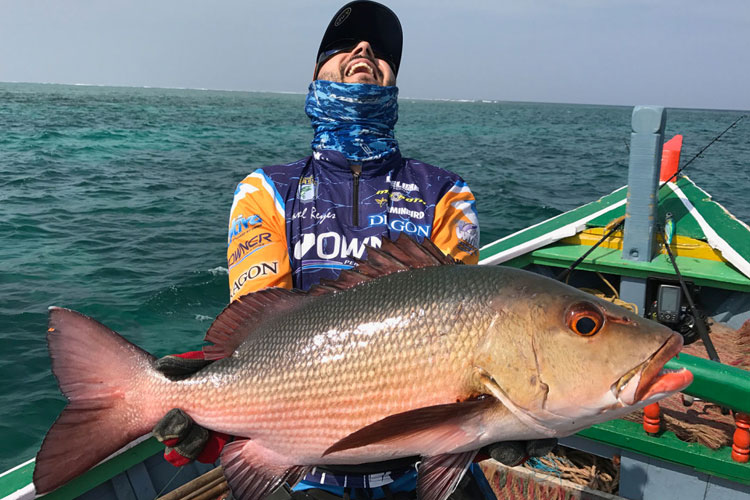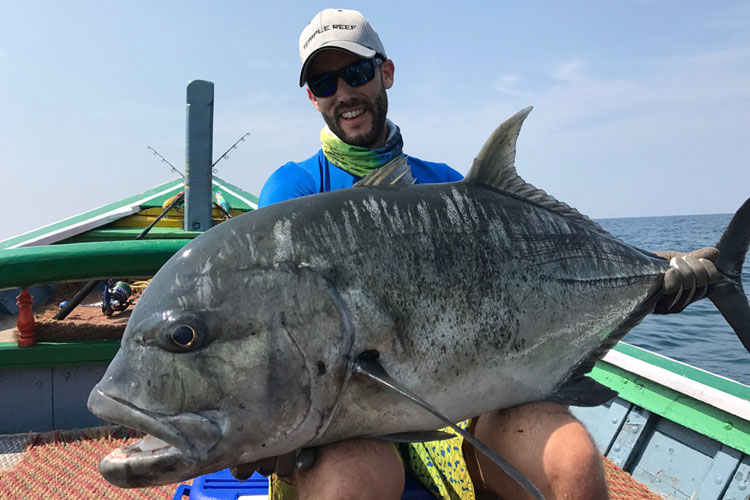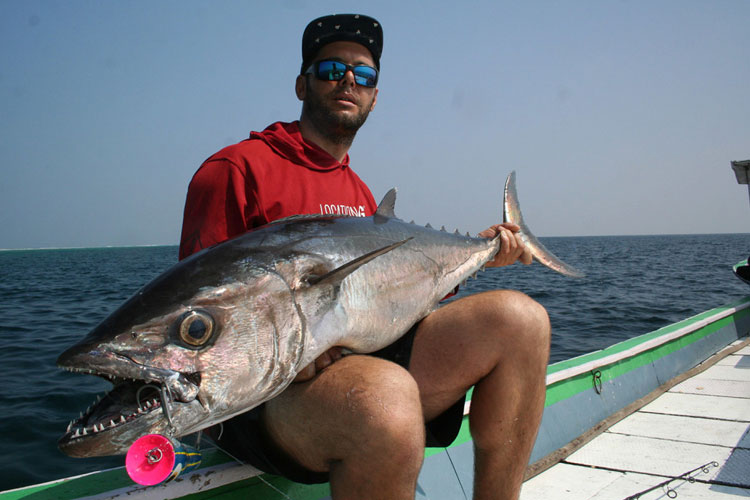 As a final note for anyone thinking about trying this: Please come prepared! The fishing here is no joke and gear will be pushed to their absolute limits. Whatever money you think you save on going cheap you will loose due to breakage. And even worse, you risk loosing the fish of a lifetime! If you need help with what gear to bring please don't hesitate to contact us for details and recommendations.
As promised, below are the two special weeks we have set aside and like I had mentioned, they will be filled on a first come first served basis. If you have any questions please don't hesitate in contacting us on 01603 407596
WEEK 1: 12/10/17 – 22/10/17 – 1 Space available
WEEK 2: 04/10/18 – 14/10/18 – 5 Spaces available
To view our full trip details Click Here
Tight lines
Paul Stevens
Just a few more pictures: