As you maybe aware we are now running many single angler weeks at a few of our most popular popper fishing destinations. We find that there are lots of anglers out there that struggle to find groups of four anglers who can all get the same time off work, afford such a trip and more importantly get time away from their families.
So with this in mind we have set up some fantastic weeks where you can join groups of four anglers as a single angler at no extra cost, this is proving to be ever so popular and dates are flying out of the window faster than we can add them.
This below report was from our latest single angler week at our destination in Sri Lanka and as you can see, it went down very well:
FISHING REPORT
Paul, Robert & Nicholas were formed all from single anglers and had never met each other before this trip and by the looks of things have formed a very good friendship and may travel together to other destinations. They joined our skipper aboard Rampageous for a shot at the local GTs it was the guys first time on heavy duty popping gear so there was a bit of a learning curve involved and the sea conditions where less than perfect.
The guys on this singles week were all British and possessed the legendary stiff upper lip so never a complaint was uttered as we bashed our way around the ocean that was being battered by strong winds.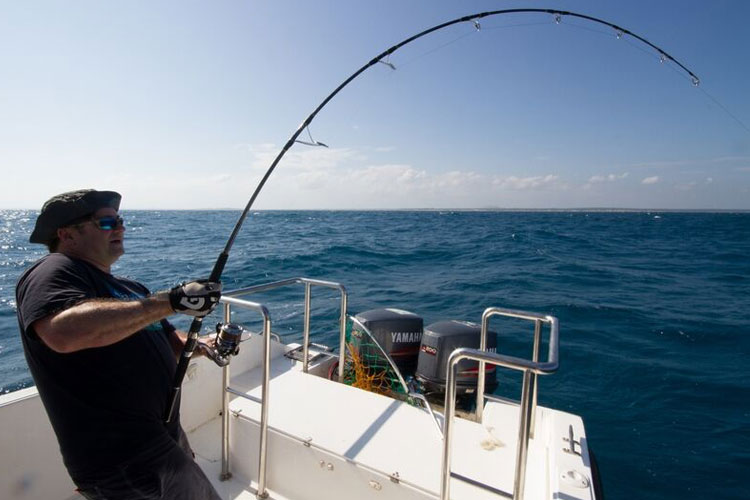 Their first time heavy popper fishing
Paul and Robert stuck to the big guns throwing poppers and stickbaits for the GTs while Nick found his niche in the popping and jigging world with the guide's light jigging setup. Each day brought a different bite and they struggled to nail down a pattern. One day we would have a flurry of activity in the morning, the next a slow but constant bite throughout the day and on others the activity only happened late in the afternoon or mid-day.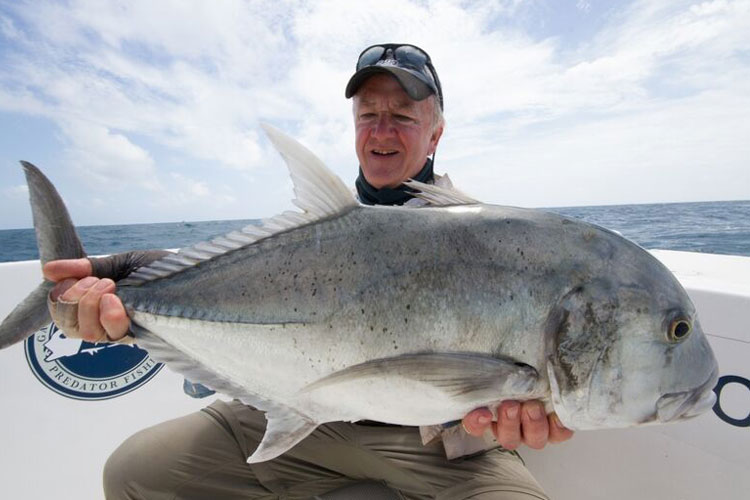 What a great way to start the week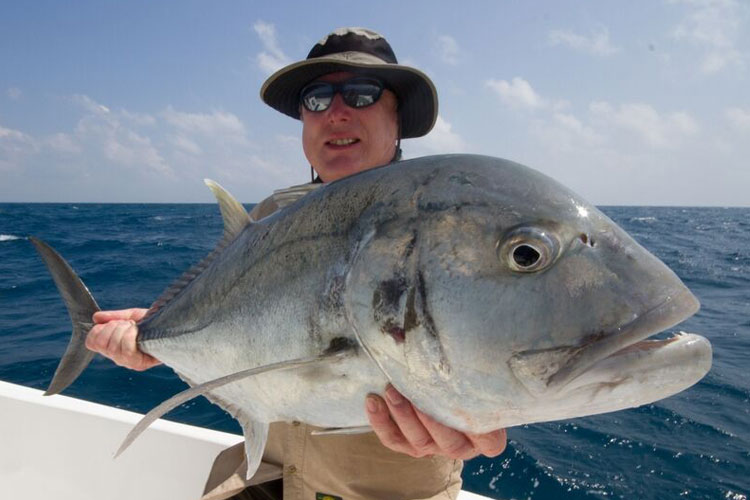 Check that beast out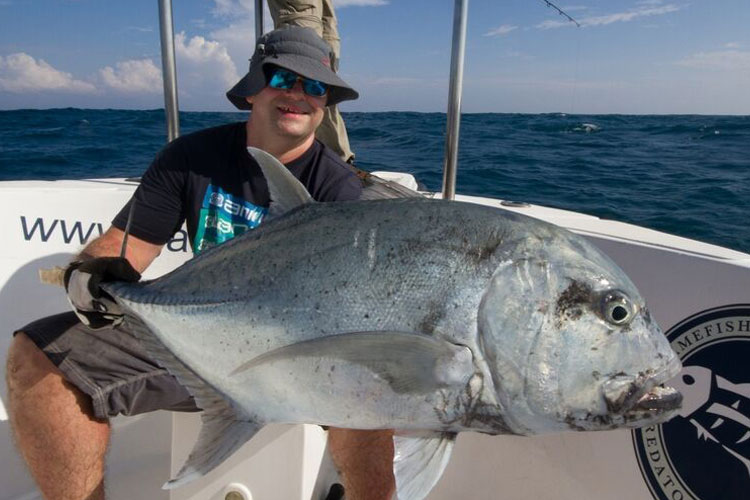 The biggest of the day, well done
This meant they were forced to fish the entire day with little rest for fear of missing the golden hour of action. Their best day saw them raise around 20 fish although they only had four hit the deck. We also missed multiple Spanish Mackerel and lost a fair amount of tackle to the toothy buggers.
While Paul and Robert put in the hard yards Nick was having the time of his life on the light jigging rods. Landing fish constantly, he managed to pick up 3 solid Golden Trevally in one day with the largest measuring 80cm which is pretty amazing as I normally see one every three trips or so. It was an enjoyable trip with great banter and conversations on the boat to go along with the fishing and I hope the trip lived up to their expectations.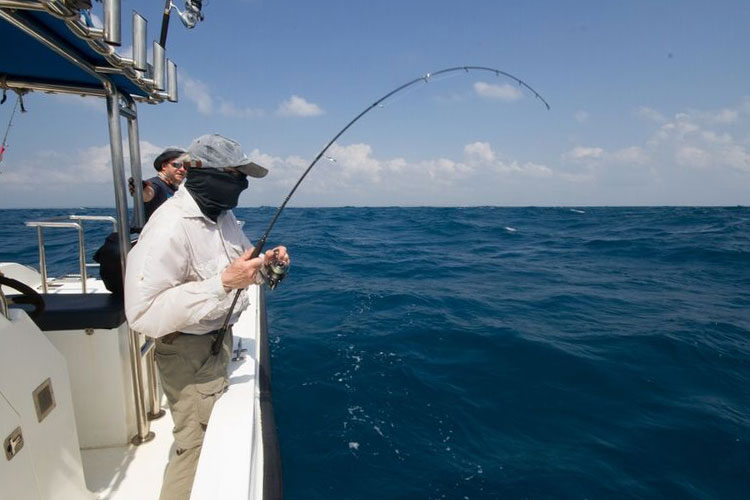 Light jigging for many different species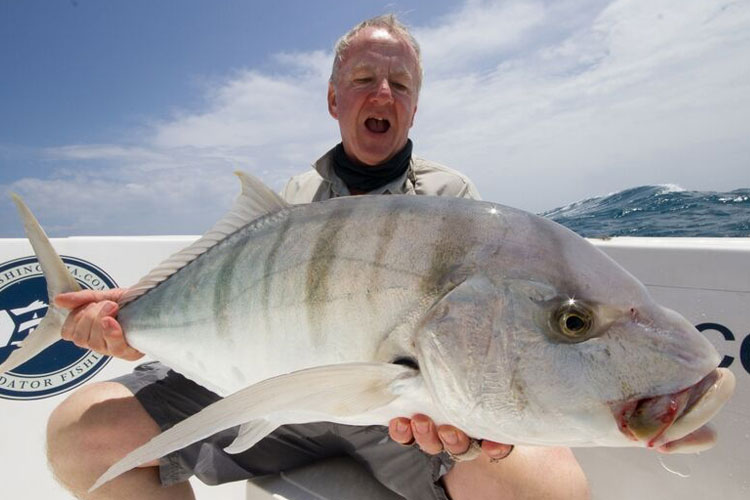 Lots of smaller species available
Stunning colours
I bet that tastes good
What an awesome weeks fishing these guys experienced and something that will live with them for many years, well until next year when they return.
If you like the sound of these amazing single angler trips and would like some more information on these, no matter where in the world you live, simply call our UK office on 0044 (1) 603 407596 and we can tell you more.
If you would like to see what weeks and availability we have left for these single angler trips click the below links which will take you to the tours. Then simply click on the date and price tab and hover over the special offer in the price table:

Sri Lanka Single Angler Weeks CLICK HERE
Andaman Single Angler Weeks CLICK HERE
Lakshadweep Single Angler Weeks CLICK HERE
All of the above destinations are fully catered for experienced or novice anglers and will help you as much as you need. These destinations are suitable for popper fishing, vertical jigging, bait fishing and trolling. So if you think you may like the sound of these get in touch.
Tight lines
Paul Stevens