We have had this report in from our Jungle Tarpon destination in Costa Rica. The 2018 season has been pretty good by all accounts with some very good fishing had by all the anglers visiting this camp. Read below to see how good this camp actually is.
August, the first month of the 2018 fishing season at the Jungle Tarpon Reserve showed how varied this fishery can be with some tough conditions and erratic weather as well as periods of higher productivity. As the locals say way too often, "that's fishing," and unfortunately we all had to work with what was dealt to us.
The season kicked off with a visit to explore opportunities with our community and conservation project, Conservación Bosque del Sábalo (www.bosquedelsabalo.org). The recce would not have been complete without wetting a line, and tarpon were there to meet the season's first flies with reckless abandon, with one session even yielding 5, 1 jumped and 1 landed to around 75 lbs.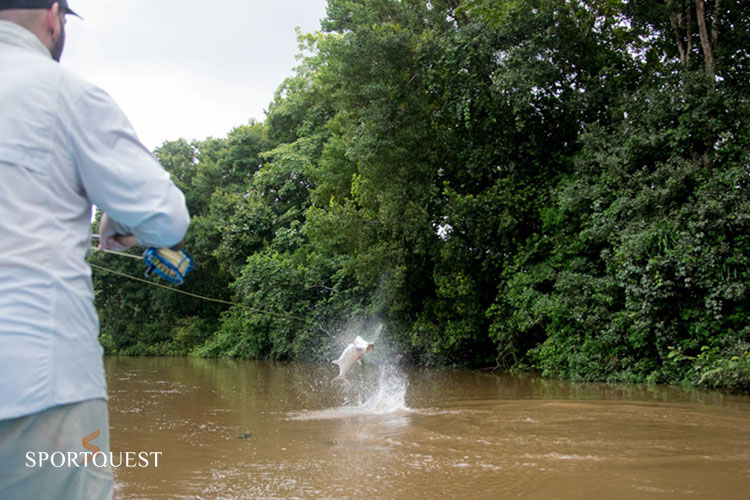 But then the weather and tarpon gods threw us a curve ball. The river dropped by over 100 cm in a very short amount of time and mudded up. While we were still finding a slow pick of fish throughout the system, our searches were often cut short with winds and weather rivaled only by the likes of Hurricane Otto in 2016. The community was abuzz with talk of never before seen weather and the frustration of local artisanal fishermen, and of course the tarpon hated the instability. Nevertheless we pushed on, and groups from Spain, the USA and the UK managed to scratch out eats, jumped and landed fish on most days, although it was a true test for our guides and clients alike.
Midway through the month we saw a gradual but steady shift. Water levels began to come up, the river cleared, and tarpon could be seen rolling and exploding on baitfish in all of their usual haunts. While even a surprise visit from the likes of Jeff Currier and Dylan Rose didn't snowball activity, we did start to see more and more action with groups slowly bringing home some better numbers.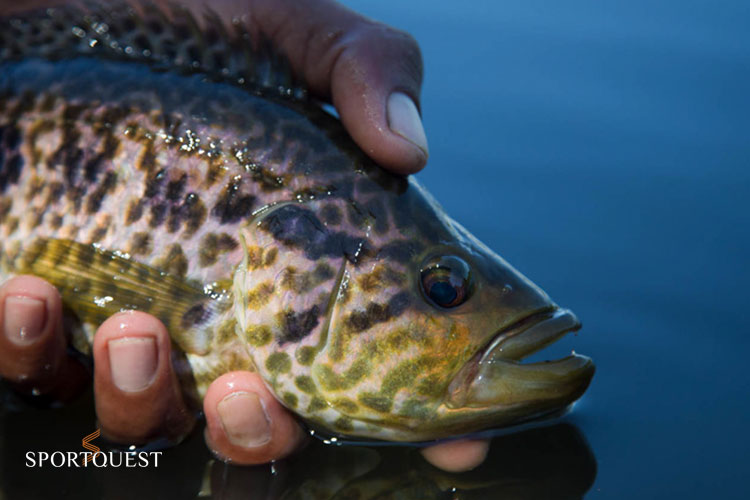 September began a more positive period, and even though water levels were some 3-4 meters lower then usual we did see large numbers of aggressive tarpon moving through the system. Working lower down the river proved very productive, and Polish and USA groups were landing up to 8 fish per week along with a range of 10-20 eats and 5-10 jumped fish per week on top of that.
It seemed as though our luck had finally changed, but then came the biblical rain of Aussie Angler group's week 6. There was no question that the huge deluge the locals had predicted would eventually come had hit when several days of days caused the river to come up by more then 3.5 meters!
October began with a final visit from the Castaway Films team together with the big guns from Thomas & Thomas Fly Rods to wrap their film work for Atlanticus. We can't divulge a word beyond the fact that this film is going to change the way tarpon fishing is seen for many years to come. Rally your fishing mates and go to F3T. You won't regret it!
But as most anadromous fishermen know with any big flood of water comes a inevitable push of fish. Solid Adventures Jozef Nevedel's hosted week 7 saw what the locals refer to as "sardinas" as the high river turned into a froth of silver with migrating fish. Visibility was still a bit of a hindrance, but hundreds of tarpon of every shape and size could be seen rolling and moving higher into the system each session. Slowly these tarpon began to settle into feeding stations, and the groups to follow were rewarded with explosive action and shots at fish in almost every part of the river.
Following Castaway several weeks of very productive fishing ensued with visiting groups from Canada and the USA. The Nottingham boys from Montana took their position as the season's top week with 9 eats, 11 jumped, and 9 landed with fish up to 130 pounds. Coming to Costa Rica having never cast a fly anywhere near a tarpon, these guys left seasoned pros as the ample shots allowed them to work through their mistakes.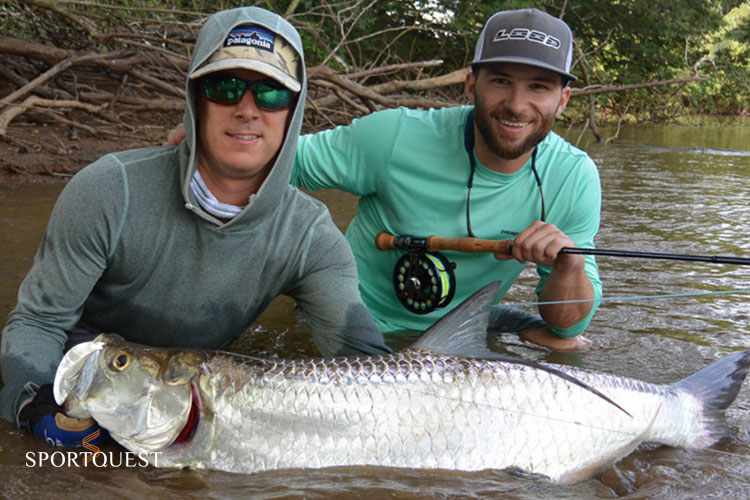 November rolled in with more steady action, and groups from various countries around the world had good to very good fishing combined with a challenging days reminiscent of the doldrums of August. We did finally see a truly large fish to hand when Canadian sharpie Steve Wells battled and released a beatiful 150+ lb slab of silver.
Needless to say, the season was rife with boom and bust and in no way represents a "normal" weather or fishing pattern at the Jungle Tarpon Reserve. Tarpon are a creature of stability, and the wildly fluctuating weather we saw throughout every week of the season caused what can only be described as great discomfort. Just as fish tend to push off of an ocean flat when water temperatures dip or tides fall, our tarpon would come and go with each change leaving us scratching our heads as we slowly searched for breadcrumbs of previous glimmers of hope.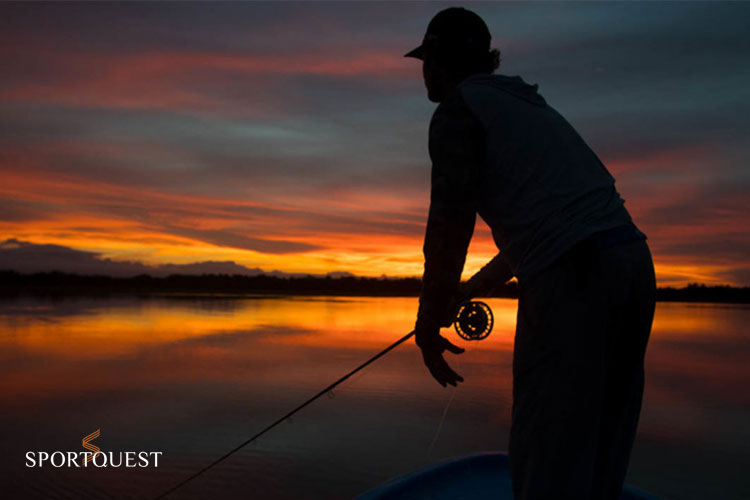 While the season wrapped up here with lower then usual numbers, we are optimistic for the future and look to 2018 and beyond with great anticipation. We are also slowly starting to piece together a dream project with fish guru Dr. Andy Danylchuk to study the migratory movements and behaviours of our tarpon to understand a little more about when, how, and why they are here, and hope that this great opportunity will lead to even bigger opportunities for conservation and community engagement in the future. More on that soon.
For now, we want to thank all anglers that visited during the 2018 season, and we look forward to meeting more in 2019 and introducing you to our unique and ever changing fishery here at Costa Rica's Jungle Tarpon Reserve.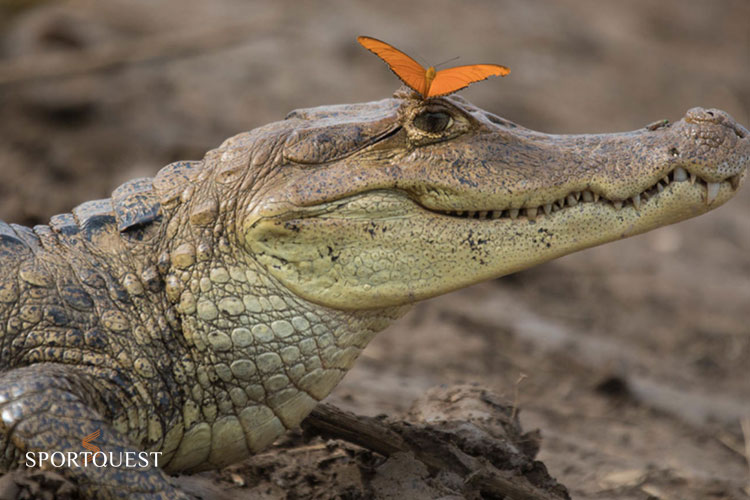 Tight lines and many great adventures in the new year.
Wow it really looks like 2018 has been a great year for the Tarpon in Costa Rica.
Why not get booked up for either 2019 or 2020 by CLICKING HERE and sample this amazing fishing for yourself.
Tight Lines
Jonny