Norway Fishing Report starts with my up and coming annual Hosted trip to the wonderful and stunning island of Sørøya northern Norway fast approaching it is time to gather all my lures, hooks rods and reels and see what I need to get. This trip is mainly fishing for the huge Skrei Cod that this part of the world has become so famous for, last year it produced a world record rod and reel caught Cod at 104lb's…… unfortunately it was caught the week after I had left as I would of loved to have seen this fish, it must have been huge as we have had them to over 80lb's and that was a beast of a cod so the thought of one nearly 20lb's bigger makes me shake!! As you can see from the below images in my Norway Fishing Report an 80LB Cod is huge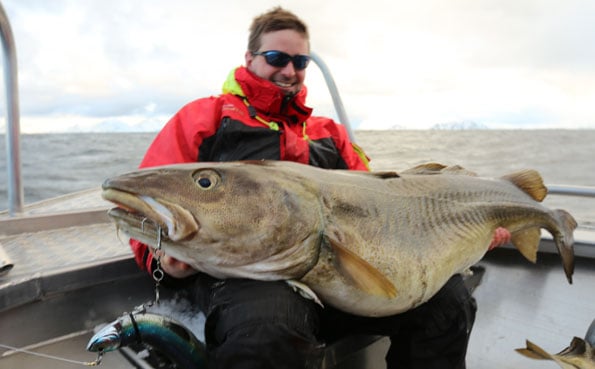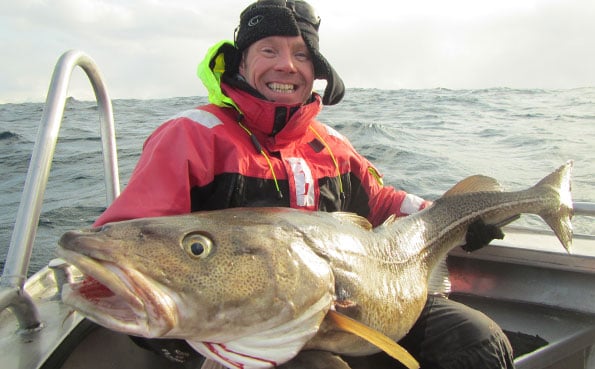 People find it hard to believe when you say to them that 30 and 40lbers get tossed back with out pictures so we can get down for bigger fish, well let me confirm that this is the case. When I take people to Sørøya and take them out fishing for their first day they are simply blown away. It is great to see them see the very first huge Cod and the smiles that appear when their first Cod hits the surface…. I know exactly how they feel as the first time I went out there my very first Cod was 59lb's my PB Cod before that was only 34lb's so as you can imagine the look on my face when I saw this huge Cod for the first time. Since then I have been guiding trips there and simply love watching the guys catching these Cod, the sheer excitement on their faces is what makes my job so very special and then writing my Norway Fishing Report so you guys can read them.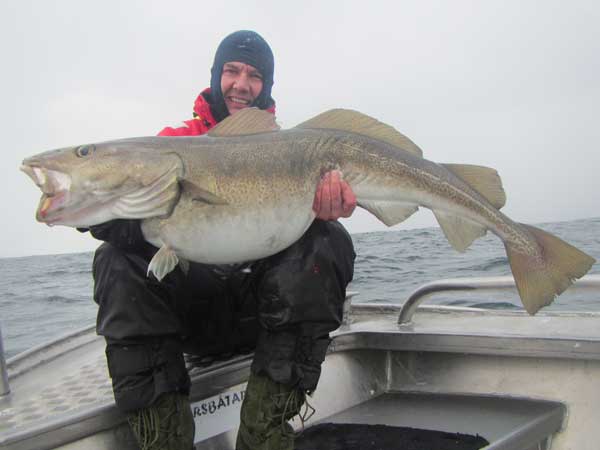 Back to tackle talk in this Norway Fishing Report, this trip is very simple in the way of tackle requirements and I always say to the guys that the simplest rigs work the best. The set up just needs to be very strong and very reliable and when I first show the guys how we rig our lures up they look at me like "What the hell are we fishing for" it may look crude but it just has to be so reliable as we are catching lots of very large fish and you can not afford any weak spots. The thing I am talking about is the way we rig the hook up to the shad. The shad itself has no hooks so we attach the hooks in this way: First a split ring then a swivel then another split ring then a swivel then finally another split ring which you then attach an Owner SST 3/0 Treble hook (Yes you read that right, one treble) Personally I much prefer rigging the shads like this as I do not allow any gaffing on the boat as these fish are spawning Cod and the less damage we cause the better. I strongly promote catch and release of these fish, as I believe that it is unfair to kill such a big old fish to simply feed your self. Do not get me wrong, unfortunately some do die but 99% of them do not and go back to carry on with their lives non the wiser apart from having to meet some English anglers…. The way we get such a high return rate is that I get the angler to look over the edge whilst reeling the fish up until they see colour, once you see the fish stop reeling and let the Cod expel all its air. You know when it has got rid of the air when the fish starts to pull back, once this happens gently reel the fish in and hay presto the fish will swim back absolutely fine
| | |
| --- | --- |
| | |
The Shads we use are called 'Big Bobs' they are 40cm long and weight 730g and come in all different colours from bright green with red flames to the more naturally colour of a coalfish, they all work as these fish are frenzy feeding and hit the shads with such force that it nearly pulls the rod out of your hands. People say that Cod do not fight, I would love to get them out to Sørøya and change their minds. These fish fight hard and dirty!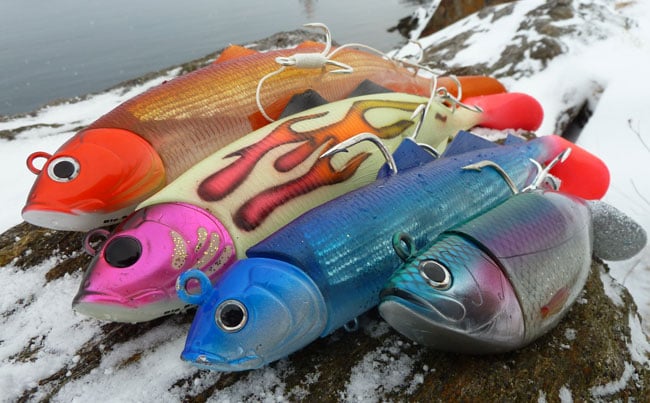 So with only just over a week left before we head over there, it is time to keep checking the weather forecast and also speaking to the guides that are at the camp making sure everything is in place for when we turn up. We have had a few Norway Fishing Report from the guides over there that are setting up things. They have managed to grab a few hours in between jobs and the results are looking good the latest I heard (today) is that they are here!!!! With Cod to 25kilo's already being caught and that is just by 2 anglers fishing for an hour when they can, it is looking to be another bumper year for these migratory Skrei Cod
| | |
| --- | --- |
| | |
The first set of anglers turned up this week and reports are already coming in of huge Cod being boated. One boat managed over 10 20kilo Cod and just a few hours with a top fish of 32kilo's…… what a fish and this is just on their first days fishing, however the weather does not look good for their second day with high winds forecast, but unfortunately that is Sørøya!!
I will try, if the WIFI is good, to send a few Norway Fishing Report live from Sørøya and keep everybody up to date with the goings on and hopefully a few pictures of some very large Cod. All that is left to do now is pack everything including warms clothes and clear everything up in the office and before I know it I will be sitting in my home for 2 weeks writing my first blog. So until then tight lines every one and speak soon.
If you would like to view the full tour details Click Here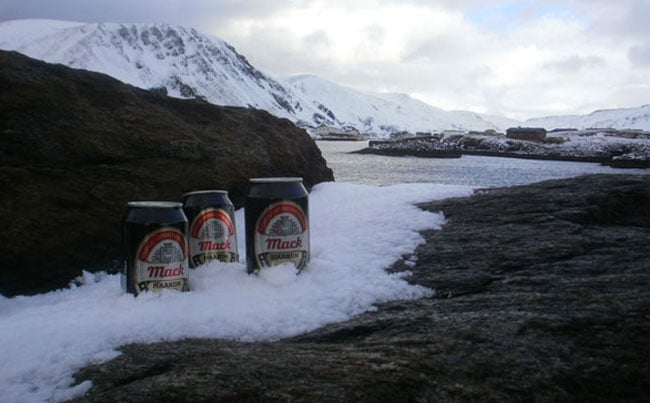 All the best
Paul Stevens