Sri Lanka Fishing Report and the second phase of the season in Kirinda is now in full swing and with all the big fish around I am sure a lot of our readers will be eagerly awaiting our regular catch reports. We've included the latest report from our destination in this newsletter. Stay tuned for more though as the temperatures heat up so does the action.
We had very good jigging action in Trincomalee but the unseasonal run off had the prime popper spots discoloured with the fish holding deep and not being active on top-water. Back to Kirinda and the spectacular catches have started. Just imagine hooking a big Black Marlin on jig when you are looking for Dog Tooth &, imagine what else is lurking around!!
We'll be back in Trincomalee in May and we're looking forward to catching the big GT's that Trinco is best known for. Meanwhile the inshore fishing at Bolgoda Lake is also heating up with the Barra and some record size Mangrove Jacks.
Every day we are finding many new spots and a gaining a much better knowledge of the areas that we wish. This experience will ensure that our customers leave satisfied, if a little battered, as the odds usually favour the fish. Sri Lanka Fishing Report
Our Boats 'No Limit' & 'Rampageous' are running like new, the guides have all had a bit of a break and are ready to go Fishing again. We are sure our customers will hear very motivated shouts of HIT IT, HIIIIT IT, STRIIIIIIIKE, STRIKE AGAIN to keep the adrenalin flowing…..
So below is a report just to keep a few of you interested. Sri Lanka
After a very long flight, our customers went out on Kirinda waters for their first time, targeting the very sought after Giant Trevally – GT that these waters are known for.
With a few rainy days before their arrival, the rain stayed and the storm clouds brewed, giving them 6 bites during the day with 1 landed fish in the boat.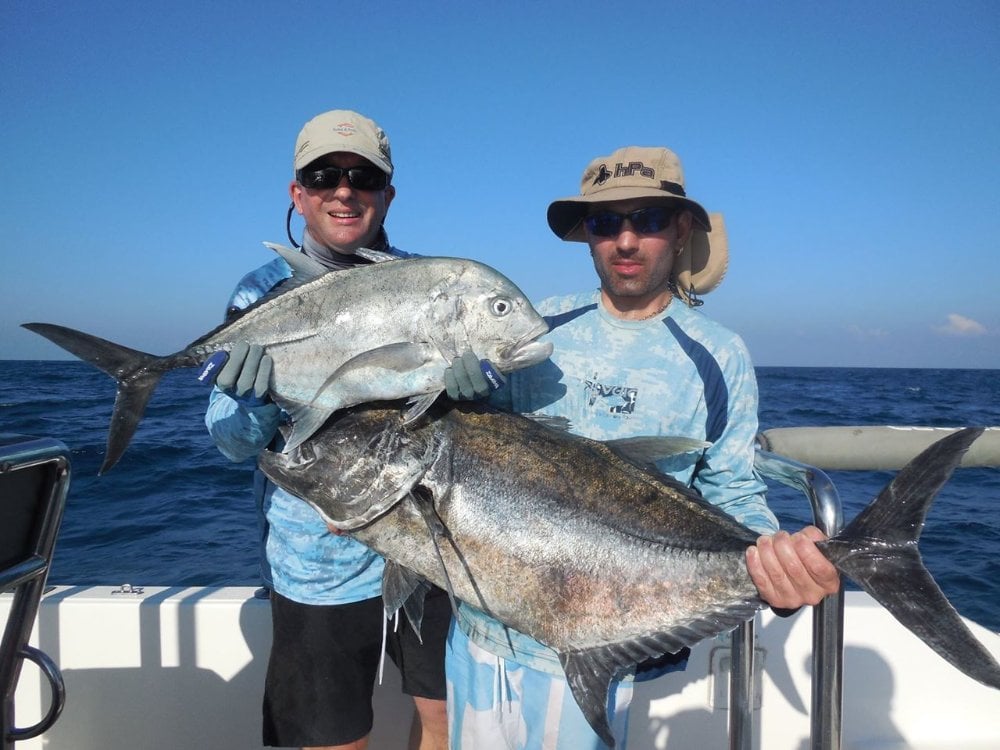 Second day arrived and both anglers had been able to rest well during the night. The day greeted them with a bright sun and flat conditions.
With the good weather, they decided to go out and try jigging with beautiful Amber Jack as the result.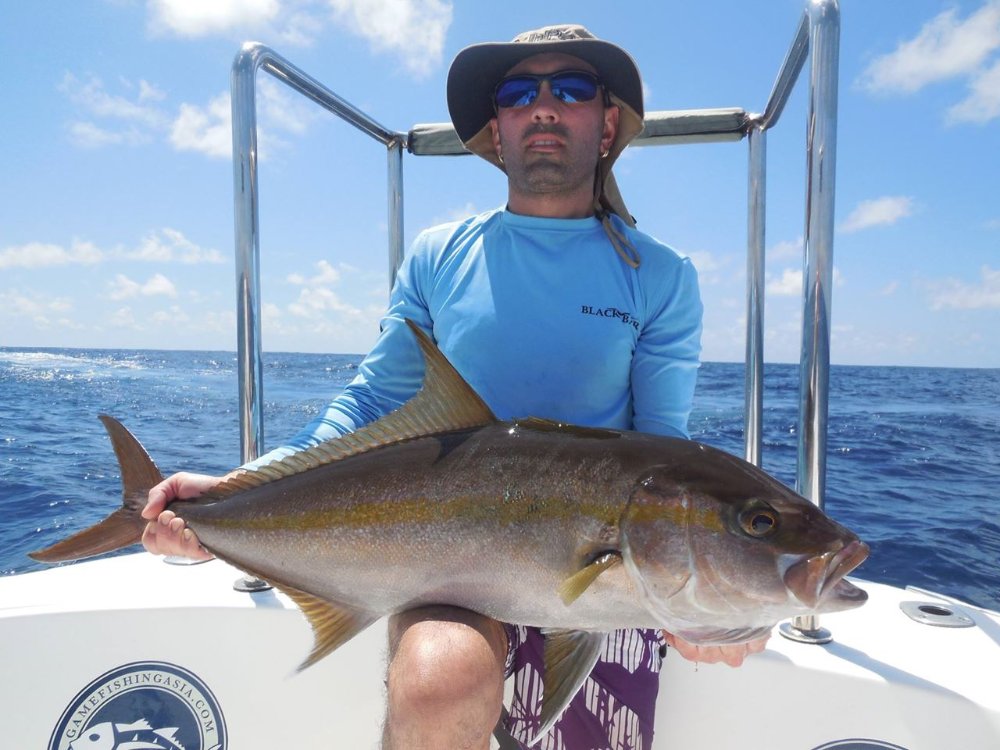 The afternoon carried on with popping in the hot weather, resulting in 3 landed GT for 11 bites.
Going out on the third day, once again the weather was very good and looking back on the previous day's results the two anglers decided on popping all day.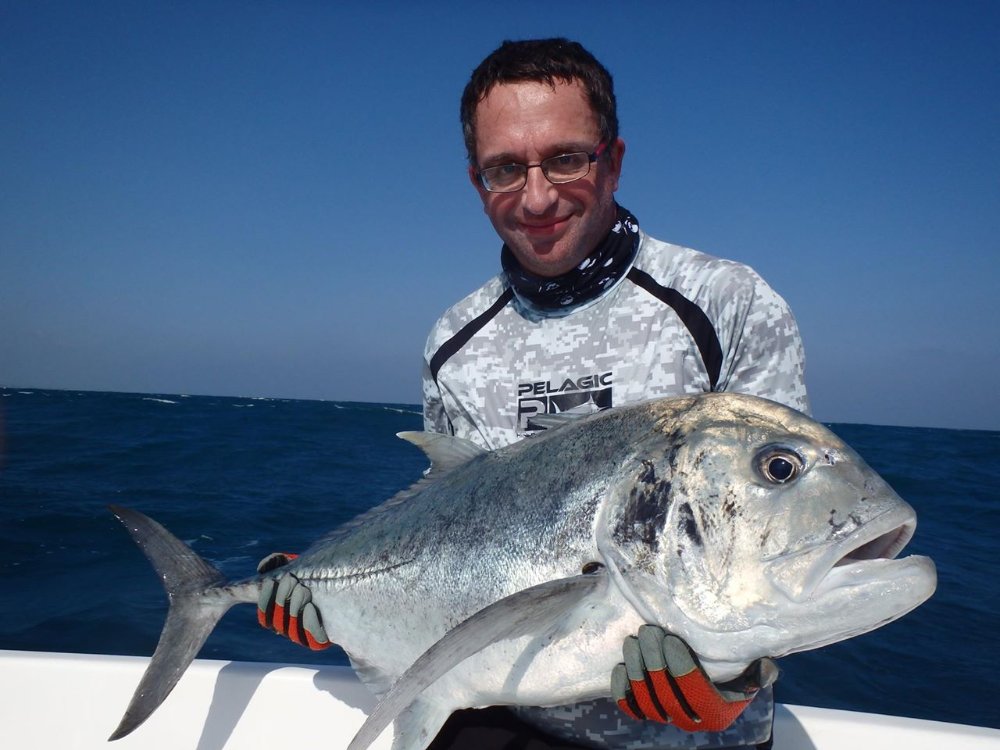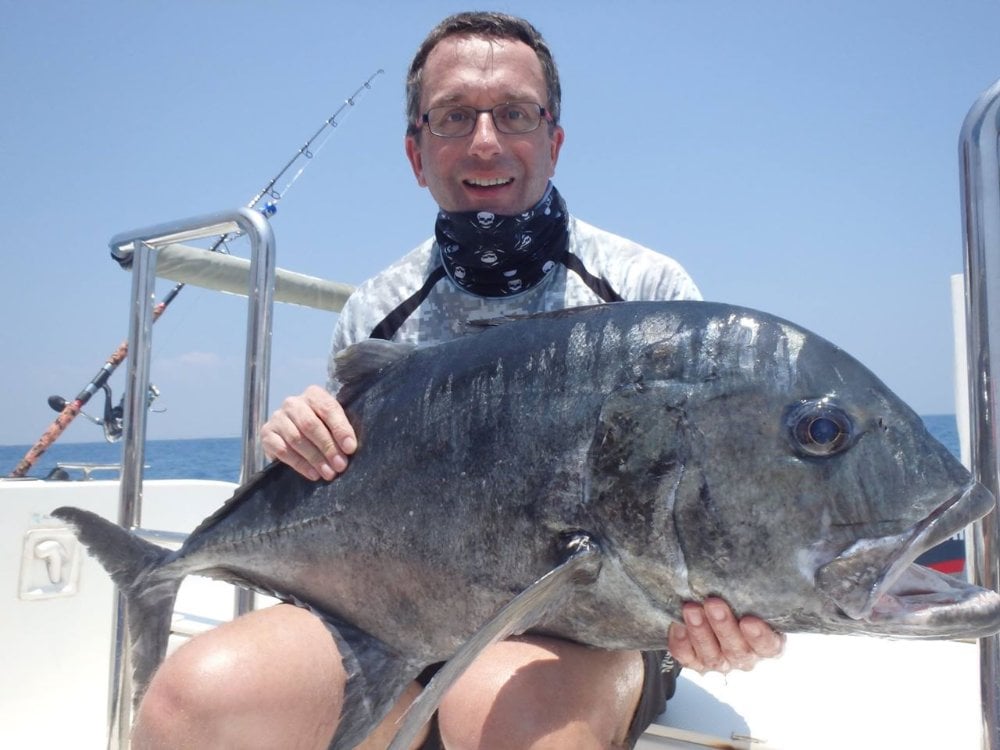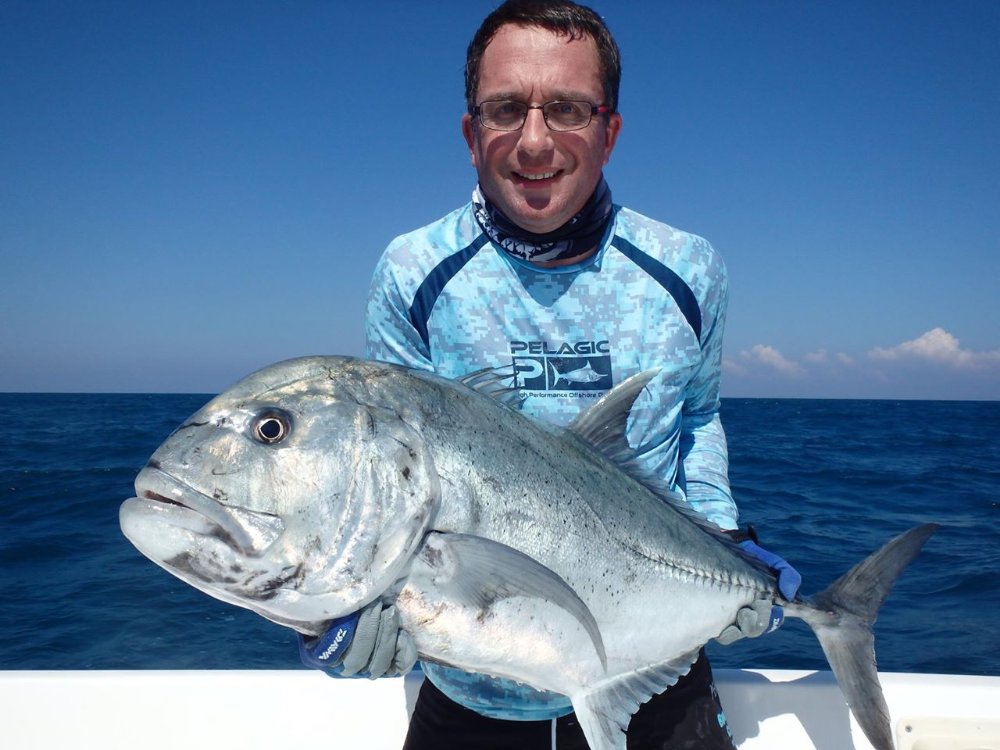 This turned out to be a great choice as their Shimano Stella reels, kept screaming all through the day with 13 GT landed and a total of 26 bites through the day with the biggest one weighing in at 25kg.
The week carried on with about the same activity as the days before with sunny conditions and a flat sea, and top fish of 18 kg but also a nice size King Mackerel, also that one of around 18kg.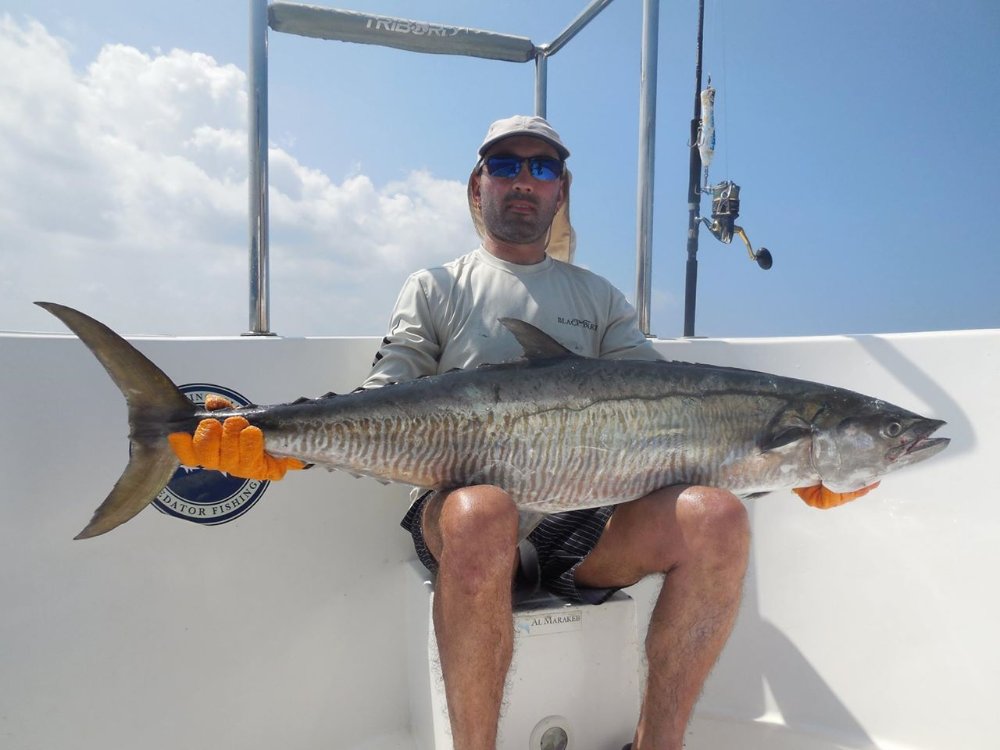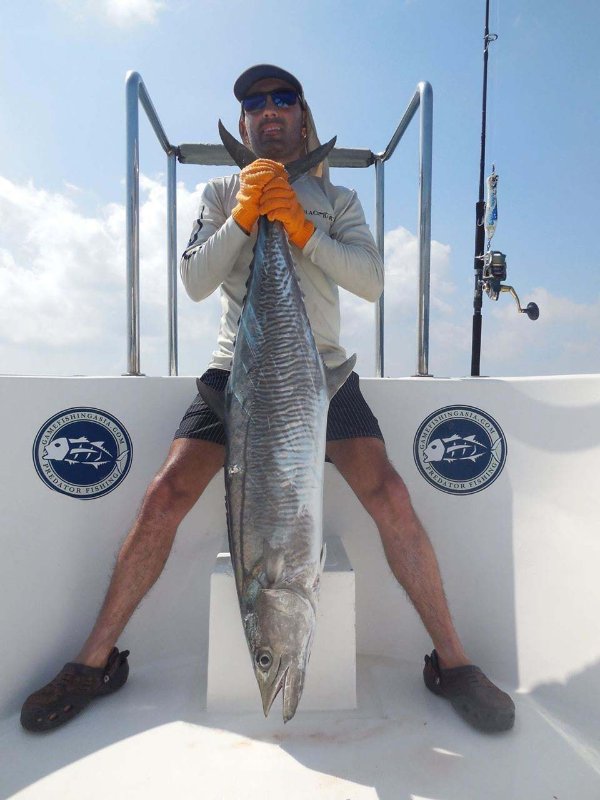 The last day arrived and both anglers were still hoping for a fish over 30 kg. As if on cue, the day started with great activity. Missing 4 big brutes on the surface they managed to land their 30kg fish. The day ended with a total of 29 bites and 8 landed fish.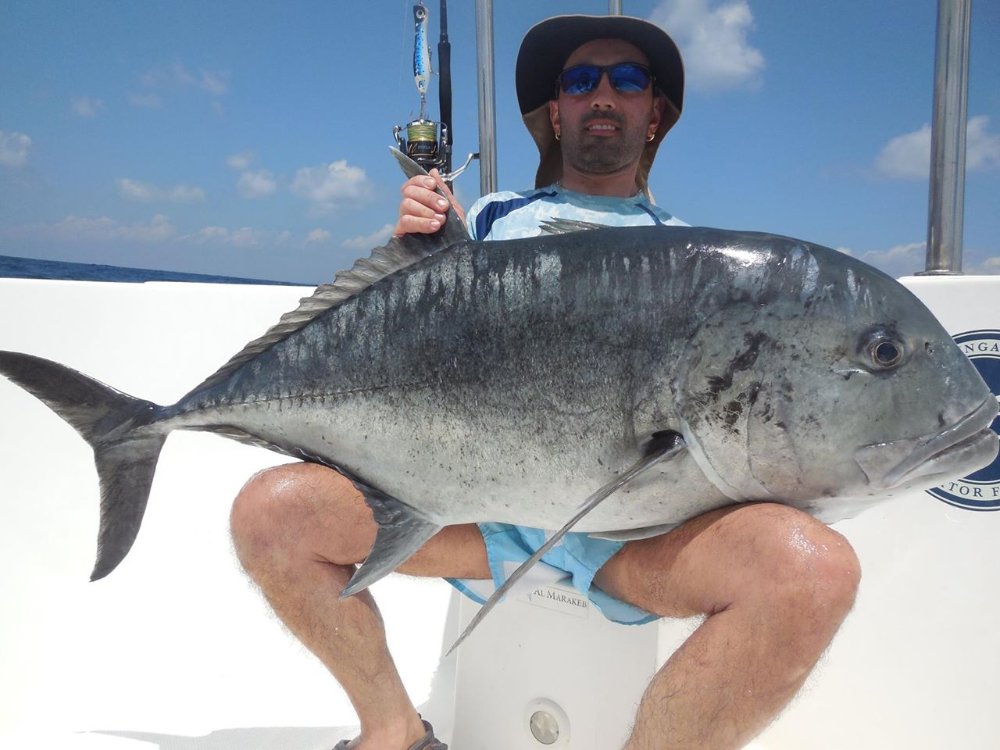 This just goes to show some of the action you can expect if you join us on one of our Sri Lanka fishing trips.