Wow the season has started again on what most be one of the best Bonefish fishing destinations in the world, St Brandons and the season has really started with a bang. I will let you read the report in more detail below and also enjoy customers pictures.
FISHING REPORT
After a super smooth crossing onboard the two sport fishers, we welcomed our first group of anglers to Raphael Island. There was plenty of excitement from both guests and guides as rods were rigged, leaders attached and flies strapped on
The group couldn't wait to get started and Day One began with Sandflea landing a stunning 8lb Indo-Pacific Permit, instantly making his mark on our beloved fishery! The good fishing continued with many 6lb – 8lb Bonefish showing our guests from the start why the Bonefish fishing is so highly regarded on St Brandon's. Other notable species included Stephen and Tim's good-sized Bluefin Trevally. Judging by the first day we were in for a really good trip!
Day Two proved tougher than expected, although Sandflea continued his good form by landing a really big Bluefin Trevally. Although still present, our Bonefish opted for a bit of an off day and proved more challenging than usual. Mike did however land his first Golden Trevally, which was a great moment to be part of. There were also 2 good shots at big GT's but unfortunately we could not get them converted.
True to form the Bonefish fishing did not disappoint for long and on Day Three all our guests got stuck into many large Bones, most of them weighing between 7lb – 9lb. Mike landed the first double digit for the season, with the fish testing his backing on more than one occasion, congrats Mike! It was now clear to all the guests why St Brandon's is most likely the finest Bonefish venue on the planet. The Permit too were around and although we had some close calls and near misses they won this particular round.
Incredible numbers of skinny water Bones was the recipe for Day Four. The bigger fish were up on the flats with the average size coming in around 7lb-8lb. The highlight of the day was without a doubt Zack first double digit Bonefish. Congrats Zach! Everyone had a great day – Steve also managed to improve his previous PB Bonefish on not just one but THREE separate occasions during the day! The large numbers of Bonefish also attracted some big GT's but they remained cautious by staying just out of reach.
Tim added to the groups Permit tally with a fin perfect 5lb fish caught on a white sand spit on Day Five. The fish hit the fly with tons of aggression and after a nervy fight to keep the fish out of the coral Craig landed the fish. The day also brought with it some more amazing skinny water Bonefish fishing along with some really good-sized Bluefin Trevally. Often glossed over in favor of their larger cousins, St Brandon's Bluefin are found in world record sizes are certainly one of the prettiest fish one can tussle with on a fly rod.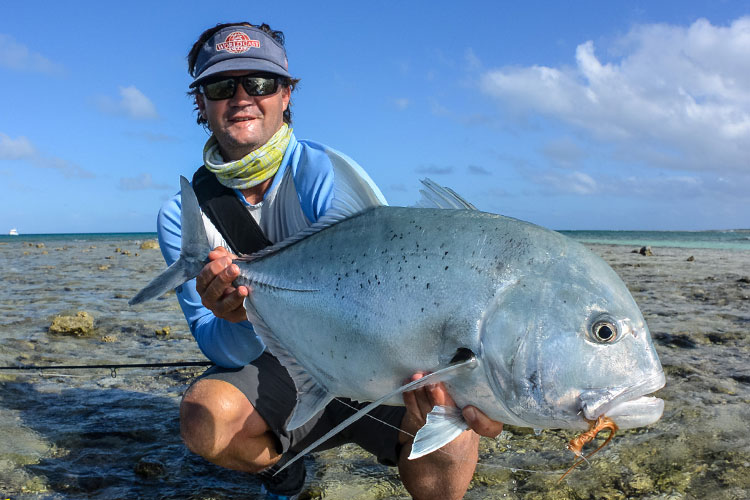 With the tidal cycle moving into neaps it allowed us to spend longer sessions wading the flats. Straight off the bat on Day Six Chris Littauer landed a huge 80cm Golden Trevally. The fish smashed his fly before it hit the bottom in ankle deep water. The fish sped off and 20minutes later the beast was landed. Chris was stoked! Tim and Sandflea also landed their first Golden Trevallies later in the day. The insanely good Bonefish fishing continued and despite not landing any, good numbers of Permit were encountered. It was a great day with the Golden Trevally showcasing the atoll's incredible diversity.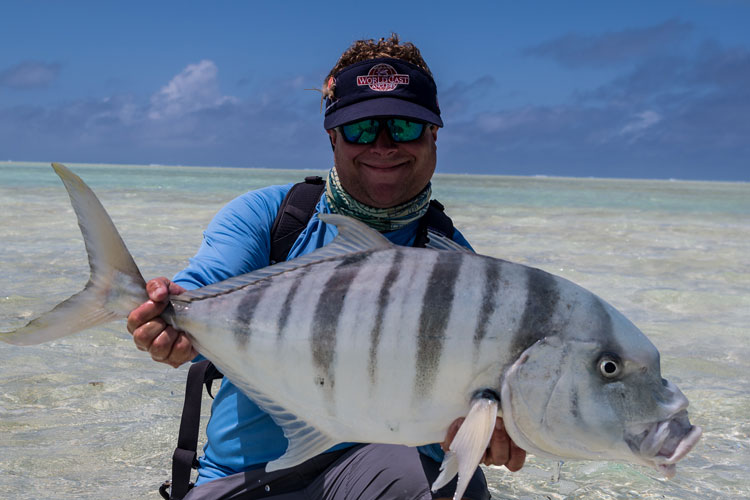 Day Seven saw the wind strength increase. This made the casting a bit tougher but also ensured that the flats remained icy cold. Sandflea continued his impressive Permit streak with a beautiful 6lb Permit from a flat within walking distance away from the guesthouse. The cold water also meant we continued to enjoy superb Bonefish fishing and by the day's end countless solid specimens had been hooked, landed and released.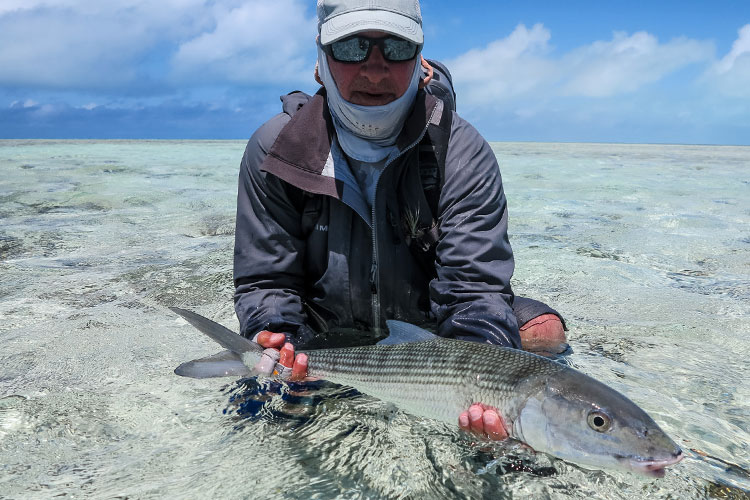 With this being an extended trip, the clients still had two more days of fishing left on St. Brandon's. This was a great call on their part as the fishing exploded over the final two days! On Day Eight Mike landed a 70cm GT that was swimming on the back of a very large Thorny Back Stingray. His first cast got the attention of a Bluefin that shot off the back of the ray only for the fish to pull out at the last minute. His second cast was spot on and with a long fast strip of the fly line the GT shot off the ray and smashed into his mullet imitation. The fish headed for the reef but the reel was cranked down and the battle eventually won. The magnificent fish was revived, photographed and set free. As if the day couldn't get any better, Mike later caught two solid Permit within a few minutes of each other. Both fish were in perfect condition weighing in at 8lbs and 10lbs respectively….a truly amazing achievement and something that will stay with all of us for a long time.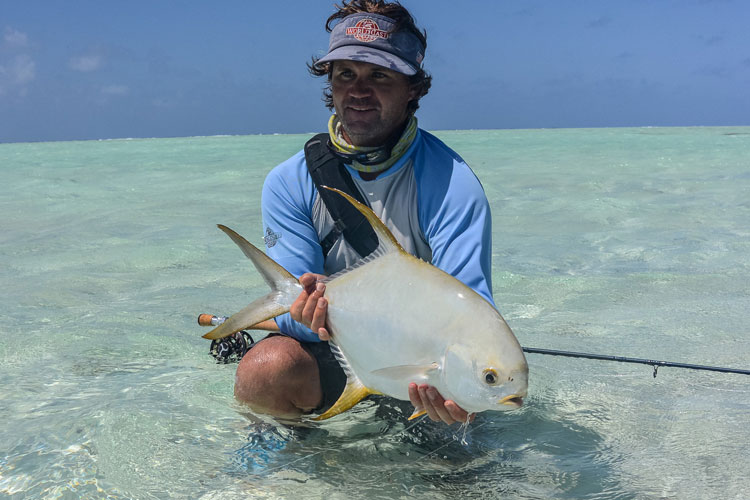 The final day brought with it some incredible fishing, with five Permit and many big Bonefish coming to our nets. First up Sandflea landed a fin perfect baby Permit, bringing his tally for the week to three. Soon after Patrick landed his first Indo-Pacific Permit, a great fish of 12lbs. This was a fantastic moment for "Patito" (as he is affectionately known) because during previous days he had hooked three but the fish had the final say. A great way to come back Pat! And finally, Day Nine delivered a hat trick of Permit for Mike with fish of 8lbs, 12lbs and 15lbs. Not only did he land these amazing fish all within an hour of each other but he did it on a flat that until then had been unnamed. At dinner that evening head guide Craig informed him that he had the naming rights for the new flat and without hesitation he named it "Patito" in honor of Pat and his intense battles with St Brandon's own Indo-Pacific permit during the trip.
Our previous record of 7 Permit landed during a trip, was smashed by the 10 caught fish, together with many large Bonefish (including 2 x 10lb fish), a GT, some large Bluefin Trevally and Golden Trevally will surely leave a lasting impression on everyone on the trip.
It's one we will never forget!
More to follow next week
If you would like to join us in 2016 this is your very last chance as there are ONLY 2 places left in the whole of the 2016 season.
Also remember our Sportquest Holidays PRICE GUARANTEE where we guarantee that you can not book this complete trip cheaper, as we will endeavour to beat any quotation.
To see the full destination details, itineraries, prices & availability CLICK HERE
Kind Regards
Peter Collingsworth