What a week its been out in the very cold Havoysund North Norway, on our very first fully Hosted Sea fishing holiday of 2018. All the guys are now back in the UK warming up but by the looks of all the stunning pictures we have been getting, its been an amazing week.
Mathew Rickard, one of Sportquest Holidays guide has stayed out there for another weeks fishing with yet another group from Sportquest and lets hope they do just as well as the first weeks anglers. News is that they went out at the crack of dawn today so lets hope we get some further news, I will keep you all updated. Over to Mathew Rickard for his account of week 1:
FISHING REPORT:
As I'm sat here writing this report the first lot of guests have just left for Alta and heavens have opened full of the white stuff.
Day 1
Where do it start? First off, the weather when we arrived was Baltic with the wind chill factor below -20 with freezing spray but we were all keen to get out so off we went.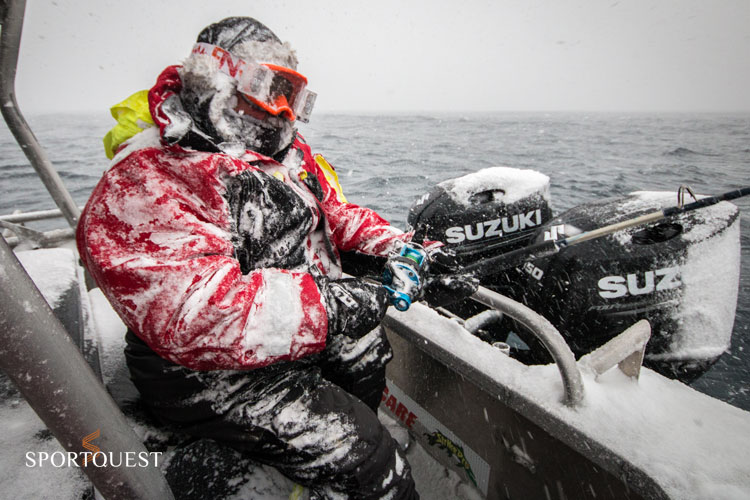 We stopped off at a spot where Douglas and André had caught some 30kg Cod on the previous day. We fished it hard for a while but sadly the fish had moved on. So off we went to another mark we had fished last year. First drop and bang we were into fish, nothing big at first but then Paul Janes hooked one up and it was taking line, we knew it would be a half decent fish. It was around 58 LB a good start to the first day. 30 min later we called it a day as it really was seriously cold.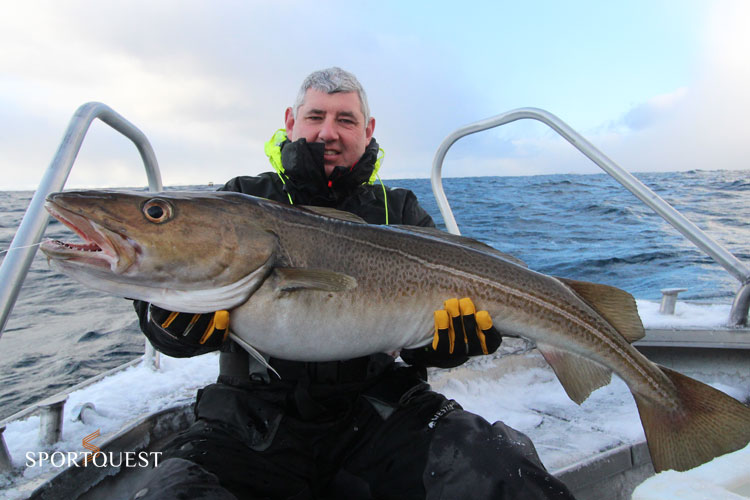 The other guys on the big boat had some good fishing too. Nothing monstrous, but very good fishing.
Day 2
Again it was bitterly cold and they were giving out warnings for freezing spray so we decided not to head out to the cod grounds but to stay near to the camp and fish for halibut. Surprisingly we had a lot of interest with several bites and one lost fish on my boat to Matthew Lowery and on the big boat they also had a few bites and they managed to land a small one of around 76cm. So all was not lost, the guys were still in good spirits but were desperate to get out on the skrei grounds. Things were looking up though as the wind was to calm down for the following day.
Day 3
Flat seas meant only one thing, skrei. All the boats headed out to the same area and scanned the sonar for signs. It was crazy as once we found the fish; it was 80metres thick with them. The hardest part was trying to get through the smaller fish (fish between 20 – 30LB) to the larger ones. It was seriously like a fish a drop! Crazy fishing with 160 or so to our boat. Totally Insane days fishing. We also had a 32kg – 70LB Cod for Dave Pannel well done fella. A few more 20 to 25kg were also caught. The other boats also had Fish to 30kg.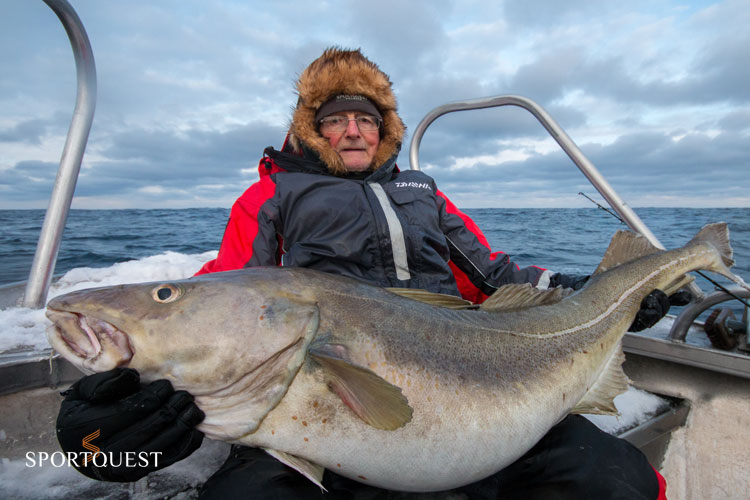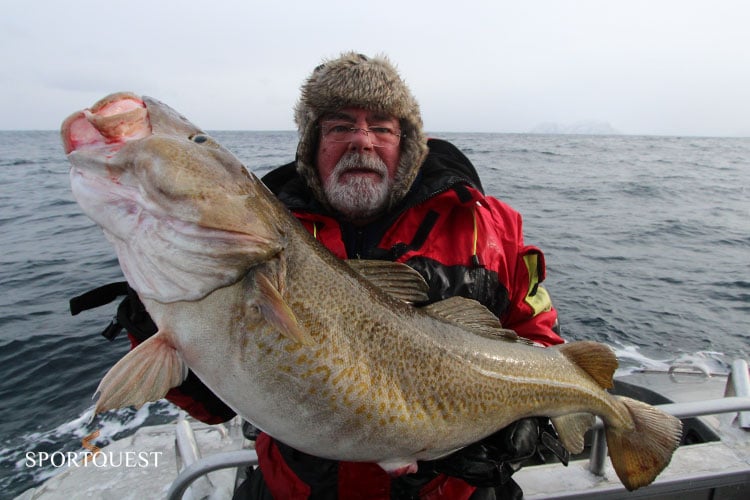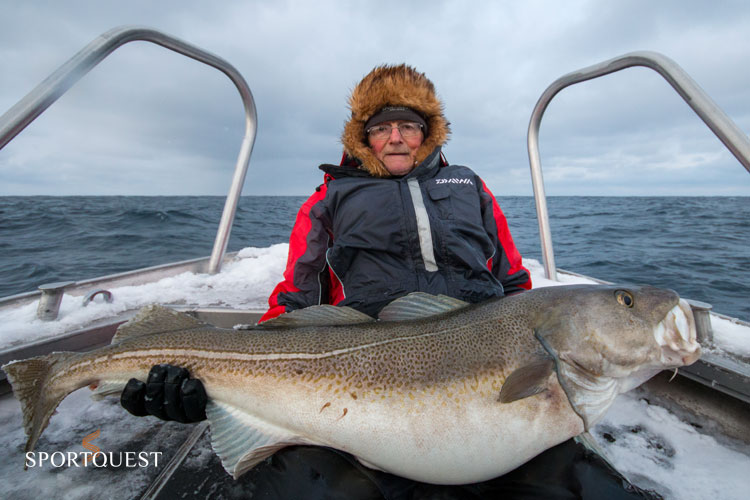 With everyone exhausted we headed home
Day 4
Was pretty much the same as day 3, I reckon we lost a few fish to 40kg, screaming runs then off and a few snap offs but you cannot win them every day.
Day 5
They gave out a gale warning for the area, there was no way of getting out the skrei, so close to the island it was for halibut again, a little interest but no hook-ups. We did have a wolfish, though it's so annoying knowing what the fishing is like out in the ocean but you can't get there. Well that's northern Norway in the winter for you.
The last day
It was still blowing hard but Douglas the head guide said at breakfast we will try and get out there. As not all the lads wanted to go out only the one boat headed out plus anther 2 boats with other guests following.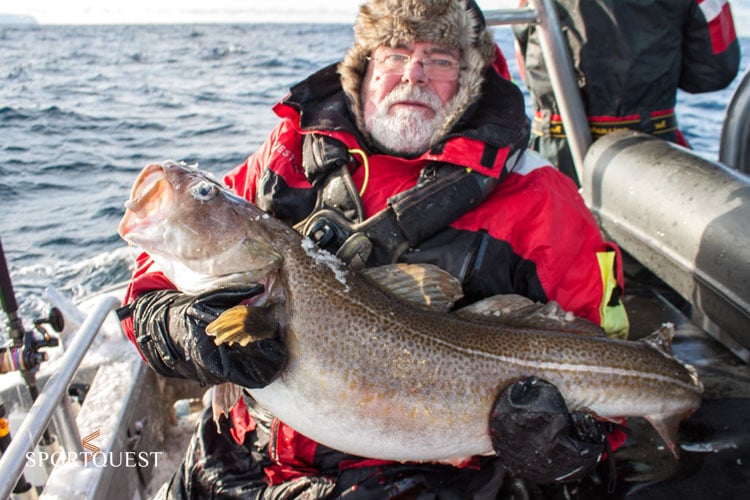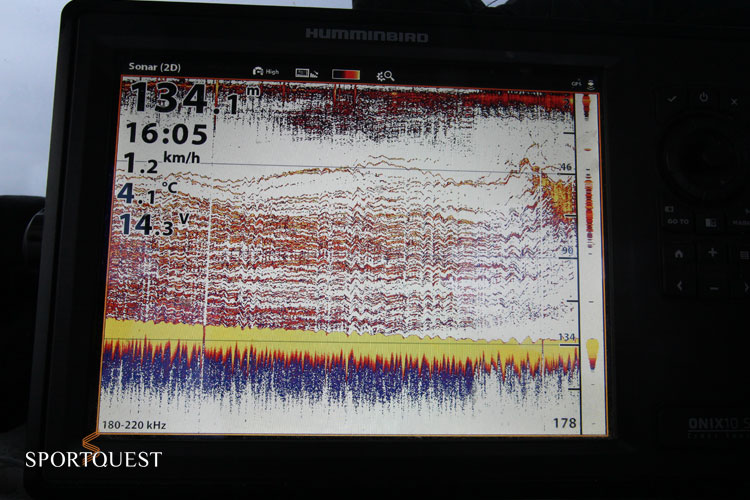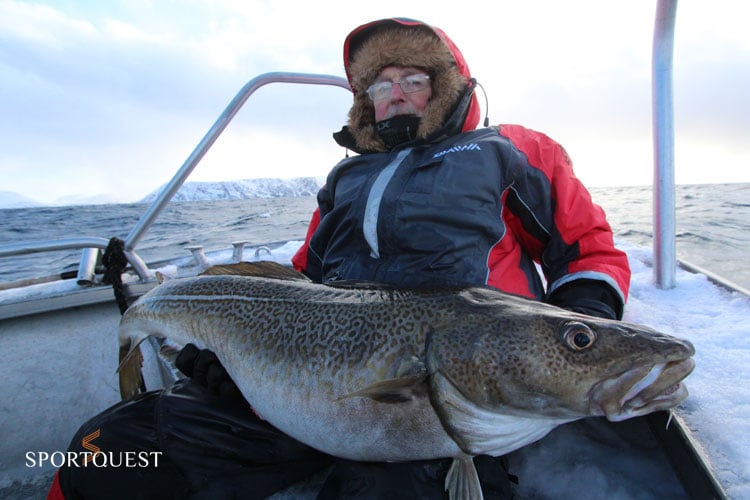 They managed to get out but it was a slow ride at 9knots. Everyone was into fish from the off once they reached the area. A lot up to 30lbs plus a few bigger ones lost.
The American group from Sportquest Holidays had them to 50lbs. The big ones are there it's just finding them, we have heard of the commercial guys getting them to 50kg this season, now that's massive.
Who knows my next lot of guests may even get one. Let's hope so.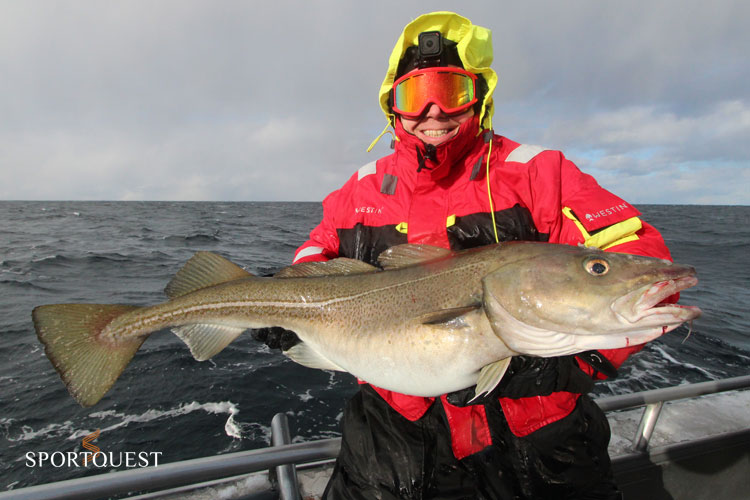 The weather is looking super good for them for the next couple of days. So fingers crossed I'll be putting up a photo of that world record skrei.
Anyhow a big thanks to the guys for a great first week, I hope you all enjoyed it and I hope to see you all again sometime soon.
Tight lines
Mat.
Wow Matt what a great first week and a huge well done to the entire group for sticking it out in some pretty cold conditions. As you can see from this report anything is possible at this time of year in Northern Norway and lets hope the second weeks anglers will smash the world record.
If you are interested in joining us to one of the best Skrei Cod fishing destinations in Norway then call us on 01603 407596 or if you would like to view the full trip details then CLICK HERE and remember we can use nearly every airport in the UK to get you out fishing for these huge Skrei Cod.
Until our next report, tight lines
Paul