We have had this report from week 7 of the season in Tanzania. The Tanzania Tigerfish fishing has been superb during this time with the customers fishing the area catching some very good fish. Read below to see the full report and see for yourselves just how good this destination is for the travelling angler.
Each new week of the season brings new customers, new enthusiasm and a new story to preach.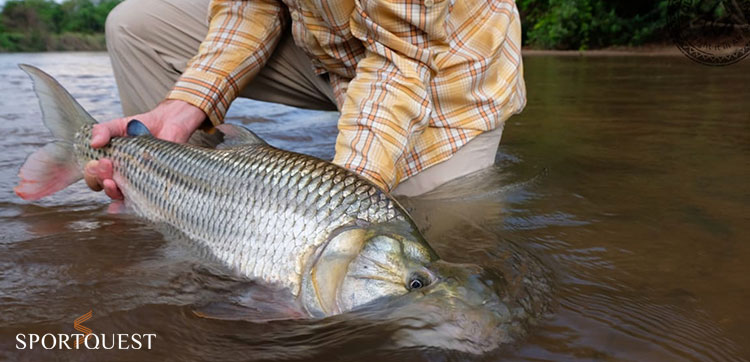 Week seven of the Tanzanian season saw veteran Tigerfish wrangler Karl and  two new customers Nick and Pete from the UK. The coming together of this colourful crew created the platform for an exciting week on a multitude of cultural levels. The reactions seen when hooking ones first terrifying Tanzanian Tigerfish is something truly exhilarating for both guest and guide.
Lunch on day one saw one customer with two healthy 13lb fish under his name. The second fish, gave an exceptional fighting display that included some tricky timber led into an interesting landing experience. Nothing was holding Brian back as he boasted yet another double figure fish in the afternoon session.
The day came to an end with a hair raising Hippo encounter that got the heart pumping. With one encounter followed another, yet this time with Brian's highlight of his week: an outstanding 20lb Tiger that supposedly got the heart pumping even more than the hippo! This pure gem of a fish was safely released to terrorize many more bait fish in the future.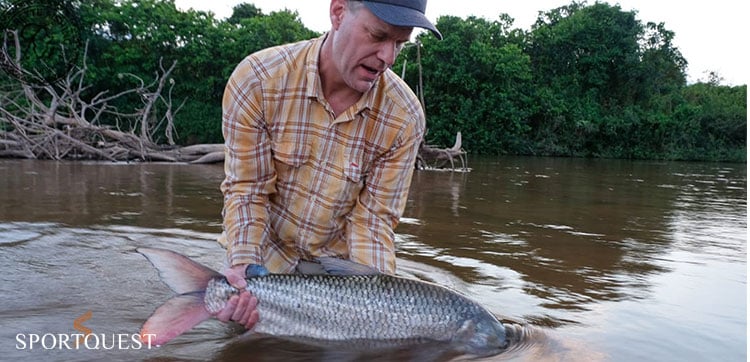 Smoke from the camp fire and lightning from heavy thunder clouds danced in the night sky creating a spectacular performance. However, this led to us awakening to a swollen river that had changed her presence overnight.  This made the fishing noticeably tough with only one smaller fish making an appearance. Everyone was confident in their casting abilities after a full day of casting practice!
The Ruhudji held her new higher levels right through to the last day. With no real expectations of big Tigers, the Catfish rods were always near by as a fail safe. This resulted in a couple of big Sharptooth Catfish with one tipping the scales at 23lbs. Karl, Pete and Nick had the Mynera River as their playground. With Karl looking to beat his personal best of 21lbs, his game begun. Pete and Nick were no strangers to tussling Tigerfish. Karl was reminded, even with his veteran status, how much work goes into landing a big tiger. He fished hard and managed to land several smaller fish, however the big one unfortunately evaded him.
The luck seemed to be in favour of the British duo, beating both their personal bests and witnessing first-hand the quality of the rivers they had heard so much about. They successfully landed a 19lb Tiger in the rapids, which always results in a hefty pull.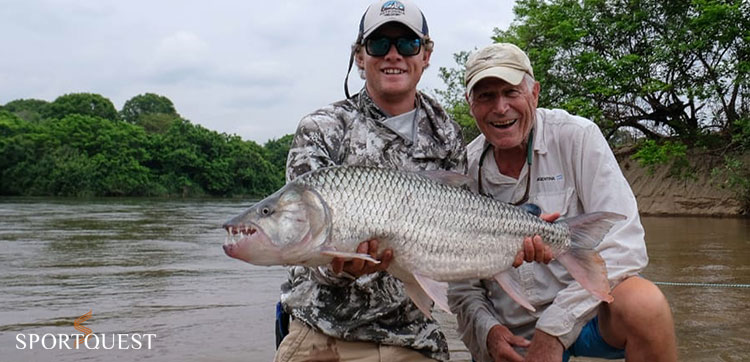 Brian and Pam migrated over to the Mynera river which hadn't seen the vast rain and conditional changes like the Ruhudji had . This created a perfect setting for the latter stages of their week with fish ranging between the 13 and 15lb range being landed. The last day in the rapids proved to be the most exciting! Brian had missed out on the surface action on the Rahudji , yet found himself throwing some "shake" action (Stu Harleys famous 'Harley Shake', a top water fly) and receiving a beating from a 12lb fish. He, like many an angler before, fell in love with the top water triumph. Karl, Nick and Pete found themselves tackling the high waters of the Ruhudji for their last few sessions.
The first day was tough, with few fish landed and some missed opportunities. This left the three with nothing but high hopes for their second day on the upper beats. "Its not over until the fat lady sings" echoed in Karl's head as he continued to work for a big fish. Pete and Nick had some late afternoon fun with smaller fish yet emotions were heightened as hard work was still unanswered. The last day on the Ruhudji was a day to remember. Karl was finally rewarded with a big, full bodied female tiger boasting a weight of 22lbs and his personal best record. J
udging by the snoring coming from the hammock at lunch he was truly satisfied. Pete and Nick got stuck into some crazy action with big hits happening on the surface and below, which resulted in some great fish being bought to the net.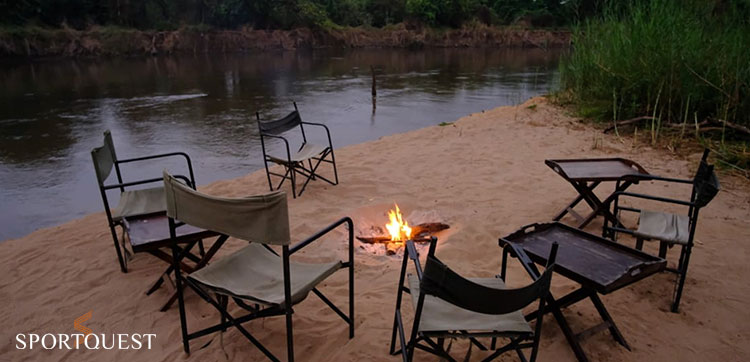 Overall the beauty and pristine nature of Tanzania took the cake. A great week was had with plenty of laughs, memories and good fish that will be cherished well into the future.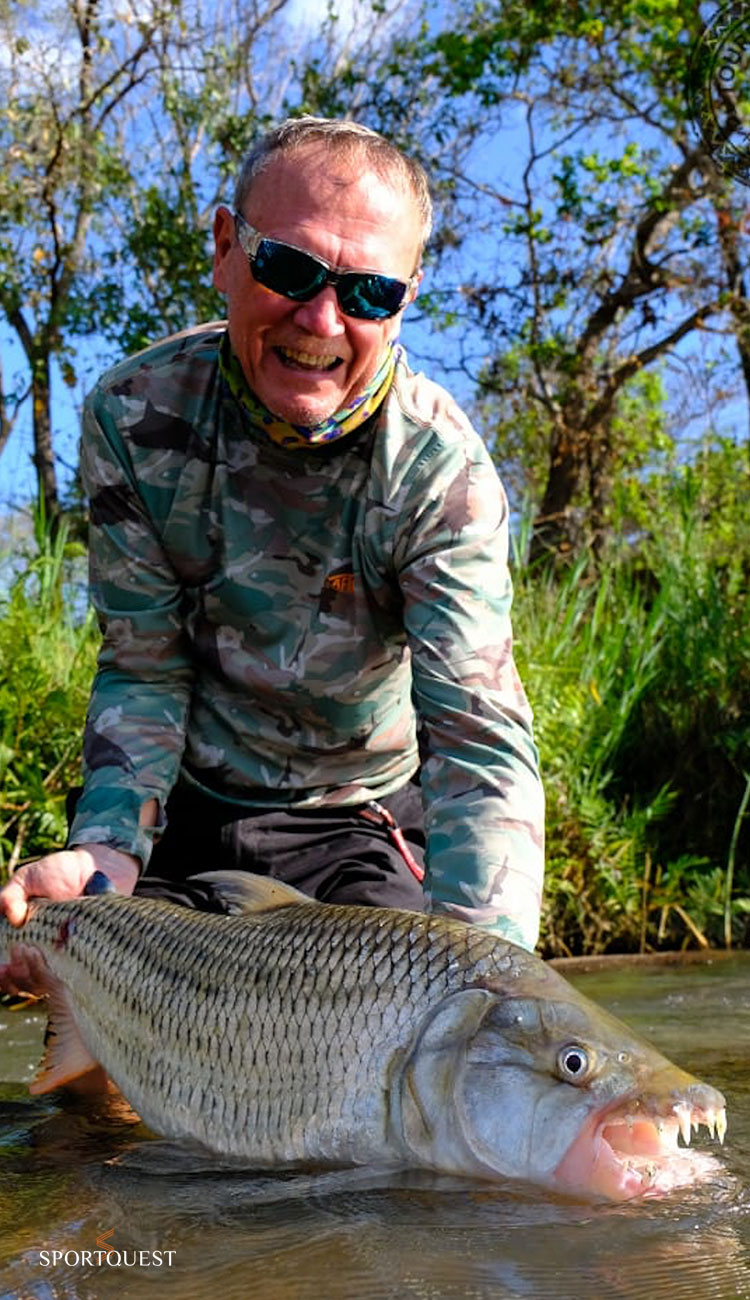 Until next time, Brent and the TZ guides team.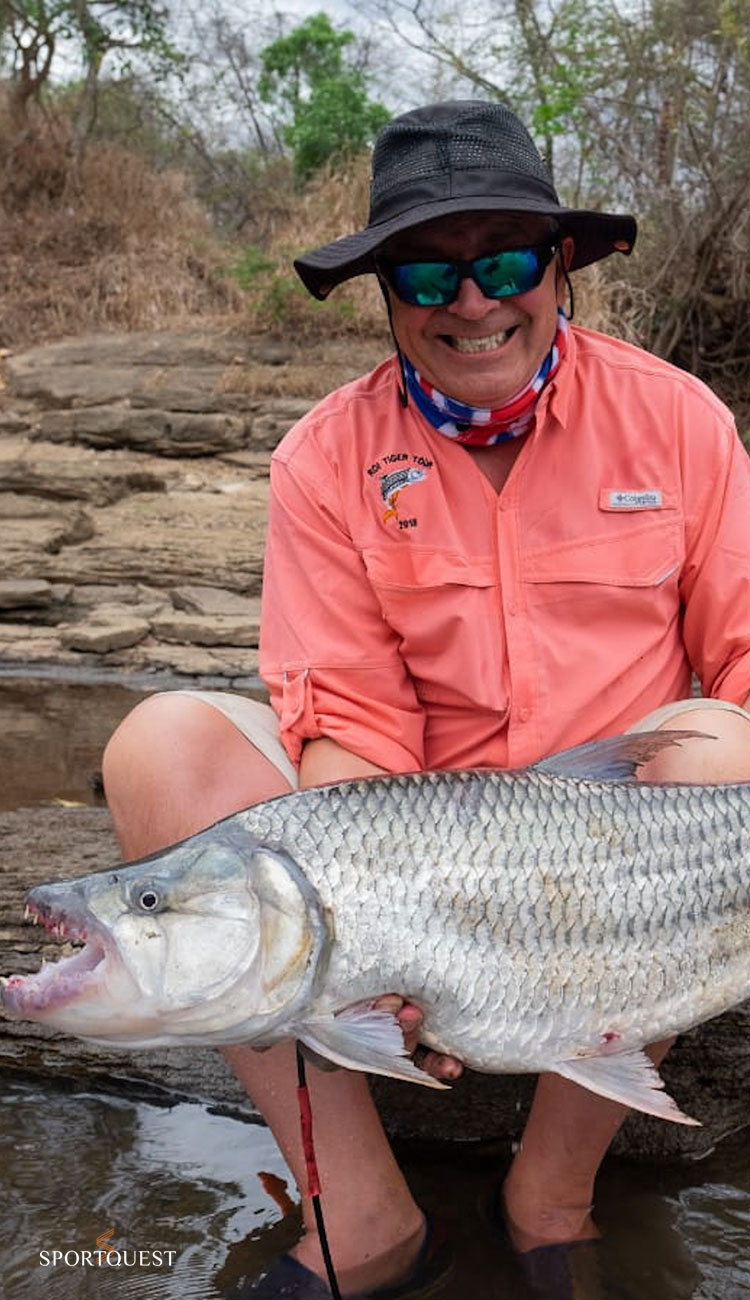 Does fishing for these hard fighting Tigerfish sound like something you want to experience for yourselves?
If so then take a look at our future Tanzania Tigerfish trip dates. 
Tight Lines
Matt