Tarpon Time At El Pescador and we at Sportquest Holidays love writing our reports especially for El Pescador in Belize, one of the best Saltwater fly fishing destinations for the whole family. The guides that are employed at the lodge are some of the best in Belize and once you have spent anytime in their company you will feel like you got a friend for life.
We like to give you a little bit of information on each main species that is being caught and you will see below some stats on the fish and who caught them, so i hope you enjoy reading and be sure to check out the full tour on our website: Family Fly fishing Ambergris Caye Belize
Bonefish (Macabi):
We had some great bonefish stories this week! Les landed a bone close to 4 lbs with Captain Luis! This is a big bonefish for El Pescador. His fishing partner, John, was a happy guy with all the bonefish he landed as well. Deb and Louann were here for their first saltwater flats experience with Captain Tomas. They had a blast. These ladies are now seasoned flats fly fishers! They landed several bones on fly. Barry and Tony had their sons Alex and Ben fishing with them. Alex and Ben landed their first bonefish on the fly! Barry and Tony landed bonefish as well, but spent their time looking for other species. Chris and Andrew landed their first bonefish on the fly with Captain Alex.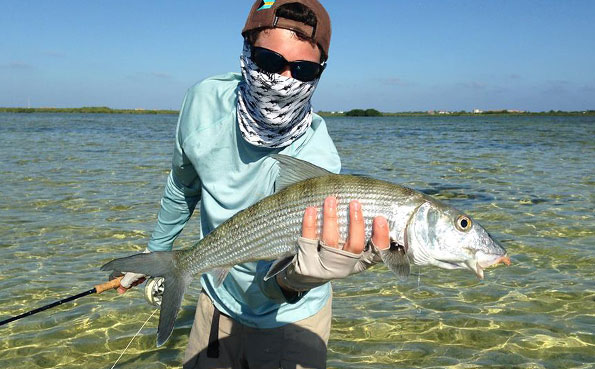 Permit (Palometta):
One of our guests walks into the shop upon arrival and says, "I'm scared!" He said he was worried about guides yelling at him because he had little experience fishing the flats. Well, Captain Emir did yell when he landed his 30lb permit on live crab. Wow! You can really tell a big permit because they get so long they start to look like a tarpon. Stan, we are proud of you! And then his fishing buddy, Tom, landed a nice 16 pounder on fly that went toward his slam. He landed another permit with Captain Emir and they thought they were going to slam the second day, but that would have been greedy. So, two permit on fly for Tom. Adam was winding down from the Tarpon Tagging Expedition with Captain Kechu. They found a giant group of permit – threw 16 flies – were ready to call it quits, when Adam said, "NO!" "We are going to use this big ol ugly deer hair thing and they are going to eat it." And a twenty five pounder inhaled the fly. Nice. Tom was fishing with Captain Cesar and he landed a beautiful permit on fly. Woody came to the dock with a zipped-lock grin on his face after fishing with Captain Emir and Gordy. After a little prodding, I learned they saw close to a thousand permit that day. They tried everything but couldn't connect.  Congratulations to our permit winners this week.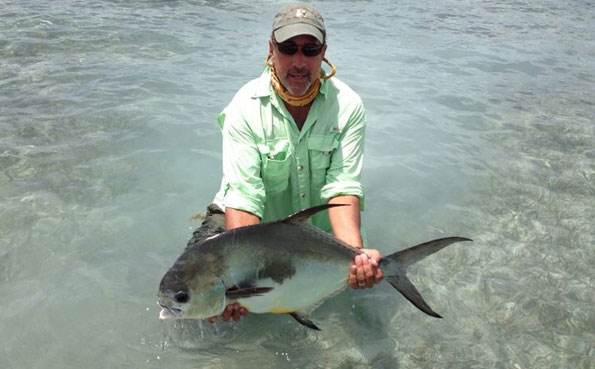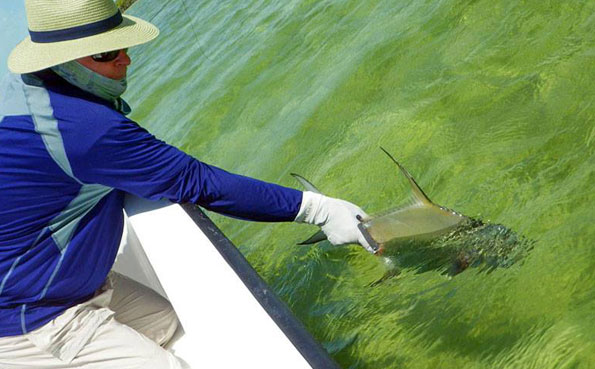 Tarpon (Sabalo):
For our anglers who love tarpon…it's like you read about. Andrew returned to fish with Captain Tomas. They jumped seven in three days. Sean shows up with his beautiful wife Laura. Laura doesn't fish but this is a time where they left their 2 y/o and 4 y/o at home to enjoy some down time and hopefully, get Sean a tarpon. Well, day one they head out with Captain Cinoeh and made it happen. And then day two, they made it happen again! Sean and Laura have smiles that are stuck on their face. Tony was out with Captain Erlindo and he landed a nice 30 pounder on fly.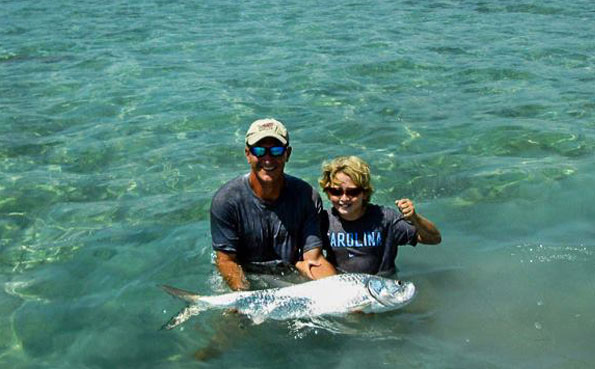 Shaun was there with his father, Michael. They were so excited that on the last day, Shaun landed a nice 20 lb tarpon on fly with Captain Alex. Shaun was working on his casting daily, and felt really happy with his refined skills as he was able to pepper the mangroves with his fly and find that connection with Mr. Tarpon. Troy was there with his dad Dilbert. They were happy with bonefish on the fly, but thrilled when Troy landed his tarpon on fly with Captain Raton. Tim loves fishing with Captain Cesar. They had shots, jumps and good times knowing that when it's yours, it's yours. Next time Tim. And Tom, yes, of course! Tom landed a nice 60lb tarpon on fly with Captain Emir that was included in his slam. Captain Cesar showed Tom and his son Thomas the tarpon fishing they were hoping to find as a return anglers to El Pescador. Tom landed a beautiful 60 lb tarpon on fly, and they had several eats. Thomas's energy is so positive and explosive that I think the fish showed up just to meet his joy. Actually this was Thomas's first time here – his brother had been on previous trips but kept the secrets of fishing with Captain Cesar quiet until his brother was able to make the trip. A big "shout out" and thank you to Woody.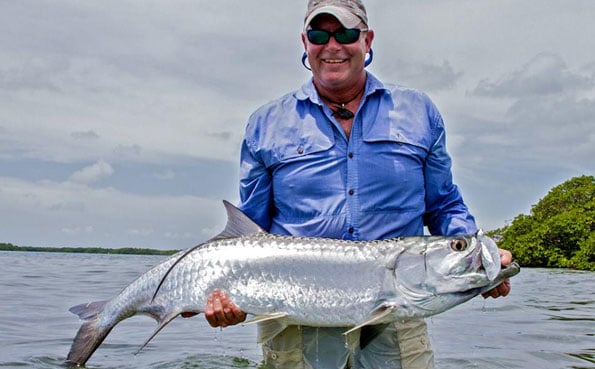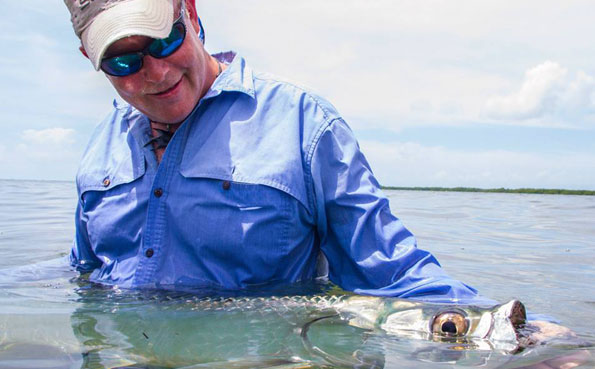 Other Species:
Kechu and Adam had ridiculous fishing for jacks on fly.  Captain Alex has been on some 20lb snook. Shawn and Michael had some great shots, but the fish won.
Grand Slam:
Congratulations to Tom who will be honored on our Slam Wall of Fame! Tom slammed with Captain Emir and Gordy. And they almost did it again the second day! This was a big fish slam – which feels even better, I'm sure. See photos and smiles. Yay Tom!
Flies that worked:
Bonefish: Christmas Island specials, Spawning Gotcha, Crazy Charlie
Permit: Spawning shrimp, Merkin
Tarpon: Chartreuse bunny, Black Death, Tan bunny
Guide of the Week:
Captain Emir for getting Tom the slam of his dreams. And the bonus was getting Tom's buddy Stan to land a 30lb permit – a fish of a lifetime.
Week's Summary:
It's summer time in the tropics everybody! And the fish are here and happy. We have migratory tarpon moving all around the banks – we have permit showing up so big they look like tarpon. We have flat calm conditions where you can see a tailing bonefish from a long way away. People ask us: "When is the best time to be here?" Well, we can plan and hope – but for the angler's this week, they got to experience one of these "best times." Thank you to all of the anglers this week for your positive approach to each day. Sure, there were defeats, but each day you returned to check in and see – as they say here in Belize, "What's happening?"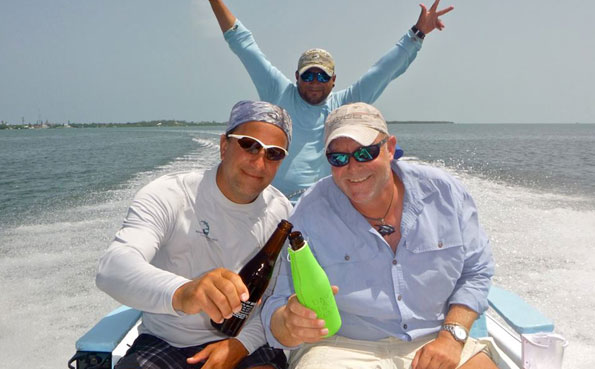 Hope you enjoyed reading our report and make sure you keep an eye out for the next one. So until then, tight lines
Peter Collingsworth