Indonesia Fishing Report and It all started off with long time friend and explorer Christer Sjöberg as a quick chat at one of the exhibitions about his new fishing adventure in the remote parts of Indonesia where the head thirsty local population roamed just a while back say 50 years or so, it all sounded amazing but difficult to fit in the daily busy work schedule.
Months after an opening in my schedule came up and quickly I gathered a group together, 7 of us to be precise, a very international troop with the guys coming from South Africa, Bosnia, Scotland, Italy, USA and Sweden all joining forces in an attempted expedition to tackle these illusive Gt's or Giant Trevally as they are called including a bunch more of exotic fishes swimming in these waters of Indonesia made up off approx 20.000 islands.
Even before the adventure started, it is an adventure to get to the city of Sorong in Indonesia where our fully equipped 30 meter long mother ship patiently waited with a full crew of cooks, guides, captain, and other functions I didn't know existed on such a ship. We quickly stored our stuff on board with plenty off rods, poppers, cameras and more cameras and everything else needed for an 8 day sailing trip which was a first for me. I only tried the ferry from Sweden to Finland before which takes just a night where roulette and cocktails is the main event. Indonesia Fishing Report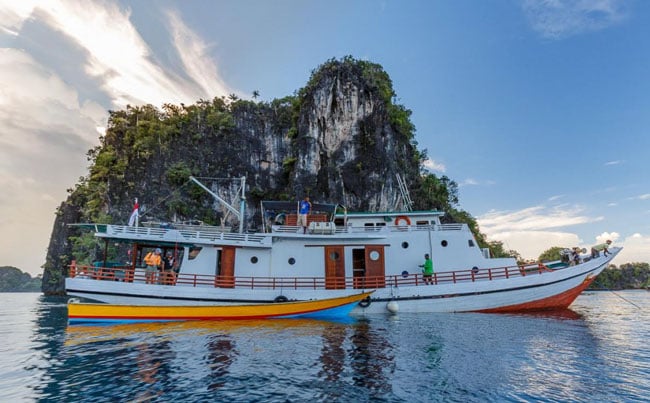 We took off early morning after arriving into Sorong 5.00 am which was genius as we had a fair way out to the first fishing grounds, approximately 12 hours which gave us enough time to rig our rods, change hooks and top tune our lures and poppers, get some rest, drink a beer and enjoy some Indonesian food and take look at some amazing views.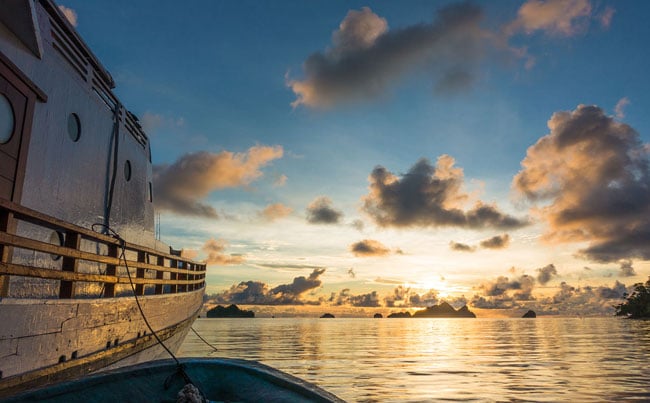 A lot of fishing stories were shared along the trip out, as we all came from such different parts, everything from Scottish big salmons breaking your lines, Bosnian Hucho Hucho having your dry flied fished grayling for dinner, Great white Sharks enjoying your yellow fin Tuna out of South Africa and Sam's story about being speared off a swordfish trying to take underwater shots off it, clearly we had an extensive world wide knowledge off fishing.
We arrived at the first spot around 9pm at night and off course meeting the local king is important, he explains all the unique features of the area which is 100% protected from any type of net or commercial fishing is called Raja Ampat, which means the 4 kings was an experience itself. We were immediately served a welcome dish, a perfectly grilled Snapper in a decent size to give an idea what also could be caught. We decided it was bed time and wake up call was 5.00 am.
Time to begin to Fishing
Boom we are doing it! Hard out at first light, we had 3 of the 8m smaller boats with us to fish from which worked perfectly and we divided the teams up and the plan was to have two shifts of fishing, basically a morning shift and an afternoon/evening shift.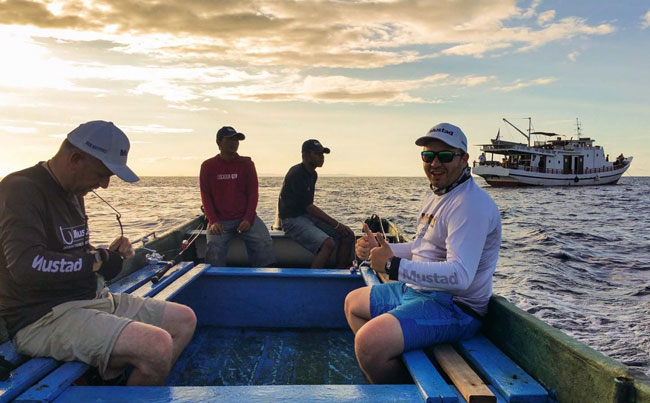 We were surrounded by amazing beautiful islands and gin clear water, no doubt there is a lot of casting involved and the key was to find the fish, GT's are as elusive as Jack Crevalle, one minute you are surrounded next minute they are gone. I remember my first GT bite, after a tough morning for me it exploded in the afternoon, it felt like a train wreck hit my popper and took off, it's very hard to describe but one thing I can tell you, it is very addictive.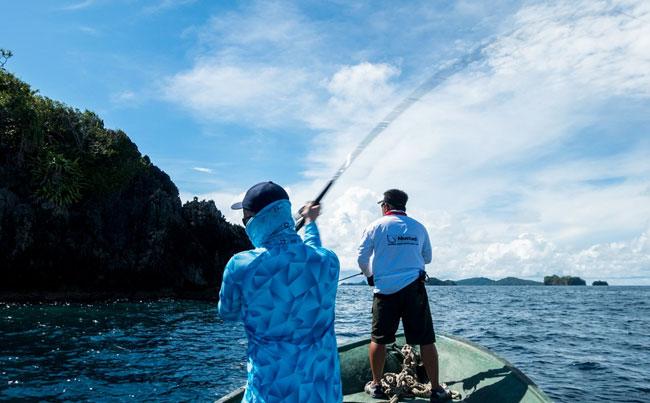 The first days we had plenty of GT action and it was time to move to the second spot called the Mystique reef. Here the fish seemed to have grown larger and the bite was even more awesome compare to our first spot. Everybody hooked and landed fish in the group up and down and the spirit was at its peak, we were in fish heaven. We had brought a lot of stuff with us but after fine tuning the way we fished it was clear that poppers out-fished and stick baits, it can take a day or two to find the best way to fish a way that suits you.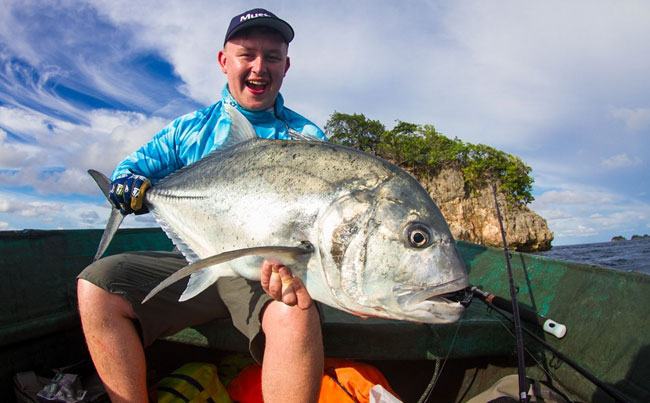 We rounded off last day on the Mystique to go a an island that Sam Root found on the map and when arriving the place was on fire, schools off fish everywhere and a divers dream, we caught some GT's some very nice Spanish mackerel which are delicious to eat and make some spectacular jumps, we also saw a sail fish cruising around! Words cannot describe the feelings I get when thinking of this. What a place.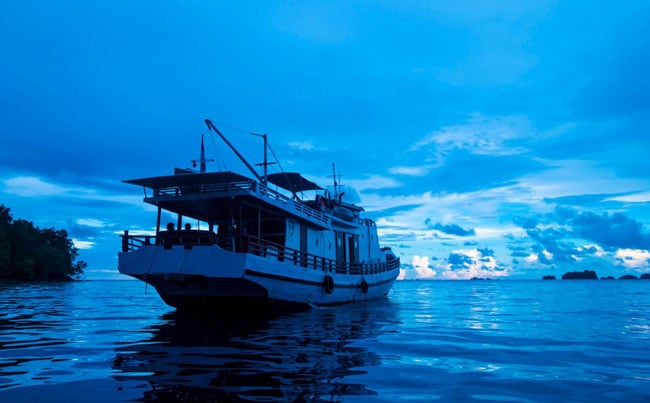 Spot 3 or Outer Reefs as it was called was yet again an unbelievable place! If water could be any more clear it was, if the GT's could be any bigger they were, if it could be any more pretty it was, here we encountered several more species of fish, some extremely beautiful snappers that took the top water baits, a variety of groupers among some giants the biggest being around 70lbs which struck the popper 2 meter from the boat, I almost fall in when it swam back like a rocket back to the bottom and with a 65lbs drag on the reel it felt like I was going to lose my arms.
Later that day we had lunch at a beach on the tip of a peninsula, surrounded by coral reefs. Here we spotted a huge school of Bonefish and saw a giant Napoleon Wrasse that we estimated at 150 lbs + whilst doing a bit of snorkelling. An absolutely crazy fish that totally blew our minds!
Outer reefs was really kind to us and the two days was over expectations, as usual you lose the biggest ones but hey that's fishing and that's why you need to come back. There are some very big fish in this waters and you just need to be prepared with top notch tackle and lines and hooks you can put 100% trust in. GTX really is a place for a lifetime trip and it takes weeks for everything to sink in! All the things that happen's on a trip like this! Not one trip will be the same to another one, that's for sure!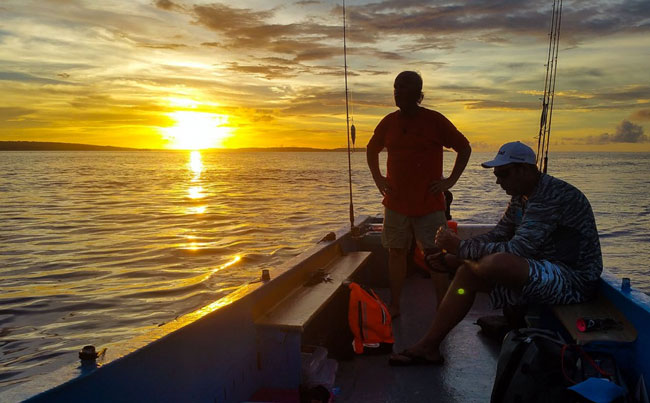 As you can see from this trip the fishing at GTX in Indonesia is still very virginal and just waiting for some very keen anglers to try different areas. We have organised a very exclusive Hosted trip to this location for some very lucky anglers, we have limited it to a very small group so if you fancy something a little different then this trip is for you. Fancy lure and popper fishing waters that have never even seen a lure then get your self on the trip. Simply call us on 01603 407596 for more information.
Hope this given you food for thought and until next time, tight lines
Paul