Norway Fishing Report, the second instalment is here, with fantastic fishing and many laughs along the way. Be sure to read and feel free to leave any comments:
Fishing Day 4:
Sunday was looking even better than the previous days weather and we all decided to spend the morning Cod and Coalfishing then head to a good Halibut mark in the afternoon to try our luck once more. So off to the north again for another shot at getting some big Cod and the hope yet again for Halibut in the afternoon. Mark found, we soon set about getting our shads fast to the bottom where the Cod were feeding and yet again Kevan came up trumps when he reeled in yet another clonker. Fish lifted in to the boat and she was weighed at 36lb, Kevan was soon named the Cod master as he was showing the others how it was done and was making a great Norway Fishing Report.
| | |
| --- | --- |
| | |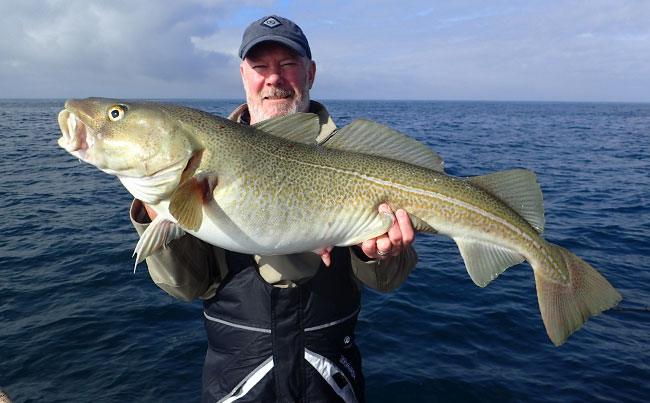 Now to complete the story from the lost boot at the beginning of this report. I knew what was happening as Kevan had informed me of his antics so I had to try and keep a very straight face. So it started with Kevan very sneakily removing Rays one boot from his room and storing it on the boat for just the perfect moment. Then out of the blue Kevan shouts "I got a good one on here" only to then reel up Ray's boot, Ray turns around and says "That looks like my boot, it cant be, Can it?" We all played along, with me saying "it would be great if it was a left boot as that's what went missing" He really thought that Kevan had hooked the missing boot!!!! It was no good, none of us could keep it up any longer and all burst in to fits of laughter. We all turned to Ray and told him what we had done and he burst in to fits saying "He knew all along" but I swear he really was convinced that we some how managed to hook his missing boot. Sorry Ray I had to mention it in my Norway Fishing Report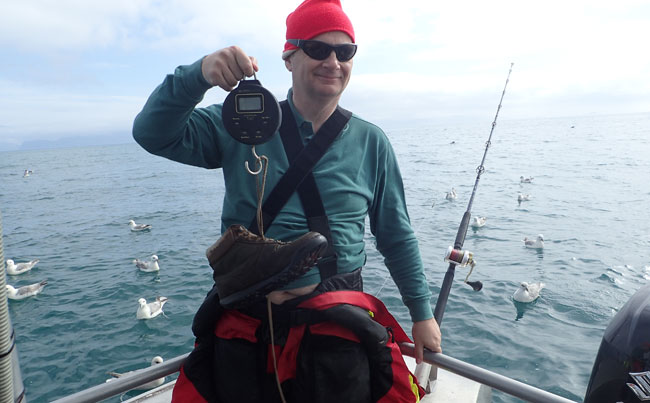 Back to the fishing, after the boot incident I contacted the other boats and hatched a plan for some Halibut fishing on the way back to the camp and with a new location discussed we upped our lures and set off. We only had a couple of hours left of the day and with the new area just a short ride away we soon got there to find yet again flat seas and this time no drift. So it was down to me to make the lures work by pulsing the engine to give us some movement. Now this very rarely works but was the only option as we had no drift and was pointless to just sit in one area. We tried hard for a couple of hours to no success, but we tried and that is how fishing goes sometimes. I guess we should of maybe stayed Cod fishing but we were all so desperate to catch or see a big Halibut you can only but try. The end of the day soon was upon us and the call was made to head back.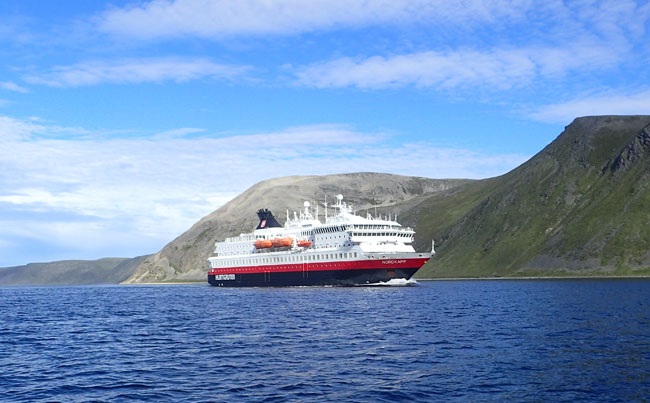 Fishing Day 5:
Last night I sat talking to the guides and going over old Norway Fishing Report and received some great news that one boat at the camp had gone to an area not normally fished this early in the year. An area that normally fishes very well in late September / October but seeing as they had a very cool summer this year they thought it may be worth a go seeing as no one else was catching any where else. They had managed 6 Halibut strikes and boated 4 to 170cm around 70 kilo, so with this news it had us very pumped up and had to be worth a go.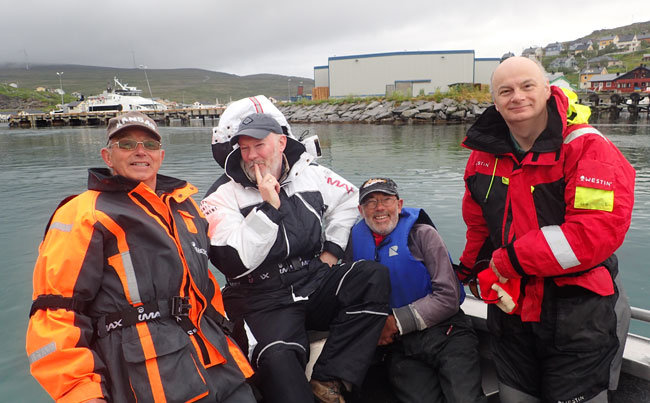 Monday morning and the Halibut fishing was looking on the up especially after last nights news and with this information passed on to the other anglers the guys had a new spark of enthusiasm. The area we were going to head to was called the 'Straights' which is a gap between two mountains where the currents reach up to 5 knots and when there is no tide you still get 2 knots. When the guides told me about this area it just sounded fishy and with it being only 45minutes from the camp we soon found ourselves staring down at some boiling water between to big mountains, the perfect area for Halibut.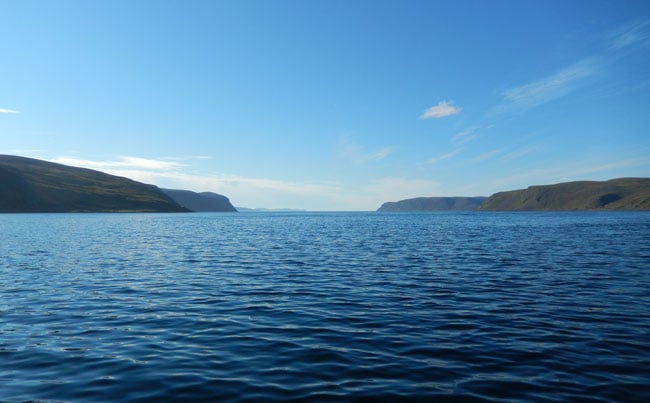 Now the hard bit, if you have ever fished an area that is boiling on the surface you will understand how hard it is to control the boat and to have 5 people fishing is very hard to avoid tangles. I have had a fair bit of experience fishing waters like this so I knew what to do to the boat to make it fishable for the guys and with a likely looking area found on the plotter we had the boat set up for the first drift, I forgot to mention that all 11 boats were fishing in this area so some one would catch I am sure.
After only a couple of minutes my rod slammed over on a lure I have been testing for Seabooms, a curly tail shad in a pink colour and I was in, I really wasn't expecting a result this quickly as I was busy reversing the boat whilst fishing but I soon found myself drilling this Halibut hard and fast and soon had her beat on the surface. It was a good one as well and out went a shout over the radio of "Halibut on the boat" we quickly measured her took some cracking photos then sent her on her way, just the way I like it. What a result a fish that quickly from a new area, this really got the rest of the boats fired up and every one concentrated even harder for the tell tale signs of Halibut nibbling on the shads. 20 minutes past and it was my rod again that got hit this time the Halibut felt a little smaller but still a Halibut, the species we had been searching for all this time. I soon had the Halibut on board, measured and photos taken and then the shout over the radio was once again "Halibut on board" Only for the guide boat to reply with "We are playing a good fish" Wow I think we had had found the home of the Halibut at last. After around 20minutes the call came over the radio once again of a 132cm Halibut on board, congratulations Ian a new PB and a fine Halibut.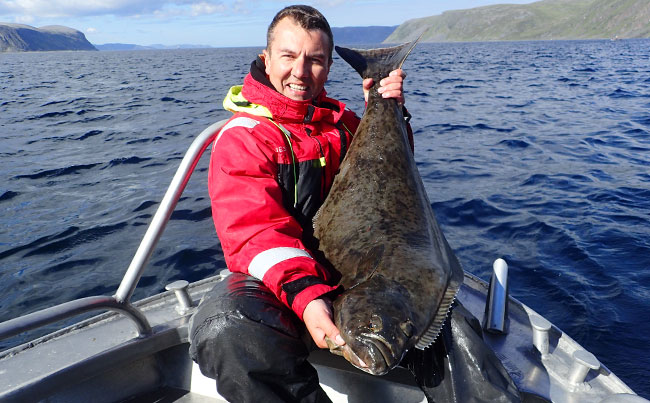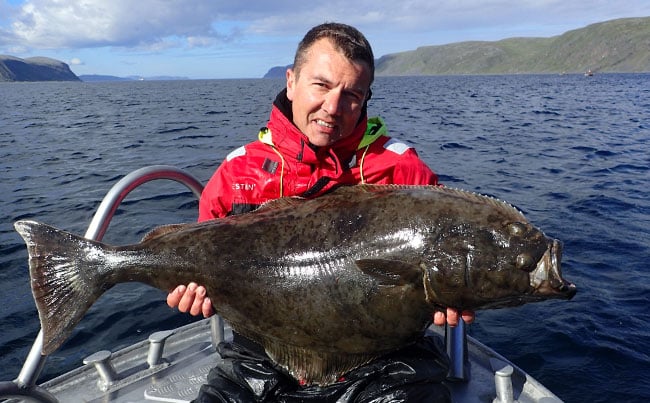 | | |
| --- | --- |
| | |
The guys were now all buzzing as we had finally found them and in the back of my mind I could see a big one being at least hooked. Around an hour later Colin on my boat hooked a good fish and after a good tussle with the Halibut we had yet another Halibut on board and was measured at 118cm another fine Halibut which got her freedom, congratulations Colin well played. It was lunch time and we had already done really well so we decided to take a break and grab some lunch as the guys needed some energy so I drove the boat out of the current and pulled up in a quiet bay and relaxed for half an hour. This was turning in to a great Norway Fishing Report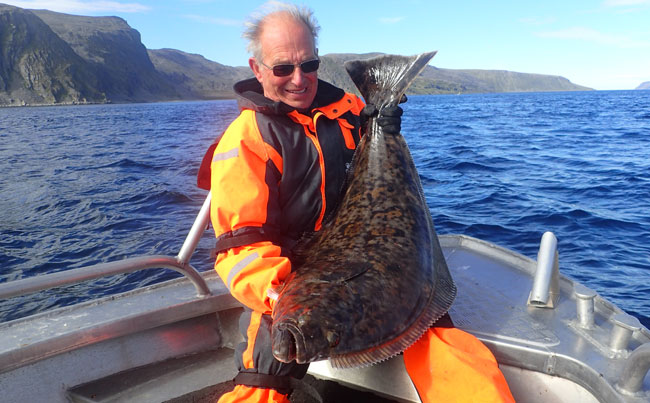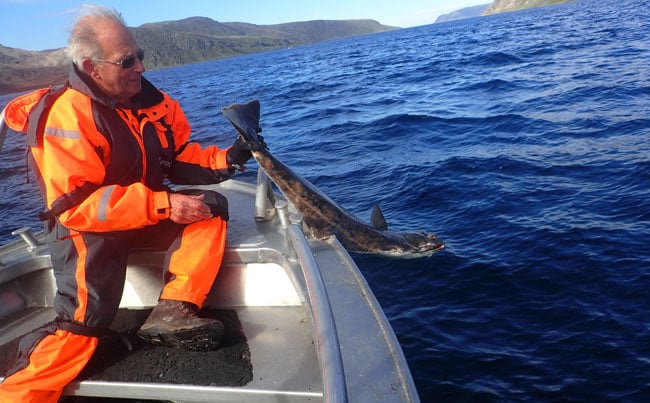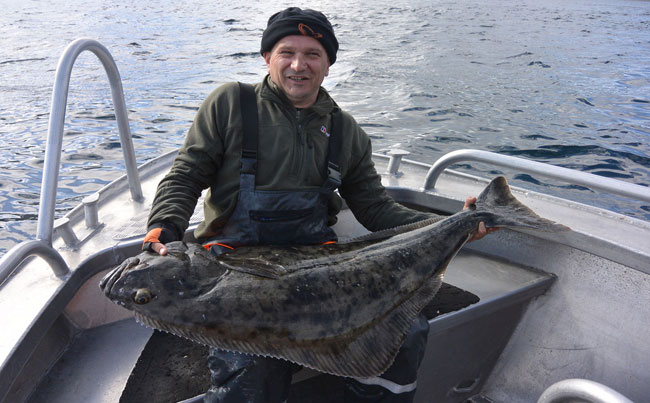 After some well earned rest we set the boat up for a long drift over the same grounds as before and after 1 hour Ray slams in to something that was big. The fish took metre after metre and poor Ray was looking a little scared at what was on the end. I quickly got everyone to reel in so we could chase the fish, as we really did not want to loose this one as I could see it was going to be a good fish. Ray done very well and only needed my help for a couple of minutes, so I gently pumped the rod whilst he reeled her in. Rush after rush we soon had the huge Halibut on the surface and were ready to attach the tail rope to secure her to the side of the boat. Wow what a beast of a fish and after a quick call over the radio we set about measuring her, she went 149cm and was in perfect condition. With the photos done and a huge congratulations to Ray we revived her ready to send her home and after only a couple of minutes holding her tail she gave a massive push with her tail and off she went. Well what can I say, apart from well-done Ray, as this was a fantastic fish and one that will stay with him for a long time.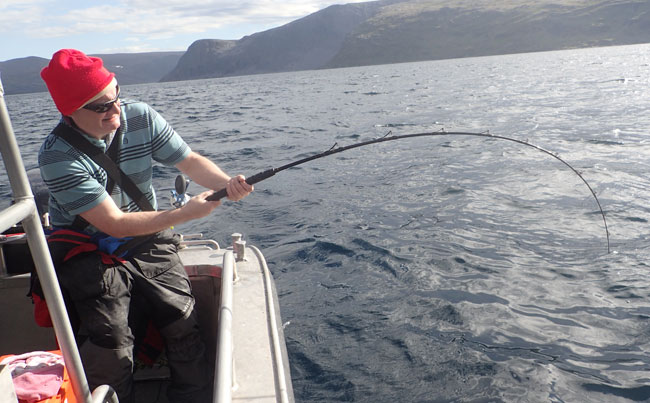 | | |
| --- | --- |
| | |
The radio was then alive with congratulations to Ray on a brilliant fish and Ray decided to sit back and take 5 and reflect on his capture, I don't think it really sunk in for a little while and on the way home I could see him sitting there with a smile on his face like a child at Christmas.
Fishing Day 6:
With yesterdays Halibut fishing still fresh in peoples minds it was time to take the journey back to yesterdays area hoping for other big Halibut for the rest of the group. As this was the last days fishing we decided to spend the whole day in this area so we did not waste anytime moving and more time fishing. A new mark found in the same area I positioned the boat for a long drift and was looking for plateaus with drop offs each side and before long Kevan was in to a smaller looking Halibut and after a short fight Kevan was holding a Halibut up for a photo or two. Then all of a sudden the radio sparked in to life with the guide saying, "Big arse Halibut" so we decided to go over and have a look as we were not far from him. When we turned up they had managed to secure this beast to the boat and to my surprise it was huge. I positioned the boat close to his so every one could get a look and I could get some great pictures of his fish. This Halibut was a serious one and one that we had made the journey this far north for. She was then measured and I couldn't believe it, she went 183cm which works out at around 86kilo about 190lb…… A huge congratulations to Gary his first ever Halibut and what a first Halibut. So after many handshakes and lots of pictures it was time to depart and get back to our fishing, so of we pushed and set the boat back up on the same drift as before.
| | |
| --- | --- |
| | |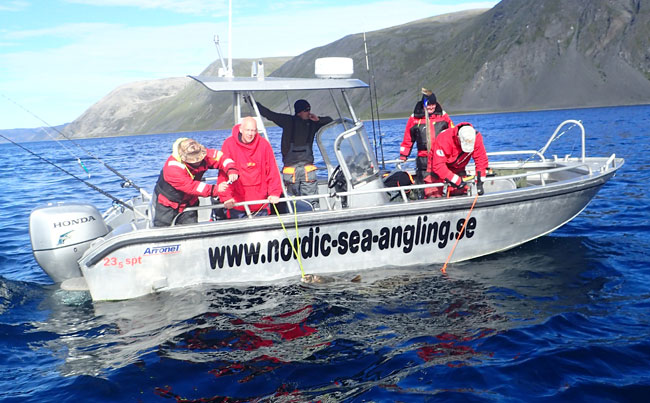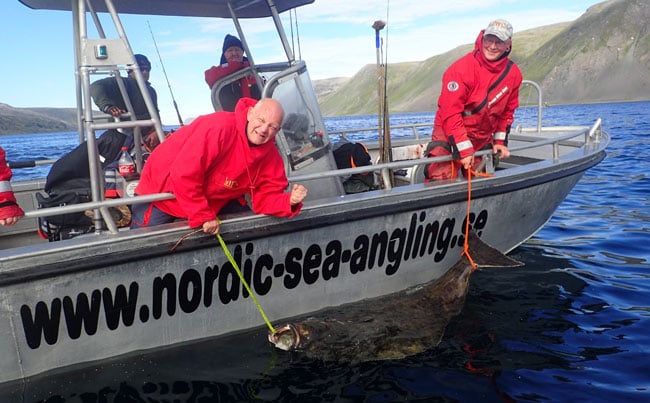 | | |
| --- | --- |
| | |
| | |
| --- | --- |
| | |
Around an hour later our other boat started shouting over the radio "Huge halibut" and after around 20minutes a size was shouted over the radio of 162cm…. WOW what a day it is turning out to be. I quickly asked them if they needed any help and they were ok and with her safely secured they set about taking some photos and got her ready to return her. Lots of congratulations came from all boats, in English Swedish and German the guys were all pumped now as we still had 5 hours left before we had to take to the boats back for their final clean.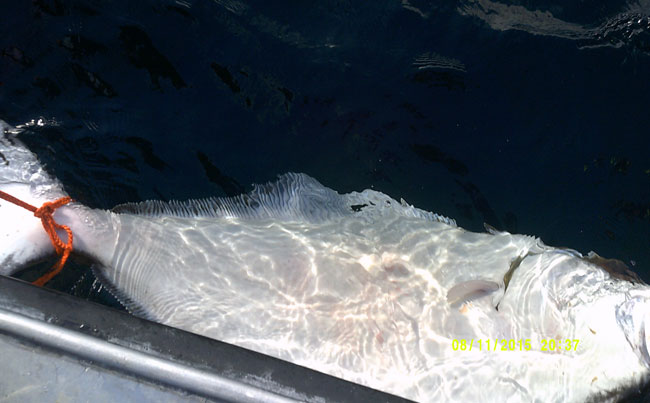 | | |
| --- | --- |
| | |
| | |
| --- | --- |
| | |
It wasn't long before Ray yet again had another huge Halibut on and this time he drilled it all on his own. I could see again that he had something big on and with everyone reeled in we manoeuvred the boat to make sure we kept directly above her. After 20 minutes or so we were looking at yet another huge Halibut. I couldn't believe it Ray had done it again and this one looked a little bigger than his previous one. Out came the measuring stick and yes it was bigger at 159cm around 60 kilo he had beaten his PB by 10cm and this time he was instantly pleased and with a huge grin we set about taking some cracking shots. I very quickly got on the radio and asked the guide boat to come over and take some pictures from his boat as they tend to be better shots than leaning over the side. Some photos later and we all sat back reflecting on what had just happened when the radio sparked in to life from our other boat saying they have hooked something they could not stop and after around half an hour a measurement of 180cm was screamed over the radio. My god I could not believe it another huge fish and all from the same area, we soon named this area the 'Halibut highway' The guys got the best pictures they could of the fish and quickly released her back to her watery home.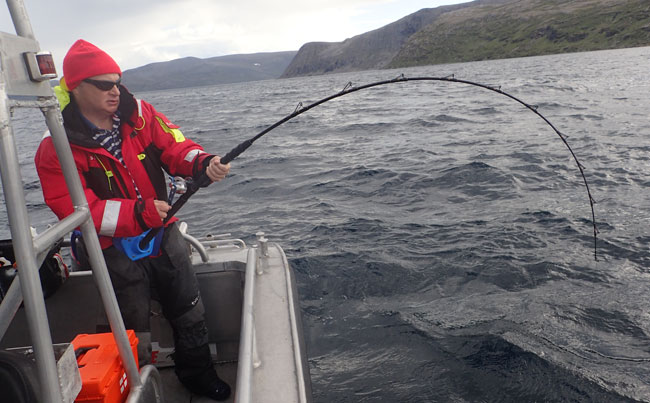 | | |
| --- | --- |
| | |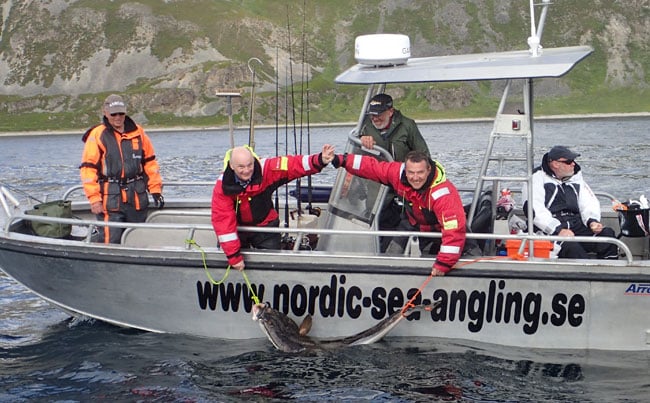 | | |
| --- | --- |
| | |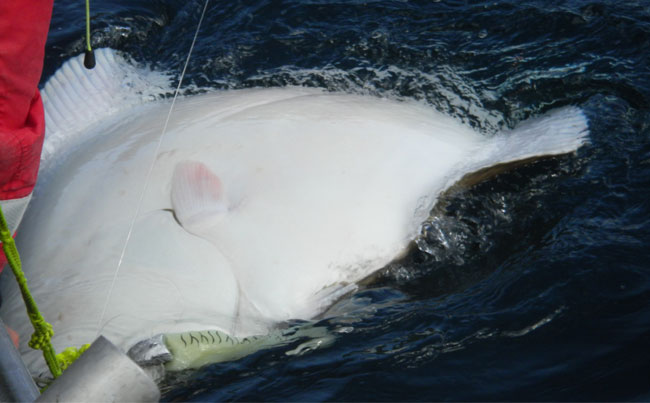 | | |
| --- | --- |
| | |
In all my years of guiding trips to Norway and writing Norway Fishing Reports I have never experienced a day like this one with so many big Halibut being caught they were really feeding hard and we were in the right spot at the right time and reaped the rewards. With every one exhausted and the fish getting harder to find we all decided to end on a high and head back to get the boats a clean and refuelled and hopefully catch a couple of hours sleep before the long journey home the following day.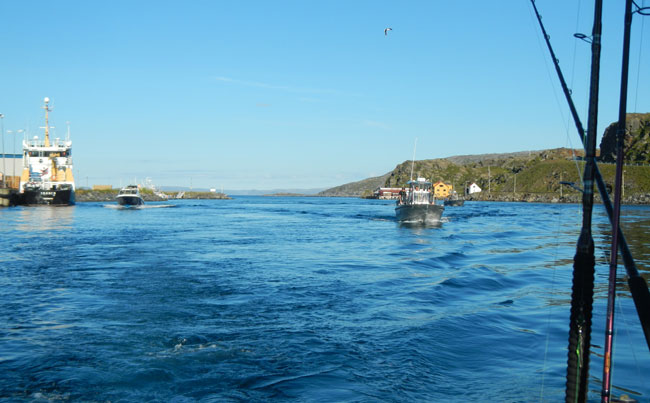 Once we all arrived back at the dock huge cheers echoed around as every one shouted of what a great day they had just experienced, big hugs and lots of hand shaking later we set about scrubbing the boats out ready for the next set of anglers.
Everything cleaned and signed off the guys then had to pack so I then took that opportunity to go see everyone to make sure things went ok and they had had a good holiday and as you can imagine I was greeted with a massive "Yes" and "When can we come again" I already knew spaces were tight for 2016 but managed to get a couple of them in and the rest of them put their names down for 2017 which has now sold out. 12 places gone in a blink of an eye, now that is what makes me happy that the guys had such a great time that they want to come back and are willing to wait a couple of years to do so.
Wow, what a trip! I have fished Havoysund for the last 6 years and have experienced good Halibut fishing but nothing like what happened in the last two days. The only thing I can put it down to was the big High pressure that turned up for the last two days that switched the Halibut on, having the correct gear on to target Halibut and of course being in the right area at the right time plus as well having a good guide!!!!!
Hope you have enjoyed this report and if you take anything from it then never never give up, effort equals rewards and the more active you are when fishing the more results you get.
If you fancy joining me sometime in Norway then simply call me directly on 01603 407596 and I will try my hardest to get you that fish of a lifetime. I am off to Mexico next month targeting Marlin and Sailfish so until then, tight lines
To view our Hosted Halibut fishing at Havoysund Click Here
Paul Stevens
Head Norway Guide