Las Buitreras Report of week 5 and each day we will be giving you a week by week account of just how the fishing went this season at Las Buitreras. We still have a few rods open for the 2013 season, if you like what you read then contact us to reserve your place. We can provide the complete package, flights, hotels in BA, transfers and of course the fishing. Alternatively if you want to make your own arrangements we can just reserve the fishing for you.
Week's fives prayers for rain obviously delivered the message properly. With a persistent low-water level of -35cm – 30cm one week before, the first session for this week's group we learned that that there was to be an unexpected but very welcome push of colder water that headed our way. Although we checked the forecasts for the headwaters of Rio Gallegos on a daily basis, nothing was indicating heavy rain showers which can lead to a tsunami-like flood at this time of the year. The water rose continuously during the week and finished on Thursday by tipping the +40cm mark, after gaining a ridiculous 75cm in all! As the flood reached its peak, it scoured the river bed of weed and algae. A wink of fortune for next week's group and a day less for this week unless you like to clean your line and fly after every single cast. After some research, we learned that a snow-meltdown close to Rio Turbio provided the water. A cold front which decreased the snowline-level followed by a 3 days of moderate warm weather explained the water level and the way it came up – in steps of 25cm. All of these circumstances aligned to turn Rio Gallegos into a chrome-mine for our week's group of anglers.
The Spors (Meta, Wolfgang, Sara & Anders) were staying another week and continued to perform flawlessly. Almost chemically cleaning out the pools, it was Anders who accumulated on both weight and numbers this week.
Head of the group of anglers was, Stephane who has proven to be a trustworthy leader. Providing the top rod himself and backing up Bert and landing the fish of the week (22lb), he was definitely a force unleashed here at Las Buitreras!
As we were washed out on the Friday, our fishing schedule was supplemented by a spring creek with decent brown trout! In shifts, our fellow anglers successfully presented some fancy foam crickets to those resident critters. If one gets connected to a resident fish, the intensity of our migrating fish's strength is put into perspective. Although even a 40cm brownie can be quite a challenge, especially when they are trying to shake the hook off and plow into the weed.
The fishing conditions for this week was as follows: Since the water conditions changed hourly this week's main task was adjusting – to both the level and the color. The faster one could adapt to the situation the better were the results. Our rigs ranged from long leaders and small swung flies like small green butts, silver stoats and cascades on floating lines – single handed outfits at the beginning of the week to light weight double handed rods, rigged up with intermediate lines and stream-tips. We had it all. Still, the entire range of Copper John flies and the like remained top this week. Slightly adjusted to fit the water color and conditions, it's for sure one of the essential that shouldn't be missing in ones flybox. Color variations like the Vitamine-C (Flouro-red), Vitamine-D (Chartreuse), Vitamine-W (White) Irish Copper John (Copper body with green dubbing) or the infamous classic Copper John (Copper Body, Peacock Body with white rubber legs) are a safe bet for both absolutely fresh fish and old nasty hen and cock fish. This week's top rod and the biggest fish are enough of an argument to tie some of those. The harder the current, the less one has to work the fly. Lower water is not only technical but also a good workout for retrieving the fly. Once your fly is zeroed-in on by a fresh fish, the reward is a violent charge that climaxes in a crushing strike. The heavy tug of a fish intercepting a swung fly half way is a privilege for those who witness high water conditions here at Rio Gallegos.
Total Fish: 74 (5 days) Average Weight: 8,9lb Top Rod: Stephane (15) Biggest Fish: Bertrand (22 lb – Molino) Top Fly: Vitamine White Top Pool: 75 Percentage Of Chrome: 93,2% Fish < 10 lb: 28 Fish < 20 lb: 4
View the full trip details and complete fly fishing packages Click Here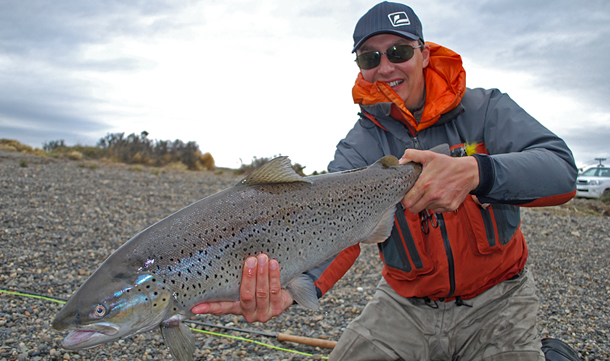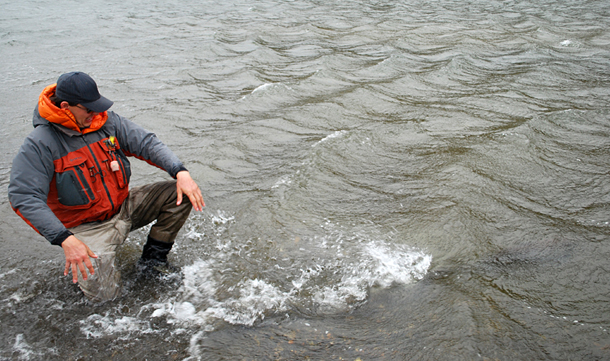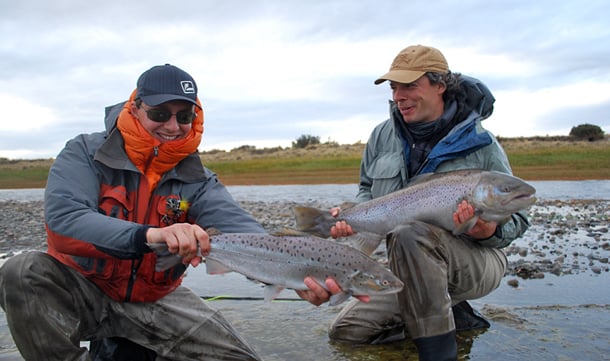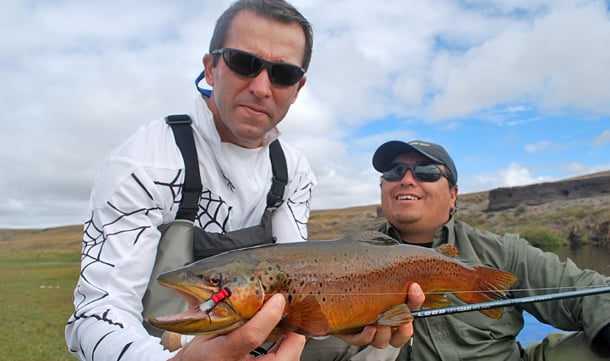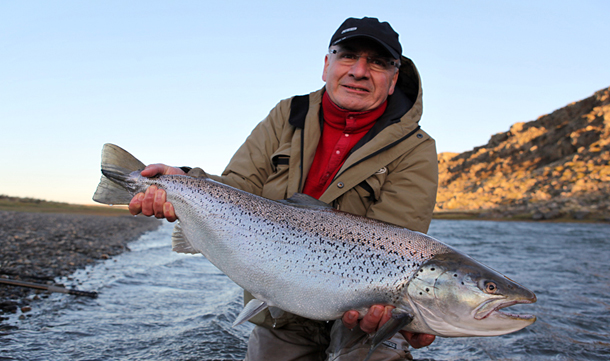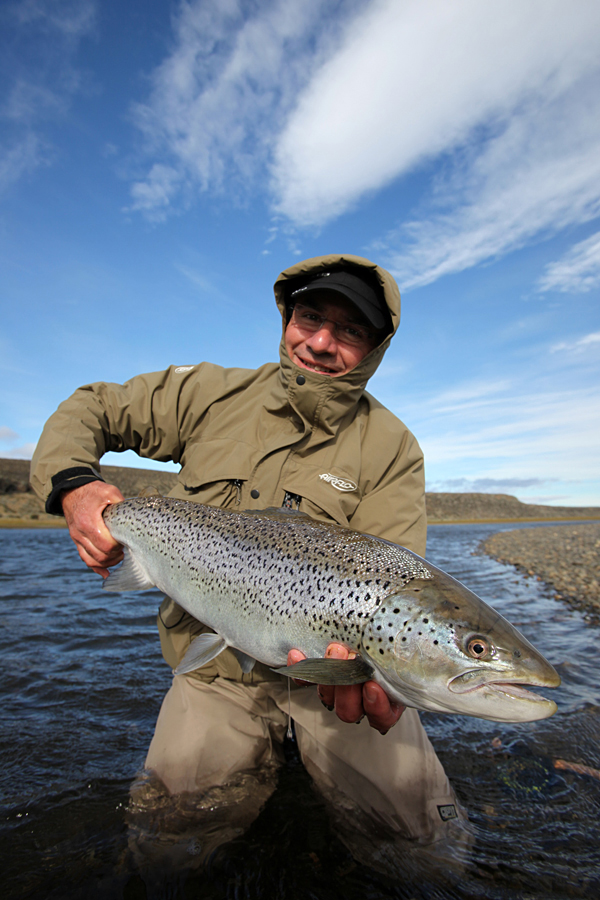 If you would like to see ALL our fly fishing holidays in Argentina Click Here