Wow look at this!!! Here at Sportquest holidays we have just received our first report from Nappstraumen on the Lofoten Islands, the guides and first bunch of anglers to arrive headed out and it looks like the Halibut fishing this season could well be one to remember. To see Halibut of this size this early always bodes well for the fishing, there will be some MONSTERS boated this year that is for certain.
We are due to release some BRAND NEW cabins at this destination as of May 2018 be sure to keep an eye out as these are going to be something special
FISHING REPORT
After some really cool stormy days, the weather finally cleared and the first day of fishing for new guests promised weak winds and radiant sunshine. All boats steered south to an area where we had a great deal of fish last week. After a search, we located the Cod and very quickly our guests were into some beautiful fish weighing up to 40LB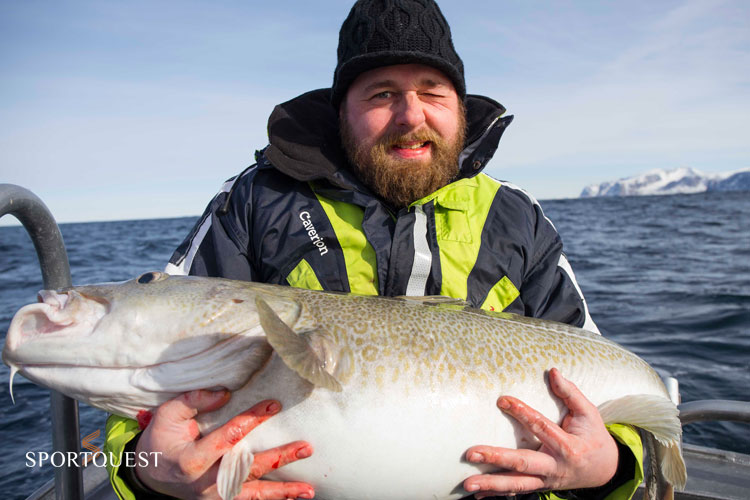 Martin and all the rest of the boats left camp and headed north, the day started very well, they found fish quite fast and Frans landed his largest cod for the day relatively early at 41LB after which they saw that many of The other boat's were all bending into the vast amount of cod that lay beneath us stacked solid to the ocean floor. Whilst fishing we were treated to the amazing spectacle of circulating sea eagles and kelp whales, which felt like being in an episode of Planet Earth, an incredible experience. Team Vladimir, who had very good fishing during the day, landed the biggest Skrei of the season with a clonking fish of 56LB.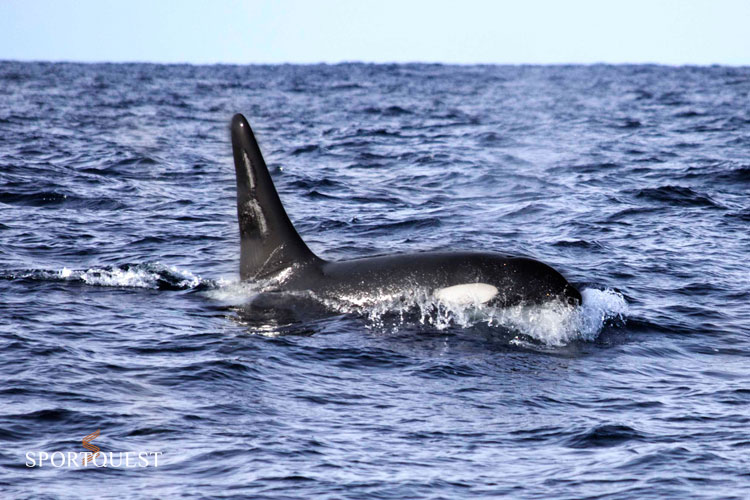 After Martin had finished fishing for the Skrei they chose to change tactics completely and make a bet on halibut, which seemed a good move. Very soon one had a firm grip on daniels jig, but unfortunately as he struck the fish hit it immediately behind the hook and as can quite often be the case when Halibut fishing the bite was missed!! Martin then sent down his antitwist rig and stuck his rod in the barrel and then assisted the guests in trying getting another Halibut hooked up. Martin stood calmly with his back against his own rod when Daniel in the bow of the boat suddenly saw his rod buckle over as a monster from the deep fell foul to his tactics. Martin turned around to see the reel screaming and total chaos takes place in the boat for a short while. Martin could see quite quickly that this is a very big fish, after a really powerfull battle which involved this huge beast lunging all the way to the bottom no less than 5 times she was was finally landed. This monster of a Halibut measured a total of 197cm estimated to be around 250LB, so we have a new Year Best in Nordic Sea Angling. A big thank you to Daniel, who was very helpful at landing the fish and after a photo session, this beautiful madam could of course swim back.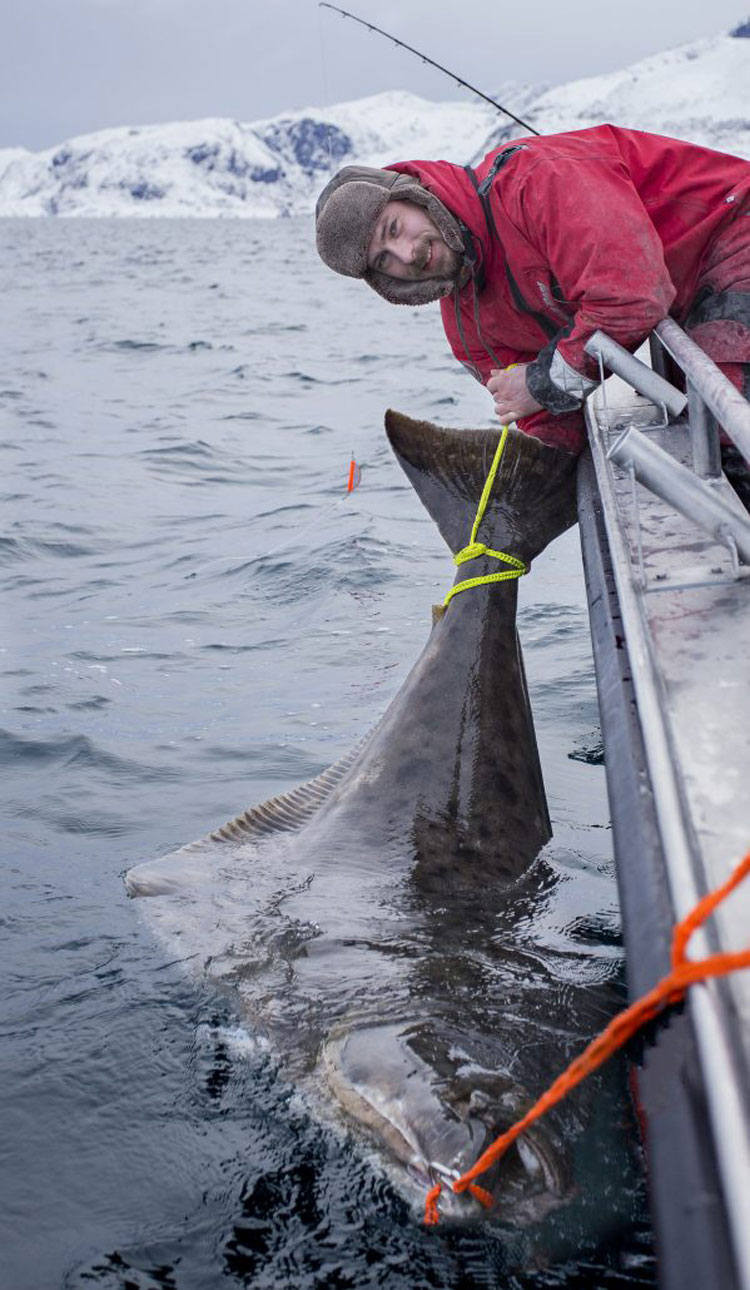 A MASSIVE congratulations Martin, Super start to the season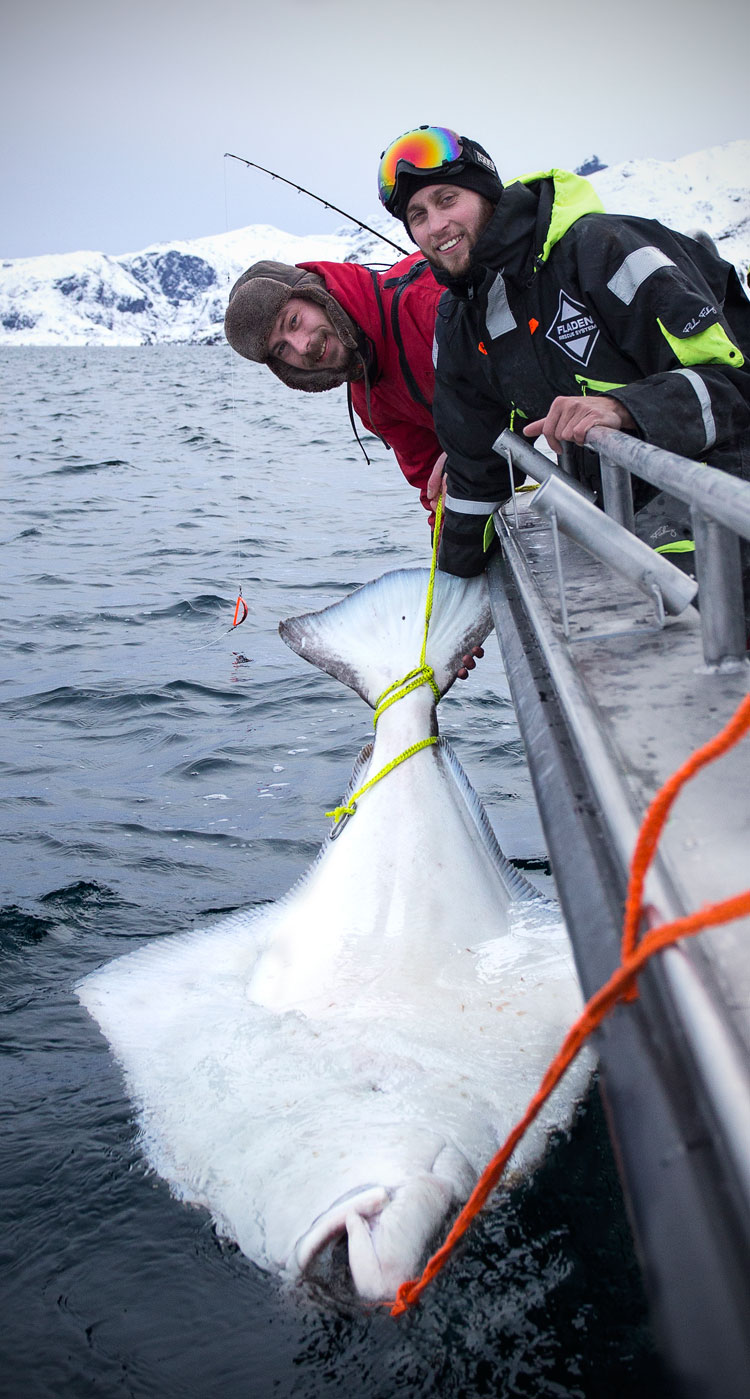 With the excitement of this stunning fish everybody was extremely excited and decided to have a last ditch attempt to see if they could find any more jumbo flatfish. It did not take long before something in the deeps was showing an interest. Frans lent into the weight of the fish setting the circle hook extremely well and after a few minutes they managed to land another nice Halibut of 90cm. After this the group felt very happy with the days fishing so decided to call it a day and head back to camp to rest and recuperate ready for the next days angling.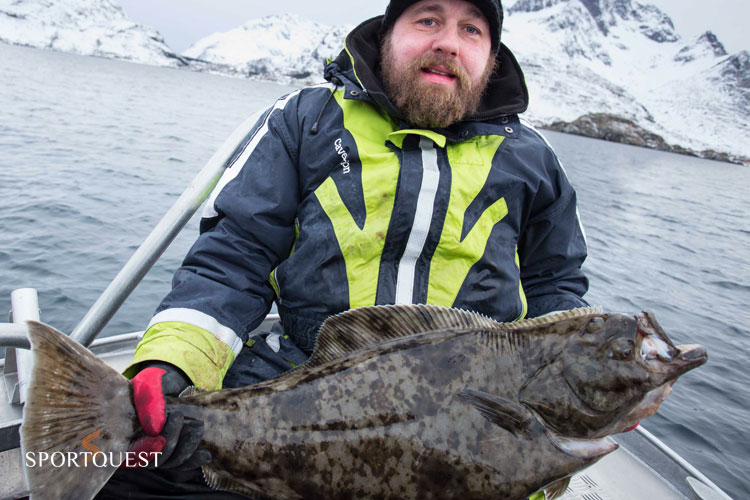 Today the sun is shining and some boats have just gone so we hope for more dream fishing in Nappstraumen after these beasts from below.
Tight lines Martin Bamberg
As you can see from this report our destination of Nappstraumen is looking like it will produce some amazing fishing this year so what are you waiting for, if you too want to be locked in battle with your fish of a lifetime take a look at our availability and get booked up for some Halibut heaven on the Lofoten Islands. Simply click HERE to view the trip details.
Tight lines Matt