Las Buitreras Report Week 4 and each day we will be giving you a week by week account of just how the fishing went this season at Las Buitreras. We still have a few rods open for the 2013 season, if you like what you read then contact us to reserve your place. We can provide the complete package, flights, hotels in BA, transfers and of course the fishing. Alternatively if you want to make your own arrangements we can just reserve the fishing for you.
This group consisted of eleven anglers from all over the globe. Eleven minds, focused on one goal: seatrout. They fished hard, they partied hard, and they performed well. It was a pleasure witnessing them make this week the most successful thus far in 2012. It would be even better to see them all again in 2013!
The pursuit of chrome fish resembles religious cults in many ways. Where else can one see grown up men and women praying for the wonder of the unknown? Or being purified by the stunning, raging appearance of shinny chrome? How about believing in the power of faith and carrying out the utterly exhausting mantras known as the rhythm of fly casting? One starts to believe in the most ridiculous things and patterns in the name of faith. Faiths that unite us and make us believe, that a fish not willing to feed actively will charge down a fly just to chew on it.
Week, 5 Rio Gallegos proved to be a trustworthy mecca for an international group of anglers who have decided to pilgrimage down to the end of the world for sea trout revelation. Wolfgang "The Shepherd" Spors was leading the four well known regulars aptly known as "The Spors". Consisting of his wife Meta and their daughter and son in law, Sara and Anders, once again proved to be deadly effective. It was Sara who completed the task of catching a mean 20lb+ buck out of Cantera with our guide Hernan Garcia (Nanchi). Congratulations to the both of them for catching that cracking fish and completing the circle of the 20lb family!
Family reunion was a hot topic that week and we were more than stoked to welcome another Pro Team Loop Member: Per Brännström. Internationally known for his relentless hook-sets, he has been backed up by his brother Niklas. With their flawless performance came not only the top rod (Per – 9 fish), but also a worthy addition to our average weight, with some spanking fresh chromers up to 19lb! Steelheaders are the salt in our soup. These die hard andromous fish hunters are a safe bet for some big fish. Alex and Bill Harrison did this theory justice! Both keeping up the steelhead spirit and catching the big ones. The throb of a wild 20lb+ silver hen intercepting Alex's offering half way through his swing ended with a hero shot of the most beautiful fish of the season.
Conditions on week 5 was as follows: The potential and reputation of Rio Gallegos is well known amongst spirited anglers who enjoy the challenge of catching a double digit chrome seatrout on intermediate or even floating lines on light rods rigged up with tapered leaders and nymphs. Unlike other sea-run fisheries in Patagonia or Tierra Del Fuego, there's no use for the heaviest double handed rods and sinking lines. Especially not under the low water conditions that we were facing during the week. Still low, the temperature dropped rapidly from 18°C to 9°C. In addition to lower temperatures, the wind picked up a little bit making a big difference. Hooking over 100 fish, this week's conditions and anglers were outperforming the previous ones within the first three sessions. The only indicator that changed was the water temperature which proves that our watershed is highly affected by these condition- and temperature changes. The water levels remain at -33cm, whereas the daily measurement records a decrease of about an inch every day. The conditions shuffled the deck and the fish were once again showing themselves in every single pool especially during the evening sessions. The irish copper john performed well under daylight conditions whereas the fading light was screaming for some sunray shadow action.
Total Fish: 69 over 3lb # Average: 8,6lb. Top Rod: Per Brännström (9 fish) Biggest Fish: Sara: 20+lb chrome buck(Cantera) Alex: 20+lb chrome hen (Cojedero) Sean: 20lb chrome hen (C-Pool) Top Fly: Irish Copper John Fish over 10lb: 25 Silver fish in %: 97,8 %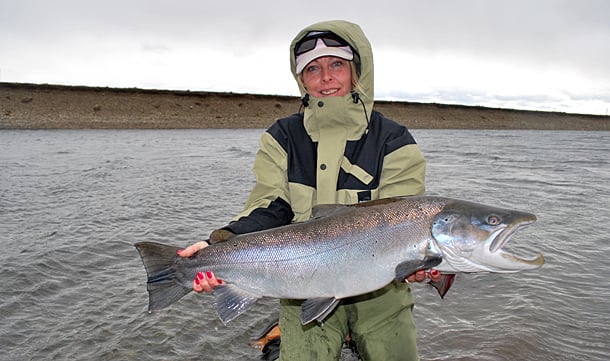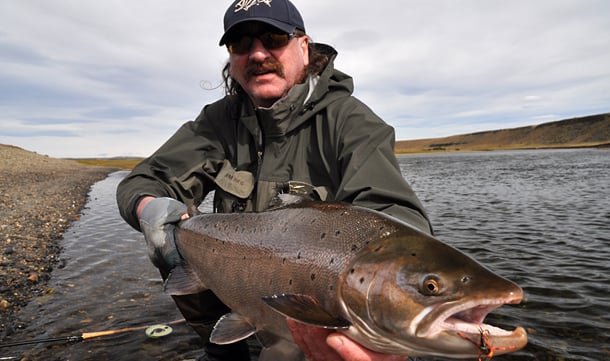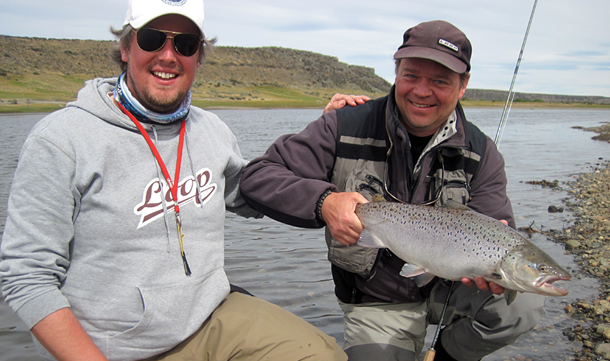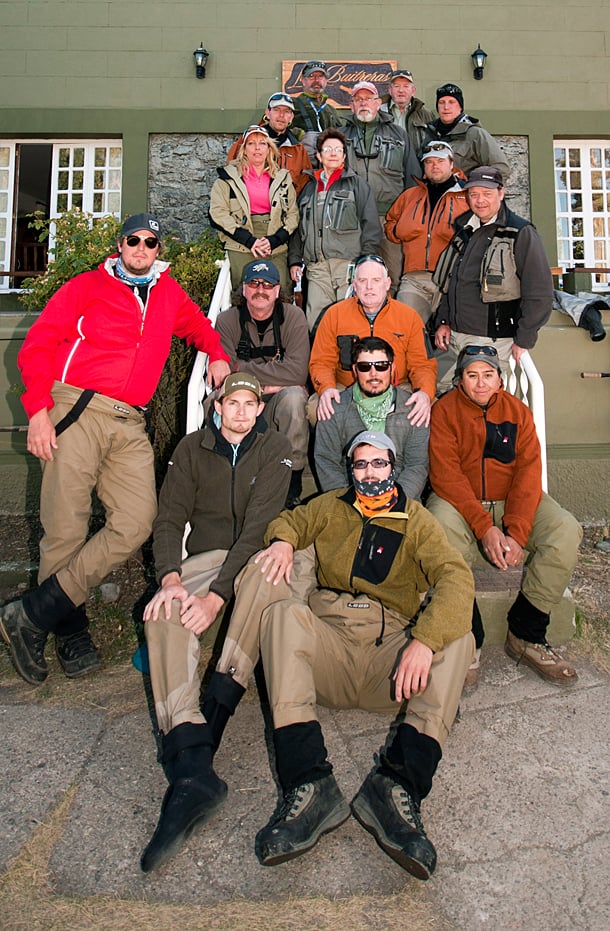 Alternatively see all our fly fishing trips in Argentina 
Click Here