Las Buitreras fishing report week 3 and each day we will be giving you a week by week account of just how the fishing went this season at Las Buitreras fishing report. We still have a few rods open for the 2013 season, if you like what you read then contact us to reserve your place. We can provide the complete package, flights, hotels in BA, transfers and of course the fishing. Alternatively if you want to make your own arrangements we can just reserve the fishing for you.
Week number four in Las Buitreras and we were facing the peak of the toughest drought that this area has seen in 15 years, which makes for inconvenient circumstances to swing some fur for chrome… circumstances that require a bunch of restless souls, firm believers, die hard fishermen and women or simply a group of Vikings! The dusty line at the horizon tells me that they were about to arrive. You better watch out Seatrout, 'cause these Vikings have traded their axes and spears for rods and reels…
As first leaders and flies hurtled unrecognized past their target, it was time to re-think. Flies need to be small and fast during daytime but big and hefty in the early and late hours. Long term regulars, Bent and Sten, turned the adverse conditions to their advantage. Whilst Stan fished his way through pools, providing the top rod, it was Bent who backed him up with a personal average of 12 ½ lb. Well done guys! Performing under tough conditions shows character. Per, a well known face amongst chrome camps around the globe and one of our dearest guests from the very first year on, has seen this water in every shape. His extensive knowledge of our section allows him to keep the faith and fish though tough conditions. Another average over 10lb. at the end of the week for him. Veteran status confirmed! Bring some more water next year.
Frenetically trying to keep up with his son Markus, it was Thomas who had finally caught the biggest fish of the week. A spanking fresh 14lb hen out of C-Pool! All the hard work eventually paid off. Of course he's also taking credit (at least 50%) in both of his son's 12lb and 13lb fish that Markus had landed at the beginning of the week. Stoked by this impression, Thomas went on to Jurassic to show those rugby Rainbows a thing or two.
Well, is there any better way than finishing the week with a river-side Asado (Argentine BBQ) at one of our most productive pools, El Henrik? Two crucified lambs over an open fire, fine vino tinto, some bottles of river cooled beer and good company. If that's not Viking style, I don't know what is…
Conditions this week was as follows: The miraculous Rio Gallegos watershed in all its beloved structural splendor can be both a curse and a blessing. First of all, the idea of catching a sea-run brown trout or seatrout up to 28lb+ on a single handed floating or intermediate line is a prolific weed; once planted it is hard to eradicate. One only needs to speak with Rio Gallegos regulars who come back time and time again. Due to the overall quite shallow structure, the Rio Gallegos offers a vast variety of pools, runs, cuttbanks, ripples, deep and slow stretches etc. – on the other hand it is vulnerable to low water. The main factor affecting low water conditions is the water temperature, which can rise up to 18 degrees Celsius. High temps put the fish in the redds down and causes fish on the run to reverse migration towards the cooler water of the estuary or coastline. The driest January since more than a decade and we were still catching cracking fresh fish. 100% of the fish were chrome – every single one of them! Yet again, Las Buitreras turns out to be the top location, even under very though conditions.
Top Rod: Sten Ruud (6) Biggest Fish: Thomas (14lb hen – C-Pool) Top Fly: Copper John Top Pool: C-Pool Fish Over 10lb: 11 Silver Fish: 100% Average Weight: 9,7lb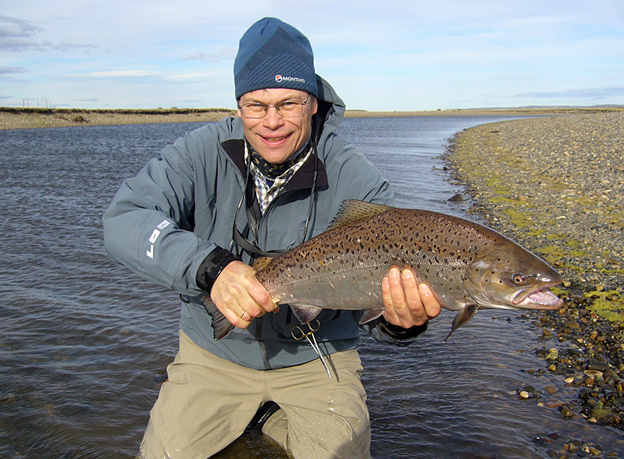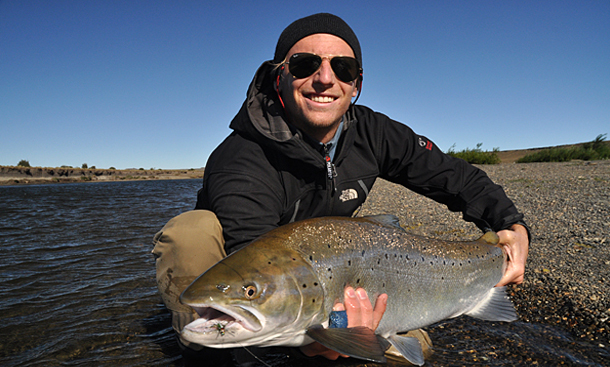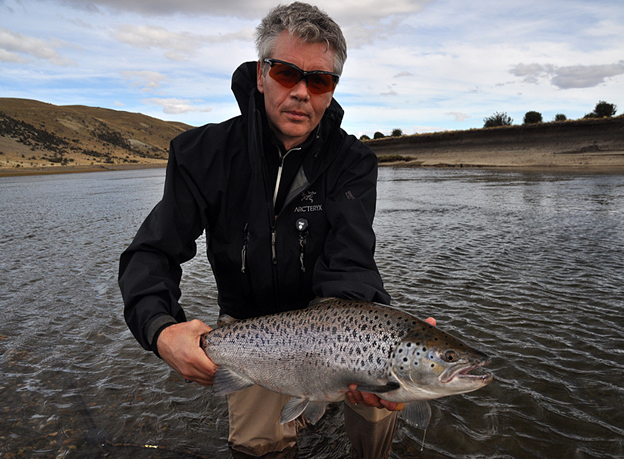 Alternatively see all our fly fishing trips in Argentina
Click Here