The winds are still blowing in Norway but at the camp of Å when it drops the fishing is proving superb.
The week that has been has kept in  the same spirit as last week.
Very hard southwest winds that lasted for almost all week. However, for a few days the winds have been a bit more bearable and we got out and then the fishing has been absolutely amazing.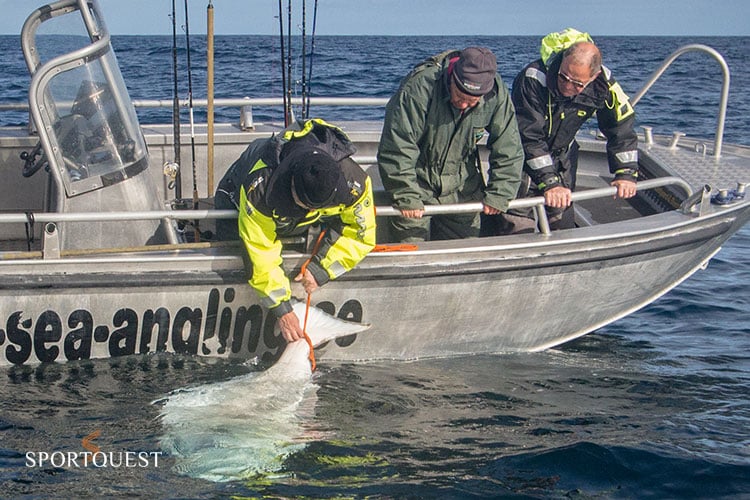 Wednesday: well-known faces standing at the dock at 09:00 ready to go on a nice and calm sea while out there is quite a lot of other things on land for me and André.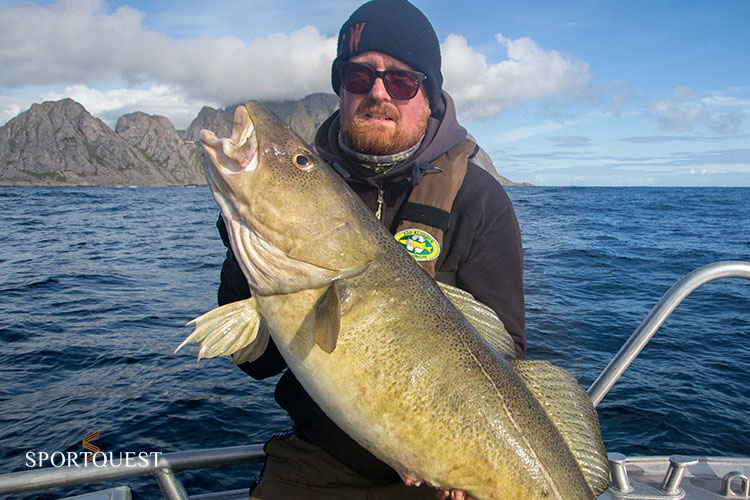 In the evening we get a report from the guests that they managed to land 5 nice Halibut between 75-120 cm (10 – 50lb est), a very good start for them.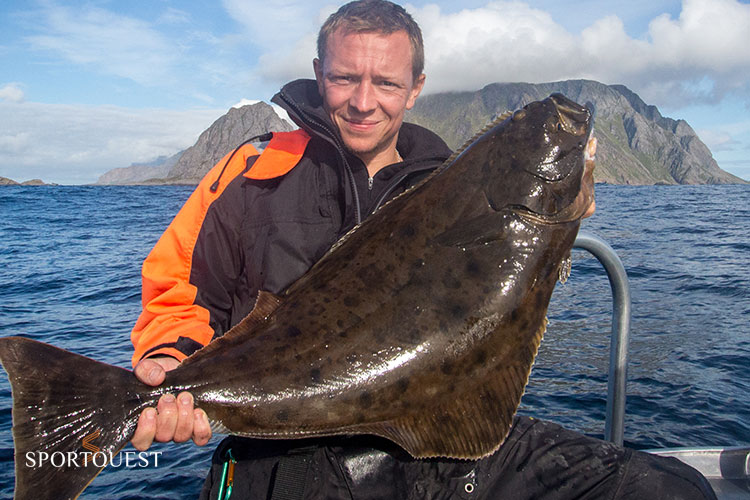 Thursday we spent all on land …
Friday, all boats return to sea again and we get 2 quick Halibut in the morning between 85.95 cm (16 – 24lb)  in the guided boat,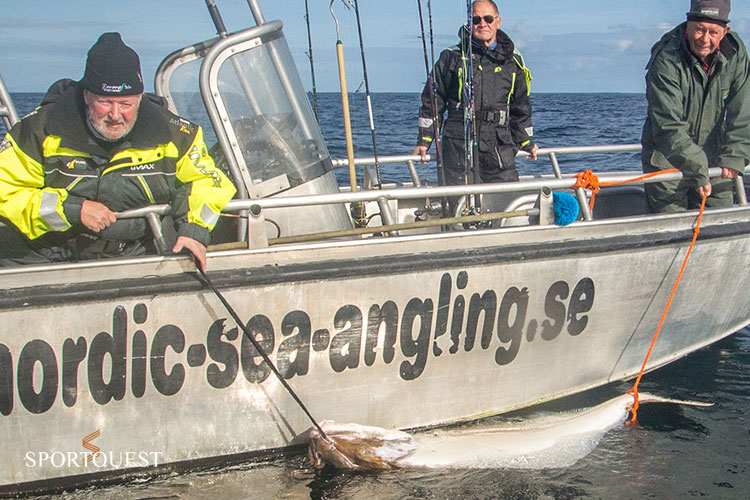 A little later in the day, it is reported from others about Halibut there too, and a even later in the day we get a call on the radio about a big Halibut that they would like help with.
After measuring, we could find that this dream fish was 178 cm (180lb est) long after it was photographed before the queen from the ocean swam home again.
Saturday: the boats that went out fished after Halibut and, of course, they were chopped!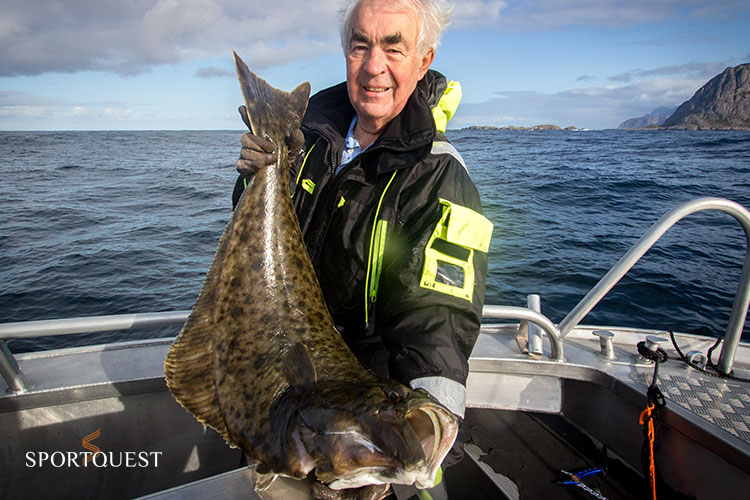 The guided boat then caught 4 nice Halibut between 80-112 cm (14-40lb est) where ALL of these fine fish went swimming back home for continued regrowth.
Boat 6 also managed to capture 4 lovely Halibut with two just below minimum dimensions of 80 cm and one of 81 cm (14lb est)that came with home for dinner, perfect food fish.
To the 4th fish this day, they also managed to land a real dream fish of up to 160 cm (127lb est). Congratulations from the guides on Å.
Then we will not forget another boat, as well as they got nice fish up to the lovely 132 cm (69lb est).
Monday today is spent on land with winds up to 17-20 m / s from southwest. But Tuesday promised better conditions.
Tuesday morning at 08:00, 4 boats have already left port while both I and André have waited to go when there was still some wind in the morning hours.
Out well, it's mixed with waves and big dyes, which makes the fish more difficult during the first hours of the day but calm down soon, and as soon as we feel, we land in today's first flounder of 81 cm (14lb est).
The day continued in the same spirit for us and we had fish and several contacts in every drift of the day with a total of 6 halibut in the boat this day and a pair of bonus cods of 16kg +.
In boat number 3 with Paul behind the wheel they managed to land a real dream fish of 160 cm (128lb est).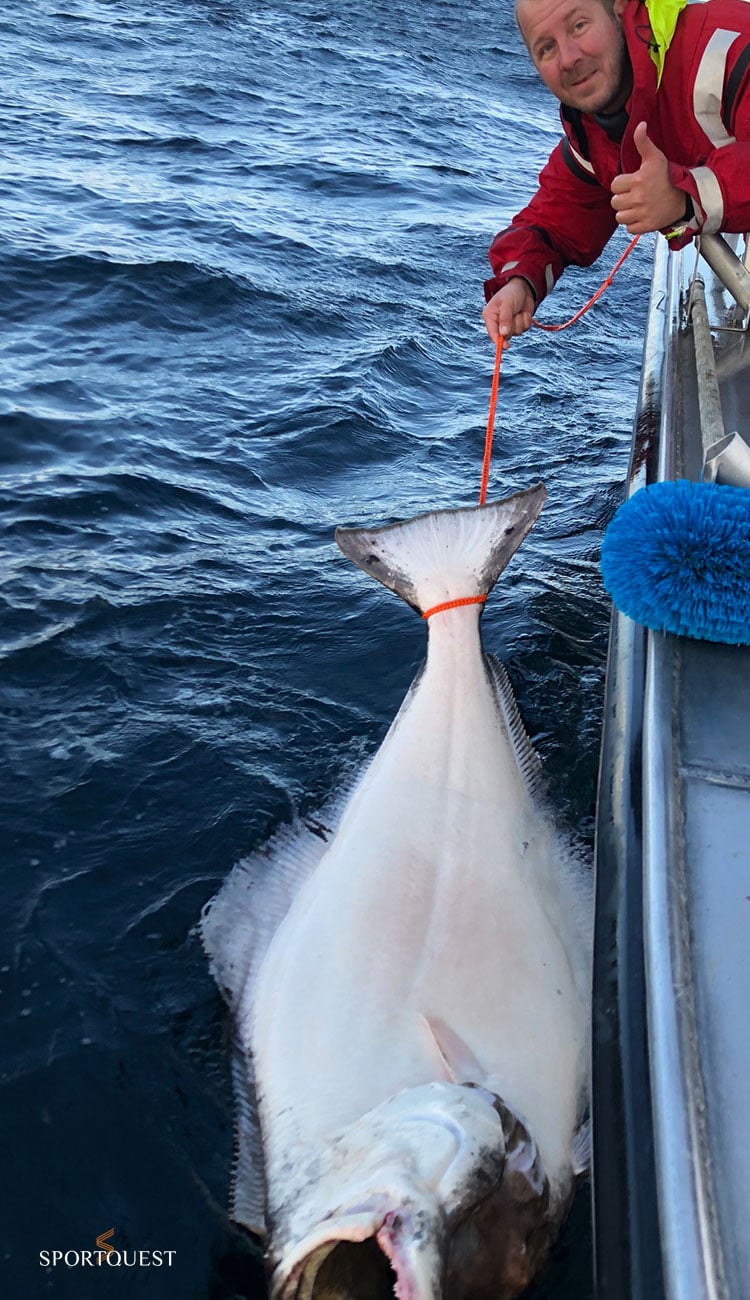 Now for the coming week, the forecasts look very promising weather and so we hope that the fishes hold on in the same spirit as the previous weeks, this will be very good.
Tight Lines from Å!
Alexander Lindgren & André Starkenberg.
Excellent report thanks guys, the fishing has proved amazing out in Norway this year with many big fish being caught.
Any anglers out there who have ever fancied getting involved in going monster hunting in Norway why not check the website, BOOK UP and catch that fish of a lifetime.
Tight Lines
Matt