Tough Weather But Lots Of Hard Fighting Salmon and we have just received Julys report from our Camp Bonaventure in Quebec Canada and by the looks of things they are having a tough time with weather but the fish are still biting hard. I will let the Head Guide take it from here
Camp Bonaventure Fishing Report
Fishing this past week was very dependent on the weather. Warm hot days were a bit slower but when the clouds rolled in fishing was absolutely wonderful. We are pleased to report that the Bonaventure, Grand Cascapedia and Petite Cascapedia all have good numbers of fish. Fresh Salmon have been coming in on every tide and the bigger tides are only next week, anxious to what runs they bring. The Bony and Petite had perfect water levels all week the temperatures however were a bit on the cool side. The Grand Cascapedia has been low but rain on Friday brought it up to perfect levels. The fly's that did the job last week were the Silver Rat, Green Highlander and John Olin. Yes, the Stone Ghost continues to be one of the hot fly's. Bombers were the choice of our dry fly enthusiasts with the Green and Brown ones responsible for most of the catches.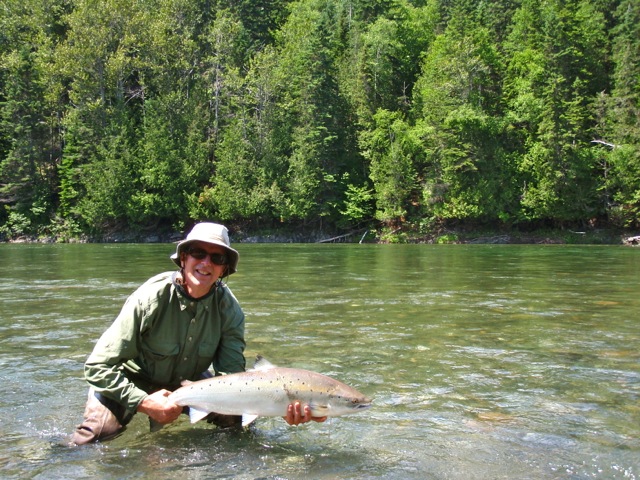 Camp Bonaventure Fishing Report July 16th to 22nd 2012
We had another great week at Camp B with all of our guests landing salmon Water conditions on the Bonaventure got some help with a good rain on Monday, dumping about an inch. The Bonaventure is now at June water levels, great for fishing and running our canoes. The Petite Cascapedia and Grand Cacapedia received a little less than the Bony but are still in great shape. The high tides of July always bring in a nice run and we have been seeing fresh run salmon in our lower pools for a few day now. Our guides have been seeing some big salmon showing up as well! This weeks fly selection have been the Blue Charm, Stone Ghost and Green Highlander. Dry's have continued to produce especially well. Brown and Green bombers along with teh Labatt Blue.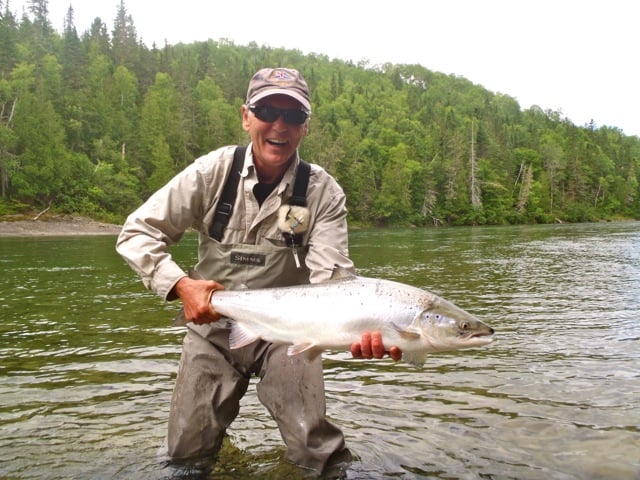 Camp Bonaventure Fishing Report July 23rd to 29th 2012
The last week of July has been no doubt the toughest week of the season. Hot and sunny weather combined with falling water conditions are making the fishing more difficult. The rain we received last week certainly helped but we would surely welcome a shower or two in the coming days. Granted we are experiencing July conditions, we still managed to take a good number of nice fish this past week. We are still catching fish but having to work a little harder. The Bonaventurte has plenty of water thanks to a good rain last week, The Petite Cascapedia is still holding its own. The Grand Cascapedia, especially the branches could use a good downpour. This weeks fly's of choice have been dry's, Blue, Brown and Green Bombers in sized 2,4 and 6. Wets and small tubes were responsible for a number of nice salmon as well. The Green Highlander, Blue Charm and John Olin kept us in the game.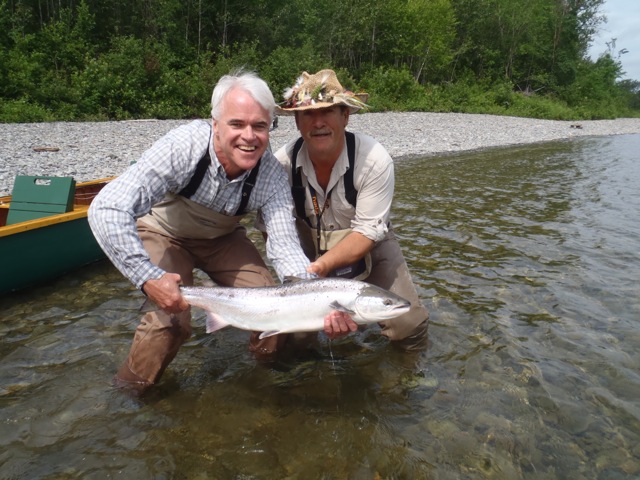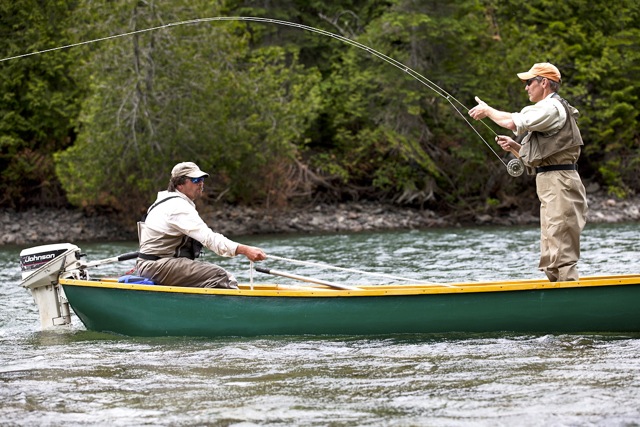 As you can see from the reports the guys do not let the weather beat them, they are still out there producing some excellent catches for new and experienced people.
We only have limited rods available so to avoid disappointment please contact a member of our staff and we would be more than happy to talk you through this destination and check for availability. CLICK HERE