Turneffe Flats Fishing Report February 27-Mar 5 and the week started off with great fishing conditions with all customers reporting seeing lots of bonefish.  For those who where looking for permit and tarpon they came across some fish but not quite as many as the week before.
Jim & Bob who where two single anglers and met at our resort for the first time. (Our single anglers Club) fished with guide Pops for the week they spent much of their week wading the flats in search of bonefish.  Pops was able to help them find and land fish every day… some days where more productive than others.  Midweek, Jim had a magic day, when a 20LB permit ate his fly.  After a long tug of war, Jim was the victor.  Friday was Bob's day. He got into over 10 bonefish.  Both customers left on Saturday with fond memories, and promised to return.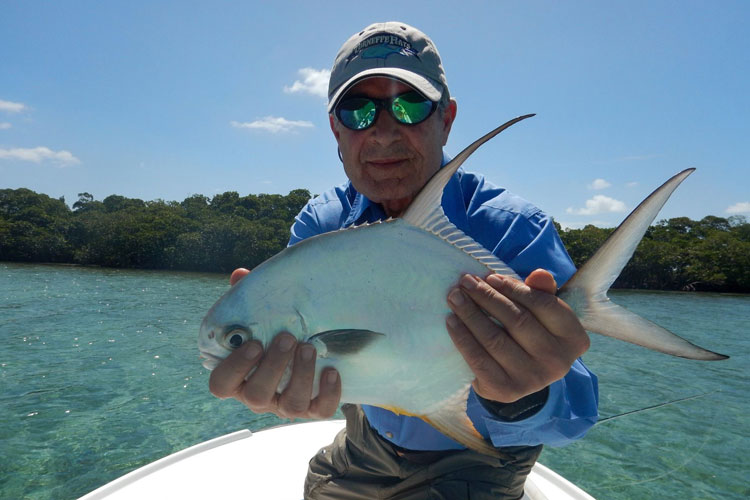 Other customers George and Bruce joined us and this was George's second visit, but this time he brought his long-time friend, Bruce, who joined us for the first time.  They were paired to fish with guide Mark.  They enjoyed great wading on the flats for the first days, catching many bonefish and getting a few shots at permit.  On Wednesday they made their way to the southern point of the atoll.  There was some good bonefish fishing to be had, and they also went "outside" of the atoll.  They found a nice school tuna (not common). George hooked one and the game was on!  A short time into the fight, a HUGE explosion happened on the end of the line, and then the line came toward the boat.  Both George and Mark saw a large Tiger shark chewing on George's tuna.  On Friday, George, Bruce, and Mark decided to test out some trolling outside of the reef.  Of course they hoped to find those tuna again.  While they didn't find any tuna, they find some barracudas, and king Mackerel.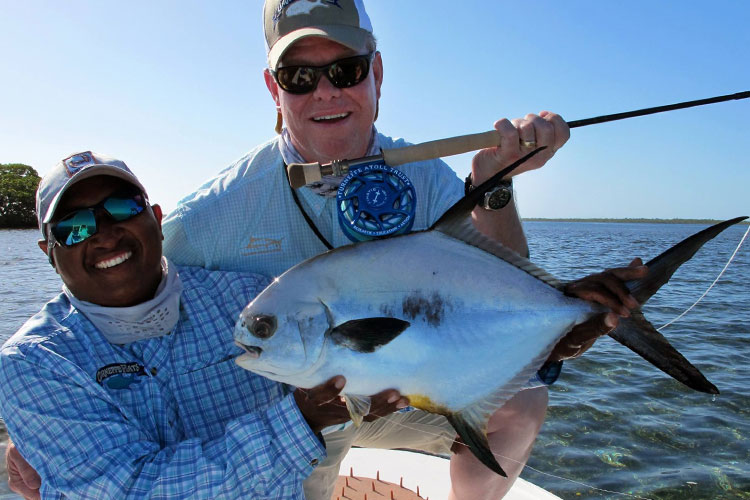 We also had a first timer called Michael and this was his first visit to Turneffe Flats. Michael was paired with Dubs as his guide.  Since Michael doesn't have a lot of saltwater experience, he was very appreciative of the instruction he received from Dubs.  They started their week focusing on bonefish.  After a few productive days of bonefish fishing, Michael wanted to test his hand at catching a permit.  This trip was not to be his permit trip.  While they found a few, they did not seem to be interested in feeding.  In order to end the week strong, the team Michael/Dubs switched back to catching bonefish.  It would be fair to say that Michael had a great time and learnt so much and returned home with lots of fish and experience under his belt.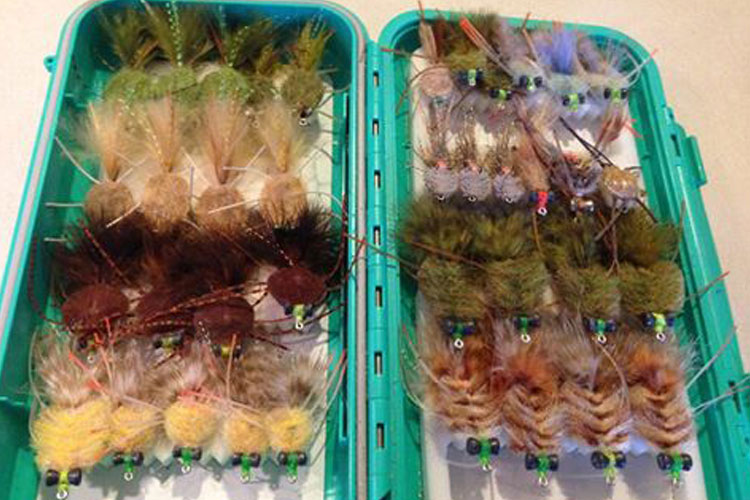 Weather: Similar to the past few weeks, we began with calm winds, sunny skies, and happy fish. Wednesday evening ushered in a small wind/rain storm.  Most of the wind and rain happened during the evening hours, so the fish was relatively uninterrupted.
Water Temp: 80-81 degrees
Wind: A calm E/SE breeze held from Sunday through Wednesday, mostly at 5-7 mph.  Wednesday was the transition day … luckily, the transition did not occur until late evening when we experienced gusts to 20 mph from the North.  The wind dwindled a bit to 10-15 from the N/NE for the balance of the week.
Tides: The high tides were from mid-day to late afternoon.
Moon: The last quarter was on March 1st.

The fishing this week started off with guests reporting excellent fishing for the first four days.
To see ALL our Saltwater fly fishing destinations Click Here