Once in a while new destinations make us stand back in amazement at just how good the fishing is and we are then surprised that no one else has ever fished here, until now!
Vesterålen in North Norway is going to be something very special and we strongly recommend you getting in on this action before we become fully booked and after reports such as this one, you may find yourself being disappointed that we don't have any dates left.
Head guide at Vesterålen has sent us this awesome report full of huge fish and I think you may find yourself wanting to travel there very soon, but remember act quickly and call us on 01603 407596 and we can get you booked up.
FISHING RPEORT
After a few days of varying strong northern winds, the sea lay flat for a long journeys to the place that is constantly surprising. This time there was no exception. The fishermen in Boat 2 accounted for the biggest surprise when they disappeared from the VHF conversation for a couple of hours, and at the last moment they cry that they fight BIG HALIBUT!
The night before departure, the forecast was too good not to drive on a long trip. All five boats prepared themselves in the morning and I felt that long-lasting feeling, which feels good on days like these. It takes a while to go out but it does not matter as we know we have the chance to catch really big fish of most species we fish for. We stay at the nearest position and drop down our tackle. There, the boat 5 catches a large cod of 124cm.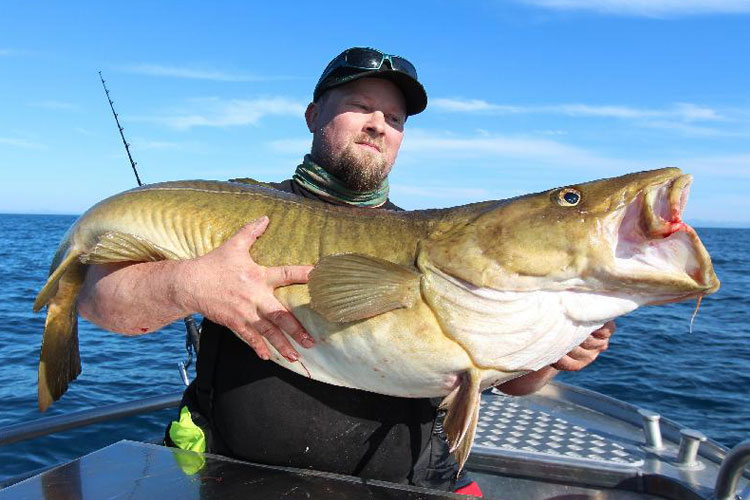 There will be a shorter move and from the west there will be a cold and dense fog. We drive around the fog with the assistance of the radar, with a weather forecast of 5-6m / s winds we could wait for the sunshine. It blew away as fast as it came. We divide ourselves up and start searching for fish.
Pretty soon, the Dalmasians and Karlstadborna have begun catching fish at the now-known V-berget site. The first cod for Karlstadborna became a cod of 24.4kg! Stunning way to start a long trip! We hear from the VHF that a bunch of fine cods are landed around 15-17kg and a number of Coalfish between 10-15kg, even a Pollock of 7kg lifted up by the Dalmas, which is really hot today.
Today, the sun is shinning and we slowly drift over the gutters / valleys where Ling and Halibut Lives and on the peaks that accommodate large cod. We do some targeted halibut fishing and talk about the fact that there must be huge halibut in these places where all species seem to be large. The Halibut did not want to play with us in our boat so it was carried back to the long edge and on a whole bait fish it is Kalles turn to feel the heavy pulls of Ling. This fish is big and very strong! A length of 173cm and 26.8kg is drawn across the rail. Wow!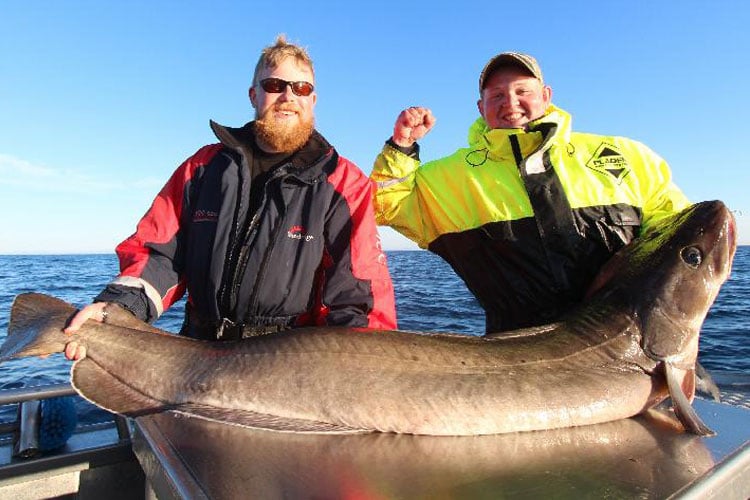 For a while, some of the boats have intensive race on the water, and Christer in Boat 1 got to wear a new 17kg Cod record! Congratulations to it! and Arne in boat 5 gets on a nice halibut that breaks the line after 10-15 minutes of fighting … We were the halibut on the tracks!
The day was long and all the boats went to the position closest to the camp, all boats except one who did not respond to the VHF. Suddenly we get the answer: Boat 2 to the guide, we have been unable to answer, we are full of a big halibut. Instinctively, we lift things up quickly, trying to call them on the horizon and take full speed with them. When we arrive, I see straight away that they have secured HUGE HALIBUT, a good bit over 2 meters
Lasse, one of the Dalmas, tires in the boat after a long battle laughs and tries to tell us what has happened. Lasse tells;
"It was so sweet, the chin was double-pointed, short crunches followed by a heavy and then it just went down and in half an hour I stood still with the fish. The fish was fought for two three hours, and the fish went back for a while, sometimes it was impossible to get it up. I had the same pressure all the time with legs and the arms began to shake. It took two hours. For the last time I kept in motion without movement was safe for 20 minutes. When the Halibut came up to the boat, it was calm. It came up with a closed mouth and flat out with the body too far down, so we did not get it, then the fish slowly turned down and stayed 10 meters below the boat to just stand still. After a while, the fish could slowly pump up and the mouth opened so we could put the hook in. "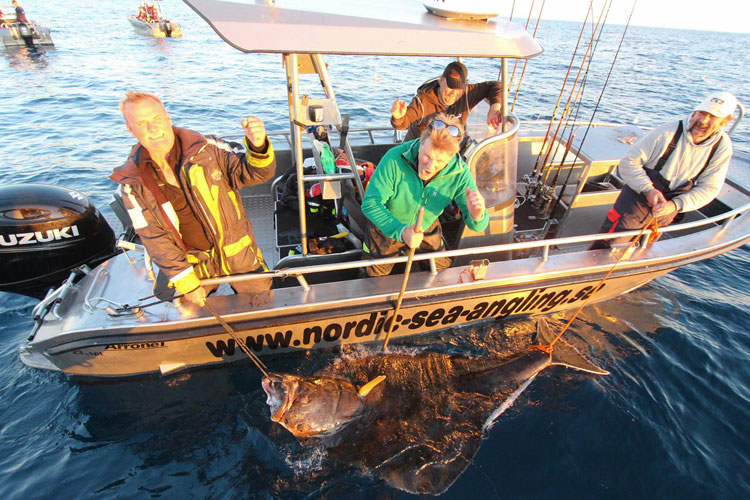 The fish took about 80 meters deep on a blue-blue minor jigg and made a big move during the fight. When we arrived, they struggles to put the tail gaf around this fish as it was so wide so we had to tie two together. It's the worst I've seen as a guide and when I jumped over the boat and saw the fish close up, my adrenaline also started pumping well. We plan out the Halibut and secure it completely with the clever tailpipe. An incredibly happy and proud angler calls his dream fish. It performed well in the cameras under a beautiful photo gallery to perpetuate the insanely large halibut. After careful measurement with two thumbs we get the length 238cm !!! The weight according to the halibut table is on a staggering 188kg or 414LB…… When the dream fish is released later all the other boats are all around and view. Just when the Halibut had taken his first swim and Lasse looked up, the applauds rattled among the boats. It became a perfect end to the long day.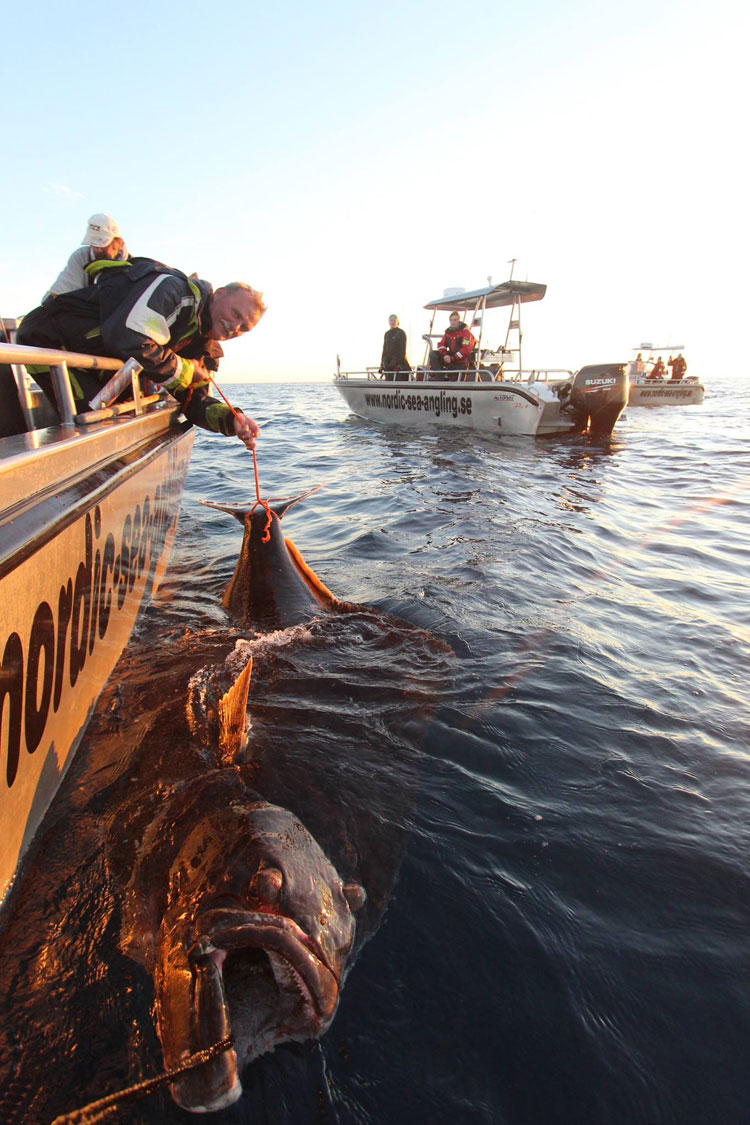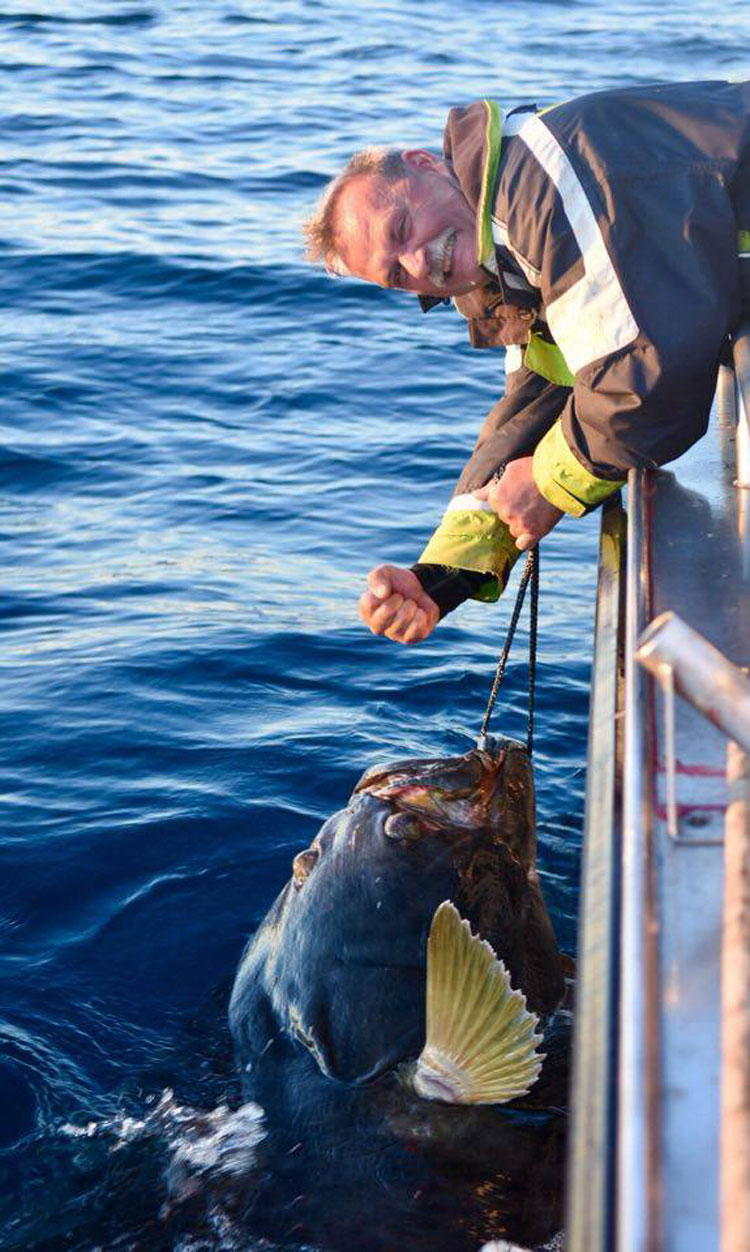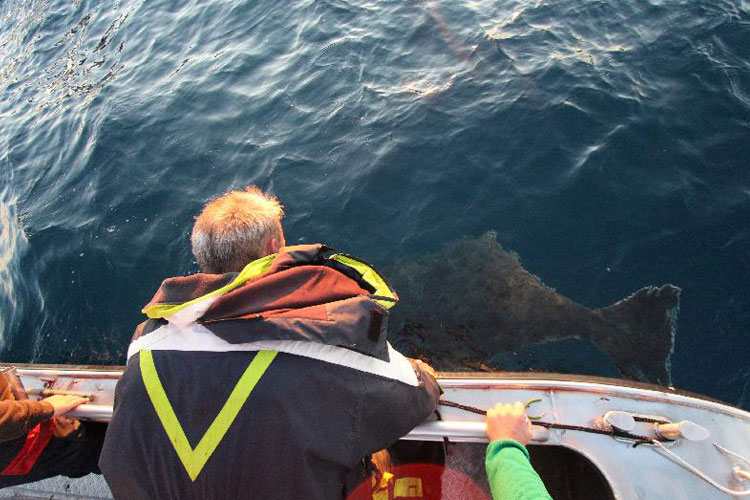 This is one of the absolute biggest Halibut caught on Vesterålen and released! We bow and congratulate all the Dalmas for the dream fish, it would not have been possible to land such a fish without good teamwork. And an extra congratulations to Lasse who got the honour to hook this huge halibut.
Christian Karlsson, Vesterålen
Thanks guys for this. When I heard about this fish a couple of days ago I couldn't wait to read the report and it has confirmed to me that I really must get myself over there, so any one interested in joining me maybe next year, get in touch on 01603 407596.
To view this awesome destination CLICK HERE
If you are interested in reading more of our Norway Sea Fishing Blogs and Reports CLICK HERE
Tight lines
Paul