Another week has gone by here at Villa Maria Lodge and we were visited by a full group of familiar faces, as all our fishermen have been fishing our waters for a few years already.
Just like in the past weeks, weather conditions – hence fishing conditions – have constantly been changing here on the Rio Grande.
In the past few days, water levels and temperatures were seesawing but when conditions lined up properly the fishing was fantastic.
The week started off with a bang when Bruno, a returning guest of 12 years, landed 6 fish between 6- 19 lbs. Kevin, another Villa Maria veteran landed a beautiful 20 lb male in the first hour of being in the water. That was a promising first fishing session!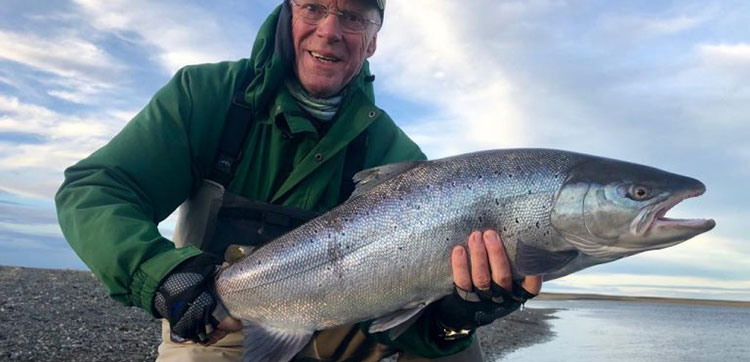 On the second, third and fourth day the temperature started to rise and Rio Grande broke it's record for hottest day in recorded history, 30.5 °C. This warm spell rose the water temperature to an uncomfortable 21 °C, 10 degrees over the preferred fishing temperature. The fish became lethargic, but our fisherman were able to land some nice fish with slow retrieve in well-oxygenated holes with small flies.
To get there, however, we had to modify our normal schedule, moving the starting of the morning session all the way forward to 7am so we were able to fish the cooler hours of those days and it proved to work really well. As the sun and temperature started to rise, the fish became completely inactive.
On the evening of the fourth day the weather and river started to stabilize and the fishing started to pick up again. We landed 12 fish including two 20 lb specimens using traditional Rio Grande tactics.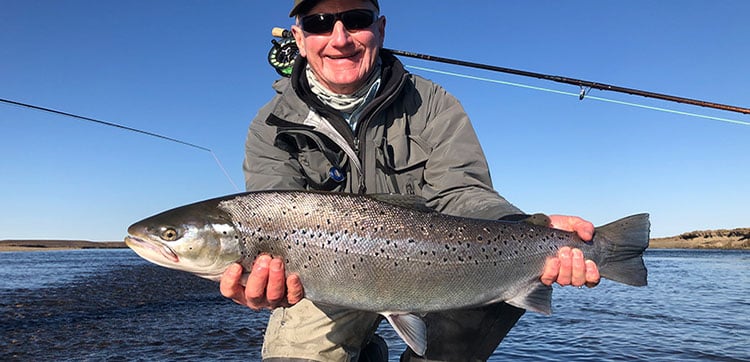 On the final day we experienced some fantastic fishing. Sandy and Jim ended up landing 12 fish between 5-20 lbs in the morning session. Throughout the day fishing remained consistent, landing 29 fish with the largest being a gorgeous 22 lb male.
Again, it's difficult to narrow down a selection of flies/lines combination we used as the conditions changed so much and were so challenging. We were going from skating hitch tubes all the way to scratch the bottom of the pools with tiny nymphs.
Single handed rods and small switch rods were heavily used as the presentations of those setups are much smoother than that of a Skagit setup with a T level sink tip.
Anyways it was probably one of the most challenging weeks I remember but our guests had a tremendous amount of patience and skills to deal with the conditions and made it a really good fishing week.
Fish Over 15lbs: 22
Fish Over 20lbs: 6
Largest Fish of the week: 22lbs