Our Atlantic Salmon fishing this year at Winsnes Farm on the famous Guala River has been amazing. It is a real testament to Matt and his team for all the effort they have put in on these beats. Below is a season update from Matt himself so hope you all enjoy.
FISHING REPORT
As I write this at the end of week 27, we have so far caught over 80 salmon. In a normal season, we would probably be somewhere between 30 and 40 fish since our fishing normally gets going in earnest sometime in week 25 but its been a very unusual and exciting year. Notwithstanding the catches, the river is at the lowest level I have seen it during June although the water temperature has remained at a pleasing level – around 14 degrees. The end result of a fantastic run of fish is that all of our guests up until week 27 have caught at least one salmon! This total includes three people whom, until visiting Winsnes Fly Fishing Lodge, had never tried fly fishing for salmon before. A group, whom visited in week 27 almost maintained the record with some 18 fish in a week when the water was extremely low.
Gaula is enjoying a good year generally but here on our beats the fishing has been stupendous at times. Its not just about the numbers but also the size of the fish: the three biggest so far have been 16.5 kilos (Lindsey Ackland), 15.4 kilos (Matt Hayes) and 13.2 kilos (Ed Brown). There have also been a number of 10-12 kilo fish.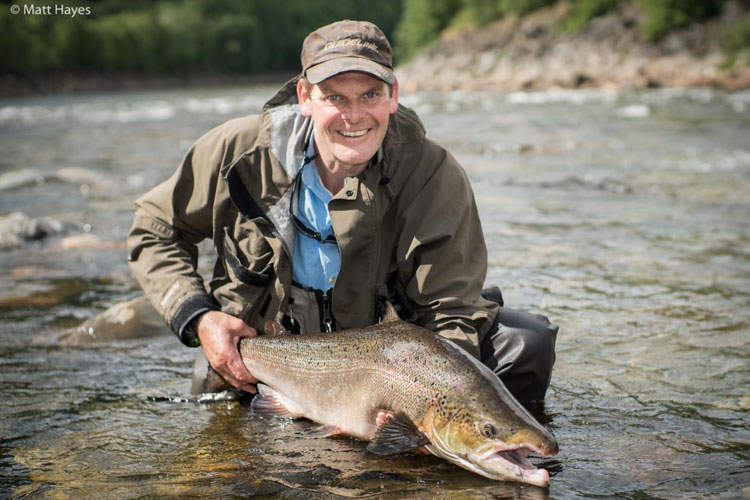 Ed brown's first thirty pound salmon – caught in the Old Bridge pool.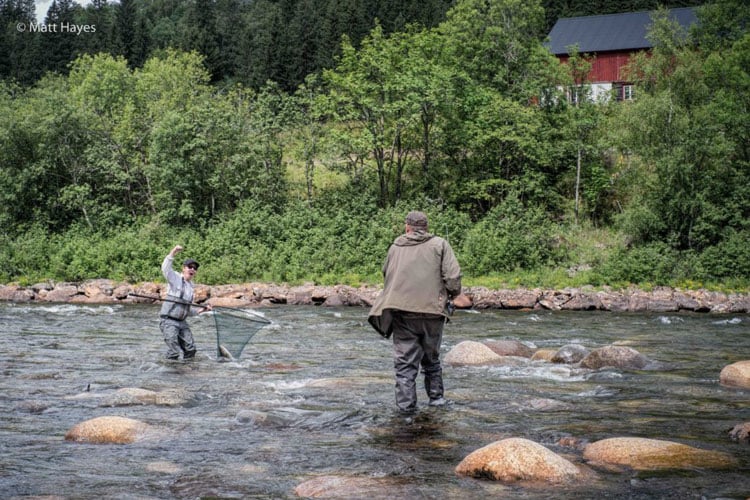 George Howard punches the air in delight after netting Ed Brown's thirty pound salmon
The run of salmon began in week 24 and has continued ever since, with big, silver fish running through our beats (and staying) in increasing numbers. The condition of the fish has to be seen to be believed: certainly it is the best for many years. Feeding at sea has clearly been very rich: the salmon are deep-bodied and in prime condition.
In many ways, it has been the fishing of our lives with big fresh fish being caught in the early part of the season. Some of these have been genuine 'chromers' with platinum silver flanks and blue-grey backs. A remarkable feature of the fish that we have been catching has been the condition. Whatever these fish have been eating at sea, I have never seen their like in terms of depth and girth. Whilst we tend to measure length and girth to assess the size of the fish, we have recently weighed a few and found the standard chart to be inaccurate when it comes to estimating the weight of the fish. Ed Brown's salmon, for example, was 103 cm long with a girth of 54 cm. According to the chart, it should weigh 11.2 kilos but actually weighing the fish revealed a true reading of 13 kilos.
The huge fish that I caught from Kroken was measured at 113 cm with a girth of 57 cm. We reported it at the chart weight of 15.4 kilos but at the time we felt it to be much bigger than 35 pounds. We will never know, however, since we did not have scales with us to weigh the fish.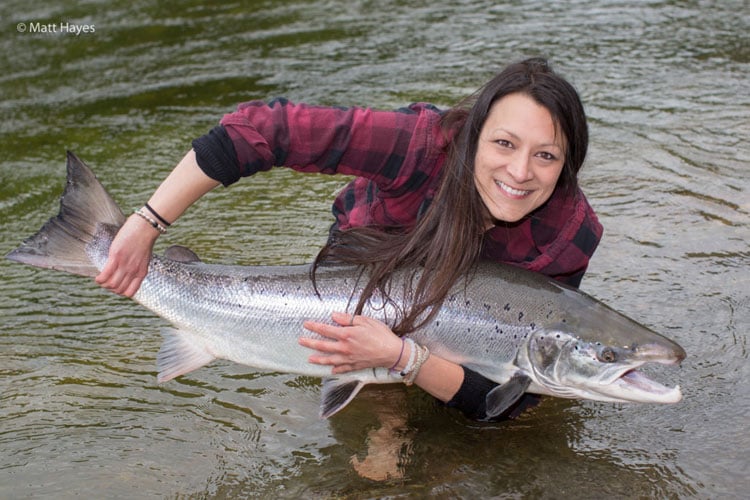 A cracking Atlantic Salmon for the ladies who have fished extremely well this year.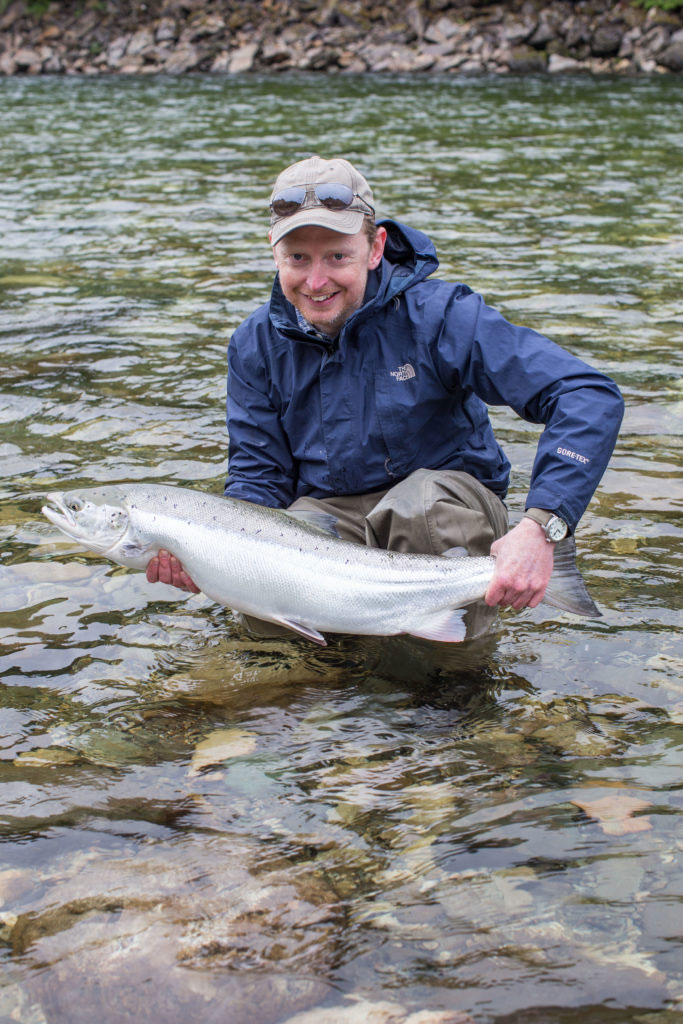 Will Sergeant with a fantastic bar of silver from the Bottle pool.
On a slightly negative note, the increased numbers of fish has increased the fishing pressure on other parts of the river and the fish killers have been out in force. Once again, far too many big fish have been killed by selfish individuals and the anti-catch and release brigade have been very vocal. Has it not occurred to them that the increased run of fish may have something to do with the extra protection in terms of catch limits that started a few years ago? I am pleased to report that all of our big fish have been returned in good condition. Our policy of catch and release has seen a steady improvement in spawning in our pools since we took over the fishing a few years ago. Contrast this with the reports of the decimation of the lower Gaula spawning areas last year caused, undoubtedly by overfishing.
If you would like to come and join in the action for 2017  you can view all the details, prices and live availability CLICK HERE
Regards
Matt Hayes