Sri Lanka Fishing Report Wow, is the only words for this report! It still amazes us just how good the fishing is in Sri Lanka and if you still are putting that trip off or undecided where to go, then look no further than Sri Lanka. Just check out the below day to day report of just one weeks fishing and if this doesn't get your juices flowing then nothing will:
Sri Lanka Fishing Report Day 1 – Gets off to an amazing start! First drift, first drop and Guillaume catches a decent Doggie. The rest of the day continues to be amazing with a jigging score of 37 bites and 26 fish landed. There are plenty of Gold Spot Trevally, Bludger Trevally, Doggies and GT. Sri Lanka
Day 2 –A repeat of day 1 with 33 bites and 16 fish landed on Jig. Some of the big fish are unstoppable breaking line on the reef.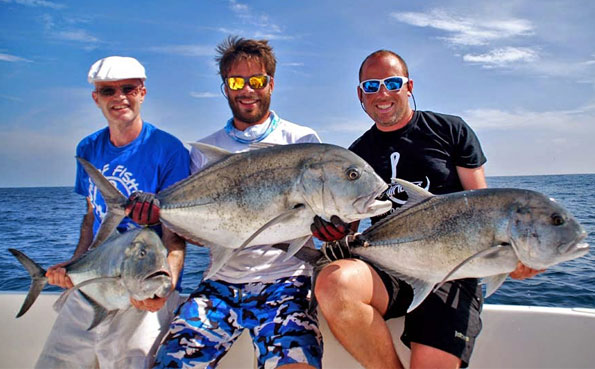 Day 3 – If day 1 was amazing, day 3 is unbelievable! The most incredible day since the start of the season in Kirinda. We start fishing on jig and the guys have 33 bites and land 20 fish. Then in 3 hours popping they managed another 29 bites but with only 6 fish landed weighing in at an average of 15-20kg. By the end of the day our 3 fishermen are understandably tired and miss 2 big ones and quite a few more fish manage a getaway.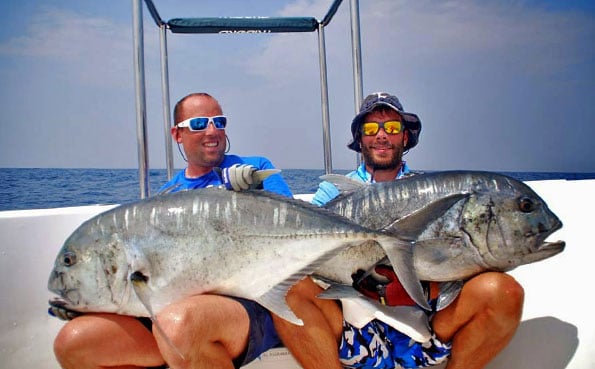 Day 4 –The plan for a morning of jigging and an afternoon of popping is named "El Classico" by the guys and it's scheduled for Day 4 but with more popping. The jigging comes up trumps with 29 bites and 20 fish landed but the popping is a bit disappointing with only 5 bites and 1 GT landed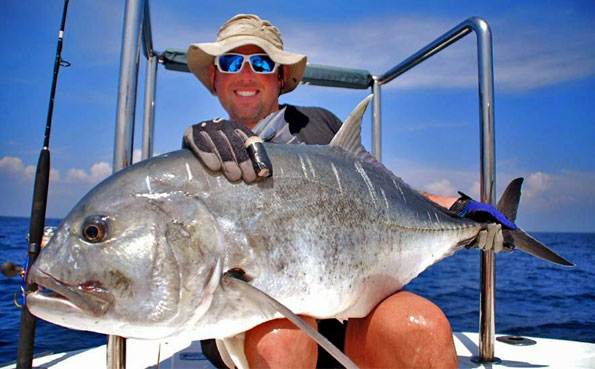 Day 5 – Is another "El Classico" day with 18 bites and 16 fish landed on jig and 8 bites and 2 GT on popper. Guillaume has a monster GT bite, which takes out a lot of line on the first rush and continues being absolutely unstoppable after breaking his PE-10 braided line on the reef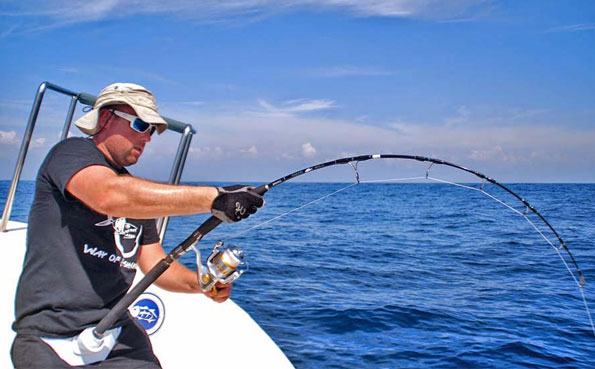 Day 6 – After 2 days off to rest, our fishermen are ready to fish again and decide to just do popping. They land 4 nice GT's between 15 – 20kg from 13 bites and miss 2 big GT's. One of the GT's that got away, smashed a Hammer Head I-Cup in a 25m depth spot and ran so fast that there wasn't enough time to set the hook.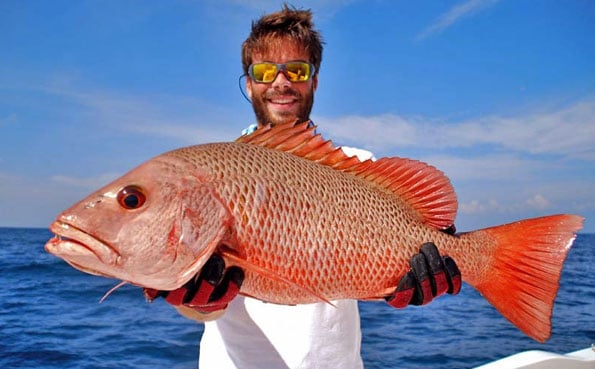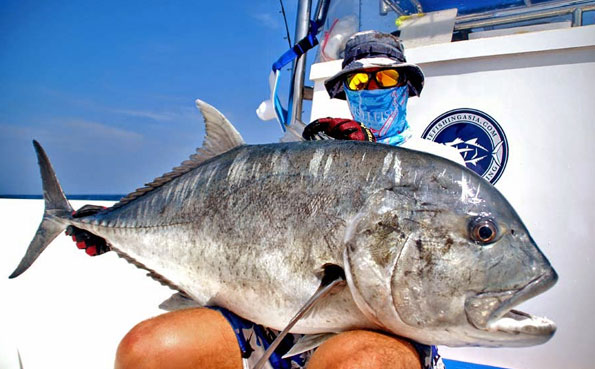 Days 7 to 10 –  The weather decides to play rough with wind and rain and a change in the water colour. There's a marked decline in the fish activity and this coupled with an intense first few days has tired our anglers out. They still manage 8 fish from 16 bites on Jig and 5 GT from 14 bites on popper.
Hauling GT & Doggies out of the water in such numbers is hard work and pretty exhausting even for the fittest anglers. It's a shame the trip didn't end on a high but the amazing first few days they had is always going to be hard to match. Well done guys!
Thanks guys for the report and if you want in on this action simply call us as we still have a few peak weeks available. You can reach us on 01603 407596 and we would be more than happy to help you live the dream
To view this amazing destination in Sri Lanka Click Here
Until next time, tight lines
Paul Stevens