Top 10 Tips For Successful Popper Fishing
When it comes to making the right choices regarding what tackle to take to some of our amazing destinations, we would ideally love to give you the best advice possible, in turn giving you the best chances whilst you are out there.
Most of our big game destinations you will find opportunities where being armed with the right mindset and of course tackle, will see you land or at least hook fish that would not be so obliging to take a trolled bait or large Marlin lure. Places Like Mexico, Costa Rica, Rodrigues Island and Andaman Islands are a few destinations where being prepared will see you catch more fish.
We have below put together a list of our 10 top tips to help you prepare for your next popper fishing holiday:
TOP TIPS:
Conditions dictate lure selection
Take time to read the water before casting
Big casts catch more fish
Work your lures slowly and keep your eyes glued to the lure
When you get that bite, always strike it as hard as possible
Always have your harness on
No fiddling with your drag or spool on the first run
Keep tension on the line
Listen to your captain during the fight
Before the trip make sure you hit the gym as a fit lure angler will always catch more fish and be able to cast longer.
Really good surface poppers to take with you are Hammer Head, Craftbait GT2 & 3, Carpenter twin hook, Patriot Design Master Bomb Jr, Heru Cubera. These all make a great surface disturbance and will bring fish up from deeper marks.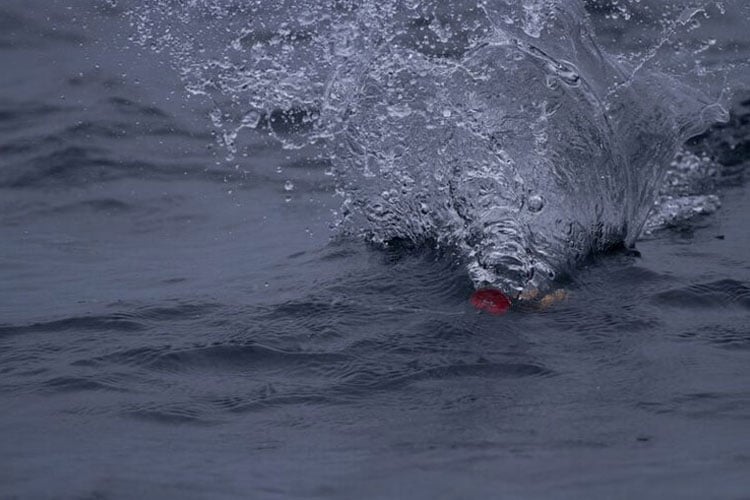 A large popper can normally entice a bite from a difficult fish
Stick baits work best in calmer conditions anything with a lot of flash that can be worked slowly does the job, stick baits that have the Japanese head dip and roll action are favourites.
When you are fishing open watermarks and there is no visible structure to cast at you must pay attention to your surroundings. This will give you an edge always scan the area for bait, current lines or any area that looks a little different. Your guide will advise on where to cast but they miss things as well.
Longer casts gives your lure more time in the water and increase the chances of raising a fish from deep water make sure your gear is in good order and practise if you must beforehand. Things that will help increase distance are; a properly topped up spool, matching your PE to your reel PE10- 20K PE8-18k/14k PE5–10k etc. and sticking to lures that suit your rods casting capabilities.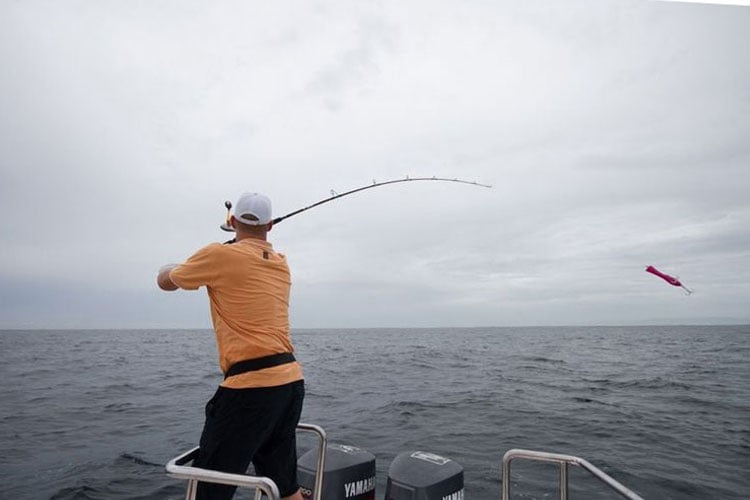 The larger poppers are perfect for casting out far.
Big slow pops and slow steady sweeps on stickbaits are the name of the game especially in choppy and rough conditions stay in contact with the lure at all times and watch it like a hawk most hits come from below and behind and it's rare for a fish to chase a lure down unless it's a pencil popper or stick bait.
When you have a hit you get one chance to set the hooks so do it properly, strike hard and crank down strike hard again then crank down and then strike again one more time for luck then pump like a maniac make sure you have your harness on ready as having the rod butt in the groin with an angry GT on the end of the line can be distracting. Make sure your drag is set before hand and don't fiddle with it on the first run it's too late by that stage and any spike or sudden change in drag pressure from the drag or "palming" the spool can result in line and heart breakage'.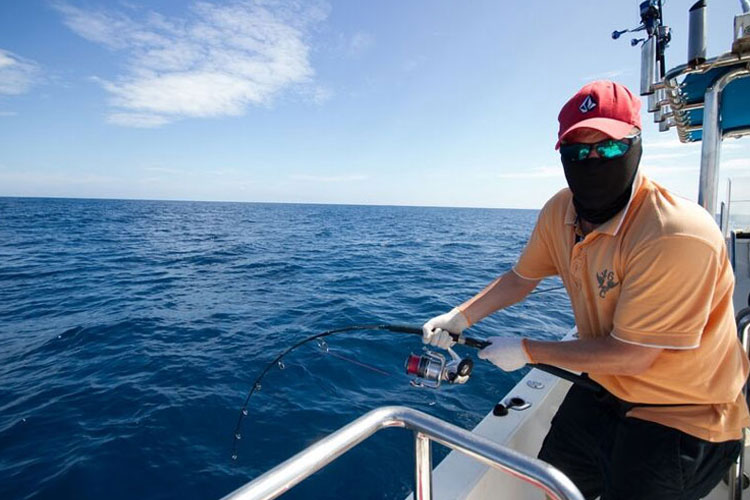 We know there is a smile behind the buff with a rod bent over that much!
Your guide will be giving instructions during the fight mostly to make sure you are in the best position on the boat to land the fish during the chaos try to keep an ear open to what he's telling you.
There is a lot more to lure fishing and this is just the start, you will learn during your weeks fishing how different fish respond to different movements on the lure. All fish want something different and will respond very differently to each other, some fish may want slow pops whereas Roosters like it fast so mix it up a little. Never be afraid to ask your guide as they fish these waters a lot more than you would of, so asking people who know is the way forward.
Hopefully some of the above will get you started and then the next step is to decide where you want to go! We can help with making some suggestions as we have some very holidays for this style of fishing from places that would be ideal for people who are just starting, places such as Palma De Cortez in Mexico or Crocodile Bay in Costa Rica up to the more advance places as the Andaman Islands or Rodrigues Islands
Tight lines
Paul Stevens