Overview
Category: Big Game Fishing


If you are in search of a true specimen, then Prince Edward Island, Nova Scotia is the place for you. The Bluefin Tuna that surround this Island are beasts and will test any angler to his limit. These huge Tuna grow in excess of 1000lb's and are caught regularly by anglers on stand up and fight gear, but make sure you take your "A" game as these fish fight dirty.
We have for a long time been looking for such a destination that offers the real specimen hunter a chance to do battle with some of the worlds largest Tuna. If you have ever researched 'The Worlds Best Giant Bluefin Tuna fishing', then it will take you straight to this little Island in Canada called Prince Edward Island. You just have to look at our Captain's stats to understand why we have chosen to work together.
We use the very best newly custom-built 45ft fiberglass fishing boat and are powered by a 430 horsepower Cummins engine. Onboard it is equipped with top of the line electronics including a 3D bottom charting plotter.
The boat also has radar and is equipped with "structure scan technology" . The captain, Scott, is proud to be the two-time winning boat captain of the Canadian Tuna Cup Tournament. This award is presented to the Captain, who's charter landed the largest Bluefin Tuna during the competition. Good friend Ken is listed in the Guinness Book of World Records for having landed the largest Bluefin Tuna ever, weighing in at an unbelievable 1496 pounds!
Prince Edward Island is where our accommodation and boat can be found and is a stunning little piece of paradise, that will keep the most energetic of persons busy.
Accommodation
This charming little house is surrounded by some of the best views on the Island, giving you great access to the Harbour, where your days fishing will start. Inside this lovely typical Canadian Cottage, you will find 2 bedrooms with two beds in each room, a bathroom and a well-equipped kitchen, giving you everything to make your stay enjoyable and effortless.
Board: Self catering
Rooms: 2 x twin rooms
Telephone: In cottage
Internet: Free WiFi
Power: 120 Volt
The Rollo Bay Inn is an old fashioned Inn that is fitted to a very modern standard. The interior décor and furnishings are of a rich Queen Anne style, so as to create an atmosphere of the Inns of bygone times.
This is the largest Inn on the Island and can cater for large groups given many different packages. You can choose to stay on a room only basis or take advantage of the full meal package. If you choose this hotel, you will be well looked after, as the staff are very friendly and welcoming.
Board: Room only
Rooms: Single & double available
Telephone: Free local calls
Internet: Free WiFi
Laundry: Chargeable
Power: 120 Volt
Cards Accepted: Debit & credit cards
Cash Accepted: Canadian Dollars
Species Information
Bluefin Tuna
Season: July to October
Peak: September to October
Weight: 400LB to 1500LB
Average Weight: 750LB

Suggested Itinerary
The below itinerary is only a suggested one, as we have daily flights departing from the UK, therefore should you wish to extend your stay with either more fishing days or free days, the itinerary below can be tailored to suit.
DAY 1:
Depart UK (alternative routes available)
Arrive Halifax
Depart Halifax
Arrive Charlottetown
On arrival and once you have cleared customs, walk out of the terminal building and you will be met by a Sportquest Holidays representative, who will then transfer you to your accommodation.
Rest of the evening free to relax.
Overnight accommodation: Cottage (Twin room) S/C
DAY 2: Fishing Day.
At the pre agreed time, please make your way to the Harbour to meet your Captain for your full days fishing.
Overnight accommodation: Cottage (Twin room) S/C
DAY 3: Fishing Day.
The boat we use to target these giants has been completely designed with this type of fishing in mind. There is a huge area at the back of the boat giving you plenty of room to move about.
Overnight accommodation: Cottage (Twin room) S/C
DAYS 4 & 5: Fishing Days.
Our Captain has won many awards for Giant Bluefin Tuna fishing and has been guiding trips for many years. One just has to look at his achievements to understand you will be in safe hands.
Overnight accommodation: Cottage (Twin room) S/C
DAY 6: Fishing Day.
Final days fishing, our guide will pick you up from the marina and head out to target the Tuna for one last time.
Overnight accommodation: Cottage (Twin room) S/C
DAY 7:
Free day to relax and explore or alternatively book an extra days fishing.
Overnight accommodation: Cottage (Twin room) S/C
DAY 8:
In the morning you will be picked up and transferred back to the airport for your return flight back to the UK. (If you have a hire car, make your way back to airport to drop off your car)
Depart Charlottetown
Arrive Halifax
Depart Halifax
DAY 9:
Arrive UK
Dates & Prices
Remember that Sportquest Holidays' services are completely FREE! When you book a trip with Sportquest Holidays, you never pay more than when you book directly with the lodge and flights independently. Plus what's more if you book with Sportquest Holidays your holiday is protect by our ATOL and the Travel Package Regulations Act. To see more details CLICK HERE.
Dates & prices are best viewed in landscape.
You can scroll the table left and right to view prices and availability.
Start Date
End Date
Days
Nights
Fishing
Angler
Non-Angler
Availability
15/07/2019
31/07/2019
9
8
5

£

3,422
On Request

Book Now

01/08/2019
31/08/2019
9
8
5

£

3,472
On Request

Book Now

01/09/2019
14/09/2019
9
8
5

£

3,222
On Request

Book Now

15/09/2019
31/10/2019
9
8
5

£

3,635
On Request

Book Now

15/07/2020
31/07/2020
9
8
5

£

3,802
On Request

Book Now

01/08/2020
31/08/2020
9
8
5

£

3,852
On Request

Book Now

01/09/2020
14/09/2020
9
8
5

£

3,602
On Request

Book Now

15/09/2020
31/10/2020
9
8
5

£

4,015
On Request

Book Now
Price Match Promise
We are so confident that our packaged prices are the best available and offer great value for money.
If, however, you find an identical holiday available with any other fully bonded Tour Operator at a lower price, we will match that price.
Price Notes
Prices are based on two adults sharing transfers, fishing and accommodation (unless otherwise stated) and are correct at the time of going to press. Subject to time of year or date and currency fluctuations, these prices may fluctuate slightly due to flight price increases or fuel surcharge.
ATOL
Holidays or flights booked with Sportquest Holidays Limited are protected by the Civil Aviation Authority by our ATOL bond (Number 6371). ATOL protects you from losing your money or being stranded abroad. It does this by carrying out financial checks on the firms it licenses and requiring a guarantee, called a bond.
Price Supplements
3 anglers sharing 1 boat in 1 twin and 1 single bedded rooms: Deduct a total of £1000 per person off the advertised price
Still need some inspiration
Why not enjoy browsing our destinations in the comfort of your own home.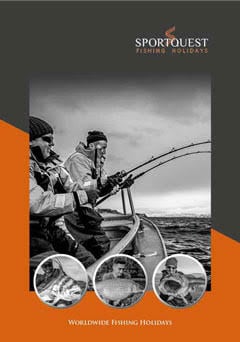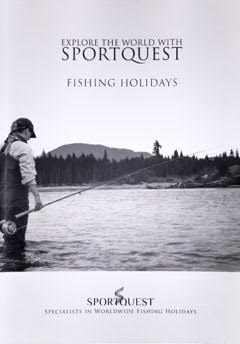 Request a free brochure
What's Included & Excluded
Included
All international flights
Transfers to and from Cottage to Charlottetown
All accommodation as per itinerary
Access to professional guide
State of the art fishing boat
5 days Guided fishing
Bait and tackle
Canadian taxes
Excluded
Personal holiday insurance
Personal items
Canadian eTA
All meals
Local tips
Options
Flight upgrades
Extra day fishing
Single room upgrades available
Upgrade to the below Hotel:
Rollo Bay Inn
Tour Notes
Visa
A machine-readable passport with at least 6 months before expiry. The Canadian Government announced that from 15th March 2016 certain visitors flying into Canada will require an Electronic Travel Authorisation (eTA).
If you do not normally require a visa to enter Canada (e.g. British Citizens), you will need to get an eTA.
The cost to apply for an eTA is $7 (CAD) per person, which is paid at the time of application.
Medical Requirements
No vaccinations currently required
Please Note
All details of visa and medical requirements are correct at time of press however please check these requirements for changes.
Departure tax
There is no departure tax from Canada
Flight Route & Flight Time
UK – Charlottetown (approx 10 hrs)
Baggage Allowance
Your actual allowance is based on both which airline you are flying with and also what class of seat you are travelling in. Normally in economy it is 1 checked bag, Premium Economy / Business 2 checked bags, First 3 checked bags. In addition to your checked bags you are also allowed 1 cabin bag and either 1-laptop bag or ladies handbag. The actual size and weight limit for bags is dependent on the airline. We therefore recommend that once your flights are booked you check on the airlines website for the up to date allowances.
If your itinerary includes private light aircraft or helicopter flights we will advise you on your baggage and weight allowance.
Transfer Time
Charlottetown – Cottage (Transfer time approx 1 hr)
Tour Reviews
Sportquest Holidays is proud to be different, and one way we stand out from the crowd is our tried and trusted information we provide our customers. This information is not just provided on our own personal experiences but also REAL CUSTOMER reviews.
We are the only fishing & shooting tour operator to operate our own review system whereby customers can review both the packaged holiday and also how we performed on each destination.
How This Destination Performed
How We Performed On This Destination
How Our Customer Feedback Works
See how our customer feedback works and our latest customer reveiws.
Read More
Write a Review
Have you ever visited this destination? Why not write a review and let everyone know how you rated their services?
Write a Review
Darren says:
Overall Rating:
My arms a just a little longer after doing battle with those Tuna. When you said they pulled hard you were not joking. I would highly recommend any sports angler to try this at least once in their life time. Plus we witnessed the skipper almost hand feeding these beasts taking the bait literally inches from his hand. Thanks for making our dreams come true.
The only negative things was that it would be great to have an organised transfer as neither of us like driving abroad and after such a long flight it was the last thing that either of us wanted to do was drive for an hour or so to the accommodation, but saying that it was handy to have a hire car as the accommodation was set in stunning scenery but very quiet area so we headed out every night.
All in all top marks
Paul (Sportquest Holidays) says:

Hi Darren I did try and tell you that you should get your self up the gym! It really is an extreme experience and one that I wish I had the time to do myself. Maybe one day.

The transfer part of the holiday is the only bad comment we get for this destination but we have tried to book taxi's and they have not turned up and we can not find a good reliable ground handler that sticks to what they say. We know its not ideal having to pick up a hire car but like you mentioned, having the car with you is great for the evenings so you can off and explore a bit.

Would love to see your pictures soon plus I heard you have got some great under water footage of the fish feeding? Would love to see it.
Steve says:
Overall Rating:
What a disaster with regards to the flights. We were late leaving Edinburgh making us miss our connecting flight from London. After a quick call to you guys and a further whack on the credit card you had us booked on the next available flight. Once we finally arrived the office of the hire car company was closed and we were stuck at the airport very late in the day. Thank god you gave us an emergency phone number to call. We soon got picked up by our skipper and taken to our hotel.
Apart from the little disaster with the flights, the fishing was world class and we managed to all catch fish of our dreams.
Mel (Sportquest Holidays) says:

Hello Steve. Thats the advantages of booking with a Travel agent we are always here to help. So glad it all worked out right in the end and you all caught some big fish.

I shall pass on your comments to Paul and he can reply to you when he returns from Norway

Best Regards

Mel
Mark says:
Overall Rating:
Hi Paul, what a trip we have all just experienced. Not many fish but still the size of the two we caught were absolutely huge. The first fish was 900LB + we could not believe the size of these fish and the sheer power they had. Learnt some great new techniques like kite fishing..... what a way to fish and may try it at home for other species we will let you know how we get on with it.
Everything went well and hopefully they may find my Ipad one day
All our best, Mark, John, Simon and Leon
Paul (Sportquest Holidays) says:

Hello Mark the skipper of your boat phoned us the night you guys caught the big one saying you were having a great time. He commented on how the fishing was a little slow and I thought having two fish over 700Lb between you was pretty good going. I will try and catch up with you soon as I know how busy you normally are.

Cant wait to see the pictures of you guys with that Tuna, speak soon

Paul
Patrick says:
Overall Rating:
Awesome trip guys thanks for making a childhood dream come true. My brother caught the biggest Tuna of the trip at an estimated 850LB and it looked every part of that.
The accommodation was very good, a little quiet for us but we were there for the fishing. Thanks Sportquest
Paul (Sportquest Holidays) says:

Hi Pat, we did hear you guys had a great trip. I believe you caught at least one fish a day!! And a huge congratulations to your brother what a fish.

Yes the accommodation is a little remote thats why we recommended a hire car so you can take a look around the place. Whats next for you guys? Maybe a big shark trip?

Speak with you soon

Paul
Ahmed says:
Overall Rating:
From the first day in Panama and PEI in Canada I have a good time and I maid what I need I have 700lb black marlin and 966 lb Bluefin tuna both Captains they have good knowledge also the food is very good .
I will do it again.
thanks a lot for this trip.
Paul (Sportquest Holidays) says:

Hi Ahmed

A massive congratulations for achieving your targets and in great style. Would of loved to have seen that Tuna what a fish…….

We would be more than happy to have you any time soon

Look forward to getting the pictures

All The Best

Paul
Terry says:
Overall Rating:
Thank you Sportquest for organising this trip for me. I had a great time and met lots of other anglers to have some beers with in the evening. As a single angler i can highly recommend this resort
Peter (Sportquest Holidays) says:

You are welcome Terry

Regards

Peter