Overview
Category: Family Fishing, Fishing Holidays, Freshwater Fishing


Given how popular Carp fishing has become we have been searching the world for top quality Carp venues. We would like to introduce Carp Heaven Lake located in Hungary only 10km from Nyíregyháza which is the northeast side of the country.
This stunning piece of water is 59 acres and with it being over 40 years old, the lake and the surrounding foliage is very established and picturesque. The lake has been stuffed full of awesome looking Mirrors and Commons, if it is runs you want then that is what you will get. The owners have stocked over 25,000 Carp in this lake from 20lb – 40lb and that's not to mention the original Carp that were present already. The biggest fish landed so far is a massive 64lb and we are sure there are bigger Carp swimming around just waiting for you to present that perfect cast in the right place.
The lake averages 3 – 6ft in depth with the deepest part only 11ft so no matter where you fish you will not be far from these hard fighting hungry Carp. There is also a great restaurant on site serving some lovely food if you do not wish to cook yourself, plus joining on to the restaurant are some very clean showers and a toilet block.
We have 25 swims dotted around this amazing looking lake, 13 of them are bivvy only swims and then we have 12 of the popular chalet swims. The bivvy swims come complete with Electricity and WIFI, your very own platform to fish from, your own boat with Yamaha M18 electric motor with charger, 2 markers, a Carp friendly mat, a weigh sling, weigh stand, Nash Moon chairs, 10KG Nash boilies (Scopex Squid or Key), 1 cooked evening meal per person.
The 12 swims with your very own private insulated wooden Chalet comes with 4 beds, fridge, microwave, air conditioning and heating. The Chalets are absolutely perfect for a weeks fishing with friends or your partner. You get your very own swim with platform into the lake and also a boat with electric engine and to top all of this off the Chalets come with 2 markers, a Carp friendly mat, a weigh sling, and weigh stand and a BBQ area the same as the bivvy swims.
We are very proud of this lake and can see great things happening with it as it has only been fished since 2012 so these fish have hardly seen any pressure. So if you are looking for your very next Carp fishing adventure, look no further than Carp Heaven Lake in Hungary.
Contact our expert team, who will help you to organize your perfect Carp fishing holiday. Alternatively, you can view all our freshwater fishing destinations.
Accommodation
These 12 very modern warm insulated lakeside cabins have been constructed with carp anglers in mind. They face the lake giving you great views of your swim and close to where your rods are located. They come with their own private platform that juts out in to the water.
The Lakeside chalets come with 4 single beds, a fridge, microwave, electricity, WIFI and air conditioning. These are great chalets for friends or even families.
There is a lovely clean shower and toilet block located at the front of the complex and it is also possible to have lunch delivered to the lake from local restaurants. (Has to be paid for in Hungarian Forint HUF and is not included) There is 1 evening meal provided per person per day
This really is Carp fishing at its very best
Rooms: 2 Bunkbeds
Internet: WIFI
Air Conditioning: Charged Per Day
Equipment Hire: Included
Cash Accepted: Hungarian Forint HUF
Species Information
Mirror Carp
Season: April to October
Peak: April to October
Weight: 63LB
Average Weight: 25LB

Common Carp
Season: April to October
Peak: April to October
Weight: 60LB
Average Weight: 25LB

Grass Carp
Season: April to October
Peak: April to October
Weight: 40LB
Average Weight: 17LB

Suggested Itinerary
Although the fishing has set weeks, we have daily flights departing from the UK, therefore should you wish to either extend your stay with additional days at the beginning or end in Budapest, the itinerary below can be tailored to suit.
DAY 1:
Depart Luton
Arrive Debrecen
Once you have arrived, make your way out of the terminal building and a Sportquest Holidays representative will be waiting to transfer you to the lake. (Transfer approx. 1 hour) On the way to the lake you will be taken to a nearby supermarket so you can grab some supplies. We also have a little tackle shop on site if you do run out of anything.
Once you have arrived you will be shown to your swim. All your hire equipment will be waiting for you and is yours once you have arrived. Our representative will then try and give you as much information about the swim as possible.
You will be given 1 evening meal per person per day for your entire stay
Overnight accommodation: Lakeside Wooden Chalet R/O
DAYS 2 TO 4: Fishing Days
This lake has a huge stock of hard fighting fish that are nearly always up for some grub. So make sure you map your swim out when you arrive, get to know your swim and that way when the fish do move in you will be well prepared and be able to fish for them with out having to get the marker rod out.
Overnight accommodation: Lakeside Wooden Chalet R/O
DAYS 5 TO 7: Fishing Days
The Carp in this lake are no different than the Carp back in the UK so you will be able to use your favourite trusted rigs and hook baits. The best piece of advice is to take plenty of pre tied rigs as when these fish move on to you you need to be organised and not spend unnecessary time retying rigs.
We now include 10 kg of Nash bait per swim this will be either Scopex Squid or Key and you can of course order more bait
Overnight accommodation: Lakeside Wooden Chalet R/O
DAY 8:
At a prearranged time you will be transferred back to the airport for your return flight back to the UK.(transfer approx 1 Hour)
Depart Debrecen
Arrive Luton
Dates & Prices
Remember that Sportquest Holidays' services are completely FREE! When you book a trip with Sportquest Holidays, you never pay more than when you book directly with the lodge and flights independently. Plus what's more if you book with Sportquest Holidays your holiday is protect by our ATOL and the Travel Package Regulations Act. To see more details CLICK HERE.
Dates & prices are best viewed in landscape.
You can scroll the table left and right to view prices and availability.
Price Match Promise
We are so confident that our packaged prices are the best available and offer great value for money.
If, however, you find an identical holiday available with any other fully bonded Tour Operator at a lower price, we will match that price.
Price Notes
Prices are based on two adults sharing transfers, fishing and staying in lakeside Wooden Cabin for accommodation (unless otherwise stated) and are correct at the time of going to press. Subject to time of year or date and currency fluctuations, these prices may fluctuate slightly due to flight price increases or fuel surcharge.
ATOL
Holidays or flights booked with Sportquest Holidays Limited are protected by the Civil Aviation Authority by our ATOL bond (Number 6371). ATOL protects you from losing your money or being stranded abroad. It does this by carrying out financial checks on the firms it licenses and requiring a guarantee, called a bond.
Price Supplements
The above price is based on two people sharing transfers, accommodation and swim. Please contact us if you have a different group size for an up to date price.
Still need some inspiration
Why not enjoy browsing our destinations in the comfort of your own home.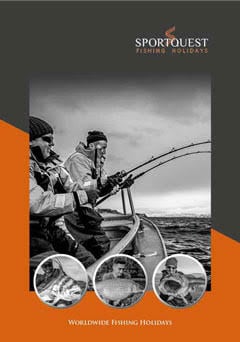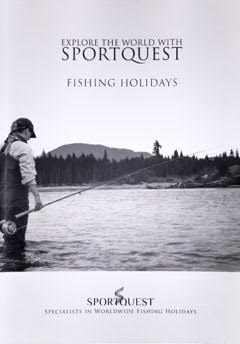 Request a free brochure
What's Included & Excluded
Included
All international flights
Accommodation as stated in itinerary
Airport to Carp Heaven Lake transfer return
All lakeside accommodation Room Only
1 evening meal per person per day
7 days fishing
1 week fishing Licence
24/7 Phone service
Boat rental for one week with Yamaha M18 electric motor with charger
10KG Nash Boilies per swim (Scopex Squid or Key)
2 Rods Per person (Nash), 1 Landing net (Nash), 1 Weigh sling (Nash), 1 unhooking mat (Nash), 2 bite alarms and receiver (Nash siren S5R), 1 rod pod (Nash 4 play X Lite 3 rod pod), nash moon chairs, 1 set of scales, 2 buckets, 2 baiting markers and 1 kettle per swim
Excluded
All other meals (Can be delivered to your swim from local restaurant)
All drinks
Bed linen (simply bring your sleeping bag)
Reels
Fishing end tackle
Bait & Lead (these can be pre ordered)
Personal holiday insurance
local tips
Options
Gas Stove with 2 gas canisters a pot and pan plus kettle & 1 litre of oil £50
Fish finder (Lowrance) plus battery for one week £65
Boilies (Nash, CC Moore, Dynamite, Rod Hutchinson, Solar, SBS, Berkley, Finkelde)- €15 – €18 per kg
Particles mix – €18 for 5kg
Pellets – depends on request
Heating – €7 per day
Air conditioning  – €7 per day
Lead – €1.89 each
Rent a Bike €2 per day
Tour Notes
Visa
A machine-readable passport with at least 6 months before expiry. No visa for UK citizens required.
Medical Requirements
Currently there are no vaccination requirements to visit Hungary, however please consult your doctor before traveling.
Please Note
All details of visa and medical requirements are correct at time of press however please check these requirements for changes.
Departure tax
There is no additional airport departure tax when leaving Debrecen
Flight Route & Flight Time
Luton  – Debrecen (approx 2hr 45mins)
Baggage Allowance
Your actual allowance is based on both which airline you are flying with and also what class of seat you are travelling in. Normally in economy it is 1 checked bag, Premium Economy / Business 2 checked bags, First 3 checked bags. In addition to your checked bags you are also allowed 1 cabin bag and either 1-laptop bag or ladies handbag. The actual size and weight limit for bags is dependent on the airline. We therefore recommend that once your flights are booked you check on the airlines website for the up to date allowances.
If your itinerary includes private light aircraft or helicopter flights we will advise you on your baggage and weight allowance.
Transfer Time
Debrecen –  Carp Heaven Lake (approx. 1 Hour)
Tour Reviews
Sportquest Holidays is proud to be different, and one way we stand out from the crowd is our tried and trusted information we provide our customers. This information is not just provided on our own personal experiences but also REAL CUSTOMER reviews.
We are the only fishing & shooting tour operator to operate our own review system whereby customers can review both the packaged holiday and also how we performed on each destination.
How This Destination Performed
How We Performed On This Destination
How Our Customer Feedback Works
See how our customer feedback works and our latest customer reveiws.
Read More
Write a Review
Have you ever visited this destination? Why not write a review and let everyone know how you rated their services?
Write a Review