Overview
Category: Freshwater Fly Fishing, Single Angler Fishing


We have developed this Caterina River Salmon Fishing tour as either an extension to our Sea Trout fishing packages or as a dedicated King Salmon Fishing package. In this lonely place of the Andes, King Salmon have developed a healthy population, that continues to grow every year due to low fishing pressure and not having many predators.
Every year Chinook Salmon go up the Caterina River from the Atlantic Ocean, crossing the whole Santa Cruz river and then the Argentinian Lake (the biggest in the country) to arrive to these waters. This journey ensures that only the strongest fish arrive at this destination and over the years the strain of these fish have produced some of the toughest Kings / Chinook to be found anywhere in the world.
The Caterina River is 8km long and fed by glaciers and smaller creeks. It is surrounded by the most amazing scenery. In these glacial waters, the Kings are very aggressive. By arriving at their spawning grounds, the fish have become very territorial producing amazing takes followed by arm busting flights.
It's not uncommon to land your fish a long way down the Caterina River from where you hooked it. The Caterina River has lots of areas and pools to fish, giving everyone plenty of room to fish and swing flies. So far we have experienced Kings caught up to 50lbs. However, as the fishing is still relativity new, no one knows what size these fish are growing up to.
Our Caterina River Salmon Fishing trips are available as either full weeks or half weeks, this makes them ideal to add on to any of our other Argentinian packages.
If you have any questions on the fishing trips we offer then contact us in the office, our experienced team will be happy to help you with any queries you have. Additionally, you can request a free brochure.
Accommodation
Estancia Cristina Lodge is a wonderful old estancia that was founded in 1914 by English settlers. This charming lodge offers a warm, rustic atmosphere that gives you the feel of a true estancia. Here you cannot only enjoy the incredible surroundings of Patagonia, but also get an understanding of the history and culture of the area.
Stunning in its remoteness, Estancia Cristina has a natural lookout point to the Upsala Glacier, which is the largest in South America.
Warm and cozy, each room is brilliantly naturally lit through large picture windows, where stunning views will enchant you throughout the day. Warm woods run throughout each of the five lodges and 20 rooms, adding a delightfully rustic touch to the tranquil setting.
Sleep in plush beds each night, stretch out on comfortable lounges, soak in the beauty of Patagonia and enjoy everything that Estancia Cristina has to offer.
Board: Full board
Rooms: Twin rooms
Telephone: Main reception
Internet: Free WiFi
Laundry: For nominal charge
Power: 220 volt
Meals: In restaurant
Alcohol: Available to purchase
Equipment Hire: Rods & reels
Cards Accepted: Credit & debt cards
Cash Accepted: US Dollars
We use a variety of Hotels in Buenos Aries for your overnight stay, from hotels close to the airport to hotels in downtown Buenos Aries that allow you to see a bit more of Buenos Aries and even extend your stay.
All hotels that we use are a minimum of 3 stars and will at least include all the basic facilities listed below. If you wish, we can discuss, which hotel to use to suit your own personal requirements. Also, for overnight hotels, there is always the option to upgrade to single rooms.
Board: Bed & breakfast
Rooms: Single, double & twin available
Telephone: In room
Internet: Free in lobby
Laundry: For a nominal charge
Power: In rooms
Air Conditioning: Throughout hotel
Meals: Breakfast in restaurant
Alcohol: Available to purchase
Cards Accepted: Debit & credit cards
Cash Accepted: US Dollars
Species Information
King / Chinook Salmon
Season: January to March
Peak: February
Weight: 5LB to 70LB
Average Weight: 30LB

Suggested Itinerary
Although the fishing has set weeks, we have daily flights departing from the UK, therefore should you wish to either extend your stay with additional days at the beginning or end in Buenos Aires, the itinerary below can be tailored to suit. It is also possible to combine King Salmon Fishing with Golden Dorado, Steelhead and Sea Trout fishing. You can even combine all our Argentina fishing packages with any of our shooting packages to make the ultimate trip.
Note: We also offer half week fishing packages for Salmon Fishing Caterina River, please ask for more details.
DAY 1: (Friday)
Depart UK (alternative routes available)
DAY 2: (Saturday)
Arrive Buenos Aires International Airport
On arrival take a taxi to the domestic airport for your flight to Calafate (Taxi not included)
Depart Buenos Aires
Arrive El Calafate
On arrival at Calafate our staff and transport will be waiting to transfer you to the lodge.
Overnight Accommodation: Calafate Hotel B/B (Twin Rooms)
DAY 3: (Sunday)
Early in the morning you will all be picked up and transferred to Punta Bandera Port. From there you will board the ferry for the transfer to Estancia Cristina, which will be your home for the next few days.
During the 3.5 hour transfer you will cruise along the front wall of Upsala glacier allowing everyone to get up and close to the real glacier experience.
You will arrive at the Estancia around 11:30 AM and once everyone has checked in and settled, it's time for lunch.
You will then depart around 1:30 PM for the first afternoon's full Salmon Fishing Caterina River. (Approx 20 min drive to the river)
Fishing is based on 3 rods pr guide and you will fish until around 8:30 PM returning back to the Estancia for dinner around 9:00 PM.
Overnight Accommodation: Estancia Cristina F/B (Twin Rooms)
DAYS 4 to 8: (Monday to Friday)
Prepare for full days Salmon Fishing Caterina River. After breakfast you will depart to the river around 08:30 AM and fish until around 8:30 PM.
Lunch will be supplied and taken on the river bank around 1:00 PM, on returning back to the lodge dinner will be served around 9:00 PM.
Overnight Accommodation: Estancia Cristina F/B (Twin Rooms)
DAY 9: (Saturday)
Around 8:30 AM depart to the river for a full mornings Salmon Fishing Caterina River, lunch will be served on the river bank and you will aim to be back to the Estancia by 2:00 PM.
At 4:30 PM you will depart and transfer back to Calafate by ferry, this time it will be a direct cruise back taking approx. 2 hours.
On arrival at Port Bandera in Calafate you will be transferred back to your hotel.
Overnight Accommodation: Calafate Hotel B/B (Twin Rooms)
DAY 10: (Sunday)
In the morning transfer to Calafate Airport for your return flights back to Buenos Aires.
Depart El Calafate
Arrive Buenos Aires
On arrival at Buenos Aires take a taxi back to your Buenos Aires Hotel. (Taxi not included)
Overnight Accommodation: Buenos Aires Hotel (Twin Rooms) B/B
DAY 11: (Monday)
In the morning taxi back to the International Hotel. (Taxi not included)
Depart Buenos Aires
DAY 12: (Tuesday)
Arrive UK
Dates & Prices
Remember that Sportquest Holidays' services are completely FREE! When you book a trip with Sportquest Holidays, you never pay more than when you book directly with the lodge and flights independently. Plus what's more if you book with Sportquest Holidays your holiday is protect by our ATOL and the Travel Package Regulations Act. To see more details CLICK HERE.
Dates & prices are best viewed in landscape.
You can scroll the table left and right to view prices and availability.
Start Date
End Date
Days
Nights
Fishing
Angler
Non-Angler
Availability
17/01/2020
28/01/2020
12
11
6

£

7,738
N/A

Book Now

24/01/2020
04/02/2020
12
11
6

£

7,738
N/A
Sold Out
31/01/2020
11/02/2020
12
11
6

£

7,738
N/A
Sold Out
07/02/2020
18/02/2020
12
11
6

£

7,738
N/A
Sold Out
14/02/2020
25/02/2020
12
11
6

£

7,738
N/A
Sold Out
21/02/2020
03/03/2020
12
11
6

£

7,738
N/A
Sold Out
28/02/2020
10/03/2020
12
11
6

£

7,738
N/A
Sold Out
06/03/2020
17/03/2020
12
11
6

£

7,738
N/A
Sold Out
15/01/2021
26/01/2021
12
11
6

£

7,963
N/A

Book Now

22/01/2021
02/02/2021
12
11
6

£

7,963
N/A

Book Now

29/01/2021
09/02/2021
12
11
6

£

7,963
N/A
Sold Out
05/02/2021
16/02/2021
12
11
6

£

7,963
N/A
Sold Out
Price Match Promise
We are so confident that our packaged prices are the best available and offer great value for money.
If, however, you find an identical holiday available with any other fully bonded Tour Operator at a lower price, we will match that price.
Price Notes
Prices are based on two adults sharing transfers, fishing and accommodation (unless otherwise stated) and are correct at the time of going to press. Subject to time of year or date and currency fluctuations, these prices may fluctuate slightly due to flight price increases or fuel surcharge.
ATOL
Holidays or flights booked with Sportquest Holidays Limited are protected by the Civil Aviation Authority by our ATOL bond (Number 6371). ATOL protects you from losing your money or being stranded abroad. It does this by carrying out financial checks on the firms it licenses and requiring a guarantee, called a bond.
Price Supplements
N/A
Still need some inspiration
Why not enjoy browsing our destinations in the comfort of your own home.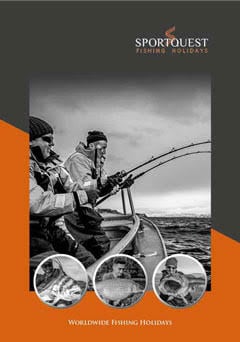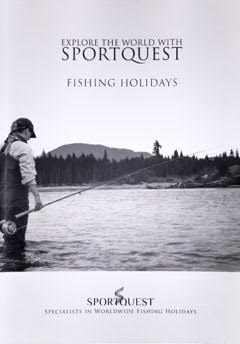 Request a free brochure
What's Included & Excluded
Included
All international flights
Internal flight Buenos Aires to El Calafate
Transfers to and from Lodge
All accommodation as per itinerary
All meals at Lodge
All soft drinks at Lodge
6 days fishing
Fishing license
Excluded
Personal holiday insurance
Meals at Buenos Aires Hotels or bar expenses
Transfers in Buenos Aires
Alcohol
Tips for guides and all camp staff
Fishing tackle
Waders & Boots
Options
3 day fishing packages available
Flight upgrades
Additional nights in Buenos Aires
Single rooms in Buenos Aires
Tackle hire $250 per week paid direct to Lodge
Dorado Fishing add on
Sea Trout Fishing add on
Steelhead Fishing add on
Dove shooting add on
Tour Notes
Visa
A machine-readable passport with at least 6 months before expiry, no visa for UK citizens required.
Medical Requirements
No vaccinations currently required.
Please Note
All details of visa and medical requirements are correct at time of press however please check these requirements for changes.
Departure tax
There is no additional airport departure tax when leaving Argentina.
Flight Route & Flight Time
UK – Buenos Aires (approx 14hrs) Buenos Aires – Calafate (approx 1.5 hours).
Baggage Allowance
Your actual allowance is based on both which airline you are flying with and also what class of seat you are travelling in. Normally in economy it is 1 checked bag, Premium Economy / Business 2 checked bags, First 3 checked bags. In addition to your checked bags you are also allowed 1 cabin bag and either 1-laptop bag or ladies handbag. The actual size and weight limit for bags is dependent on the airline. We therefore recommend that once your flights are booked you check on the airlines website for the up to date allowances.
If your itinerary includes private light aircraft or helicopter flights, we will advise you on your baggage and weight allowance.
Transfer Time
Calafate – Estancia Cristina (approx 4 to 5 hours)
Questions & Answers
Where is the lodge?
The lodge is located in the foothills of the Andes; the closest town is Calafate and from here it is a 3.5-hour boat transfer.
Where do they fish?
Caterina River Salmon Fishing is based on 8KM on both banks, the fishing is mainly conducted in the top two thirds of the river as lower down a small glacier tributary joins the Caterina River and changes the water milky. Fishing is also conducted at the source of the river where it flows out of the top lake. There is also a small bay aptly named Mammoth Bay, where normally during a week's stay each customer will visit once.
How long does it take to reach the fishing grounds?
As this area is a national park there are strict rules on how far inside the park we can take vehicles. From the lodge, it takes about 15 mins by truck the furthest point and then the rest of the way is on foot. The closest fishing then is another 15 min walk, the top of the river would take 45 minutes. If you wished to walk up to Mammoth bay you will be looking at a 90 min walk.
What fish will I catch?
You will catch King Salmon, also known as Chinook. We do catch the odd small fish but normally you will be looking at fish at around the 30to 40lb  for a small fish and 50lb  as an average size. Each year we also catch over 70lb fish.
How many fish will I catch?
The number of fish you catch is dependent on weather, water conditions and which week you are fishing. We fish for just 8 weeks a year. At the beginning, the fish tend to be silverfish but you get less of them as the week's progress. The river does get more stuffed with fish but the fish are then a mixture of silver and coloured fish. You do not go to Caterina for fish numbers you go there to fish for big fish, which are not easy to hook and due to their size also difficult to land.
How do they fish?
Each week we have 6 rods and 2 guides therefore the party is split into two groups. There is a choice when fishing. You can depart in the morning and return around lunchtime, have a fully cooked meal and siesta then return to the river for an evening session. Alternatively, you can depart to the river after breakfast with your guides and packed lunches to stay out fishing until it's time to return back for your evening meal. Each night you will chat with your guides and discuss and plan the next day's fishing.
Caterina River is not a big river so it's not necessary for long casts but you will need to fish with Spey rods and heavy sink tips. Apart from a couple of pools, the river is not deep, you only need heavy sink tips from T11 right through to T20 so your flies can get down very quickly in the zone before the swing is over.
Due to using heavy sink tips, the best lines are either floating or intermediate Skagit lines as these allow you to both pick up the tips out of the water and to cast them with ease. Depending on where you are fishing, you will be either be casting just off from 90 degrees across the river or preferably at 45 degrees downstream. The trick is then to change and vary your swing by mending the line.
Mending upstream is going to allow your fly to sink and get into the zone quicker, but then you need to manage the swing, as you do not want your fly to move either too fast or too slow. As the swing slows, you need to mend downstream so the belly keeps the fly moving. I have seen many Kings chase a fly and when the swing slows to only turn away from the fly. Quite often in these situations, amend at the end of the swing so the fly sweeps into the bank brings those followers into hard takes.
It is also good to go through the pools fast, do three casts in each spot but vary each of the three casts and swings so you mix it up. Then take three large steps downstream before repeating the whole process again. In clear water, Kings can become soft takers as they can see your fly coming from along away off. By the time you have got down to your fly actually covering the fish, it has already seen it 9 or 10 times from a distance.
For rods and reels, the perfect setups are 9/10# 13 foot Spey rods and large arbour reels that can hold a serious amount of 50lb braided backing.
Do the guides speak English?
Our head guide speaks fluent English. The supporting guides speak basic English but more than enough to get by and communicate to you about the fishing.
Who is best suited to this destination?
Customers who have caught King Salmon before and are looking for that special fish of a lifetime and new personal best Salmon. Also, customers who like to think and work out just how to get the fish to take.
What skill level is required?
What we love about this place is that it is technical fishing and therefore suits a thinking angler. You do need to be able and proficient in a few basic Spey cast such as single Spey and snake rolls, as these will cover most of the water. A basic understanding of swinging flies and how to make them react differently in the water is also important. However, the guides love nothing more than teaching customers new fishing methods.
How physically demanding is this trip?
Caterina River Salmon fishing involves quite a lot of walking to cover the whole river. There are not many hills however the ground is covered with rocks so you have to constantly look where you are walking. The guides are happy to take the walk at a pace you are comfortable with.
When to go?
January through mid-March.
How do I get there?
You will fly from the UK to Buenos Aires, transfer to internal airport and catch a flight to Calafate. You will stay overnight in Calafate before taking the 3.5-hour ferry to Estancia Christina.
What is the accommodation like?
Estancia Cristina Lodge is a wonderful fully converted old estancia that was founded in 1914 by English settlers. You will stay in separate bungalows. The bungalows have three twin bedded rooms each with their own private bathroom. Each room has stunning views of the Andes and the river valley. You will wake up each morning looking at the snow-capped mountains before walking to the main building that is the centre point of your stay. In the main building, we have a private restaurant that serves not only breakfast but also 3-course meals twice a day. There is a large resting area with a bar that sells beers, spirits and bottles of red wine.
Outside there is a small boot room where guests can get dressed in their waders and boots. The trucks pick you up from outside the boot room each session. All in all Estancia Cristina makes the perfect accommodation for your Caterina River Salmon Fishing holiday.
What is the food like?
For breakfast, you can choose anything from cereal to a cooked breakfast, which is all served buffet style. If you return for lunch and dinner there will be a mixture of buffet style food and a full menu to choose 3 courses from.
If you decide to fish until dark, the staff will prepare a private buffet that will be served in the lounge area of the bungalow once you all have returned. If you wish to fish all day, you can take a packed lunch to the river.
Does the lodge provide fishing tackle?
The lodge does not provide tackle. 
Is internet and phone signal available?
There is no mobile phone reception at the lodge, however the lodge has good free WIFI so guests can stay in touch with home.
Are there other activities available?
Estancia Cristina was not set up originally as a fishing lodge. It is inside a national park that was set up to show people all the wonders of the surrounding area. Because of this, there are lots of non-fishing activities that are put on daily for the daytime visitors.
You can choose from the many guided walking trails, glacier tours, museum tours and horse riding activities. As one of our guests, if you wish to swap either a morning or afternoons fishing for an excursion there is NO additional cost.
How much does it cost?
Sportquest Holidays offers you the complete package including all flights and transfers. To view all prices and availability click the "Dates & Prices" tab above.
Alternatively, if you wish to arrange all your own travel arrangements Sportquest Holidays can book just the lodge and fishing for you.
Tour Reviews
Sportquest Holidays is proud to be different, and one way we stand out from the crowd is our tried and trusted information we provide our customers. This information is not just provided on our own personal experiences but also REAL CUSTOMER reviews.
We are the only fishing & shooting tour operator to operate our own review system whereby customers can review both the packaged holiday and also how we performed on each destination.
How This Destination Performed
How We Performed On This Destination
How Our Customer Feedback Works
See how our customer feedback works and our latest customer reveiws.
Read More
Write a Review
Have you ever visited this destination? Why not write a review and let everyone know how you rated their services?
Write a Review
David says:
Overall Rating:
Fishing with a group of like minded people in a beautiful location, we all caught fish and laughed lots.
The guides were excellent particularly Christian. A huge thanks to King Salmon Kevin for his flies do not know what we would have done without him.
The only issue was the repetitive menu at Estancia Christina which was saved by the two guide evenings with the BBQ night and Pizza night.
Would love to return one day for an even bigger KIng.
Peter (Sportquest Holidays) says:

David my friend, thanks for taking the time to write a review as they are very important. Glad you had a great time, it was a great trip and I was so happy that everyone caught some good fish. You did have me worried for a little while but it all came perfect in the end.

I look forward until we can fish together again soon.

Tight lines and good luck in Cuba.

Regards Peter
Kevin says:
Overall Rating:
My work colleagues always tell me i am "lucky" to visit such places as diverse as Christmas Island to Cuba,Alaska and now Argentina (I think it's all the overtime myself).
I could put on this review I was disappointed not to catch one of the 50lb monsters this place is famous for but how can you not enjoy standing surrounded by the snow capped Andes, condors circling overhead and being able to sight fish and watch 30 lb fishing chasing down you're fly.
A big thanks to Peter to who even though was struck down with illness kept everything running smoothly, to the excellent guides for their assistance and invaluable advice, to my travel companions, some old friends and some new and finally to Abraham(Lam Kin Wai) whose enthusiasm and attitude raised everyone he meets spirits and was a joy to fish with.
And the question my colleagues always ask on my return, would you go back?.Yes in a heart beat, but Peter has already tempted elsewhere next with tails of gold in the Bolivian jungle and monsters in the reserves of Brazil, but one day I will return for that Caterina monster(luck permitting).
Peter (Sportquest Holidays) says:

Kevin or should we now call you king Kevin as you caught the most King Salmon in the week. I was so pleased for you that you had such a great trip as you work so hard in preparing for your trips, tying amazing flies and basically making sure you are as prepared as much as possible before arriving ( Makes my job as a host so much easier)

Thank you also for being so kind with the rest of the group as you were always happy to share all your hard work and flies with all the group.

As you mentioned I have already tempted you to Bolivia and Brazil for the next two adventures and I am sure you will do as equally as well.

Again thanks for your custom and all your support over these years

Tight lines Peter


Peter says:
Overall Rating:
WHAT A TRIP ! It was my first time at Las B. I have always wanted to fish for sea trout in Argentina ,but did not know prior to going if it would live up to the years of hopes & expectations built up from viewing, reading & hearing about sea trout fishing in Patagonia.
Thanks to Peter & Tracey our hosts it far exceeded my dreams, the whole team, including the other guests were all fantastic.
The guiding team were top notch, patient, knowledgeable & helpful I was lent lines flies etc. I could not fault them & they were nice guys, to boot .
The lodge staff were equally good attentive & nothing was too much trouble. The food was very very good but I do have one complaint ! there was so much food & drink & it was so delicious that i will have to slim for months to get in my clothes.
The thing that really takes my breath away is that conditions, I was told by everyone ,were not good ,as can often happen in any fishing scenario yet I beat my previous personal best sea trout with four fish caught on this trip ! the best of which beat my previous PB by 300% I cannot wait to go back & find better water !
Please convey my thanks to everyone.
Peter (Sportquest Holidays) says:

Peter thank you so much for your customer feedback and yes what a week it was and it seems that everyone had a good time.

I am already looking forward in getting you back out there and this time lets get you over the magical 20lb fish.

Guy says:
Overall Rating:
Thanks very much for the phone call this week and for a great experience down in Patagonia.
Organising fishing holidays is pretty complex I can imagine, as people are there primarily to catch fish and the co operation of the fish is not under your control. It's a bit like organising golfing holidays and not being sure there are any holes dug in the greens.
I am pretty obsessive about fishing and so regrettably struggle to appreciate the beauty of the wonderful surroundings until I have caught something! I chose the glacier kings trip as it was very different and new, plus challenging. The latter makes getting "all your ducks in a row" in order to maximise chances of catching a fish all the more important. That is where I think my constructive feedback/criticism will hopefully be of some benefit for future trips.
Feedback of "lovely trip/beautiful place/great food/catching a fish was a bonus" is not really very helpful for improving the chance of people catching really, and to give sensible feedback requires some thought and time.
I think you said to me in the past that as long as people catch something they are happy and the rest - weather accommodation etc becomes so much less of a problem. Conversely, not catching then opens the floodgates about moaning about the hard beds, lack of sun, tasteless food etc etc.
The trip was a great experience and well worth the two years of saving plus the hours of practice during the winter. The above comments are all aimed at maximising the future customer experience and building on the strengths of your great business.
I was very hateful to you for your assistance and encouragement and especially for taking me up to mammoth bay on the last morning.
I look forward to visiting your new office and many trips with you in the future.
Peter (Sportquest Holidays) says:

Hi Guy

Wow thanks for that and yes it is extremely helpful. to be totally re-writting all the pre trip information and advice for the King program as it has changed so much in the 4 years we have been running it and also over this period we have learnt so much.

So totally agree if the information is better people will be more prepared. After spending that day with you I also realised that the guides where not really giving customers much advice in what to do and I also found out that they did not like correcting customers or pointing out to customers what they are doing incorrect or how they could improve their chances.

Again thank you for all the feedback that is a great help and very much appreciated, perhaps once we have moved we can chat about all the points over a cup of coffee. Then we can even look at sorting out things with Mike.
Carl says:
Overall Rating:
Peter
Thanks for the call earlier in the week
I just want to pass on my personal thanks to yourself and Tracy for your professionalism and friendship on our recent trip.
This was my first experience of organized adventure and my expectations were surpassed in every respect. Both on and off the river, I gained memories which will live with me forever.
I can't wait until the next trip !
Please pass on my thanks to the guys and girls in the office who have helped to gain a customer for many years to come.
Best wishes and speak soon.
Carl
Peter (Sportquest Holidays) says:

Carl

Thank you for your kind words I have passed them on to the staff in the office as they do work hard so its always nice to pass on compliments to them as they do desire it.

It was a pleasure to both meet you and have you on the trip and as you are returning for the Sea Trout next year we will see each other again soon. The group of customers for next year is already looking amazing it looks like it is going to be a laugh a minute…

Again thanks for your custom
Tim says:
Overall Rating:
Dorado fishing with Pinti - great food, accommodation! Great tackle hire! Good English!
Sea Trout tackle hire! Guides were all outstanding!
Quite an expensive trip but love it!! and we will be back
Peter (Sportquest Holidays) says:

Tim

What another great trip everyone had and it was also mazing to have both you and your dad with us again.

So glad you will be returning for yet another year as the group each year is just getting better and better.

I have pre warned the lodge that we will need an extra Malbec delivery half way through the week......

A real pleasure my friend and see you again soon.
Andy says:
Overall Rating:
This was my second visit to Las Buitreras. As before (2016), we experienced low water conditions. As a result the total for sea trout was well down on the average. The fishing was both challenging & interesting. Personally I would not have it any other way. I caught more sea trout than last time and as a bonus had my best ever!
This success was largely down to the excellent guides, but also due to using double handed rods; both switch & spey. I am a recent convert, having fished the single handed rod for nearly 40 years. So it is safe to say that I had good & bad days with the double hander! However the guides were extremely patient and passed on tips for me to work on.
Although you can get away with just using the single hander (particularly if you are right handed and the wind is not too strong), you will get more out of the fishing in all conditions, if you are able to use the "double" as well.
The Rio Gallegos is a lovely river to fish with the floating line; generally shallow with a good variety of pools, runs and glides. The scenery is spectacular and there is always some wildlife to look at. Great sunsets and, with no light pollution, amazing night skies.
The accommodation at the lodge was comfortable and we were well served by the staff.
With regard to the travel through Buenos Aires, transferring between airports and to/from the hotel on the return journey, this proved to be hassle free, thanks to the excellent service provided by Gabby.
To summarise, it was a great trip and I hope to be able to go again
(John ) Paul says:
Overall Rating:
Estancia Cristina - River Caterina - Patagonia.
The ferry journey up the lake to Estancia Cristina is the most stunning arrival experience I have ever had.
The comfort of our accommodation was 5 star.
It was a slight shame that the most experienced and knowledgeable guide ( Cristian ) had a relatively poor command of English - he could have
imparted so much more.
Take a Go-Pro camera to capture the moment of a lifetime - we were lucky to have 2 exponents in our party and it made for great viewing in the evenings.
Worth mentioning that there are also a lot of wild rainbows to be caught.
What a great party - I would love to fish with them all again some time.
Peter (Sportquest Holidays) says:

Paul

yes what a place, I an lucky to travel the world but this place has graced me in a way that not many places do.

I have the catch reports of the second and third week and boy is the places coming alive. The guides have also found more fishing places.

I know the fish this year seemed about a week and a bit later than normal, but thats salmon fishing for you.

Cristian was such a lovely guide just like Tomas, I know we have planned lessons for Cristian as soon as the season is over to improve his English. He is so keen I am sure he will learn very quickly.

The rainbow trout fishing was at times silly, it would have been nice to fish for them with light tackle but the Kings can just as easy grab the small fly and we would never land them on lighter tackle.

I am looking forward to Grahams finished edited up footage as i am sure it will bring back find memories for everyone.

I would certainly love to have both you and Tim back sometime, as I think we ALL feel there is some unfinished business let back there

Thanks so much for your time it was and alway is a real pleasure.

Regards Peter

Graham says:
Overall Rating:
Fantastic trip!
Highlights where the scenery and the company as it was always full of laughter. Also catching my biggest ever salmon 68LB on the fly did not hurt.....
Would recommend the trip to anyone who doesn't mind long walks and technical fishing. all for the possibility of a fish of a lifetime.
Thanks Sportquest for all the organisation, the whole trip world so smoothly and I have such good memories.
Peter (Sportquest Holidays) says:

Graham

Thanks for the feedback it is very much appreciated as everyone works hard putting and running these trips.

I was so glad to be fishing with you on the day you caught the huge Salmon, We had just landed a fish of 48LB for me and we could hardly get it in the landing net. So when we saw the size of your fish we had no idea just how to land it. Lucky with everyone helping once the head was in the net we all grabbed the rest of the fish.

Your face and reaction was priceless. so a huge congratulations and I look forward in doing it all again we you are free.

Regards Peter
Tim says:
Overall Rating:
Yet another excellent couple of weeks of a hosted trip.
I just can not wait till the next one
Regards Tim
Peter (Sportquest Holidays) says:

Tim

Thanks for the feedback and scores as it is very much appreciated.

As normal it was a pleasure on having both you and your dad along for the journey.

Also congratulations on the fish you landed, I bet you are still smiling even today.

So until next year keep in touch.

Regards Peter
Michael says:
Overall Rating:
What an amazing adventure, the place and scenery was just stunning. Salmon fishing ion the foothills of the Andes was something else.
Once I saw the fish starting to roll in the river I was not sure if I wanted to hook one, however I was lucky to land two great fish with the biggest going 31LB
The trip did nearly kill me as there is considerable amount of walking plus we fished long hard days. Having said that I think this is a destination that everyone should do AT LEAST ONCE just for the experience. Some of these Salmon are just monstrous.
Peter again was a the prefect host, I even had to share a room with him was was also a laugh.
Peter (Sportquest Holidays) says:

Lamby

Thank you for the feedback and comments. I hope I did not kill you too much my friend.

The week was a good laugh and we certainly learnt lots for the future trips.

I enjoyed fishing with you and your company as always my friend.

I only hope we get to repeat it all again soon

Regards Peter
Alison says:
Overall Rating:
We went to Estancia Cristina as a follow on from Las Buitreras and for me it enhanced the "fish in holiday" because it gave non-fishing experiences not to be missed.
The 3 hour drive thru sparsely populated pampas with nearly as many guanaco as sheep, on to Lake Argentina and the bustling tourist town of El Calafate gave us an idea of the scale of the country.
Shops, people & Ricki Martin in town seemed exciting after the remoteness of Buitreras. We stayed in a hotel just out of town with beautiful views of the turquoise lake but I personally would have preferred to be in the town itself. I would suggest not using that hotel again. Service was very poor except for the front desk.
The boat trip to Cristina was memorable with ever larger icebergs of a surreal blue coming into view as we made our way further into the foothills of the Andes; the vast flat plains changing into soaring snow capped mountains with many visible glaciers. The estancia is of a high standard with very comfortable 4 bed bungalows for the staying guests with a delightful bar/dining room built in the hexagonal with stunning views to the mountains; wild hares & horses just grazing feet in front of you.
I found the fishing hard so left that to the men in our party to hike a good distance to a smaller top lake. I mastered a form of Spey cast (thanks Tracey Buckenham) and was content with fishing mornings only in a narrow, fast flowing gully then getting a ride back to the lodge for lunch, hot bath, horse riding, reading and exploring and wine drinking. Very relaxing and a lovely end to my strenuous success at Buitreras!
This is a very new destination and it was great that guides/program could be so flexible and a wonderful place even if not fishing.
Peter (Sportquest Holidays) says:

Hi Ali

As you mentioned it was our first exploratory trip to this brand new destination so a huge thank you to the both of you to join us on it. However at least you can always say your were the first ever to go :)

As we all found out the destination did involve some quite stiff walking to the upper reaches of the river, however I am pleased that you and Tracey could still fish some of the lower sections and I am sure she will be pleased to hear that she helped you with your casting. You have over the last few trips turned in to a right lady angler and have caught some amazing fish.

It was also good for you and Tracey to take some time off to relax and explore all the other options for non fishing while at Cristina.

Both Tracey and myself would like to say a huge thanks to you both, we have and always will enjoy both your company, so lets all do it again sometime soon.
Tony says:
Overall Rating:
King Salmon at Estancia Christina
Simply wild stunning fishing in a turquoise river paradise in the foothills of the Andes. Cruising through glacier melt icebergs under Condors circling above just to get there.
Fishing was fishing seeing fish but not getting a take was frustrating on the first day and first blank. No fish for anyone.
Second day Bingo great take strong fish played well hugely strong ..I can only relate it to feeling like but stronger than a 100lb Sturgeons fight...no jumps no dramas in the fight...fish holding steady neither myself or guide glimpsed the fish..ping line parts...heart in boots. Fish of a lifetime gone...gutted.
Third day long walk through the park a hike of around 90 mins....not for the unfit it's a good walk, past Puma and cub tracks, both exciting and nerve wracking...
Get to the lake wow, Peter sets up six casts in, huge female jumps fish on!...I had little hope casting in alongside but second cast bang huge cock fish jumps and cartwheels and it's on my line...knees are shaking.
Drama was to follow, my fish takes off and gets tangled with Peters, had to slacken off ...Peter lands his huge fish, after what seems like 10 mins clears my line from around his fish and screams at me reel in !.
Reeling in the line it knots around the top eye of my rod, but the fish is still on. I shout for Peter who runs up to the rod by this time it had parted and I was praying for the fish not to run...Peter untangles the line and pushes the rod together, fish is still on!...
It's landed and I shouted loud enough to wake the dead...My fish of my dreams a cock fish of approx 50lb, looking prehistoric. Me looking extremely happy, job done! Two amazing fish!.
Be nice to see them on the web page together??.. Last day boom big fight and lost a fish after about 20 mins walking down river the line rubbed on the rocks and eventually parted.
As Peter says inexperience lost me the fish should have tightened the drag up more..trouble is they are so strong you just are nervous of snapping off.. Although the fish were difficult to catch a true wild experience and when you look around you at this place you say "how lucky am I, just to be here, never mind catch fish!"
The lodge staff and guides were really great too, a lovely place and We will return that's a promise.
Peter (Sportquest Holidays) says:

Tony

Thanks for the feedback and you made me smile as I read your account of when we had the double hook up. It was so so funny, my fish in the net, untangling your line only to then see your rod pull in half as the tangled line around the tip ring. Running up to help you I have fished with you a few times now but I have NEVER seen you either so excited or nervous before. Thats probably why you did wake the dead, we thought you were going to cause an avalanche with the cry of joy......

It was a great sight of the fish both together in the net and being held up for the pictures. I am saving the best pictures for latter and our new website, with more stories about the trip.

Do not worry too much about losing the fish on the last day I know its not easy to play and land these big fish in a very powerful river. Its easy for me to say as I have been very lucky for many years travelling the world and having experience in playing such fish. I know when you have another great fish on the end of your line your head is telling you, be careful do not lose it. However you need to do the opposite, show them who is the boss. You did a great job and hopefully we will have more fishing times together and I am always more than willing to help in anyway.

So congratulations on your massive King Salmon it sure is a fish of a lifetime buddy.

Tight lines
Peter says:
Overall Rating:
What a place and what amazing scenery. I have been lucky to travel the world but this place I just fell in love with. Its only a small river but offers lots of technical fishing which is what I love.
Its a real salmon water, its just like salmon fishing for Atlantic's, but for monster Kings. There are no other salmon in the river with the Kings which is unusual for Pacific salmon fishing, but that to me makes it even better. My best fish was a 52LB female King Salmon.
If you love Salmon fishing for some real beasts and love being off the beaten track this is defiantly the destination.
One note to point out currently the operation does involve some good hikes so not for anyone with walking difficulties.
I am already counting the days until we all return next year.
Alex says:
Overall Rating:
A couple of months ago I was lucky enough to be part of the last scouting party to this place for Solid Adventures and Sportquest Holidays. Even though I have been home for a while now I still get shaky when I look back at the pictures from this trip and all the memories come flooding back to me!
Fishing for Kings in this amazing scenery is almost too vivid to explain in words. This is a unique adventure for sure and the whole experience with the fishing, the nature, the wild scenery is just amazing!
As soon as you arrive and see the snowy mountaintops with the crystal clear turquoise colored water you instantly get overwhelmed as the place has a sort of mystical feel to it! For a true fisherman and traveller there is really nothing more to ask for! This is fishing heaven!
The accommodation we stayed in was luxurious. I have travelled a lot but I never felt so good and received such over the top service. The food is excellent with more than comfortable rooms that are really integrated into the natural park.
So how was the fishing? Well in three days fishing with 2 anglers we landed 72 King Salmon. (Yes you did read correct 72 fish landed) The majority of the Kings were between 10 – 30 kg (22 – 66 lbs) with one true monster that far exceeded 30 kgs.
The potential of this place is great and we saw and hooked fish regularly. It's not so easy to land them as the fight so hard, but that is just part of the fun! Apart from King Salmon we also landed Rainbow trout and lake trout all in fantastic condition.
The river is quite small which for me added to the excitement as you see many salmon and the hook ups and fights are absolutely brutal with endless runs in all directions! This is pure violence, adrenaline-pumping fishing and I cannot wait to go back to this majestic place and fight the Glacier beasts once more!
I hope you enjoy a few pictures from the trip.
Regards Alex
Peter (Sportquest Holidays) says:

Alex what an amazing trip, I can not wait to take the first group out in 2016.

If you wish to get into this amazing King Salmon fishing in Argentina which is going to really shack up the angling world for sure. We have very limited rods each week so contact us today.

Remember we take bookings for customers based anywhere in the world.

Regards Peter