Overview
Category: Big Game Fishing, Popper & Jig Fishing


This fishing adventure is like no others out there! Rodrigues Island offers anglers a unique opportunity to fish for some incredible species. The fishing style used is down to you as the itinerary can be completely tailored to suit how you wish to fish and the species you wish to target. In addition to this, we have some excellent tackle package waiting on board for you to use completely free of charge.
Location
Rodrigues Island is a 108 square-kilometre Island and is part of the Republic of Mauritius in the Indian Ocean. Located roughly 350 miles east of Mauritius, Rodrigues is part of the Mascarene Islands which are built up of Rodrigues and Réunion Islands. The islands are of volcanic origin and surrounded by some amazing coral reefs. Most of the fishing is performed in the Indian Ocean however an area you must visit is the West Hawkins Bank. This location is world famous for huge Dogtooth Tuna and monster GT's. With our boats, this journey does not take long.
Fishing
The waters around Rodrigues are teeming with many different species, in the morning you could be popper fishing for GT's, in the afternoon you could be trolling for huge Black Marlin and then in the evening you could be vertical jig fishing for Dogtooth Tuna. Rodrigues has something for every angler and more. The Dogtooth Tuna are the main pull to this area as they get very large with a fish over 200lb being very possible.
The skipper and his team will make sure that you are completely kitted out for whatever species or technique you wish to. All we ask is for you to bring your perishable items, such as hooks, and we will supply the rest free of charge.
Boat
The boat was built in Mauritius from a proven mould to fish the Indian Ocean. It is a vessel designed to combine performance, safety and comfort making it a go-to vessel in the field of big game fishing. It has been equipped to spend up to 20 days on the ocean. Below you can find the technical information:
Model – D'Unienville 53 feet (16.16m x 4.70m)
Engine – 2 x 500 CV Yanmar Inboard
Weight – 20 tons
Draft – 1.20 meters
Freshwater Tank – 3000 liters
Diesel tanks – 5000 liters (2 x 2500 litres)
Autonomy – 1000 nautical miles
Comfort onboard:
Fully equipped kitchen – (sink, gas fire, oven, intergrated cooler)
Living area – with table and large seating area
3 individual ventilated cabins (10 beds in total) Bed linen and towels provided
1 Bathroom – with shower, sink and toilet
Spacious rear deck – fighting chair, large rear platform to move around during fight and enough space for 5 people to jig fish side by side.
Boat security:
Insurance – Mauritius Union Co LTD (Mauritius)
Distress beacon KANNAD
IRIDIUM satellite phone
Fire extinguishers
Life rafts
Lifejackets
Guides
At the helm of the boat is the best skipper on the Island who has been running his boat very successfully since 2008. He has already set the world on fire with some record catches of many different species. This skipper knows the waters like the back of his hand and his fishing knowledge is second to none. Along with his team, who he has worked with for a long time, you will be in the very best of hands as you patrol the waters around Rodrigues Island.
If you have any questions about our big game fishing trips contact our expert team who will be happy to answer any queries you have. Alternatively, you can request a free brochure.
Accommodation
Situated in the north of the island in the village of the same name, the "Auberge Anse Aux Anglais" is ideally located just a 10-minute walk from the capital Port-Mathurin, with its shops, boutiques and other services, And the most convenient departure point for the entire island (bus station)
The very stylish staff, trained at the Rodrigues Hotel School, show a kindness in harmony with that of the Rodrigues people.
100m from the hotel, a very quiet shallow beach can be found which is sheltered from the Indian ocean by a coral reef.
A pleasant swimming pool offers a refreshing relaxing moment in the flowery and tree-lined courtyard of the hotel.The TV in the common room provides access to local channels and satellite channels.
The restaurant offers creole and Chinese menus as well as a continental breakfast.
You can also rent: scooters or cars at the reception.
Board: Half Board
Rooms: Single & Double
Telephone: In reception
Internet: WiFi in reception
Power: 230 V
Meals: Meals available in restaurant
Alcohol: From Restaurants
Equipment Hire: Included
Cards Accepted: Credit & Debit
Cash Accepted: Euros
Located on the North-Eastern beach of Rodrigues Island, Cocotiers Rodrigues Boutik Hotel welcomes you for some unforgettable holidays. Close to the main city (Port Mathurin) and other tourist sites of the island, this 3-star beachfront hotel offers excellent value for business travellers, solo travellers, romantic couple getaways or special family holidays.
This beachfront hotel is a haven of peace, nestled in a beautiful tropical garden in an idyllic corner of the Mascarenes Islands. You will experience the peaceful way of life in Rodrigues.
The rooms, fully renovated in 2017, are air-conditioned and equipped with flat-screen TV, offering a satellite package of 12 channels. They are divided in small buildings in the heart of a tropical garden.
Board: Half Board
Rooms: Single & Twin
Telephone: Reception area
Internet: Free WIFI in public area
Laundry: Payable onsite
Power: 230V
Air Conditioning: Throughout
Meals: Restaurant
Alcohol: Onsite Bar
Shop: Souvenir Shop
Cards Accepted: Credit & Debit
Cash Accepted: Euros and Dollars
Species Information
Blue Marlin
Season: November to May
Peak: January to March
Weight: 200lb to 1000lb
Average Weight: 400lb

Black Marlin
Season: All Year
Peak: November to May
Weight: 200lb to 1000lb
Average Weight: 400lb

Giant Travelly
Season: All Year
Peak: October to December
Weight: 10lb to 130lb
Average Weight: 45Llb

Dogtooth Tuna
Season: All Year
Peak: December to February
Weight: 10lb to 220lb
Average Weight: 70lb

Yellowfin Tuna
Season: All Year
Peak: December to February
Weight: 5lb to 200lb
Average Weight: 50LB

Wahoo
Season: All Year
Peak: November to March
Weight: 20lb to 130lb
Average Weight: 40LB

Dorado
Season: All Year
Peak: Sept to Nov & May & June
Weight: 5lb to 80lb
Average Weight: 25lb

Dusky Grouper
Season: All Year
Peak: All Year
Weight: 5lb to 200lb
Average Weight: 60lb

Bluefin Travelly
Season: All Year
Peak: October to December
Weight: 5lb to 20lb
Average Weight: 8lb

Moon Tail Sea Bass
Season: All Year
Peak: October to December
Weight: 6lb to 16lb
Average Weight: 8lb

Black Jack
Season: All Year
Peak: October to December
Weight: 10lb to 130lb
Average Weight: 25lb

Suggested Itinerary
DAY 1:
Depart UK (Alternative airports available)
Arrive Paris (CDG)
Depart Paris (CDG)
DAY 2:
Arrive Sir Seewoosagur Ramgoolam Intl. (MRU)
Depart Sir Seewoosagur Ramgoolam Intl. (MRU)
Arrive Rodrigues Island (RRG)
On arrival walk out the terminal building and you will be met by a representative from the hotel, who will then transfer you to your accommodation.
Overnight accommodation: Auberge Anse Aux Anglais (Twin room) H/B
DAY 3: Free day.
This day is free to relax around the resort.
Overnight accommodation: Auberge Anse Aux Anglais (Twin room) H/B
DAY 4: Fishing Days.
At a pre-arranged time you will be picked up from your hotel and transferred the short drive to meet your boat at the marina.
On this day you will target the inshore species that can be found around Rodrigues Island. Please make the captain of the boat aware of the style of fishing you wish to perform. He will then take you to certain areas so you can fish as hard as you like.
Overnight accommodation: Auberge Anse Aux Anglais (Twin room) H/B
DAYS 5 TO 8: Fishing Days
Over the next 4 days and 3 nights you will motor out to the West Bank Hawkins which is a very famous area off shore only reachable by travelling out over 100 nautical miles. The boat will stop on the way to fish for certain species.
Once out in this area your chances of catching some huge fish increase drastically as these areas do not see a huge amount of pressure and certainly no commercial fishing.
Whilst out on the west bank there will be many different opportunities to fish for such species as huge Yellowfin Tuna, the dirty fighting Dogtooth tuna and of course many different Billfish.
All food will be supplied whilst out on the ocean.
After 3 nights on the boat, they will make their way back to Rodrigues Island fishing and stopping on your way. You will then be transferred back to your hotel.
Overnight accommodation: Big Game Boat (Twin Room) F/B
DAY 9:
Free day to relax around the resort and maybe try a little shore fishing if you wish.
Overnight accommodation: Auberge Anse Aux Anglais (Twin room) H/B
DAY 10:
Later in the day you will be transferred back to Rodrigues airport for your return flights back to the UK.
Depart Rodrigues Island (RRG)
Arrive Sir Seewoosagur Ramgoolam Intl. (MRU)
Depart Sir Seewoosagur Ramgoolam Intl. (MRU)
DAY 11:
Arrive Paris (CDG)
Depart Paris (CDG)
Arrive UK (Alternative airports available)
Dates & Prices
Remember that Sportquest Holidays' services are completely FREE! When you book a trip with Sportquest Holidays, you never pay more than when you book directly with the lodge and flights independently. Plus what's more if you book with Sportquest Holidays your holiday is protect by our ATOL and the Travel Package Regulations Act. To see more details CLICK HERE.
Dates & prices are best viewed in landscape.
You can scroll the table left and right to view prices and availability.
Price Match Promise
We are so confident that our packaged prices are the best available and offer great value for money.
If, however, you find an identical holiday available with any other fully bonded Tour Operator at a lower price, we will match that price.
Price Notes
Prices are based on four adults sharing transfers, big game boat and twin room for accommodation (unless otherwise stated) and are correct at the time of going to press. Subject to time of year or date and currency fluctuations, these prices may fluctuate slightly due to flight price increases or fuel surcharge.
ATOL
Holidays or flights booked with Sportquest Holidays Limited are protected by the Civil Aviation Authority by our ATOL bond (Number 6371). ATOL protects you from losing your money or being stranded abroad. It does this by carrying out financial checks on the firms it licenses and requiring a guarantee, called a bond
Price Supplements
If your group size is smaller than 4 anglers then the following supplements will apply:
3 anglers sharing 1 twin and 1 single room and boat additional £550 pp
2 anglers sharing 1 twin room and boat additional £1,358 pp
The itinerary is based on staying at the charming Auberge Anse Aux Anglais hotel for accommodation. If you wish to upgrade your hotel to stay in the Cocotiers Boutik Hotel then please contact us for an up to date price
Still need some inspiration
Why not enjoy browsing our destinations in the comfort of your own home.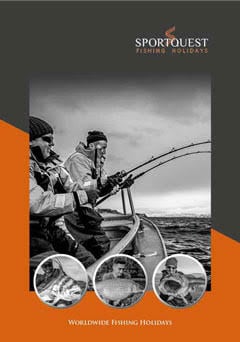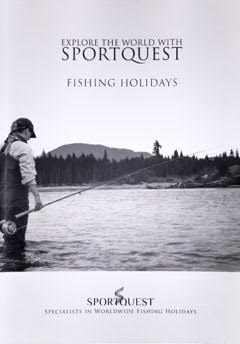 Request a free brochure
What's Included & Excluded
Included
International flights
Internal flights
Rodrigues Airport to Hotel return transfers
5 Days fishing
All accommodation as detailed in the itinerary half board
All trolling equipment
Popper fishing equipment
Jig fishing equipment
All food whilst staying on the big game boat
Hotel to Marina transfers
Excluded
Lunch whilst at resort
Insurance
Drinks at the resort
Tips for boat crew and the hotel staff
Options
The following equipment is onboard for you to use:
Jig Fishing Equipment:
5 Rods JIG WREX Shimano
2 reels Shimano Stella 18000SW loaded with 80lb braid
2 reels Shimano Stella 20000SW loaded with 80lb braid
Trolling Equipment:
2 reels Shimano Tiagra 30lbs plus braid
2 reels Shimano Tiagra 50lbs plus braid
2 reels Shimano Tiagra 80lbs plus braid
2 rods International Penn 30lbs Stand up
2 rods Pro File Trolling 50lbs
2 rods Pro File Trolling 80lbs
Fighting chair
Popper Fishing Equipment:
1 Furrary Machine Tenryu
3 rods Shimano Aspire
1 reel Shimano Stella 10000SW, braid 80lbs
2 reels Shimano Saragosa 14000, braid 80lbs
Accessories:
5 fight belts
1 shoulder harness BLACK MAGIC XL
1 shoulder harness SureCatch
1 harness Normic
2 outriggers
2 gaffs
2 tuna tubes (livewell)
2 electric down riggers and deep sea winches.
It is advisable to bring all the perishable material such as hooks, swivels, jigs, lures, shock leaders and poppers. The boat does carry speedjigs with assist hooks pre attached (€30 each)
Upon request, we will provide you with a list of appropriate materials. You can bring your own equipment, in which case we will advise you on the preparation of your "fishing suitcase"
Tour Notes
Visa
Visas are not required. A visitor's permit, valid for 4 weeks, is issued upon arrival at the airport. Travellers must have a return (or onward) air ticket, pre-booked accommodation and sufficient money for their stay
Medical Requirements
No vaccination certificates are required for entry into Mauritius, unless travelling from a country infected by Yellow Fever or where Yellow Fever is classified as endemic, in which case you will require Yellow Fever inoculations.
Due to the remoteness of the venue, we do however suggest bringing along your own supply of prescription medicines etc. Lastly we do insist all clients attain medical insurance before departing.
Please Note
All details of visa and medical requirements are correct at time of press however please check these requirements for changes.
Departure tax
No departure tax as included in the flight price
Flight Route & Flight Time
UK – Mauritius (12 hours)
Mauritius – Rodrigues Island (approx 1 hr)
Baggage Allowance
Your actual allowance is based on both which airline you are flying with and also what class of seat you are travelling in. Normally in economy it is 1 checked bag, Premium Economy / Business 2 checked bags, First 3 checked bags. In addition to your checked bags you are also allowed 1 cabin bag and either 1-laptop bag or ladies handbag. The actual size and weight limit for bags is dependent on the airline. We therefore recommend that once your flights are booked you check on the airlines website for the up to date allowances.
If your itinerary includes private light aircraft or helicopter flights we will advise you on your baggage and weight allowance.
Transfer Time
Rodrigues airport – Auberge Anse Aux Anglais (approx 20mins)
Questions & Answers
Where is the hotel?
The hotel is based on Rodrigues Island which is a short flight away from Mauritius. This tropical piece of paradise offers the travelling angler piece and tranquillity whilst enjoying some of the best big game fishing in the world.
Where do they fish?
The fishing is performed in the Indian Ocean and there are three different areas. The inshore fishing around the Island, the East Bank which is fished when you overnight on the game boat and the West Bank Hawkins which can only be reached by staying on the boat either on a 4-day excursion or 5 excursions. These grounds are 100 nautical miles away and offers some of the best fishing on the planet.
How long does it take to reach the fishing grounds?
The inshore fishing grounds are only minutes away from the marina. If you want to fish the East Banks these tend to be only reachable by staying and living on the boat for a minimum of 3 days and 2 nights. The West Bank Hawkins can also only be reached by living on the boat. There is a minimum stay on the boat of 4 days and 3 nights, but we can highly recommend fishing this area as it offers superb opportunities for some of the best game fishing.
What fish will I catch?
The list of species is huge and it very much depends on what you would like to catch and how you want to fish. There are huge GT's, Black and Blue Marlin, massive Yellowfin Tuna, Sharks of varies species, lots of different Groupers, the biggest Wahoo you will ever see, big Bull Dorado and the most exciting of species – the Dogtooth Tuna.
How many fish will I catch?
This will depend on what targets you have as this can dictate how many fish you catch. For example, if you are in search of a huge Marlin then the fishing can be a lot slower than if you were targeting shoaling such as Tuna. We recommend that you mix your species up a little so there is constant action.
How do they fish?
As there are so many different species the style is completely down to you. We provide most of the popper fishing tackle, jig fishing tackle and trolling gear.
Do the guides speak English?
The guides speak good English.
Who is best suited to this destination?
This destination is perfect for a huge variety of anglers from beginners to the most expert of anglers. The boat team will help you with every style of fishing and if you have never lured fished for hard fighting species before they will give you some lessons.
What skill level is required?
A general knowledge of fishing from a boat is an advantage but not necessary. The guides are there to help you achieve what you want out of your holiday.
How physically demanding is this trip?
The trip is not that physical apart from playing the fish. The boat is very easy to walk around with a big fishing platform at the rear. The walks to the boat are very small and are on hard ground, so no clambering over wet rocks to get in a boat.
When is the best time to go?
The fishing off Rodrigues Island is all year round and doesn't really get affected by rainy season. The peak time is November to May for most species.
How will I get there?
The best route to get to Rodrigues from the UK is London Heathrow to Mauritius then take a short flight to Rodrigues Island.
What is the accommodation like?
The hotel we use is a very traditional hotel and the staff are renowned for being very friendly. The rooms are very clean and fresh with stunning views.
What is the food like?
Breakfast is served continental style with a choice of many cereals, fresh fruits and cakes. Lunch is a selection of fresh-made sandwiches and evening meals are freshly prepared dishes from a Chinese and creole background.
Is fishing tackle provided?
There is a good selection of popper fishing equipment, jig fishing equipment and trolling equipment supplied on the boat (not fly fishing tackle). Ask a member of Sportquest Holidays for a more detailed list of makes and models of equipment supplied.
Is internet and phone signal available?
The phone signal isn't great around the Island however you will get free Wi-Fi in the hotel.
Are there other activities available?
As the Island is fairly small it is very easy to travel around. You can either hire a car or a bicycle from the reception. There are miles of stunning white sandy beaches with lovely coves all the way along the island.
How much does it cost?
We offer the complete package including all flights and transfers. To view all available weeks and prices click the Dates and Prices tab above.
Alternatively, if you wish to arrange all your own travel we can book just the lodge and fishing for you. If you wish to book or have ANY questions please feel free to call our offices on 01603 407596.
Tour Reviews
Sportquest Holidays is proud to be different, and one way we stand out from the crowd is our tried and trusted information we provide our customers. This information is not just provided on our own personal experiences but also REAL CUSTOMER reviews.
We are the only fishing & shooting tour operator to operate our own review system whereby customers can review both the packaged holiday and also how we performed on each destination.
How This Destination Performed
How We Performed On This Destination
How Our Customer Feedback Works
See how our customer feedback works and our latest customer reveiws.
Read More
Write a Review
Have you ever visited this destination? Why not write a review and let everyone know how you rated their services?
Write a Review