Overview
If you want to experience amazing Atlantic Salmon fly fishing in Quebec we have the perfect trip for you. Our annual hosted fly fishing Salmon trip staying at the world-renowned Camp Bonaventure gives you the opportunity to fish 3 rivers that are totally different and unique.
First there is the Bonaventure River which is like no Atlantic Salmon River you will have ever fished before, as small to medium width river with crystal clear waters throughout. There are 8 zones, which between them provide 103 named pools. Fishing on the Bonaventure is done with both traditional wet flies however it is also very popular with customers to fish with dry flies. The size of the river makes it perfect for fishing with a switch rod around 11 feet for wet flies and then a standard 9ft single-handed rod to target the Atlantic Salmon with dry flies.
The second river is the Petite Cascapedia that is also known for its gin clear picturesque pools holding big Salmon, this river due to its size and clarity are one of the favourites for dry fly fishing.
Then in total contrast is the Grand Cascapedia, which is more like a traditional Scottish Salmon River. It is such an interesting river to fish, with its tea stained waters. The river along with its two branches called "Salmon Branch" & Lake Branch" provide 7 zones with over 80 named pools to fish. Due to the size of this river it makes some great swing water to run through wet flies, although there are also some great areas where again fish can be targeted with the dry fly if you so wish. For the Grand we recommend customers use 13 ft 8/9# Spey rods for the larger water areas, reducing down to smaller 7/8# switch rods for the average size and smaller pools and the traditional 9ft 8# single handed rods for dry fly fishing.
Each day you will depart from the lodge in pairs to fish one of the rivers and one of the zones, which is all based on a rotation system and a draw for pools. Apart from the central section of the Grand Cascapedia there is one guide per pair of anglers, however on the central section of the Grand guiding is based on a one to one basis. Fishing is by either wading or fishing from traditional canoes allowing you to access both sides of the river and holding areas in the middle of pools.
Please note that all our fishing is on a strict catch and release basis, we also have a catch limit per angler per day (Excluding grilse salmon) of 2 Salmon per person per day on both the Grand and Petite Cascapedia, then 3 Salmon per person per day on the Bonaventure. This is to maintain good fishing for everyone and we are sure that if you maxed out with 2 or 3 salmon for 7 days straight you would return home a very happy angler.
Accommodation
The Atlantic Hotel in Bathurst is the perfect hotel to relax after a long flight, before moving on to your fishing destination. This modern hotel offers 5 different types of room to choose from. All the rooms have as a minimum, hair dryers, air conditioning, coffee makers and free wireless Internet.
To help you relax and unwind, the hotel also has a heated indoor swimming pool, Sauna and whirlpool. When you get hungry, you can either order in 24 hour room service, or enjoy the service in the excellent restaurant that offers all day dining in a relaxed, tranquil atmosphere. You can satisfy your hunger with a quick snack or an exceptional meal. Then be sure to finish it off with a few drinks in the hotel bar.
Board: Bed & breakfast
Rooms: Single, twin & doubles
Telephone: In room
Internet: Free WiFi
Laundry: Chargeable
Power: 120 volt
Air Conditioning: Throughout
Meals: In restaurant
Alcohol: Hotel bar
Cards Accepted: Credit & debit cards
Cash Accepted: Canadian Dollars
The Main Lodge
The main lodge provides the perfect setting for your fly fishing holiday – a laid back and relaxing atmosphere, featuring spacious and comfortably appointed living room and dining room with thirty foot river-stone fireplaces. In the living room, there is a fully equipped fly-tying desk, where you can create the perfect fly for your next day's adventure. The large deck overlooking the river is just the right place to enjoy a morning coffee or night-cap underneath the stars, while fishing tales are told. With four comfortably appointed guest rooms, each with a private bath and screened porch, our main lodge provides accommodations for up to eight guests.
Private Guest House
In addition to the main lodge, the private guest house is perfect for a family of four, two couples or a business trip of four associates, who are seeking a little more privacy. Designed for relaxation, it features a spacious private living room with a huge thirty foot fireplace, screened porches and a wonderful patio complete with Adirondack chairs. No need to come to the main lodge before breakfast or dinner, as the staff delivers fresh coffee and juice in the morning and hors d'oeuvres before dinner. For your convenience, there is free high-speed wireless access for all guests. A computer for checking e-mail or sending fish bragging photos is available for your use in the main lodge. The guest house has two spacious bedrooms each with private baths.
The Rod Room
A convenient and well designed rod room is where you keep your fishing equipment and meet your guide in the morning. Located in a separate building it's where the action takes place. Features include private storage areas for each angler's gear and waders, a rod rack that can accommodate even a 15-foot spey rod, and a radiant heating system that will dry gear overnight. The rod room always has fresh coffee in the morning and cool drinks when you return after your day on the river.
Dining
The chef's menu boasts fresh local seafood, prime beef and many other mouth-watering creations. Breakfasts feature all of your favorites including homemade wild berry jams, local maple syrup and fresh breads baked daily. Lunch, on the river or back at the lodge, is an experience in its self. Before dinner enjoy tasty appetizers with your favorite drink. Evening dinner is served in the dining room overlooking the beautiful Bonaventure river. Gathering in front of an open fireplace and enjoying an elegant meal is always a fitting way to complement a memorable day. Wine is included with lunch and diner. Alcohol is not included however guests are welcome to bring their own. At the bar in the main lodge and guest house you will find all the necessary ingredients for the perfect drink. The lodge is only a short distance from a very well stocked liquor store.
Board: Full board
Rooms: Twin rooms
Telephone: Chargeable
Internet: Free WiFi
Power: 110 Volts
Air Conditioning: Throughout
Meals: In dining room
Alcohol: Wine included
Shop: Fly shop
Cards Accepted: Credit & debit cards
Cash Accepted: Canadian Dollars
Species Information
Atlantic Salmon
Season: June to October
Peak: July & September
Weight: 5lb to 48lb
Average Weight: 9lb

Suggested Itinerary
The below itinerary is only a suggested one, we have daily flights departing from the UK, therefore should you wish to extend your stay with either additional days in Montreal or Bathurst, the itinerary below can be tailored to suit.
DAY 1: 
Depart UK (alternative routes available)
Arrive Montreal
Depart Montreal
DAY 2:
Arrive Bathurst
You arrive very early hours of the morning, take a taxi to the Atlantic Host Hotel Bathurst.(Twin Rooms) B/B
After a good rest and some sleep our Sportquest Holidays representative will pick you up from your hotel early afternoon to drive you to Camp Bonaventure Lodge. (2 hrs)
You will arrive at the lodge in time to unpack and for hors d'oeuvres, drinks before evening dinner.
Overnight Accommodation: Camp Bonaventure (Twin Rooms) F/B
DAYS 3 & 4: Fishing Days.
Each morning after breakfast you will depart with your guides. (based on 2 anglers to 1 guide)
Fishing is done either by wading or from our traditional 26-foot river canoes.
Early season can allow for a combination of both, while later in the season our pools are better fished by wading.
Or relax during a float trip along miles of pristine river, where you will experience not only great fishing along the way, but the breathtaking scenery the area is famous for.
Overnight Accommodation: Camp Bonaventure (Twin Rooms) F/B
DAYS 5 & 6: Fishing Days.
Whether you are a beginner just learning how to cast or an experienced fly-fisher seeking to perfect your skills with a single-handed or spey rod, our talented team will take care of your every need.
Overnight Accommodation: Camp Bonaventure (Twin Rooms) F/B
DAYS 7 & 8: Fishing Days. 
If you have been catching plenty of fish on swinging wet flies why not try your hand at catching Atlantic Salmon on some dry flies. It is a totally different challange and an amazing sight watching these fish rise to take your fly and one that is very addictive.
Overnight Accommodation: Camp Bonaventure (Twin Rooms) F/B
DAY 9: Fishing Day. 
Spend a whole day fishing as above, after returning to the lodge it is time to pack and depart to the airport.
You will be transferred back to Bathurst Hotel.
Overnight Accommodation: Atlantic Host Hotel Bathurst.(Twin Rooms) B/B
DAY 10: 
Note: flights are normally early evening which does give you the whole morning free. If you wish you can even arrange a mornings Striped Bass fishing with a guide.
Take a taxi back to Bathurst airport for return flights home.
Depart Bathurst
Arrive Montreal
Depart Montreal
DAY 11: 
Arrive UK
Dates & Prices
Remember that Sportquest Holidays' services are completely FREE! When you book a trip with Sportquest Holidays, you never pay more than when you book directly with the lodge and flights independently. Plus what's more if you book with Sportquest Holidays your holiday is protect by our ATOL and the Travel Package Regulations Act. To see more details CLICK HERE.
Dates & prices are best viewed in landscape.
You can scroll the table left and right to view prices and availability.
Start Date
End Date
Days
Nights
Fishing
Angler
Non-Angler
Availability
31/08/2019
10/09/2019
11
10
7

£

7,006
On Request

Hosted
Price Match Promise
We are so confident that our packaged prices are the best available and offer great value for money.
If, however, you find an identical holiday available with any other fully bonded Tour Operator at a lower price, we will match that price.
Price Notes
Prices are based on two adults sharing transfers, fishing and accommodation (unless otherwise stated) and are correct at the time of going to press. Subject to time of year or date and currency fluctuations, these prices may fluctuate slightly due to flight price increases or fuel surcharge.
ATOL
Holidays or flights booked with Sportquest Holidays Limited are protected by the Civil Aviation Authority by our ATOL bond (Number 6371). ATOL protects you from losing your money or being stranded abroad. It does this by carrying out financial checks on the firms it licenses and requiring a guarantee, called a bond.
Price Supplements
n/a
Still need some inspiration
Why not enjoy browsing our destinations in the comfort of your own home.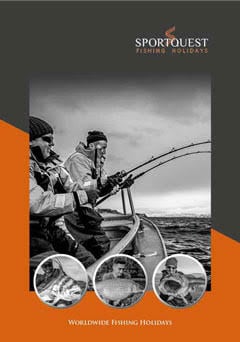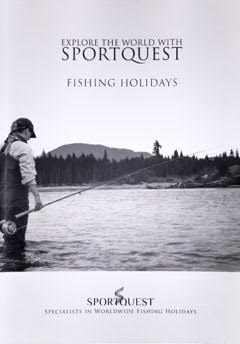 Request a free brochure
What's Included & Excluded
Included
All international flights
All internal flights
Lodge transfers
All accommodation as per itinerary
7 days fishing
All meals at Lodge
All soft drinks & wine
Excluded
Personal holiday insurance
Fishing tackle
Tips for guides and all camp staff
Fishing licence
Room Tax
Options
Flight upgrades
Additional nights either in Montreal or Bathurst
Striped Bass fishing in Bathurst with guide
Tour Notes
Visa
A machine-readable passport with at least 6 months before expiry. The Canadian Government announced that from 15th March 2016 certain visitors flying into Canada will require an Electronic Travel Authorisation (eTA).
If you do not normally require a visa to enter Canada (e.g. British Citizens), you will need to get an eTA.
The cost to apply for an eTA is $7 (CAD) per person, which is paid at the time of application.
Medical Requirements
No vaccinations currently required
Please Note
All details of visa and medical requirements are correct at time of press however please check these requirements for changes.
Departure tax
There is no departure tax from Canada.
Flight Route & Flight Time
UK – Montreal (approx 7hrs), Montreal – Bathurst (approx 1hr 35 Mins)
Baggage Allowance
Your actual allowance is based on both which airline you are flying with and also what class of seat you are travelling in. Normally in economy it is 1 checked bag, Premium Economy / Business 2 checked bags, First 3 checked bags. In addition to your checked bags you are also allowed 1 cabin bag and either 1-laptop bag or ladies handbag. The actual size and weight limit for bags is dependent on the airline. We therefore recommend that once your flights are booked you check on the airlines website for the up to date allowances.
If your itinerary includes private light aircraft or helicopter flights, we will advise you on your baggage and weight allowance.
Transfer Time
Bathurst  – Salmon Lodge (approx 2hrs)
Tour Reviews
Sportquest Holidays is proud to be different, and one way we stand out from the crowd is our tried and trusted information we provide our customers. This information is not just provided on our own personal experiences but also REAL CUSTOMER reviews.
We are the only fishing & shooting tour operator to operate our own review system whereby customers can review both the packaged holiday and also how we performed on each destination.
How This Destination Performed
How We Performed On This Destination
How Our Customer Feedback Works
See how our customer feedback works and our latest customer reveiws.
Read More
Write a Review
Have you ever visited this destination? Why not write a review and let everyone know how you rated their services?
Write a Review
Kevin says:
Overall Rating:
I would like to start with a big thanks to Peter, as always a great host with a fantastic ability to look after the group but not forgetting each individuals needs. Also a thanks to all the guys on the trip, some new friends and some old ones, but all happy to share information and tackle.
I found both lodges to be first class, with Julie and Jonny always on hand to answer any questions and give details of the plans for the following day. The food was great with the staff going above and beyond to cater for my fickle taste buds.
The guides on the bonny were first class, we did not see the river at its best because of the low water and my poor results were more to do with my inefficiency's than the efforts of the guides. I must give a mention of "skinny"Marc, I found him to be a fantastic teacher and the tips he gave me will stand me in good stead for future trips.
We encountered the cascapedia in high water conditions and this set a list of new problems for the novice Atlantic's angler in me and after a chat with the other guys on the journey home we felt the guides did not give us the best of advise on the use of sink tips and the use of these by the more experienced guys showed in their better catch rates, another lesson learned!.
So in summing up, I found this a much greater challenge than that of Pacific's on the west coast, but no less enjoyable and a prize hard fought for always means so much more.
Peter (Sportquest Holidays) says:

Hi Kevin

Thanks for such a good clear and fair review of the trip. Yes it was a great group and a great trip but one that did also challenge us all with fishing methods and technique. I believe you are spot on with your comments about experience and the guides. I am already looking forward in returning next year when hopefully we will have some better water conditions and we will be far better prepared with the knowledge of what to expect.

It was a pleasure as always having you on the trip and also spending some time fishing with you. I will look forward to next time my friend.

Regards Peter
John says:
Overall Rating:
Two very different rivers is a strength of this trip.
The Bonaventure is unique in its size and gin-clear clarity.
Challenging intriguing yet capable of giving up her goods when she chooses.
The Grand Cascapedia on the other hand more familiar to Scottish anglers, but has plentiful large fish in a wild picturesque setting.
Peter (Sportquest Holidays) says:

Hi John

Thank you for taking the time to provide your feedback and your comments as they are very important to us and future customers. I will be reviewing all the pre trip information and amending as necessary with the new information gained from our latest trip.

Congratulations on catching your personnel best salmon on the trip in that pool it must have been one hell of a fight.

Just also like to say thanks for joining me on the hosted trip, it was a pleasure fishing with you and I hope we get to do it all again one day soon.

Regards Peter
Stuart says:
Overall Rating:
In all a very satisfying trip. Well organised, excellent company, service and accommodation.
Fishing for Atlantics understandably influenced by initial adverse river conditions.
Tackle instructions e.g. cone heads etc could have been more helpful.
Guides sometimes reluctant to deviate from their well practised plots.
Peter (Sportquest Holidays) says:

Stuart

Thanks for the feedback and your comments. I have already reported back about some of the comments and findings about some guides not liking trying different methods when water conditions are not perfect, and I believe that Glenn will have this all sorted out.

As we know we the conditions due to the lowest water levels for over 40 years was always going to provide us with some tough conditions, however I think the group did extremely well considering the challange, with some nice Atlantic Salmon coming the the net and also some new personal bests on the trip.

I enjoyed having a couple of days out with you, one on the Bonaventure and one on the Grand as they were totally different days but we did have such a laugh on both of them.

Just like to say a huge thank you for choosing Sportquest Holidays, I know this was your first trip with us and I am sure it will not be the last.

Kind Regards Peter


John says:
Overall Rating:
The lodges were excellent and I really enjoyed the evenings on the hosted trip.
I was disappointed with the fishing, 3 takes and 2 salmon (one no bigger than a trout) in 7 days.
There were however, some stunning spots not to catch fish in.
Peter (Sportquest Holidays) says:

Hi John

Thanks for your review and as we know it was a difficult week with such low water. Also when fishing is tough it also highlighted the strong and weaker guides.

On one hand it was a good week to see and learn so much about the destination and also to fish it in hard times helps us learn so much about the whole operation.

Thanks again for your custom and it was great to spend some time with you again both on the river bank and also in the evenings. As you mentioned what always makes it a bit easier with tough fishing conditions is the company you keep and we had such a good group everyones spirits were always kept high.

Kind Regards Peter
David says:
Overall Rating:
The trip was, as always, extremely well organised from start to finish.
Both Camps, Bonaventure and Salmon Lodge, were excellent with the accommodation, food and service by all members of the respective staffs superb.
Whist little can be done about weather and river levels, our first days fishing were made particularly difficult by the lack of water and the subsequent collection of fish in the many pools.
The Guides' general obsession with 'dry-fly' even when conditions were clearly unsuited was 'disturbing' but some (guides) were prepared to succumb to our wishes to 'go below' with some success.
The rain mid-week made a substantial difference and both rivers 'picked up'.
It would have been useful to know that there is a catch limit on both Rivers fished. The journeys to and from beats can be long and 'steal' a substantial part of the fishing day. To have to stop fishing in a matter of hours would not be particularly welcome (Peter had two Fish in less than an hour and, without an 'understanding' Guide, would have spent the rest of his day thumb-twiddling!!). I imagine this could be commonplace on days when the river is right and the fish are running.
On a more personal note, my injuries prior to the trip made moving let alone fishing difficult for me.
I am extremely grateful to Peter for the care and attention given to me.
The Group was extremely well balanced and it was a pleasure to fish with them.
Peter (Sportquest Holidays) says:

David

Thanks do much for taking the time to write a review and also for your time on the hosted trip. It was also a pleasure to get to fish with you for a day after all these years.

You have made some very good points above and ones I totally agree with. I am addressing these points with the lodge and they will not be an issue for next season. In relation to the catch limit as we know its a softish rule and in most cases fishing can continue. Its more of a rule (Which I do understand) if both anglers max out in a day as this saves any beats getting too much pressure in anyone day. However if like in my case you max out in just 15 cast and your fishing partner has not had a fish, it is only far to let them fish through the rest of the day first a couple of times and yes then the guide was happy for me to continue to wet a line. Mind you if everyone caught 2 or 3 Atlantic Salmon each and everyday I am sure everyone would be extremely happy.

It was a pleasure taking good care of you and I will ensure you receive the same service with me in Argentina.

Great group lots of laughs and look forward in fishing with you again.

Regards Peter


John Robins says:
Overall Rating:
The best part of the fishing holiday in Gaspe Peninsula, Province of Quebec, East Canada, was staying at the Lodge, the fishing on the Grand Cascapedia also the day on the River Bonaventure. I cannot rate the Lodge, the staff and the fishing high enough. The car hire provided in Quebec was also excellent. The Hotel Auberge St Antoine was a very good indeed. The hotel at Riviere sur Loup and La Flavie were very good.
The flight arrangements were poor. I think that the extra we paid for travelling premium economy was not good value for money.
We had no problem at Heathrow in using the private lounge, that you booked for us and we paid for the 3 hours we were there. However this was not available at Montreal.
Apart from the flights a very good holiday and thoroughly enjoyed by everyone and we would love to return one day soon.
Peter (Sportquest Holidays) says:

John

Thank you for your detailed feedback, Really glad that you all enjoyed the lodge, staff and food. Plus I have seen some great pictures of you all with fish and everyone looked very happy indeed.

Premium economy is basically economy the only difference is the seats are wider and there is more space between you and the row in front. It is nothing like business class, but there again it costs nothing like business class. Access to all airlines lounges is restricted to only customers travelling in Business or First Class. I did point this pout to you and thats why we booked you access to a private lounge at Heathrow, unfortunately not all airports have private lounges that can be booked, which means if you defiantly need and want to only sit in a lounge the only way is to travel Business or First class.

Overall I am very happy that you all enjoyed the holiday and hope the flights were not to much of a distraction for you all. I look forward in dealing with your group again soon.

Regards Peter
Mr Turnbull says:
Overall Rating:
Having fished for Atlantic Salmon around the world, in lodges and on my own, I can say without hesitation that Camp Bonaventure provides the finest overall fishing experience. It starts with the quality of the fishing. The Camp has access to the finest areas on three great salmon rivers, including the most prolific private waters on the Bonaventure river. Regardless of conditions, they'll put you into fish. They also provide the best possible guides. Most, such as Marc, Bruno and Mario, have grown up on these rivers and bring an intimate knowledge of every pool and lie. The lodge and the food, while secondary to the fishing, is also first class. Often overlooked is the overall operation of the camp. Everything runs flawlessly and predictably. We all know that salmon fishing places you at the mercy of so many variables, such as weather, water, airlines and simple bad luck. When the unexpected does happen, the camp managers always have a contingency and, in that way, have turned many near disasters into fond memories.
Peter (Sportquest Holidays) says:

Wow, thanks I do not know what else we can say. I will pass on your comments to all the staff, hope to see you again soon.
Regards

Peter
Mr Marostica says:
Overall Rating:
I wanted to thank you all for a wonderful experience. My week at the camp greatly exceeded my expectations. I thoroughly enjoyed the guides. They were a pleasure to speak to and not just about fishing :-) They are knowledgable and bring interesting perspectives on current affairs and I can't even begin to compliment their fishing skills. Also, please thank all the staff, from the cooking to serving to room cleaning to Johnny who was always available to help in every way. The meals were exquisite from breakfast , lunch, and dinner and I believe I put on a few pounds post trip which I will have to work off.
Thanks you all again and looking forward to seeing you next summer
Peter (Sportquest Holidays) says:

Thanks for choosing our Lodge for your Holiday

Regards

Peter
Resort Manager says:
Hi its a real pleasure to have you with us and thank you for the kind words. We all look forward in seeing you again at our resort. Regards Glenn
Dale says:
Overall Rating:
We just got back from Camp Bonaventure and unfortunately we got there ahead of the fish this year. We knew it was risky but this is such a great place that we just could not wait. My Brother and I go there 4 times per year and we are hard to please so I guess that tells it all
Peter (Sportquest Holidays) says:

Thanks for your testimonial and feedback, its a shame that this year the fish are late, it looks like they are going to be 2 full weeks late. As a regular customer you know that the first 2 weeks can be risky but also if the fish do arrive, they are both fresh and hungry. Plus they are cheap weeks. See you again in a few weeks time.