Overview
Category: Popper & Jig Fishing, Hosted Popper, Jig & Big Game Fishing


This hosted Guinea Bissau lure fishing trip has been put together to help single anglers or small groups of friends fish these waters. Guinea Bissau is a lure and popper anglers paradise. These fishing grounds are phenomenal with many different species just waiting to be caught. Another great advantage to this hosted trip is the fact that there are no single angler supplements to pay, you can come alone or with a friend and you will not occur any extra charges. We base the fishing on just two people per boat so you both will get lots of action plus the Sportquest Holidays host will split their time between all the boats so you learn from their years of experience. As well as the fishing, you will have free access to a 4×4 and mountain bikes so you can journey off into the surrounding areas if you wish to add a little more adventure to your holiday.
Location
The country of Guinea Bissau is found on the Western coast of Africa and the resort is an island called Bubaque. This beautiful island is one of the most popular islands off Guinea Bissau because of its incredible fishing. As soon as you arrive you will feel like you have been transported to angling nirvana. Palm trees shroud the resort and with the blazing Sun in the African sky, you will most certainly feel like your holiday has started. The fishing here is all done in the nutrient rich Atlantic Ocean and these waters hold many different species. When the fishing day is finished and you return to the resort you can relax by the side of the pool and chat with the other guests about how their days fishing went. The chefs at this resort are extremely good and you will have different meals each day giving you the choice to sample some of the more local cuisines or eat western style meals if the local style of food does not take your fancy.
Fishing
The fish species available are there in big numbers and range from 7 different types of Jacks, hard fighting African Red Snapper, Barracudas, Silver Croakers, Snappers, Mackerels, varied Rays, numerous Sharks, Elops, Captains and Permit.
The fishing here is done from boats and shore depending on what you wish to try. The majority of fishing is done using lures, whether you are thrashing the water from boat or shore there is always the chance of picking up a monster fish in these beautiful blue waters. The captain of your boat will guide you through your fishing, they will be on hand to offer advice and will work tirelessly to find you the fish species that you wish to catch. You will have your own rods and there is no rotation meaning that you will always be fishing.
Guides
The fishing on the boats are based on just two anglers to a guide so you will get plenty of first hand knowledge plus the host from Sportquest will spend his time rotating between the group. At the beginning of each day you will be asked if you wish to stay fishing with the person you were fishing with the previous day, if you are happy with your new fishing party, then the group will stay as they are.
Make sure you always have your camera by your side in Guinea Bissau as you never know when some of the native wildlife may show their faces. Along with the native birds and lizards, you always stand a very good chance of being surrounded by inquisitive Dolphins as they play beside the boat.
If you have any questions on any of the Saltwater Fishing trips we offer contact us in the office, our experienced team will be happy to help you with any queries you have. Additionally, you can request a free brochure.
Accommodation
Hotel Kasa Africana is a tucked away piece of paradise located on Bubaque Island in Guinea Bissau. This very charming little hotel nestled in thick fine tropical gardens is the home to some amazing views. It is a small resort with little private chalets based around a stunning little swimming pool. This four-star resort has eight chalets which can each sleep four people. They all come with air-conditioning, mini bar, hot and cold drinking water and an airy bathroom.
On the resort, you will find satellite TV, a freshwater swimming pool, billiards, WiFi, an ATV Toyota Hilux and mountain bikes all of which are free to use by the guests. This is a stunning little place that will leave you with a very relaxed and rejuvenated mind and body.
Board: Full Board
Rooms: Single and double rooms
Telephone: In the lobby
Internet: WiFi broadband
Laundry: Chargeable
Power: 220 Volt
Air Conditioning: In the rooms
Meals: Restaurant
Alcohol: Chargeable
Equipment Hire: Lures, poppers and hooks
Cash Accepted: Euros
The Solmar Hotel pays special attention for the more quiet and reserved environment and is ideal for an overnight stay. It is set near the airport for your convenience and comes with all the modern facilities that you would expect from an overnight hotel. Each room comes complete with its own kitchenette, bedroom, balcony, satellite TV, air-conditioning, minibar and safe.
Board: Bed & breakfast
Rooms: Single and double rooms
Telephone: In lobby
Power: 220 volt
Air Conditioning: Throughout
Meals: Restaurant
Alcohol: Chargeable
Cash Accepted: Euro
Species Information
Cobia
Season: All Year
Weight: 10lb to 100lb
Average Weight: 40lb

African Pompano
Season: All Year
Weight: 2lb to 35lb
Average Weight: 15lb

Ladyfish
Season: All Year
Weight: 1lb to 12lb
Average Weight: 5lb

Jacks
Season: All Year
Weight: 1lb to 50lb
Average Weight: 20lb

Barracuda
Season: All Year
Weight: 5lb to 75lb
Average Weight: 30lb

Snapper
Season: All Year
Weight: 5lb to 77lb
Average Weight: 25lb

Suggested Itinerary
The below itinerary is only a suggested one, as we have daily flights departing from the UK, therefore should you wish to extend your stay with either more fishing days or free days, the itinerary below can be tailored to suit.
DAY 1:
Depart London Heathrow
Arrive Lisbon
Depart Lisbon
Arrive Bissau
On arrival walk out the terminal building and you will be met by a representative from Afrikana Lodge who will then either transfer you to your overnight hotel or if the weather is good they will transfer you via boat directly to the resort.
Overnight accommodation: Hotel Solmar (Twin room) or Afrikana Lodge (Twin room) B/B
DAY 2:
Depending on whether you been transferred to the resort, if you have this day is free to relax and explore or if you stayed at the overnight hotel you will be picked up at a pre agreed time and transferred by boat to your hotel.
Rest of the evening free to relax.
Overnight accommodation: Afrikana Lodge (Twin room) F/B
DAY 3: Fishing Day.
In the morning you will then meet your captain for your fishing days and set off for a full days lure Fishing for the species of your choice. Your host will arrange for people to be assigned to certain boats depending on the chosen species.
Overnight accommodation: Afrikana Lodge (Twin room) F/B
DAY 4: Fishing Day.
After breakfast you will be taken by your own private boat out to the many different fishing areas around these stunning Islands.
Overnight accommodation: Afrikana Lodge (Twin room) F/B
DAY 5: Fishing Day.
Around lunchtime after a mornings fishing you will anchor up on one of the Islands for you to take your lunch breaks each day.
Whilst there, you will have the chance to do a little bit of beach fishing.
Overnight accommodation: Afrikana Lodge (Twin room) F/B
DAYS 6 TO 8: Fishing Days.
Over the next few days the guides will take you out on custom built boats to areas very rarely fished by other anglers for you target the fish of your choice.
Overnight accommodation: Afrikana Lodge (Twin room) F/B
DAY 9:
In the morning you will be picked up and transferred either by speed boat or private plane back to Guinea Bissau for your final overnight stay.
Overnight accommodation: Hotel Solmar (Twin room) B/B
DAY 10:
In the morning the group will be transferred back to Bissau airport for the return flights back to the UK.
Depart Bissau
Arrive Lisbon
Depart Lisbon
Arrive London Heathrow
Dates & Prices
Remember that Sportquest Holidays' services are completely FREE! When you book a trip with Sportquest Holidays, you never pay more than when you book directly with the lodge and flights independently. Plus what's more if you book with Sportquest Holidays your holiday is protect by our ATOL and the Travel Package Regulations Act. To see more details CLICK HERE.
Dates & prices are best viewed in landscape.
You can scroll the table left and right to view prices and availability.
Start Date
End Date
Days
Nights
Fishing
Angler
Non-Angler
Availability
15/10/2020
24/10/2020
10
9
6

£

3,415
On Request

Book Now
Price Match Promise
We are so confident that our packaged prices are the best available and offer great value for money.
If, however, you find an identical holiday available with any other fully bonded Tour Operator at a lower price, we will match that price.
Price Notes
Prices are based on two adults sharing the fishing and two adults in a twin room for accommodation (unless otherwise stated) and are correct at the time of going to press. Subject to time of year or date and currency fluctuations, these prices may fluctuate slightly due to flight price increases or fuel surcharge.
ATOL
Holidays or flights booked with Sportquest Holidays Limited are protected by the Civil Aviation Authority by our ATOL bond (Number 6371). ATOL protects you from losing your money or being stranded abroad. It does this by carrying out financial checks on the firms it licenses and requiring a guarantee, called a bond.
Price Supplements
N/A
Still need some inspiration
Why not enjoy browsing our destinations in the comfort of your own home.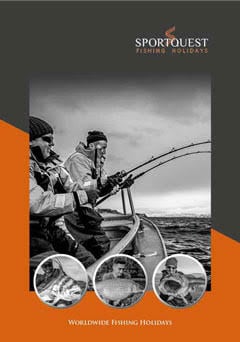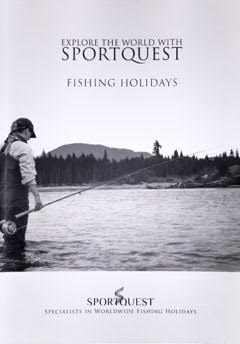 Request a free brochure
What's Included & Excluded
Included
All international flights
Internal flight Lisbon to Bissau
Transfers to and from Bissau and resort
Overnight hotel in Bissau
All accommodation as per itinerary
All meals at resort
6 days fishing via boat
Professional fishing guide
Fishing rods and reels
Packed lunch while fishing
Excluded
Personal holiday insurance
Personal items
Tips for guides and all resort staff
End tackle (Lures, poppers and hooks)
Visa (This will need to be purchased when you arrive at Guinea Bissau airport)
Options
Flight upgrades
Additional nights in Bissau
Single rooms in the resort
Tour Notes
Visa
British and Irish nationals do require a visa to enter Guinea-Bissau. A visa is required and can be purchased upon arrival at the Bissau Airport for a max stay of 90 days.
Your passport should have six months validity remaining after your intended date of departure from your travel destination.
Other EU nationals should contact us for more information. Nationals of all other countries should contact their local embassy or consulate.
Medical Requirements
Vaccination against yellow fever is mandoatory and a Malaria Prophylaxis is strongly recommended. Hepatitis, Typhoid and Tetanus. Please also check with your doctor for more up to date recommendations.
Please Note
All details of visa and medical requirements are correct at time of press however please check these requirements for changes.
Departure tax
There is no departure tax when leaving Guinea Bissau
Flight Route & Flight Time
UK – Lisbon (approx 3.5 hours)
Lisbon – Bissau (approx 3.5 hours)
Baggage Allowance
Your actual allowance is based on both which airline you are flying with and also what class of seat you are travelling in. Normally in economy it is 1 checked bag, Premium Economy / Business 2 checked bags, First 3 checked bags. In addition to your checked bags you are also allowed 1 cabin bag and either 1-laptop bag or ladies handbag. The actual size and weight limit for bags is dependent on the airline. We therefore recommend that once your flights are booked you check on the airlines website for the up to date allowances.
If your itinerary includes private light aircraft or helicopter flights we will advise you on your baggage and weight allowance.
Transfer Time
Bissau – Fishing resort by speed boat (approx 2 hours)
PLEASE NOTE: this can be sometimes at night depending on weather and what time your flight lands
Questions & Answers
Where is the Lodge?
The resort itself is located on Bubaque Island, which is very picturesque and is one of the most populated Islands off Guinea Bissau. The Island is around a 1.5hr transfer by boat from the mainland and the journey to the Island is spectacular with lots of different wildlife to be seen and photographed.
Where do they fish?
The main fishing grounds are around offshore reefs and drop-offs and then when the tides are right they will chase fish around the shallow waters that surround the Islands and channels. The lure fishing Guinea Bissau offers lots of different styles of fishing and we are sure you will find a style that suits you.
How long does it take to reach the fishing grounds?
Some of the offshore marks can be as far as 1-hour boat ride but most of the fishing will be done around the nearby Islands and channels, these marks are as close as 10 minutes away from the dock.
What fish will I catch?
The main fish that you will be targeting are the Cobia and Jacks, these fish will beat you up and spit you out and can be targeted on surface lures, shallow diving lures and also bait. Other fish to target are the African Pompano, lots of different snappers and of course the toothy critters, the Barracuda.
How many fish will I catch?
When lure fishing Guinea Bissau the amount you will catch depends on the species you wish to target, such fish as the Cobia and the Jacks swim round in huge shoals so as you can imagine the action is pretty frantic when these shoals are located. If you decide to target specimen sized fish the guides will take you to areas that are known to hold larger of the species, but the action can be a little slower as the big fish tend to hang out away from the big shoals.
How do they fish?
This is really down to how you wish to fish. If you choose lure fishing only or bait fishing the guides will make sure you are fishing the right spots given the technique you wish to use. The will also troll lures so you can take a break from casting, as casting lures all day can be fairly strenuous. The bait fishing is a lot more relaxing until you hook a monster from the deep.
Do the guides speak English?
The guides and captains speak French mainly but understand the international language of fishing (hand signals) It may be worth taking a French to English dictionary.
Who is best suited to this destination?
With lure fishing you have to be fairly fit as the fishing is mainly active fishing, it out of you when the weather is hot. There are other ways of fishing that are a lot less strenuous such as bait fishing. Walking around the resort is very easy as its all flat and the walk down to the boat takes only a couple of minutes.
What skill level is required?
A general knowledge of lure fishing would be an advantage, not necessarily saltwater experience but how to cast, work your lure and setting of the hooks will help you land more fish. The guides will help you as much as they can so you can get the most out of lure fishing Guinea Bissau.
How physically demanding is this trip?
On the whole, you do not have to be physically fit for this holiday, but you need to be able to stand and cast from a boat whilst fishing. Some of the species you will catch are very hard fighting and can take anywhere from 10 minutes to 30 minutes to land and with high temperatures, this can be fairly exhausting, but you are not in a race and if you need a break just sit down and have a drink after each fish.
When to go?
The main season runs from October to May. Peak time is between October and November and then February to March. Depending on the species you wish to target and the temperatures you are comfortable to fish in.
How to get there?
The best route to get to Guinea Bissau is with TAP from the UK via Lisbon. This route gives you the best connecting times but they are only departing on certain days. The other route would be with Air Maroc which is via Casa Blanca theses tend to have longer stops but on the other hand, they fly pretty much every day.
What is the accommodation like?
Hotel Kasa Africana is a tucked away. This destination is a little piece of paradise located on Bubaque Island in Guinea Bissau. This very charming little hotel nestled in thick fine tropical gardens is the home to some pretty amazing views. It is a small resort with little private chalets based around a stunning little swimming pool. This four-star resort has eight chalets that can sleep four people in each chalet and all come with air-conditioning, mini bar, hot and cold drinking water and an airy bathroom.
What is the food like?
The food at the resort is all freshly prepared by a local chef using the best local products sourced from nearby markets. Each day there will be meals offered to suit everyone's taste from local dishes to more western style meals. The lunches on the boats will consist of daily made sandwiches, crisps, chocolate, fresh fruit and many different styles of soft drinks.
Does the lodge provide fishing tackle?
The resort will provide you with basic kits for your fishing, however, it is highly recommended to take your own terminal tackle as everyone has their own favourite lures to try and use. I very detailed list of tackle recommend can be obtained from us once your booking has been made.
Is internet and phone signal available?
The phone signal and internet is good however the Wi-Fi is a little patchy when you get away from the main bar area. Once at the bar the connection is very good.
Are there other activities available?
As you can imagine, the island of Bubaque is small and very easy to get around to see some of the stunning Scenery and wildlife. We provide you with a 4×4 truck so you can go off and investigate this little piece of paradise, there are also bikes you can hire.
How much does it cost?
We offer the complete package including all flights and transfers. To view all prices & availability click the "Dates & Prices" Tab above.
Alternatively, if you wish to arrange all your own travel we can book just the lodge and fishing for you.
Tour Reviews
Sportquest Holidays is proud to be different, and one way we stand out from the crowd is our tried and trusted information we provide our customers. This information is not just provided on our own personal experiences but also REAL CUSTOMER reviews.
We are the only fishing & shooting tour operator to operate our own review system whereby customers can review both the packaged holiday and also how we performed on each destination.
How This Destination Performed
How We Performed On This Destination
How Our Customer Feedback Works
See how our customer feedback works and our latest customer reveiws.
Read More
Write a Review
Have you ever visited this destination? Why not write a review and let everyone know how you rated their services?
Write a Review