Hosted Giant Halibut Fishing | Havoysund | North Norway
Overview
A great fully hosted trip to the World famous Havoysund. Truly an outstanding place in Norway with it being the most northerly part of Norway you can get to, you will agree with us that the fishing is World class.
It is mainly known for the outstanding Halibut fishing on offer and is ideal for single anglers wanting to experience Norway.
A group trip hosted by our very own guide to the famous Havoysund – the home of the huge Halibut. The advantages of going on the group trip, is having our guides with you fishing every single day.
No need to drive boats, work out the fishing marks, how to position the boat, what depth to fish etc etc. Just come on board and let our guides worry about that and you can concentrate purely on fishing. Another benefit is that there is no extra charge for single anglers or small groups, so, if there is just yourself or you and a friend, join these escorted trips and we will make up the numbers.
The camp is located on a narrow strait which stretches from east to west, meaning, you can always get out and fish, whatever the wind. You can either head east or west or take some shelter from the surrounding islands. The untapped potential of these areas is simply huge, with many marks never seeing an anglers bait or lure!
Overlooking the marina, the lodge is just a short walk away from a well stocked supermarket, post office, bank, petrol station and fast food restaurants. When staying at this destination, a massive bonus is that your breakfast is included in the price (continental breakfast).
To see all our sea fishing holidays in Norway Click Here
Accommodation
The cabins in Havoysund are of a high quality and are stylishly furnished. There are two bedrooms with two single beds, a large living room, fully equipped kitchen and a bathroom with a shower. The rooms have TV's and a DVD player. Each cabin also features its very own terrace grill that looks out on to the harbour.
Board: Bed & breakfast
Rooms: 2 x twin rooms
Telephone: Main hotel
Internet: Free WiFi
Power: 230 Volts
Meals: Breakfast in restaurant
Alcohol: Available to purchase
Equipment Hire: Chargeable
Shop: Tackle shop
Cards Accepted: Debit & credit cards
Cash Accepted: Norwegian Kroner
Freezer Room: Walk in freezer
Filleting Area: Dedicated filleting area
All our Oslo airport hotels are of a high standard. We only use hotels that have been recommended and with a fair bit of research.
The hotels we pick near the airport will have a restaurant on site with bar and will serve breakfast. Other amenities will include WiFi, shuttle bus service and late check in facilities.
Board: Bed & Breakfast
Rooms: Single, double & twin available
Telephone: In reception
Internet: Free WiFi in Lobby
Power: 230 volts
Air Conditioning: Throughout Hotel
Meals: Breakfast in restaurant
Alcohol: Available to purchase
Cards Accepted: Debit & credit cards
Cash Accepted: Norwegian Kroner
Species Information
Halibut
Season: May to September
Peak: June to September
Weight: 20LB to 350LB
Average Weight: 50LB

Cod
Season: April to September
Peak: April to June
Weight: 10LB to 80LB
Average Weight: 25LB

Coalfish
Season: May to September
Peak: June to July
Weight: 5LB to 40LB
Average Weight: 10LB

Plaice
Season: May to September
Peak: July to September
Weight: 1LB to 8LB
Average Weight: 4LB

Suggested Itinerary
Although the fishing has set weeks, we have daily flights departing from the UK. Therefore should you wish to either extend your stay with additional days at the beginning or end in Norway, the itinerary below can be tailored to suit.
DAY 1:
Depart UK (alternative routes available)
Arrive Oslo
On arrival at Oslo airport, you and your host will take a taxi or shuttle bus to your overnight airport hotel (Taxi or Shuttle bus not included)
Overnight Accommodation: Oslo Airport Hotel (Twin Rooms) B/B
DAY 2: 
Check out of your hotel and take a taxi or Shuttle bus ride back to the airport. (Taxi or Shuttle bus not included)
Depart Oslo
Arrive Alta
Once you and your host have cleared customs, collected your luggage simply walk outside the terminal building and walk to the very end of the bus stops where our luxury coach will be waiting for you.
You will then be transferred by private coach from Alta to Havoysund fishing camp. (Transfer time approx 2.55 hrs and it is included in the price)
Overnight Accommodation: Havoysund Fishing Camp (Twin rooms) B/B
DAYS 3 TO 5: Fishing Days.
As this is a group trip, the group will decide the hours of fishing and people will be assigned boats to fit within their fishing hours.
Each day our host will discuss with the group species they want to target and advise on what the best methods are.
Our host has been fishing this camp for many years and has grown a superb knowledge of all the fishing areas and will take you to certain places targeting your chosen species.
Overnight Accommodation: Havoysund Fishing Camp (Twin rooms) B/B
DAYS 6 TO 8: Fishing Days.
The boats we use at this camp are the very best boats in Norway. They are 23.5ft boats with 135hp 4stroke engines. Boats come equipped with all of the very best electronics to make your fishing the easiest it can be.
There are hundreds of pre-programmed marks on the plotters for you to choose from and there are also lots to be discovered.
Overnight Accommodation: Havoysund Fishing Camp (Twin rooms) B/B
DAY 9:
In the morning you will be transferred back again via private bus to Alta Airport for your return flights.
Depart Alta
Arrive Oslo
Depart Oslo
Arrive UK
Dates & Prices
Dates & prices are best viewed in landscape.
You can scroll the table left and right to view prices and availability.
Start Date
End Date
Days
Nights
Fishing
Angler
Non-Angler
Availability
08/08/2018
16/08/2018
9
8
6

£

1,712
On Request
Sold Out
07/08/2019
15/08/2019
9
8
6

£

1,742
On Request
Sold Out
14/08/2019
22/08/2019
9
8
6

£

1,712
On Request

Hosted

12/08/2020
20/08/2020
9
8
6

£

1,745
On Request

Hosted
Price Match Promise
We are so confident that our packaged prices are the best available and offer great value for money.
If, however, you find an identical holiday available with any other fully bonded Tour Operator at a lower price, we will match that price.
Price Notes
Prices are based on four adults sharing transfers, fishing and accommodation (unless otherwise stated) and are correct at the time of going to press. Subject to time of year or date and currency fluctuations, these prices may fluctuate slightly due to flight price increases or fuel surcharge.
ATOL
Holidays or flights booked with Sportquest Holidays Limited are protected by the Civil Aviation Authority by our ATOL bond (Number 6371). ATOL protects you from losing your money or being stranded abroad. It does this by carrying out financial checks on the firms it licenses and requiring a guarantee, called a bond.
Price Supplements
As this is a Hosted trip there are NO single angler supplements
Still need some inspiration
Why not enjoy browsing our destinations in the comfort of your own home.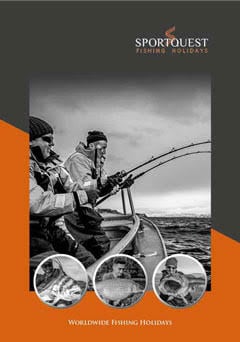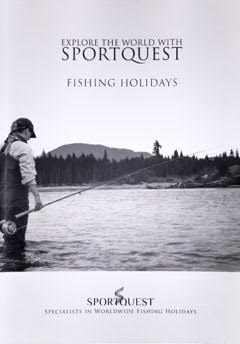 Request a free brochure
What's Included & Excluded
Included
All international flights
Airport hotel
Transfers to and from Havoysund and Alta
All accommodation as per itinerary B/B
6 days fishing via self drive boat
Fishing Boat with Sonar, chart plotter (GPS), VHF & radar
Freezer storage for your fish
Access to professional guide for guidance
Bed linen, towels and final cabin cleaning
Excluded
Oslo airport hotel transfers
Fuel for boat
Fishing tackle
Personal holiday insurance
Lunch and Evening meals
Tips for the guide
Final boat cleaning
Options
Additional luggage can be added, please enquire about up to date prices
Fishing equipment (rod, reel, line) £50 pr week
Survival suits £40 pr week
Tour Notes
Visa
A machine-readable passport with at least 6 months before expiry. No visa for UK citizens required.
Medical Requirements
No vaccinations currently required.
Please Note
All details of visa and medical requirements are correct at time of press however please check these requirements for changes.
Departure tax
There is no additional airport departure tax when leaving Norway.
Flight Route & Flight Time
UK – Oslo (approx 3 hrs) Oslo to Alta (approx 1hr 30 mins)
Baggage Allowance
Your actual allowance is based on both which airline you are flying with and also what class of seat you are travelling in. Normally in economy it is 1 checked bag, Premium Economy / Business 2 checked bags, First 3 checked bags. In addition to your checked bags you are also allowed 1 cabin bag and either 1-laptop bag or ladies handbag. The actual size and weight limit for bags is dependent on the airline. We therefore recommend that once your flights are booked you check on the airlines website for the up to date allowances.
If your itinerary includes private light aircraft or helicopter flights, we will advise you on your baggage and weight allowance.
Transfer Time
Chartered bus Alta to Havoysund (Transfer time approx 2.55 hrs)
Tour Reviews
Sportquest Holidays is proud to be different, and one way we stand out from the crowd is our tried and trusted information we provide our customers. This information is not just provided on our own personal experiences but also REAL CUSTOMER reviews.
We are the only fishing & shooting tour operator to operate our own review system whereby customers can review both the packaged holiday and also how we performed on each destination.
How This Destination Performed
How We Performed On This Destination
How Our Customer Feedback Works
See how our customer feedback works and our latest customer reveiws.
Read More
Write a Review
Have you ever visited this destination? Why not write a review and let everyone know how you rated their services?
Write a Review
Ian says:
Overall Rating:
Flight went smoothly, although a early one would have been better (Manchester to Oslo).
In general angling exceeded expectation although excellent weather helped. 3 into 2 - bedroom size does not work - causing problems and discomfort.
Recent change in fuel costs deceptive.
Paul (Sportquest Holidays) says:

Hi Ian, thanks for your feedback. The only problem with Manchester flights is that there is an early one or a late one. The early one gets you in to Oslo 5 hours before you can check in to your hotel or the late one. Maybe next time we can look at the early one if you would prefer.

We did have excellent weather which makes everything so much easier. It wasnt ideal having 3 in the bedroom but on a hosted trip we always have to have 9 people

The change in the way we take fuel payment was a very thought through thing. It is very difficult when you have a large group like this one who do not know each other and are all sharing the boats. The way we now run the fuel bill seems to work very well, where Sportquest pays for the fuel as and when the boats need it then the final bill is split between the entire group and then they are charged on their debit cards or credit cards that way anglers do not need to carry excess amount of english cash with them and plus the guide does not need to carry a fair few pounds home with him. I am sorry if you felt it was different.

Hopefully it will not put you off from travelling with us again and look forward to seeing you soon

All the best

Paul
Kieron says:
Overall Rating:
Excellent, helpful and friendly guides, especially for a Norway rookie like me.
Halibut festival and the evening were great, if I return to Havoysund, I would like to go when the festival are on.
Kev dancing with the Halibut!!!
Paul (Sportquest Holidays) says:

Hi Kieron, thanks for taking the time to fill out your feedback form. It was great to have met you and also to share with you the day your first child was born.....I still dont know how you got away with that. Any way, congratulations on your first ever Halibut and to catch it so quickly must of been a good buzz.

Would be nice to keep in contact and good luck with the new family.

All the best

Paul

PS the video of Kev dancing with that Halibut still makes me chuckle
Kevan says:
Overall Rating:
Second time at Havoysund, fishing was't as good as previous, but thats fishing and you guys can't influence that.
Paul is a great ambassador for Sportquest and a great guide to boat.
Paul (Sportquest Holidays) says:

Hi Kevan, thanks for your feedback.

It was a little harder this year I agree but I think you still enjoyed yourself...... especially on the Halibut festival, Kieron kindly sent me the video of you dancing which still makes me giggle.

All the best my friend and see you in Costa Rica soon

Paul
Michael says:
Overall Rating:
Fishing not as productive as previous trips, but then, it is not always about the size of the catch! Having said that, I caught my first Wolfie in about 7 trips!
Paul (Sportquest Holidays) says:

Hi Michael, thanks once again for your feedback.

I agree the fishing was a little harder this year but at least we got you your wolfie because I know how much you wanted one. I am already looking forward to seeing you next year and by the way, dont forget the sausages

All the best

Paul
Gareth says:
Overall Rating:
For me this was by far the best holiday i ever had with excellent fishing from day 1 personally i landed no less than 7 halibut ranging from small pan size to a PB of 154cm photos already sent to Paul .
The guides were brilliant with expert knowledge and the boats are of top quality.
The accommodation is not 5 star but very comfortable and well mantained and the bonus is the breakfast is included.
Overall an excellent week and i would not change anything.
(Sportquest Holidays) says:

Hi Gareth, thanks for your feedback form. They are so helpful to future anglers.

Well done on your Halibut thats a huge fish. Would be to guide you out there again and thanks for driving the boat for a couple of days.

All the best

Paul
David says:
Overall Rating:
Camp, guides, host, boats all excellent!
I would suggest there maybe should be some info on what are the best months for halibut fishing!
For example September / October rather than early in the year!
Thoroughly enjoyed the trip!
Paul (Sportquest Holidays) says:

David

So glad you enjoyed the holiday and thank you for your comments and remarks that I have noted and will make sure we do as your suggestion.

It will be good to have you both back with us at some stage soon.

Feel free to call me in the office at anytime.

Regards Paul
Ben says:
Overall Rating:
The holiday was well planned and set out.
Effective communication both written and verbally meant no surprises and / or problems were encountered - great trips!! Thanks :-)
Paul (Sportquest Holidays) says:

Ben

Thank you for your feedback and kind words.

This was the first time you have used our services so it was very pleasing to see the kind things you said.

So glad you enjoyed the trip and we look forward in having you join us on a trip again soon.

Regards Paul
William says:
Overall Rating:
Site was good.
Fishing and weather was poor.
Boats were very good.
Paul (Sportquest Holidays) says:

William

Thank you for the feedback as it is always appreciated.

Such a shame that the weather for the hosted trip this year was tough. It was a shame that you did not get to see the destination in its true true colours.

Normally the fishing is full on action. However thats why everyone calls it fishing. So so many times we are controlled by the weather.

As mentioned it will be a pleasure to look after you again to either back to Norway or Canada.

Just contact us when you are ready.

Kind Regards
Paul

Mark says:
Overall Rating:
2nd trip to Havoysund, both times with bad weather unfortunately, but biggest concern is distance needed to travel to find fish, especially Cod. Big fuel bill £185.
Cabins could do with a bit of TLC now. Shower cubicle falling apart and stuff like that.
Paul (Sportquest Holidays) says:

Mark

Thanks again for the feedback, points have all be noted and based on to Nordic.

Its a shame about the weather as Havoysund is an amazing place both for the huge Skrei cod and halibut. One reason that your fuel bill was high was also down to th the weather and distances having to travel to find feeding fish.

You will love A next year for as you can see the fishing has been off the charts. So lets look forward and fingers crossed for 2018

Regards Paul
Matthew says:
Overall Rating:
This was my first time summer fishing in northern Norway with halibut, cod and large coalfish the targets. So I didn't quite know what to expect after 3 successive trips to Soroya for the Skrei fishing.
We arrived to be told the weather was looking windy the next day but there was the option to go out that evening fishing, so we fished until 1.30am in the "midnight sun". That, in its self, was a an amazing experience and we got 7 days fishing!!
The weather wasn't with us all week (it snowed most days) and we never quite had the conditions we needed. Due to the weather we couldn't get out to the cod grounds so had several days of solid halibut fishing which is hard work. However when you finally hook one they are amazing fighters, my first ever was 66lb so chuffed to bits. When we finally got out to the cod grounds the sea was too rough to allow us to get to the best spots, and fish effectively due to the size of the swell. Least we got some sport though!
So the fishing was difficult due to the weather (that's fishing ) but both Mathew Rickard and the Nordic Sea Angling lads did their best to put us on the fish. All in all a really good week though and looking forward to going back to Havoysund for the Skrei in March.
Thanks you Sportquest.
Paul (Sportquest Holidays) says:

Matthew

Thanks as always for both your custom and customer feedback

So glad you enjoyed the trip and also understand that sometimes the weather makes things a little tougher and thats what we all call it fishing.

I am sure you will have an amazing time in the spring again chasing those huge Skrei Cod.

Have good one and feel free to call me in the office at anytime.

Tight Lines Paul
Shane says:
Overall Rating:
Had a great time in Norway,
Havoysund for the second time this year.
Met a good bunch of guys and the guides having excellent knowledge of the area.
Fishing was slow for the Halibut in comparison to the March trip for the big Cod but still great fun.
I'll be back
Shane
Paul (Sportquest Holidays) says:

Shane as always thank you so much for your customer feedback, reviews and continued custom as it is always much appreciated.

It was a shame the halibut fishing was slow compared to normal which as we all know was just down to weather conditions.

We look forward in looking after you again next season.

However please get in contact asap as there is already very very little space on our sea fishing trips for 2018.

Regards Paul
Phillip says:
Overall Rating:
Overall happy with holiday. One observation being that after being entered into a competition we were then told that we would not have access to any guides for two days. Drivers for the boat were provided, but were not guides by any means. The paid for guides were already in the competition, so would not have been available to us anyway.
Another small point is that at this resort card was almost demanded to exclusion of cash.
Paul (Sportquest Holidays) says:

Hi Phil,

Thanks for taking the time to fill out and send back you feedback form.

Before everyone entered the competition and before we left the UK, I called all the anglers who wished to fish the competition to make sure they all were aware that on the 2 days of the competition there would be no guides available for the 2 day event. Every one agreed that this would be ok. This was something that was told to everyone as this was advertised as a guided trip so I had to make it clear to every one.

With regards to the card over cash, this seems to be the way most Scandinavian countries are now going and I can see the benefits. That way people do not need to take cash and then loss out on it when they return back to their own country with exchange rates.

Glad you liked the holiday overall and hopefully we can help you organise a future trip

All the best

Paul
Ivor says:
Overall Rating:
Worst weather ever in Havoysund (according to our guides) for our first 4 days. Although I'd looked up the tidal range it did not prepare me for the strength of the currents between the islands and most of my weights/pirks were just not heavy enough in 60m plus. Did buy a heavier pirk from the shop but very expensive. We had one fantastic 2 hour period in an evening when we followed the guidebook and I caught several cod to 25lb, 38lb was the largest on the boat. One halibut caught on our boat on the last day when guide came out with us. Overall a poor week's fishing for me although other boats had fantastic catches. Would book guideboat if went again. Massive petrol bill, first day we had used £100 of fuel, not sure brochure suggested bill would be so high, about £450 overall.
Well organised trip, pity we had to stop overnight in Oslo although hotel was very good and breakfast was a superb buffet catering to all tastes. Accommodation at Havoysund was adequate and kitchen quite well equipped. Provided breakfast was o.k. with cereals, boiled eggs etc. If you travel alone be aware that you will be sharing with probably 3 others!
Foul weather for our first 4 days and although the tide heights don't look much it really rips between the islands and you do need lots of heavy gear, pirks etc need to be at least 400g in such conditions as you are fishing in 45-90m of water! Chrome pirk worked best for me and I caught about 12 cod over 15lb, biggest 25lb and largest on our boat 38lb. Overall the boats with the guides had the best fishing with loads of halibut up to around 100 lb. Shop has an extensive range of gear but prices are steep so best take your own.
Petrol costs are significant, allow about £150 per person over the 6 days.
I enjoyed the trip overall and would recommend Sports quest. My next trip will be to warmer climes though!
Paul (Sportquest Holidays) says:

Hello Ivor, thanks for your feedback form and glad to hear you eventually got out fishing. I was watching the weather when you guys were out there and was praying it would change.

With regards to the fuel bill, all the boats in Norway we use are equipped with the most fuel efficient petrol engines you can buy. When the boat is fighting strong currents the boat will of course use more fuel. We always tell people to budget around £150 pp based on four people in the boat for the week. It shouldn't be more than this for a weeks fishing so for you guys a fuel bill for the boat for the week of £450 overall was not bad.

It is a real pain to have to overnight in Oslo but that is the only way as the flights leave Oslo on the Wednesday far to early to get you there from the UK.

Thanks for your kind words and hopefully we can organise you your next adventure (some where warmer)

All the best

Paul
Gary says:
Overall Rating:
Best part was getting 7th largest fish in the Halibut Festival. Excellent guides and boats. Fantastic destination, if you are after the big one.
Paul (Sportquest Holidays) says:

Hi Gary, so glad you enjoyed Havoysund again. Second time there for you and booked again for 2018, the place must be worth while going to. Havoysund is my Favourite place in Norway.

Well done again on your Halibut and what some fantastic prizes you got for it and you got your Halibut pin you wanted so much I am very pleased for you and look forward to seeing you again in a couple of years

All the best

Paul
Mark says:
Overall Rating:
Great camp, shame we had poor weather, only thing is the distance to the fishing grounds can be a trek. Didnt expect the fuel bill we had. Maybe this could be explained when booking as a 1st time to camp.
Paul (Sportquest Holidays) says:

Hi Mark, It was such a shame about the weather and may of been the reason why the fish were located where they were. Normally the fishing marks are fairly close. Some marks the guides fish are a distance away but generally they only fish them if the fishing is very good.

When those boats are battling against high winds they do use a fair amount of fuel and with the exchange rate being not great we do feel it in the price of fuel. The engines on those boats are the most fuel efficient engines and normally in good weather run very well.

By the look of your pictures you managed some good fish and I bet you are looking forward to going back next year?

All the best

Paul
Nick says:
Overall Rating:
Excellent trip, although weather could have been better for the first 4 days. Lodges were very good. The large Halibut were the obvious highlight, although my 23lb Cod was a great catching experience!
The three flights on the out and return trip were hard work, especially as we had a 4 hour wait at Alta but less than 40 mins for transfer at Oslo
Camaraderie and banter was also brilliant with lodge mates - Friends for life
Paul (Sportquest Holidays) says:

Hi Nick, thanks for your feed back.

I did hear that there were some great big Halibut caught and well done on your Cod. Hope Kevin looked you all and hopefully you would like to go again sometime.

The flight route of three flights to get there was a pain but it was explained that the flights from Manchester were longer than from London. And to have that horrible delay at Alta meaning you had to run when you got to Oslo was a massive pain.

Look forward to helping you in the near future

Tight lines

Paul Stevens
Colin says:
Overall Rating:
Two days travel to get there was a pain, three flights and long waiting times in-between. Weather as expected but very windy on first few days which affected how we fished. However all had a brilliant time, good banter with other guests, PB's on everything caught, an experience I throughly enjoyed. recommend to anyone despite long travel days.
Paul (Sportquest Holidays) says:

Hi Colin, thank you for your feedback it is very helpful for future travellers.

I know it seems like it takes a little while to get there but thats how the flights line up from the UK and you know what they say about the best fishing is always the hardest to get to.

I really felt for you guys with the horrible start to the week with regards to the weather. But as soon as it broke and you could reach the good grounds, I believe Havoysund showed you its potential and everyone caught lots of lovely fish. I really like the shot of your Halibut on the deck I bet you have been enjoying that at home?

Hopefully we can organise a trip for you in the near future. I will call you once I return from Norway myself. Thanks for the pictures I will write a blog on the trip when I return

All the best

Paul
Mike says:
Overall Rating:
Dear Paul, Apart from the weather (rain, sleet and about 2 hours sunshine all week!) it was
, as usual, an enjoyable break from work. I did not see any exceptional fish but all on our boat contributed to a total of seven Halibut (of which mine weighed in at around 4LBs!) We had lots of Cod, several Woolfies and some nice Plaice.
The flight out of Alta was delayed one hour but we just managed to catch the connection to Copenhagen with minutes to spare.
The airlines are currently a nightmare with baggage. on the way out, one guy had his rod tube damaged and a rod broken. On the return journey they managed to lose the same tube altogether. My fish box, full of fish, mostly Halibut, did not appear at Manchester and I am praying they will find it today.
All this has not, so far, put me off and my cheque is enclosed for the next trip!
Paul (Sportquest Holidays) says:

Hi Mike, thanks for sending us your feedback on the trip. Sounds like the fishing picked up in the last part of your week. I believe the weather was to blame.

Really glad you liked Havoysund again and look forward to hosting you there again in August.

What a disaster about the flight company! something that is just part of travelling unfortunately.

All the best

Paul
IAN says:
Overall Rating:
The holiday itself was the best thing throughout, So much so that Ill be booking again soonest. The most pleasing thing was when I finally hooked a Halibut although I was given advise ,I was left to fight with it and finish by landing it Another part that the whole group were thank full for the weather was brill.
Paul (Sportquest Holidays) says:

Hello, thank you for taking the time to fill out your feed back form it is very useful for others looking for the same trip.

Yes we were blessed with some of the finest weather Norway had. I think every one had a great time as the trips have now sold out for next year and 2017.

Congratulations on your Halibut a perfect sized one to get some great pictures. Well done and i will be seeing you soon

All the best

Paul
Kevan says:
Overall Rating:
I had an excellent trip, well organised and very professional with good communication. The guide Paul wa top class and i ended up with four personal bests including a 2015 camp record summer cod of 53lb.
Paul (Sportquest Holidays) says:

Thanks for your kind words and was pleased as you were with that Cod. We had a great laugh and can not wait to see you in the near future

All my very best

Paul
Mark says:
Overall Rating:
Hello Sportquest / Paul
Thanks for organising yet another great trip to Norway for me. This time i went to Havoysund and loved it, in fact i loved it that much that i booked a trip back for the following hosted trip when i was still there.
We had very good Cod and coalfish with the odd Wolffish and no Halibut at the start of the holiday. Not that we did not try our hardest, but that changed at the end of the holiday as the last two days the Halibut fishing really kicked off. We all had huge Halibut and Henrik was brilliant
I can not recommend this place in Norway enough. The camp, the staff and facilities were top class and am already counting down the days for next year. Thanks paul your guiding was as always very good
Paul (Sportquest Holidays) says:

Hello Mark, glad the trip lived up to your expectations again. Havoysund is my favourite destination in Norway, everything is always so well organised and i get on really well with the guides there.

Now you know what Havoysund is like you will be more equipped next year

All the best and thanks for filling out your feedback form

Paul
Michael says:
Overall Rating:
For the second time this year, the group was blessed with exceptionally good weather for fishing. On arrival the sun was so hot I thought we had gone the wrong way and landed in Spain rather than the Artic circle! I did not catch anything exceptional to my own rod on this occasion but witnessed the capture of a Halibut assessed at around 175 pounds on our boa. An incredible fish. Will be booking again.
Paul (Sportquest Holidays) says:

Hello Mike, tell me about the weather!! it was stunning and something that i hope happens in the future. It changed the day we came home unfortunately very windy for the other guys we had going out there.

The big Halibut caught on your boat was huge and something that will live in the memory of the angler for years to come. Roll on June for your next trip

All the best

Paul
Gary says:
Overall Rating:
Great trip all round, excellent host in Paul whom is very helpful and knowledgeable.
Not a single problem from booking the trip to returning home.
Oh and the small matter of pulling up the biggest fish i have ever done and ever likely to with that 183cm, 86 kilo Halibut.
Many many thanks Gary Winterbottom.
Paul (Sportquest Holidays) says:

Thanks Gary it was a pleasure having you out there and hope you enjoyed my last phone call as we have managed to get you out there next year. Hopefully we will get you a smaller Halibut so you can have a picture holding it......

Really looking forward to seeing you next year and as always just call me if you have any questions

All the best and see you soon

Paul
peter says:
Overall Rating:
Had a great time caught plenty of fish and my biggest Halibut was 153cm which was much bigger than i had ever dreamt of catching. Really enjoyed catching a variety of fish and will for sure be back soon
Many thanks
Peter
Paul (Sportquest Holidays) says:

Really glad you got your big Halibut and that is the reason for this area. Look forward to hosting you again next time

All the best Paul
Simon says:
Overall Rating:
if you are looking for Halibut then look no further, this part of Norway is the best. a little bit exposed but very good fishing and all right on your door step
Please call me for next year
Paul (Sportquest Holidays) says:

Simon, i have always said that this destination is to me the best place for Halibut not just numbers of them but also the size is impressive and yes the fishing is all very close to the camp

I have set a reminder to call you

Speak soon

Paul
Richard says:
Overall Rating:
What a trip! made even more memorable by the guide and the camp owners
See you all next year
Paul (Sportquest Holidays) says:

Thank you Richard for you kind words

Regards

Paul
Tony says:
Overall Rating:
Hi Paul; Many thanks for helping me achieve my target of a huge Norwegian Halibut. i thought from our conversations before we left that we may get in to some big fish but that Halibut was massive! i will be coming with you again next year to see if we can get some more huge Plaice
Paul (Sportquest Holidays) says:

Hi Tony, it was great to see you finally after so many phone calls and glad that i could help and be there for your great capture. I am still drooling over the pictures it is the biggest Halibut i have had in my boat so a massive well done

Regards

Paul

PS Cod next….
Paul says:
Overall Rating:
A big thanks to our Guide Paul for such a great trip. you made this a very good memory for my 11 year old son and thanks for helping him land a Halibut
Paul (Sportquest Holidays) says:

Thank you Paul, it was great to finally get you out on one of my trips. i know you are normally used to hotter places and really appreciate the kind feedback

I was also impressed with how well your son handle the Halibut, very well done

See you soon

Paul
Stuart says:
Overall Rating:
Thanks Paul for putting me on Halibut time after time and i think the other guys thought i had paid you lots. (i managed 14 Halibut in the week and the others only managed a couple each...)
Paul (Sportquest Holidays) says:

Stuart, it was a great pleasure to have you on this trip. i host many trips with guys and try to explain the fine art of Halibut fishing and some listen and some don't.

I know you have fished all over the World and always done very well for big fish and from the questions you were asking me i knew from the start that you would do well. Like i say to every the more effort you put in the more fish you get

Look forward to guiding you again soon

Regards

Paul
Colin says:
Overall Rating:
Unfortunately i didnt manage any Halibut this time but the Cod fishing was brilliant and i even managed a Plaice weighing over 6lb's which made my trip.
A little tip if you are thinking of going one day is to fish off the jetty in the evenings as the Plaice and dab fishing is brilliant, just use prawns and light leads catch one after the other
Paul (Sportquest Holidays) says:

Hi Colin, i am sorry you didnt manage a Halibut this time but i am sure you will next time. The cod fishing was on fire this year and i think every one returned home with new PB's

I like the tip for fishing off the jetty, i couldn't believe you were doing it after fishing for 10 - 12 hours a day in the boat and the next thing was i saw you going fishing, mad keen

All the best

Paul
stuart says:
Overall Rating:
Paul coped very well with a very testing week due to clients. His interest in the fishing is a real help and is as good as ive found in my travels. The fishing was excellent and would fish in norway again but find the cost of living(food fuel etc) there hard to stomach when compared to every where else ive fished.
Paul (Sportquest Holidays) says:

Hi Stuart

Thanks for your kind words and dealing with difficult clients is what i am there for, people just have different expectations

I am glad you managed to get your big Halibut and hope you liked the pictures, fish like that do not come around everyday so a very big well done

Hope you have as much luck in India for the Mahseer

Regards

Paul