Overview
Standing with your host on our hosted Salmon Fishing Norway under the glare of the midnight sun while standing in flowing water swinging flies for Large Atlantic Salmon in the Reisa Valley.
The Reisa River (or Reisaelva in Norwegian) is 55 miles long and originates in Finnmark. The Salmon go 52 miles up to the Imofossen waterfall. There are 19 zones containing good fishing spots, with a large number of deep pools for fly-fishing.
Your host will take you to some of the most famous pools in the river all with a reputation for big Salmon; most of these pools have produced 40lb + fish in their time and still do today.
If you are looking for the fish of a lifetime the Reisa River may be the right place for you, just ask Scott Mackenzie who has caught his last 3 personal best Atlantic Salmon here.
We transport our guests by riverboat into the huge national park that surrounds the upper river, as your host knows this can be a great place for exciting fishing in amongst fantastic nature. The guides and host know this river like the back of their hands and can gladly show you where the chances of a big fish are best.
Just ask your host about the catch statistics showing Reisa River as one of the world's best big Salmon rivers with a huge average weight of 14lb in the 2010 season.
The lodge has a really relaxed feel to which is exactly what is in order after a tough day on the river and the staff and your host will be doing their best at all times to give you the best experience that the north of Norway has to offer! All the rooms at Reisastua Lodge are single with en-suites with good blinds and mosquito nets.
Want to see more Atlantic Salmon fly fishing destinations click HERE
Accommodation
Reisastua Lodge is situated in the heart of the Reisa River valley just a stones throw away from the waters edge. Take a 30-minute riverboat journey up the river and you will find yourself in the Reisa National Park one of the last wildernesses left in Europe. The nearest village is Storslett, which has its own airport (Sørkjosen Airport).
Reisastua Lodge offers unique and wonderful nature-based accommodation with a rustic and comfortable feel. The lodge boasts 6 en-suite twin rooms but during fishing weeks anglers have the luxury of these rooms to themselves. All rooms have air conditioning, flat screen TVs and WIFI access, these rooms lookout across the river and the surrounding mountains giving you fantastic scenery all of the time.
Breakfast will be spent at the lodge whilst the head guide will give an overview of the days fishing plans, then it's out in the river boats to head to your first fishing zones. Lunches can either be taken by an open fire by the river served by your guide or if close to the lodge popping back for lunch and refreshments provided by the lodge staff.
The nights after fishing can be spent dining in the lodge's river view restaurant or sitting out basking in the midnight sun whilst taking a refreshing drink in the lodge hot tub.
The lodge has a bar with a good selection of spirits and wines other refreshments will be brought to you by the lodge staff as required.
Board: Full board
Rooms: Single / Twin rooms
Internet: Free WIFI
Laundry: Free
Power: 220 volts
Air Conditioning: Bedrooms
Meals: In dining room
Alcohol: Beer and house wine included
Cash Accepted: Norwegian NOK
Species Information
Atlantic Salmon
Season: 1st July - 31 August
Peak: July
Weight: 7LB - 55LB
Average Weight: 14LB

Sea Trout
Season: 1st July - 16th Sept
Peak: September
Weight: 2LB - 20LB
Average Weight: 5LB

Brown Trout
Season: 1st July - 16th Sept
Peak: August
Weight: 1LB-18LB
Average Weight: 3LB

Suggested Itinerary
Although the fishing as standard has set weeks we can if required extend your holiday with either additional days fishing or non fishing days in Norway.
DAY 1: (Sunday)
Depart UK (alternative routes available)
Arrive Oslo
Depart Oslo
Arrive Tromso
Depart Tromso
Arrive Sorkjosen
At Sorkjosen Airport your host will arrange for you to be collected by the lodge staff and transferred to Reisastua (Approx 45 mins)
On arrival at the lodge you will be introduced to the lodge staff before being taken to your room to unpack. In the evening during the meal there will be a welcome briefing explaining the fishing and the week ahead.
Overnight accommodation: Reisastua Lodge F/B (Single Room)
DAYS 2 & 3: (Monday & Tuesday) Fishing Days.
Your host and guides will explain the days plans before breakfast, then you will be taken in pairs to your fishing zones for the day. (Note during the week you will fish a rotation system allowing you to fish different water each day, subject to water conditions)
Subject to which zones you are fishing for that day you will either return for lunch at the lodge or your lunch will be served on the riverbank.
Overnight accommodation: Reisastua Lodge F/B (Single Room)
DAYS 4 & 5: (Wednesday & Thursday) Fishing Days.
Each Morning and Evening your host will speak to you one by one to find out how your trip is going and if there is anything that you are concerned about. Fishing is based on 2 rods per guide, your guides are local experts on the river and can easily show you where the fish lie
Overnight accommodation: Reisastua Lodge F/B (Single Room)
DAYS 6 & 7: (Friday & Saturday) Fishing Days.
During your stay and fishing rotation you will have the chance to fish with your host in different zones through out the river right up into the national park ,You will find it hard to fish in more beautiful surroundings anywhere in the world.
Overnight accommodation: Reisastua Lodge F/B (Single Room)
DAY 8: (Sunday)
You will be transferred back to Sorkjosen Airport in time for your return flights.
Depart Sorkjosen
Arrive Tromso
Depart Tromso
Arrive Oslo
On arrival at Oslo airport your host will arrange a taxi or Shuttle bus to take the group to the overnight airport hotel. (Taxi or Shuttle bus not included)
Overnight Accommodation: Oslo Airport Hotel (Single Room) B/B
DAY 9: (Monday)
Check out of your hotel take arranged taxi or Shuttle bus ride back to the airport. (Taxi or Shuttle bus not included)
Depart Oslo
Arrive UK
Dates & Prices
Remember that Sportquest Holidays' services are completely FREE! When you book a trip with Sportquest Holidays, you never pay more than when you book directly with the lodge and flights independently. Plus what's more if you book with Sportquest Holidays your holiday is protect by our ATOL and the Travel Package Regulations Act. To see more details CLICK HERE.
Dates & prices are best viewed in landscape.
You can scroll the table left and right to view prices and availability.
Start Date
End Date
Days
Nights
Fishing
Angler
Non-Angler
Availability
14/07/2019
22/07/2019
9
8
6

£

6,754
On Request
Sold Out
19/07/2020
27/07/2020
9
8
6

£

6,804
On Request

Hosted
Price Match Promise
We are so confident that our packaged prices are the best available and offer great value for money.
If, however, you find an identical holiday available with any other fully bonded Tour Operator at a lower price, we will match that price.
Price Notes
Prices are based on two adults sharing transfers and fishing. Based on single rooms for accommodation (unless otherwise stated) and are correct at the time of going to press. Subject to time of year or date and currency fluctuations, these prices may fluctuate slightly due to flight price increases or fuel surcharge.
ATOL
Holidays or flights booked with Sportquest Holidays Limited are protected by the Civil Aviation Authority by our ATOL bond (Number 6371). ATOL protects you from losing your money or being stranded abroad. It does this by carrying out financial checks on the firms it licenses and requiring a guarantee, called a bond.
Price Supplements
N/A
Still need some inspiration
Why not enjoy browsing our destinations in the comfort of your own home.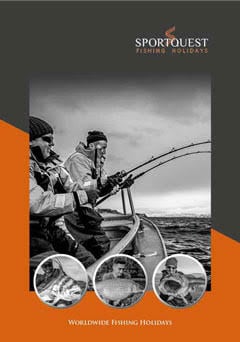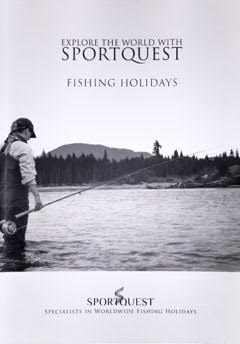 Request a free brochure
What's Included & Excluded
Included
International flights
Transfers
7 nights accommodation
Full board
Local beer & wine
Fishing on rotation basis
Full guiding
All required fishing permits
Laundry
Disinfection certificate
Excluded
Fishing Tackle
Spirits
Personal holiday insurance
Tips for the guide
Oslo taxi
Options
Flight upgrades
Additional fishing days
Additional nights in Norway
Tour Notes
Visa
A machine-readable passport with at least 6 months before expiry. No visa for UK citizens required.
Medical Requirements
No vaccinations currently required
Please Note All details of visa and medical requirements are correct at time of press however please check these requirements for changes.
Departure tax
There is no additional airport departure tax when leaving Norway
Flight Route & Flight Time
UK – Sorkjosen (approx 8 hrs)
Baggage Allowance
Your actual allowance is based on both which airline you are flying with and also what class of seat you are travelling in. Normally in economy it is 1 checked bag, Premium Economy / Business 2 checked bags, First 3 checked bags. In addition to your checked bags you are also allowed 1 cabin bag and either 1-laptop bag or ladies handbag. The actual size and weight limit for bags is dependent on the airline. We therefore recommend that once your flights are booked you check on the airlines website for the up to date allowances.
If your itinerary includes private light aircraft or helicopter flights we will advise you on your baggage and weight allowance.
Transfer Time
Sorkjosen – Reisastua Lodge (approx 45 mins)
Questions & Answers
Destination Spotlight – Questions & Answers – Salmon Fishing Reisastua Lodge | Norway
Surrounded by spectacular mountains and a steep valley – bathe in the midnight sun while standing in the river swinging flies for Large Atlantic Salmon in the Reisa Valley. The Reisa River (or Reisaelva in Norwegian) is 90 km long and originates in Finnmark. The Salmon go 85 km up to the Imofossen waterfall. There are 19 zones containing good fishing spots, with a large number of deep pools for fly-fishing. The Reisa River has a reputation for big Salmon that are caught annually here weighing around 20 kg. So if you are looking to set a record, the Reisa River may be the right place for you, just ask Scott Mackenzie who has caught his last 3 personal best Atlantic Salmon with us.
Where is the Lodge?
The lodge is found on the banks of the Reisa river in the heart of the Artic circle. The river spills out into the fjord, north east of Trômso by the small town of Storslett. The lodge is situated approx. 30k up the river surrounded by wooded mountains and a stones throw from the waters edge.
Where do they fish?
Using traditional boats, the guides will transport anglers up and down the river to their different licenced zones for that day. Once at the zones the pools are fished from the banks, generally with a couple of runs through before moving on to the next.
How long does it take to reach the fishing grounds?
Some of the pools are just a very short journey from the lodge but if your licence is in the upper zones for that day you will need to travel by boat up into the beautiful national park. A boat journey into the national park can take up to a couple of hours as you make your way into one of the last wildernesses in Europe.
What fish will I catch?
Big Atlantic salmon is what anglers come to the Reisa to hunt, Every year this river produces some of the biggest Atlantics on the planet. As well as the big salmon the Reisa has large Brown Trout, Arctic and sea run Char and good numbers of large sea trout later in the season.
How many fish will I catch?
The Reisa is not a numbers river, it is a place to go to try and catch the biggest fish of your life! Big fish are not as plentiful as smaller ones, they are harder to trick into taking and when hooked they are a lot harder to land. When you put all these factors together if you manage to land more than a couple of big fish in a week then it has been a successful one.
How do they fish?
As part of a rotation system, each day your fishing partner and you will have access to a selection of different licences to fish different zones in the river. As a pair you will head out by boat or sometimes car with your guide and bank fish different pools with in your licenced zones! You will mostly be fishing with double-handed rods in 9# to 11# and swinging flies with anything from floating to heavy sink lines depending on the water height and pools that you are fishing. Your guide will explain if he wants you to mend your line to speed up or slow down your swing and then a long dangle before some sharp strips of the line can often entice a take. If the water is at the right height and temperature a single-handed rod of 7# or 8# can sometimes be used to successfully fish a riffle hitch or bomber fly on a floating line that can give some of the best top water action.
Do the guides speak English?
Yes, all the guides speak very good English
Who is best suited to this destination?
Anyone can fish the Reisa as it has some easily fished pools but also has some very technical ones, This keeps the less experienced as well as expert anglers interested at all times. We do believe that it is a river that anglers must work hard on as these big fish will not just give them selves up, The lodge is probably not the best place for an angler to try and catch their first salmon but more about catching the fish of a lifetime.
What skill level is required?
You do not have to be the best angler in the world to fish at the lodge, but a good understanding of salmon fishing and managing a double-handed rod is advisable. The guides at the lodge are fantastic and very experienced when it comes to fishing the river, so a week spent with them will definitely make you a better angler. Some casting lessons before your trip is always a good idea as this will dust off any cobwebs and give you more confidence from day one of your trip!
How physically demanding is this trip?
On the whole Reisastua lodge is not very physically demanding, however if clients wish to trek to the top pools of the national park then they will need to be able to walk a decent distance in fairly rough terrain. Some of the pools can make for more challenging wading in certain river conditions.
When to go?
For the big chrome fish that the Reisa is famed for July would be the best month! August can produce some lovely mixed fishing with the grils, Sea Trout and still the odd big chrome fish being caught on lighter tackle, methods such as riffle hitch and bomber being particularly exciting.
How to get there?
Take your flight from the UK to Oslo; from there you travel to Tromso and then on to Sorkjosen. At Sorkjosen a Sportquest representative will meet you and transport you to the lodge, this drive will take approx. 45mins minutes and once at the lodge you will be greeted and shown to your room before refreshments.
What is the accommodation like?
The lodge is of a typical Norwegian nature with a very relaxed atmosphere; this is in no way a compromise on quality with a beautiful main restaurant, Single en-suit bedrooms, large hot tub all of which have views of either mountains, river or both and a peaceful living room for evening drinks.
What is the food like?
Breakfast is served in the morning before you head out with your guide to your different zones, depending on what zones you are fishing will determine if you will be returning to the lodge for a three coarse lunch or if your guide will cook for you by the river. Often your fishing day will finish very late in the evening so there is normally a light spread prepared as an evening meal, snacks and drinks are provided throughout the day by your guide!
Does the lodge provide fishing tackle?
The lodge does not provide full set ups, but it does have a shop stocking lines, flies etc.
Is Internet and phone signal available?
The lodge has very good FREE Wifi service and some mobile phones will good a good signal.
Are there other activities available?
Other activities such as waterfall views, bike riding and walking can be arranged with some pre organising.
How much does it cost?
Sportquest Holidays offers you the complete package including all flights and transfers to view all prices & availability click the "Dates & Prices" Tab above.
Alternatively if you wish to arrange all our own travel arrangements Sportquest Holidays can book just the lodge and fishing for you.
Tour Reviews
Sportquest Holidays is proud to be different, and one way we stand out from the crowd is our tried and trusted information we provide our customers. This information is not just provided on our own personal experiences but also REAL CUSTOMER reviews.
We are the only fishing & shooting tour operator to operate our own review system whereby customers can review both the packaged holiday and also how we performed on each destination.
How This Destination Performed
How We Performed On This Destination
How Our Customer Feedback Works
See how our customer feedback works and our latest customer reveiws.
Read More
Write a Review
Have you ever visited this destination? Why not write a review and let everyone know how you rated their services?
Write a Review