Overview
Category: Hosted Fishing, Sea Fishing, Hosted Sea Fishing


This hosted fishing holiday to Nappstraumen is an experience unlike any other, with monster two-metre Halibut being caught here every year. You will be escorted from start to finish by our host who will be on hand to help out with anything that you may need. Not only is the fishing on the Lofoten Islands phenomenal the accommodation you will be staying on this camp is exceptional. On top of this, you will be getting a day's guided fishing for free, you will have one of the expert camp guides showing you where to fish and advising on the best tactics needed to snare one of the monsters that lurk in these waters.
Location
Nappstraumen is found on the eastern side of the Lofoten Islands. This beautiful destination is set in some of the most magnificent scenery that you will find in Norway, surrounded by towering mountains that lead into a glistening fjord your breath will be taken away when you first set eyes upon this destination. The Lofoten Islands are world famous for this phenomenal scenery, many artists have travelled to the here to paint the landscapes. The fish-rich Norwegian sea is world renowned for its amazing ecosystem which produces many great fish each year.  The Lofoten Islands also has its own micro-climate with both temperatures and sea temps being marginally higher than other destinations in northern Norway, this is due to the positioning of the Lofoten Islands in the Gulf stream.
Fishing
The fishing from Nappstraumen can only be described as at times out of this world. This camp has a reputation for producing some spectacular Halibut. The fishing is done from the camps boats, these 23 ft Arronett aluminium boats are extremely stable and more than capable of fishing these waters and add to this a 150hp Suzuki outboard you have a fishing platform that is very impressive indeed. Your host will advise you during your fishing day of what tactics to use. The Halibut fishing is done by drifting on the tide using either rubber shads or dead baits on an anti-twist rig, these are drifted at a depth near or just off the bottom. The Halibut fishing can be an adrenaline filled explosion, one minute you will be drifting along, quiet and relaxed and then in a split second one of your rods will hoop over, ratchet screaming and its a case of hanging on for dear life as you do battle with one of the most powerful fish in the sea.
It is not the only Halibut that the Lofoten islands are famous for though, these waters hold some amazing Cod. In the winter the Skrei Cod move in giving you the chance of a 70lb plus specimen. There are resident Cod here at all times of the year and a 30lb plus fish is a common capture. These are fished for by drifting using both shads and pirks which can be fished at a depth you see the fish at on the sounder or just off the bottom. Along with these you will find some cracking Plaice that can be caught here using baited traces on smaller hooks with prawns and worms being the baits of choice to hook these supersized spotties. You will also find many other species to target here including Wolffish, Coalfish and very big Dabs.
Guides
This holiday is fully guided with two boats being used, one will be driven by your host and the other will be driven by one of the local guides from the camp. There will always be one guided on land during the day whilst the other is guiding customers on the boats. These guides have exemplary knowledge of the surrounding waters and will be able to give you advice on where to head to target certain species.
Other Activities
The town of Leknes is very close to the camp (10 minutes) and here you will find ten pin bowling and some very nice restaurants. There is also hiking to do in the surrounding areas where you will get some amazing views of the stunning scenery.
If you have any questions about our sea fishing trips contact our expert team who will be happy to answer any queries you have. Alternatively, you can request a free brochure.
Accommodation
Nappstraumen Luxury Cabins
These luxurious cabins overlook the impressive Nappstraumen fjord. Downstairs you will find a large bathroom with a hot shower, heated floors and a washing machine. The kitchen area has touch sensitive hobs and fan assisted oven to cook on along with a microwave. These amenities also come with all the pots, pans, trays and cutlery. Each cabin also has a dishwasher. The communal area in these cabins consists of a very comfortable corner sofa, a large dining table and stools with a smart TV. Upstairs you will find 4 rooms all holding twin sleeping arrangements along with another bathroom area.
Rooms: Single Rooms
Internet: Free WiFi
Equipment Hire
Shop: On site tackle shop
Cards Accepted: Debit/Credit card
Freezer Room: Walk in freezer
Filleting Area: Fish cleaning areas
Species Information
Coalfish
Season: May to September
Peak: June to September
Weight: 5lb to 40lb
Average Weight: 10lb

Halibut
Season: May to September
Peak: June to September
Weight: 20lb to 350lb
Average Weight: 50lb

Cod
Season: April to September
Peak: April to June
Weight: 10lb to 80lb
Average Weight: 25lb

Plaice
Season: May to September
Peak: July to September
Weight: 1bl to 8lb
Average Weight: 1lb to 8lb

Suggested Itinerary
Although the fishing has set weeks, we have daily flights departing from the UK, therefore should you wish to either extend your stay with additional days at the beginning or end in Norway, the itinerary below can be tailored to suit.
DAY 1:
Depart UK (alternative routes available)
Arrive Oslo
Depart Oslo
Arrive Bodo
Depart Bodo
Arrive Leknes
On arrival you and your host will be met and transferred to the fishing camp (approx 10 mins)
The Lofoten Islands have become the most talked about set of Islands in Norway, from nature walkers to the hundreds of anglers that fish these waters. They really are up there on the most stunning places of the world.
Once you arrive at the camp, our host will show you around the very modern large cabin and then you are free to unpack and relax. Our host will sit down in the evening and give a quick talk on what to expect out of the fishing and to help people set their tackle up.
Overnight Accommodation Lofoten Cabins (Twin rooms) S/C
DAYS 2 TO 4: Fishing Days.
On each day people will be assigned to boats that will fit with their fishing targets, as we believe that not every one will want the same out of their trip. Our host will then set about finding areas that are perfect for your chosen species.
The area around Lofoten Islands is perfect for Halibut and one only needs to travel around 5 minutes to some pretty perfect grounds for Halibut.
Overnight Accommodation Lofoten Cabins (Twin rooms) S/C
DAYS 5 TO 7: Fishing Days.
The boats we use are perfect for both – Fjord and Sea fishing with them being the most stable boats available and are perfectly designed for 4 anglers to fish from.
They come fitted with the very best marine electronics to help you target all the different species around Norway.
Overnight Accommodation Lofoten Cabins (Twin rooms) S/C
DAY 8:
In the morning you and your host will be transferred back to Leknes airport for your return flights.
Depart Leknes
Arrive Bodo
Depart Bodo
Arrive Oslo
Depart Oslo
Arrive UK
Dates & Prices
Remember that Sportquest Holidays' services are completely FREE! When you book a trip with Sportquest Holidays, you never pay more than when you book directly with the lodge and flights independently. Plus what's more if you book with Sportquest Holidays your holiday is protect by our ATOL and the Travel Package Regulations Act. To see more details CLICK HERE.
Dates & prices are best viewed in landscape.
You can scroll the table left and right to view prices and availability.
Start Date
End Date
Days
Nights
Fishing
Angler
Non-Angler
Availability
29/07/2020
05/08/2020
8
7
6

£

1,786
On Request

Hosted

26/08/2020
02/09/2020
8
7
6

£

1,736
On Request

Hosted

02/09/2020
09/09/2020
8
7
6

£

1,661
On Request

Hosted

30/06/2021
07/07/2021
8
7
6

£

1,796
On Request

Hosted

07/07/2021
14/07/2021
8
7
6

£

1,706
On Request

Hosted

14/07/2021
21/07/2021
8
7
6

£

1,816
On Request

Hosted
Price Match Promise
We are so confident that our packaged prices are the best available and offer great value for money.
If, however, you find an identical holiday available with any other fully bonded Tour Operator at a lower price, we will match that price.
Price Notes
Prices are based on four adults sharing transfers, fishing and accommodation (unless otherwise stated) and are correct at the time of going to press. Subject to time of year or date and currency fluctuations, these prices may fluctuate slightly due to flight price increases or fuel surcharge.
ATOL
Holidays or flights booked with Sportquest Holidays Limited are protected by the Civil Aviation Authority by our ATOL bond (Number 6371). ATOL protects you from losing your money or being stranded abroad. It does this by carrying out financial checks on the firms it licenses and requiring a guarantee, called a bond.
Price Supplements
As this is a Hosted trip there are NO single angler supplements.
Still need some inspiration
Why not enjoy browsing our destinations in the comfort of your own home.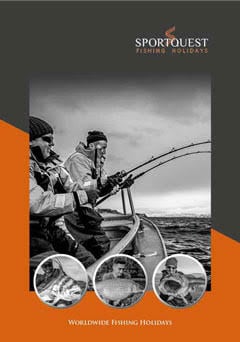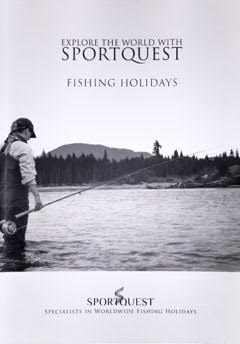 Request a free brochure
What's Included & Excluded
Included
All international flights (Based on London departure)
Transfers to and from Lofoten and Leknes
All accommodation as per itinerary
6 days fishing via self drive boat
Fishing Boat with Sonar, chart plotter (GPS), VHF & radar
Freezer storage for your fish
Access to professional guide for guidance
Bed linen, towels and final cabin cleaning
Excluded
Fuel for boat
Fishing tackle
Personal holiday insurance
Meals
Tips for the guide
Final boat cleaning
Options
Other UK departure airports are possible (additional cost) Please call a member of the Sportquest team for further information.
Fishing equipment (rod, reel, line) £50 pr week
Survival suits £40 pr week
Tour Notes
Visa
A machine-readable passport with at least 6 months before expiry. No visa for UK citizens required.
Medical Requirements
No vaccinations currently required
Please Note
All details of visa and medical requirements are correct at time of press however please check these requirements for changes.
Departure tax
There is no additional airport departure tax when leaving Norway
Flight Route & Flight Time
UK – Oslo (approx 2 hrs)
Oslo to Bodo (approx 1hr)
Bodo to Leknes (approx 40mins)
Baggage Allowance
Your actual allowance is based on both which airline you are flying with and also what class of seat you are travelling in. Normally in economy it is 1 checked bag, Premium Economy / Business 2 checked bags, First 3 checked bags. In addition to your checked bags you are also allowed 1 cabin bag and either 1-laptop bag or ladies handbag. The actual size and weight limit for bags is dependent on the airline. We therefore recommend that once your flights are booked you check on the airlines website for the up to date allowances.
If your itinerary includes private light aircraft or helicopter flights, we will advise you on your baggage and weight allowance.
Transfer Time
Leknes to Lofoten (Transfer time approx 10mins)
Tour Reviews
Sportquest Holidays is proud to be different, and one way we stand out from the crowd is our tried and trusted information we provide our customers. This information is not just provided on our own personal experiences but also REAL CUSTOMER reviews.
We are the only fishing & shooting tour operator to operate our own review system whereby customers can review both the packaged holiday and also how we performed on each destination.
How This Destination Performed
How We Performed On This Destination
How Our Customer Feedback Works
See how our customer feedback works and our latest customer reveiws.
Read More
Write a Review
Have you ever visited this destination? Why not write a review and let everyone know how you rated their services?
Write a Review
Michael says:
Overall Rating:
Overall a great holiday. I would of liked more detail about the extra costs (petrol etc) to assist how much cash would be needed.
I would be pleased to hear from you if and when you get any cancellations for future trips thanks
Paul (Sportquest Holidays) says:

Hi Mike, good to hear you enjoyed yet another holiday with us. Sorry that may of been my fault about the extra costs such as fuel as normally I speak to everyone before they travel and guess I must of missed getting hold of you.

I will keep you informed of any cancellations

All the best

Paul
Paul says:
Overall Rating:
Memorable moment: Catching a Halibut
Improvements: Catch more Halibut, Bigger kettle in cabin, double quilt on double bed (minor items really)
Holiday was a trip of a lifetime and have already booked for 2017 and 2018 will be booked very soon
Paul (Sportquest Holidays) says:

Hi Paul, thanks for taking the time to return your feed back form, I know how busy you must of been when you returned.

Glad you loved the trip and it was a real pleasure to have finally met you and hopefully I will see you soon.

All the best

Paul
Tom says:
Overall Rating:
Great all round. Beds not very good. Flotation suit which was was hired was very poor
Paul (Sportquest Holidays) says:

Hi Tom, good to show you what Norway was like. Shame about the weather during our week but when we could get out to the good marks you saw what the fishing should of been. Hope you enjoyed the Plaice fishing.

I shall mention to the guys about the suits as I have never had a problem before and I am sure they will rectify the problem

See you soon

Paul
Dean says:
Overall Rating:
Weather was bad ( gale force winds ) 😖 Had to stay in the fjords and plaice fish, but the days we got out were nothing short of amazing we were putting back 25-30lb COD regularly! This really is an amazing place to fish. Even though we were unlucky with the weather I'd definitely go back 👌🏻
Paul (Sportquest Holidays) says:

Hi Dean, it was a pleasure to fish with you guys. Had a great week (Sorry about the weather) and hope I get to fish you with all again one day

All the best

Paul
Gareth says:
Overall Rating:
Hello Paul what a great trip as usual. This is the third trip with you guys and they just get better each time. I really wanted a big Coalfish on this trip and was not let down. I managed a 43LB Coalfish which was huge, we all on the boat thought we had hooked a Halibut. The Plaice fishing was a little slow and was hoping for better but thats fishing sometimes.
Thanks Sportquest for yet another amazing trip. See you next year
Paul (Sportquest Holidays) says:

Thanks for filling out your feedback form they are a great help for future travellers. I did hear a rumour you smashed the Coalfish and managed to catch a huge one! Well done and can not wait to see the pictures.

I have got you a space reserved and can confirm everything when we catch up

Until then tight lines

Paul
Freddy says:
Overall Rating:
Being the youngest on the trip was a little hard at times as the guys gave me lots of banter, which I loved. Couldnt of asked for a better group to spend the week with and thanks Paul for all your help. The real highlight for me was catching that 50LB Cod and thanks for the amazing pictures which I would very much appreciate you emailing me as my friends do not believe me!!!!
Perhaps I may look at a different destination for next year as I would ideally like to make this an annual thing. Hope we will catch up soon
Paul (Sportquest Holidays) says:

Hello Freddie, I did notice you were getting lots of banter from the guys but you took it well and gave as good as you got. The guys really liked you and have asked if you are going next year? Which hopefully you will be?

Was my pleasure to witness that Cod and one that maybe fairly hard to beat, but at least the Halibut target will still be able to be beaten. I will call you next week and get those pictures over to you as soon as I can

All my best, Paul
Colin says:
Overall Rating:
Thanks Sportquest was a great experience a little cold at times but still very enjoyable. Can you please pass on my thanks to Paul
Peter (Sportquest Holidays) says:

Hello Colin, its Peter. Paul is still away in Norway and will get him to email you when he returns. Sounds like the whole group had lots of big fish.

Tight lines, Peter
Stewart says:
Overall Rating:
Good day Paul, thanks for inviting me on this awesome trip. Flying all the way from Oz I was a little unsure on what to expect but soon found myself in a great location with absolutely great views. The fishing for those Coalies was unreal especially on the popper!! Believe me I will be back
Paul (Sportquest Holidays) says:

Hello Stewart so glad you liked the place. Its a long way to fly for you and hope you got home OK? It was such a pleasure to guide you over in Norway and show you the potential of the place. perhaps you can spread the word for us back at home and bring some of your buddies next time

I bet you are looking forward to your Costa Rica trip?

Speak soon, Paul
Anthony says:
Overall Rating:
A massive thanks Paul for pointing us in the direction of this hosted trip to the Lofoten Islands. We really enjoyed the fishing and also good to finally meet you. We could see how hard you worked for us and a massive thanks for that as I dont think we would of been able to land that huge Halibut with out your careful driving of the boat. Awesom trip and highly recommend it to any one. We have a meeting with our local sea fishing club at the weekend and are due to give them a little slide show of our trip so hopefully we can book for next year as a larger group
Thanks once again
Paul (Sportquest Holidays) says:

Hi Tony it was a real pleasure to guide you two and very much enjoyed your company. And if barry wants to come again get him to make that scrambled egg thing again mmmmmm! Yes that Halibut was a beast and you done very well to land it. I have seen so many times before guys hook big fish like that and half way through the fight the hooks pull so a massive congratulations.

I have some great pictures I will email you and will any day write my blog/report of the trip and will send you a link to view it.

Perhaps Havoysund next?
Steven says:
Overall Rating:
Thanks for helping me over my sea sickness, i never thought i suffered from this but guess i was wrong.
The ginger biscuits and sea sick tablets helped loads Paul so thank you and thank you Sportquest for giving me a trip that i will never forget
Paul (Sportquest Holidays) says:

One can never say they do not suffer as it hits people in different ways. I travel to lots of different Norway destinations and drive boats all the time and i suffer sometimes

Glad the biscuits helped, when i first heard about that i didn't really believe them but they do work

Glad we gave you some good memories and hopefully will give you more

Regards

Paul
Gavin says:
Overall Rating:
Thanks Paul for all your help and patience. you really do know your stuff and put us all on fish time after time. The Plaice fishing was some of the most fun i have had in years, its a must for any one to try
Next year i want one of those big Halibuts
Paul (Sportquest Holidays) says:

That is what i am there for. i simply love to see other people catch fish and the look on their faces when they catch something special.

If you want a big Halibut then my Havoysund trip will be the place for you and yes the plaice fishing was such fun especially when Terry caught that little Halibut on his plaice rod

Look forward to seeing you next year

All the best

Paul
Colin says:
Overall Rating:
I have been on several of your trips now to other parts of Norway but i have to say this is very special. The boats and accommodation at this camp is by far the best i have used
The fishing is also brilliant and i managed to get my self a very big Halibut which i know John was very jealous of (Better luck next time John) so thank you Paul and hope you got home ok
Paul (Sportquest Holidays) says:

Hi Colin, it is also one of my favourite camps. I just love hosting trips there as i know guys will have a great time and catch lots of fish

And yes got home eventually after the mess up with car parking

Regards

Paul
Bernard says:
Overall Rating:
This being my first trip with you guys i will from now only be using you. i cant believe how effortless everything was from the first day i rang you to actually arriving at the camp.
Thanks and you will be hearing from me next year
Paul (Sportquest Holidays) says:

Thats great to hear. Maybe Soroya next time?

Regards

Paul
Mark says:
Overall Rating:
I travelled with Phillip Gavey's group
As you may well recall, the cabins we were supposed to stay in were still under contruction and the hotel was basic, with a communal kitchen, very basic utensils, lucky we were the only group using it at that time, wasn't very happy with that.
Paul (Sportquest Holidays) says:

Hi Mark

As i mentioned to Phillip, we were very shocked to find out that the cabins were not available and quickly acted on this as soon as you called. We managed to get your party some compensation in the form of a free meal in the restaurant and 2 days free guiding.

I can not apologies enough and really hope that the compensation was satisfactory.

Thank you very much for the great pictures from Vaeroy and it looks like you had some great fishing. Look forward to helping you again for 2015

Kind Regards

Paul
Phil says:
Overall Rating:
The was little bit of confusion with the transfer on arrival in Bodo, the contact telephone number you supplied was incorrect a quick call to your office and you had the transfer sorted very quickly.
Getting back was easier but i had to get the guides to phone ahead just to be 100% sure. Although we booked and paid for a cabin, on arrival we found out the cabins had not been finished. No apology, no forewarning of the problem had been given.
The camp owners did however put us up in a hotel that was attached to the camp. We had rooms that were good/clean adequate but the cooking facilities were poor. We had to share a kitchen. The storage arrangements for our food (self catering) were shared between 2 other guests. We actually had to use another building and share the restaurants freezer. If we go again we would only go if we were guaranteed a cabin.
Paul (Sportquest Holidays) says:

Hi Phillip

May i start with our apologies about the transfers and the contact details. As you were aware this was a brand new camp to us and you were our first set of customers to visit this camp. You kindly bought to our attention the fact the phone number was wrong for your contact whilst in Norway, we have now updated all the information so this does not happen again

In relation to the cabins not being ready, this was a total shock to us as we were under the impression that these would have been completed months ago. Once you had spoken with me i very promptly rang our operator out there and tried to come up with a solution. They decided to put you in a Hotel and offer as compensation, a free meal in the restaurant and 2 days free guiding which i believe helped you greatly

I have been guaranteed that the cabins are now 99% complete and will be ready by the beginning of June and they sent their apologies.

We look forward to helping you again next year and thank you for your continued business

Kind Regards

Paul