Overview
With popper and lure fishing fast becoming the biggest technique practised amongst the travelling angler, we have searched high and low to be able to offer you some of the finest and sometimes out of the ordinary holidays this wonderful planet has to offer. Gabon has been on our radar for a while now and it is with great pleasure that we have now got the opportunity to be able to offer you the complete package to one of the best rock, surf and estuary fishing the world has to offer.
If you take any activity and push it to the wildest edge, you create magic. Sport fishing along the pristine coastline of Gabon is definitely one such activity. Your need to fish wild and remote waters, to create your own magic, may well be what drives you.
Gabon has the longest stretch of untouched coastline left on the African continent, and along with a massive estuary system rich in nutrients, offers the avid salt water fishermen the opportunity to experience the thrill of targeting the numerous and unique species of West Africa with both spin and fly tackle. The abundance of large and aggressive game fish, all eager to attack a well fished lure, is complimented by Africa's most pristine tropical rain forest which creates the back drop to this one of a kind salt water fishing experience.
Sette Cama camp, situated on the Ndogo Lagoon at the southern boundary of Loango National Park is a destination like no other. One of Africa's largest lagoon systems draining into the tropical Atlantic ocean is home to aggressive Jacks (Whitefin and Jack Crevalle), giant African Threadfin, African Cubbera Snapper, Tarpon, Senegal Kob, and Guinean Barracuda all eager to attack a well placed lure or bait. Many of these species grow to more than 50 kg. The estuary (by boat) and adjacent beaches provide unparalleled fishing suited to anglers who like to cast artificials or a combination of lures and natural baits and even flies when conditions are right.
So if you are looking for something a little different for your next adventure but still want to take huge fish then this place must be up there on your bucket lists. Its not all about the fishing either, we can organise guided walks in the nearby Loango National Park (made famous by National Geographic and BBC) where you will get the chance to see Chimpanzees, lowland Gorillas, Red River Hogs, Forest Sitatunga, and various forest duikers and Monkey species. If this list of exotic animals was not enough then you have got every chance of seeing Forest Elephants and Forest Buffalo talking their morning strolls along the beaches.
To view all our saltwater destinations Click Here
Accommodation
The camp is on the boundary of the Loango National Park, offering a highly exclusive experience, in which to enjoy both the fishing and wildlife of this untouched venue.
Accommodation is simple chalets with twin configuration. Meals are enjoyed in the main living area, which includes a stocked bar and a deck overlooking the estuary.
Board: Full Board
Rooms: Twin Rooms
Internet: WiFi chargeable
Power: 220 - 240 Volts
Meals: In the main living area
Alcohol: Chargeable
Equipment Hire: Chargeable
Cash Accepted: Euros
Species Information
Longfin Jack
Season: November to April
Peak: November to April
Weight: 10LB to 45LB
Average Weight: 15LB

Jack Crevalle
Season: November to April
Peak: November to April
Weight: 10LB to 65LB
Average Weight: 22LB

African Threadfin
Season: November to April
Peak: November to April
Weight: 20LB to 110LB
Average Weight: 28LB

African Cubbera
Season: November to April
Peak: November to April
Weight: 20LB to 110LB
Average Weight: 28LB

Tarpon
Season: November to April
Peak: November to April
Weight: 40LB to 264LB
Average Weight: 150LB

Senegal Kob
Season: November to April
Peak: November to April
Weight: 10LB to 55LB
Average Weight: 22LB

Guinean Barracuda
Season: November to April
Peak: November to April
Weight: 10LB to 132LB
Average Weight: 20LB

Suggested Itinerary
Although the fishing has set weeks, we have daily flights departing from the UK therefore should you wish to either extend your stay with additional days at the beginning or end in Libreville, the itinerary below can be tailored to suit
DAY 1: (Wednesday)
Depart UK (alternative routes available)
Arrive Paris, Charles de Gaulle
Depart Paris, Charles de Gaulle
Arrive Libreville, Leon M'ba International
On arrival you will be met by an english speaking representative who will then transfer you to your overnight accommodation
Overnight accommodation: Libreville Apartment
DAY 2: (Thursday)
At a pre agreed time you will be picked up and transferred to the airport for your private charter flight to Gamba.
Depart Libreville, Leon M'ba International
Arrive Gamba
Once you have arrived and collected your bags a representative from the camp will greet you and then transfer the group to the camp via boat. (transfer approx. 45mins)
Rest of the day is free for you to sort your fishing tackle out and rest for the following fishing days.
Overnight accommodation: Sette Cama Camp (Twin rooms) F/B
DAYS 3 & 4: Fishing Days.
The fishing days are generally split into two parts, and are planned around the tides. As a general rule, the first session, morning, you will depart after an early breakfast and start fishing before it gets light taking advantage of the feeding habits and tides.
You will then head back around mid morning for a well deserved siesta. The second session will start late afternoon and you will fish into darkness again taking advantage of the twilight feed.
Overnight accommodation: Sette Cama Camp (Twin room) F/B
DAYS 5 & 6: Fishing Days.
On your fishing days you will be targeting some hard fighting fish so ensure all your tackle is up to the job. Our guides will take care of giving you helpful tips on the correct ways of setting things up. After each day keep your tackle well maintained, changing your leaders and making sure your hooks are sharp.
Overnight accommodation: Sette Cama Camp (Twin room) F/B
DAYS 7 & 8 : Fishing Days.
Another great area to fish are the Estuaries, armed with lighter tackle these can be great places to have a little rest from the huge ocean dwelling species. You can expect to target Jack Crevalle, juvenile Snapper and the very toothy Barracuda.
This can be a very enjoyable break from the surf fishing plus you will be surrounded by stunning backdrops and you may even see some of the famous wildlife this area is renowned for.
Overnight accommodation: Sette Cama Camp (Twin room) F/B
DAY 9: (Thursday)
After you have checked out of the camp, we will then transfer you via boat to Gamba airport. (transfer approx. 45mins)
Depart Gamba
Arrive Libreville
You will then be met by an english speaking representative who will take you to Libreville Leon M'ba International for your return flight back to the UK
Depart Libreville, Leon M'ba International
DAY 10: (Friday)
Arrive Paris, Charles de Gaulle
Depart Paris, Charles de Gaulle
Arrive UK
Dates & Prices
Remember that Sportquest Holidays' services are completely FREE! When you book a trip with Sportquest Holidays, you never pay more than when you book directly with the lodge and flights independently. Plus what's more if you book with Sportquest Holidays your holiday is protect by our ATOL and the Travel Package Regulations Act. To see more details CLICK HERE.
Dates & prices are best viewed in landscape.
You can scroll the table left and right to view prices and availability.
Price Match Promise
We are so confident that our packaged prices are the best available and offer great value for money.
If, however, you find an identical holiday available with any other fully bonded Tour Operator at a lower price, we will match that price.
Price Notes
Prices are based on two adults sharing transfers, fishing and staying in twin rooms for accommodation (unless otherwise stated) and are correct at the time of going to press. Subject to time of year or date and currency fluctuations, these prices may fluctuate slightly due to flight price increases or fuel surcharge.
ATOL
Holidays or flights booked with Sportquest Holidays Limited are protected by the Civil Aviation Authority by our ATOL bond (Number 6371). ATOL protects you from losing your money or being stranded abroad. It does this by carrying out financial checks on the firms it licenses and requiring a guarantee, called a bond.
Price Supplements
Still need some inspiration
Why not enjoy browsing our destinations in the comfort of your own home.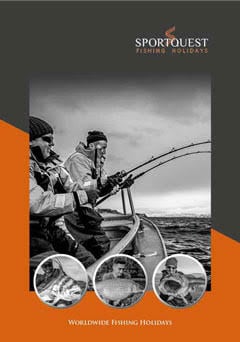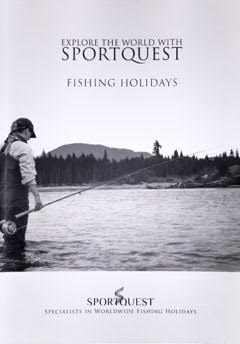 Request a free brochure
What's Included & Excluded
Included
All international flights
Internal flights
Overnight airport accommodation Twin room
Boat transfer to Sette Cama
All accommodation at Sette Cama F/B
6 days Guided fishing
18ft Panga style fishing boats
Access to professional guide for guidance
Excluded
Meals in Port Gentil
All drinks
Fishing tackle
Personal holiday insurance
Daily Fishing licence payable at the end of your stay (approx. €6 per person per day)
Tips
Options
Tour Notes
Visa
A machine readable passport with at least 6 months before expiry is required. All UK passport holders require a passport, this will be arranged for you on arrival and is included.
Medical Requirements
Valid yellow fever inoculations are required by most countries, please enquire with your local travel clinic. Gabon is a malaria area, please consult your doctor before traveling.
Please Note
All details of visa and medical requirements are correct at time of press however please check these requirements for changes.
Departure tax
There is no additional airport departure tax when leaving Libreville, Leon M'ba International
Flight Route & Flight Time
UK – Paris (approx 1hr 10mins) Paris – Libreville (approx 6hr 50mins)
Baggage Allowance
Your actual allowance is based on both which airline you are flying with and also what class of seat you are travelling in. Normally in economy it is 1 checked bag, Premium Economy / Business 2 checked bags, First 3 checked bags. In addition to your checked bags you are also allowed 1 cabin bag and either 1-laptop bag or ladies handbag. The actual size and weight limit for bags is dependent on the airline. We therefore recommend that once your flights are booked you check on the airlines website for the up to date allowances.
If your itinerary includes private light aircraft or helicopter flights we will advise you on your baggage and weight allowance.
Transfer Time
Port Gentil –  Sette Cama Camp (approx. 45mins)
Tour Reviews
Sportquest Holidays is proud to be different, and one way we stand out from the crowd is our tried and trusted information we provide our customers. This information is not just provided on our own personal experiences but also REAL CUSTOMER reviews.
We are the only fishing & shooting tour operator to operate our own review system whereby customers can review both the packaged holiday and also how we performed on each destination.
How This Destination Performed
How We Performed On This Destination
How Our Customer Feedback Works
See how our customer feedback works and our latest customer reveiws.
Read More
Write a Review
Have you ever visited this destination? Why not write a review and let everyone know how you rated their services?
Write a Review