Overview
Category: Freshwater Fly Fishing


Orklagaard Lodge has been held by the Gundersrud family for over 30 years, originally built and operated by its founder Olaf Gundersrud Sr. as a corporate entertainment venue with exclusive salmon fishing on the river Orkla. Until recently Orklagaard has been relying on past guests, family and friends to provide revenue for its funding. Now Orklagaard has opened its doors for Sportquest Holidays in an UK exclusive, joint venture deal.
Location
The river Orkla is the largest river in the Trøndelag county and has a length of 180 kilometres. The river starts its journey in the lake Orkelsjøen and ends in the town of Orkanger. The pools of the Orkla river can produce some of the best Salmon fishing in Europe, with good numbers of fish entering its waters every year as well as some very good sized chrome bodied beauties.
Orklagaard Lodge is a picturesque collection of the main lodge and accommodation nestled on the banks next to the river. The Orkla River Salmon love the pools in this private section of the river and the numbers of Orkla River Salmon caught in these pools are a testament to that. The private water that Orklagaard Lodge has access to is situated very close to the lodge with the majority just a short walk from the lodges bedrooms. This gives anglers the chance to maximise their time whilst fishing, with no need for long travelling times between pools.
Orklagaard beats are located only 40 km from the ocean and Trondheim Fjord on Norway's central coast, offering the promise of sea-bright salmon. Sportquest Holidays will have exclusive double-bank access to 1.1 km of the original Orklagaard water, plus three productive and breathtaking pools just a few minutes drive downstream from the lodge. We are excited to offer this program in a highly attractive and fully exclusive package. Orklagaard is approximately between 50 and 70 yards across so even though the wading would mostly be considered moderate, covering the water for the average angler is obtainable.
Orkla River flow is regulated by a hydro power station, which means there is always water even in very dry years. given the reliable water levels and fish numbers customers would hope to catch with at least 1 or 2 good fish per week.
Fishing
Orkla River Salmon are typical Norwegian fish, with deep chrome bodies and big powerful tails. They are the perfect design to deal with travelling at speed through powerful rivers and over long distances. They can grow to impressive sizes with 30lb+ fish being landed every year and the numbers of good size fish landed in the catch reports of the lodge makes for impressive reading.
The fishing is set on a rotation system where anglers fish in pairs and have set pools at three-time slots during the day. With the lodge in close proximity, customers can pop back to the lodge for refreshments at any time. The lodge manager rotates between anglers during the day to help out with any questions.
The main Equipment used would be 13/14 ft 9#10# double handed spey rods with decent sized reels to match. Reels should have smooth drags and manage to hold at least 300 meters of backing connected to multi-tip floating scandi lines with full collection of density heads and a couple of triple density sink lines in sink 3 and in sink 6.
A week at Orklagaard would be the perfect weeks Salmon fishing for anglers who wish to have easy access to the river, great hospitality with the most friendly relaxed like-minded people.
'For more information about this tour, contact our experienced team who will be happy to answer any queries you have. Alternatively, can request a free brochure.'
Accommodation
This picturesque and ornate Norwegian lodge has the look of a building that has been plucked out of a fairy tale and placed down next to one of the most productive Salmon rivers in Norway. The property consists of a main lodge with large kitchen, dining room and two en-suite bedrooms. In the courtyard there is a further five en-suite rooms in separate decorative cabins all with seating areas. As you make the short walk to the river there is a small cabin that is used for fishing tackle and gear, it is a safe place to store it when not in use. The staff at the lodge are excellent and are very focused on giving you a fantastic week on the water as well as back at the lodge. Another big plus of staying for a weeks fishing at Orklagaard lodge is that all the pools you will be fishing are only a short walk away so if you need to return for any creature comforts through out the day it is very easy to do so and will not interfere with your fishing to much.
Board: Full board
Rooms: single rooms
Telephone: Lodge phone and Mobile signal
Internet: WIFI
Laundry
Power: 230v type C and F
Meals: Full board
Equipment Hire: Fly equipment only
Species Information
Atlantic Salmon
Season: June to July
Peak: June to July
Weight: 5lb to 45lb
Average Weight: 14lb

Suggested Itinerary
Although the fishing has set weeks, we have daily flights departing from the UK, therefore should you wish to either extend your stay with additional days at the beginning or end in Norway, the itinerary below can be tailored to suit you.
DAY 1: (Sunday) 
Depart UK (alternative routes available)
Arrive Trondheim
On arrival at Trondheim Airport you will pick up your pre-arranged Hire Car. (Not Included, but we can book this for you) The drive is around 1hr 15 minutes and takes you through some stunningly scenic areas particularly as you get closer to the lodge.
Once you have arrived at Orklagaard lodge the Staff will be waiting to greet you and show you to your personal self contained accommodation where you will then be free to unpack and ready your tackle for the next days fishing.
Overnight accommodation: Orklagaard lodge F/B (Single Room).
DAYS 2 & 3: (Monday & Tuesday) Fishing Days.
Each day will start with a hearty breakfast served in the main lodge, your beats will have been divided up between the anglers the evening before so after breakfast you are free to collect your gear and head straight to the river. You will be given three beats per day to fish and this will be arranged out on a rotational system.
Overnight accommodation: Orklagaard lodge F/B (Single Room).
DAYS 4 & 5: (Wednesday & Thursday) Fishing Days.
Salmon fishing each day is based on 2 rods per beat and you will rotate beats at pre arranged times every day.
As the beats are no further than 15 minutes from the lodge you are free to take a break from the fishing at anytime and head back to the lodge for refreshments etc.
Overnight accommodation: Orklagaard lodge F/B (Single Room).
DAYS 6 & 7: (Friday & Saturday) Fishing Days.
The guiding is classed as light guiding and this means the lodge guide will spend  time with each angler each day making sure that you are fishing the right pools and of course, passing their knowledge on so you get the most out of your holiday.
 Most days, the lodge owner will be available for some qualified casting instructions free of charge. This will be a perfect opportunity to brush up on your casting skills if any is necessary.
Overnight accommodation: Orklagaard lodge F/B (Single Room).
DAY 8: (Sunday)
In the morning you will drive yourself back to Trondheim Airport and drop off hire car. Please remember to make sure that you top up your hire car with fuel (at the petrol station next to airport), as if you do not, the hire company  will charge you at a premium price for any fuel needed to fill vehicle.
Depart Trondheim
Arrive UK
Dates & Prices
Remember that Sportquest Holidays' services are completely FREE! When you book a trip with Sportquest Holidays, you never pay more than when you book directly with the lodge and flights independently. Plus what's more if you book with Sportquest Holidays your holiday is protect by our ATOL and the Travel Package Regulations Act. To see more details CLICK HERE.
Dates & prices are best viewed in landscape.
You can scroll the table left and right to view prices and availability.
Start Date
End Date
Days
Nights
Fishing
Angler
Non-Angler
Availability
14/07/2019
21/07/2019
8
7
6

£

2,930
On Request
Sold Out
21/07/2019
28/07/2019
8
7
6

£

2,930
On Request
Sold Out
28/07/2019
04/08/2019
8
7
6

£

2,930
On Request
Sold Out
07/06/2020
14/06/2020
8
7
6

£

3,185
On Request

Book Now

14/06/2020
21/06/2020
8
7
6

£

3,185
On Request

Book Now

21/06/2020
28/06/2020
8
7
6

£

3,185
On Request

Book Now

28/06/2020
05/07/2020
8
7
6

£

3,185
On Request

Book Now

05/07/2020
12/07/2020
8
7
6

£

3,185
On Request

Book Now

12/07/2020
19/07/2020
8
7
6

£

3,185
On Request

Book Now

19/07/2020
26/07/2020
8
7
6

£

3,185
On Request

Book Now

26/07/2020
02/08/2020
8
7
6

£

3,185
On Request

Book Now
Price Match Promise
We are so confident that our packaged prices are the best available and offer great value for money.
If, however, you find an identical holiday available with any other fully bonded Tour Operator at a lower price, we will match that price.
Price Notes
Prices are based on two adults sharing transfers, fishing and single room for accommodation (unless otherwise stated) and are correct at the time of going to press. Subject to time of year or date and currency fluctuations, these prices may fluctuate slightly due to flight price increases or fuel surcharge.
ATOL
Holidays or flights booked with Sportquest Holidays Limited are protected by the Civil Aviation Authority by our ATOL bond (Number 6371). ATOL protects you from losing your money or being stranded abroad. It does this by carrying out financial checks on the firms it licenses and requiring a guarantee, called a bond.
Price Supplements
n/a
Still need some inspiration
Why not enjoy browsing our destinations in the comfort of your own home.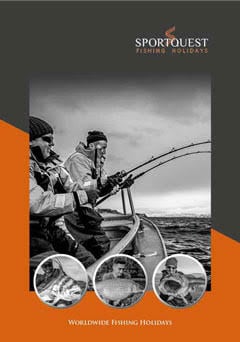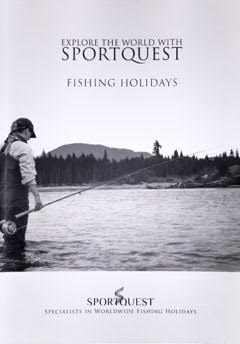 Request a free brochure
What's Included & Excluded
Included
All international flights
All accommodation as per itinerary
All meals at Lodge
All soft drinks
6 days fishing (light guided)
Excluded
Personal holiday insurance
Car hire
Petrol
Tips for guides and all camp staff
Alcoholic drinks at Lodge
Fishing license
Options
Extra Bag £55 pr bag 20 kilos
Car Hire approx £450
Tour Notes
Visa
A machine-readable passport with at least 6 months before expiry. No visa for UK citizens required.
Medical Requirements
No vaccinations currently required
Please Note
All details of visa and medical requirements are correct at time of press however please check these requirements for changes.
Departure tax
There is no additional airport departure tax when leaving Norway
Flight Route & Flight Time
UK – Trondheim (approx 2.5 hrs)
Baggage Allowance
Your actual allowance is based on both which airline you are flying with and also what class of seat you are travelling in. Normally in economy it is 1 checked bag, Premium Economy / Business 2 checked bags, First 3 checked bags. In addition to your checked bags you are also allowed 1 cabin bag and either 1-laptop bag or ladies handbag. The actual size and weight limit for bags is dependent on the airline. We therefore recommend that once your flights are booked you check on the airlines website for the up to date allowances.
If your itinerary includes private light aircraft or helicopter flights we will advise you on your baggage and weight allowance.
Transfer Time
Trondheim – Orklagaard Lodge (approx 1 hr 20 mins)
Questions & Answers
Where is the lodge?
The lodge is situated on the banks of Norway's Orkla River. It is approximately one hour fifteen minutes from Trondheim airport.
Where do they fish?
Orklagaard lodge has private fishing on over 2km of the Orkla river's banks. The largest chunk of the lodges water is a very short walk from the accommodation and since most of this is private on both banks, the two lodge rowing boats give perfect access to your fishing.
How long does it take to reach the fishing grounds?
The nearest fishing water to the lodge is only a couple of minutes walk from the back door. The furthest pools are a leisurely ten-minute stroll.
What fish will I catch?
This is a dedicated Atlantic Salmon lodge. Orkla River Salmon are large and in good numbers. In general the bigger fish will run the river at the start of June and then the bulk of the fish will come in July but this can differ from season to season depending on the weather in late spring.
How many fish will I catch?
Orklagaard is situated in arguably the best section of fishing water on the whole of the Orkla River. No Atlantic Salmon is easy to catch and Orkla River Salmon are no exception to this but given good conditions you should be able to catch with at least 1 or 2 good fish per week.
How do they fish?
The River is comparable in size to the river Dee in Scotland. Double handed rods in 13/14 ft length and 8# to 10# line rating range are used depending on water conditions. A wide range of different density lines are used depending on the water temperature. Anglers use traditional Salmon fishing methods of 'swinging' flies through Orklagaards private pools in the hope that a large Orkla river Salmon will be teased into taking. A mixture of classic Scottish and contemporary Norwegian fly patterns from small to no more than two inches are what seem to work the best.
Do the guides speak English?
The guides speak very good English and will help put you in the best possible position to catch fish and have a great week whilst at the lodge.
Who is best suited to this destination?
Any Salmon angler who loves to have easy access to private, good quality pools. Orklagaard is also a good place for guests who like relaxed non-hassle fishing weeks whilst enjoying superb hospitality.
What skill level is required?
All levels will get a lot out of a week at Orklagaard. If you are an experienced angler then you will be able to maximise the fantastic pools you have in front of you and hopefully land plenty of silver gems. Any novice Salmon anglers will be in the best of hands with experienced fishing guides looking after them. The other added bonus for novices is any weeks the lodge owner is at the lodge, he can provide qualified casting tuition free of charge.
How physically demanding is this trip?
The fishing is not of a physical nature. The only partially physical part of a week at this lodge is that the wading would be regarded as moderate and some care is needed when wading deep.
When to go?
If it is the largest Orkla River Salmon that you want to target then you stand a slightly better chance of catching one in June. July still gives you the chance of a very big fish and also has the main run of fishing so weekly catch numbers are normally increased.
How to get there?
Flights to Trondheim via Oslo are the most direct route. Once at Trondheim airport a hire car is needed to travel the 1-hour 15-minute journey to the lodge where there is ample parking for all.
What is the accommodation like?
The accommodation is very quaint. It has a traditional Scandinavian look with carved wooden outer walls and decretive inner furnishings. All bedrooms are based on single ensuite occupancy and breakfast, lunch and dinner are taken in the main lodge.
What is the food like?
The food is very good, a mixture of classic Norwegian food with a modern twist.
Does the lodge provide fishing tackle?
Yes, the lodge can provide full setups if plenty of notice is given. If flies are required they can be ordered in with plenty of notice.
Is the internet and phone signal available?
The lodge does support signal for most network suppliers.
Are there other activities available?
At present the lodge does not provide any other activities, it is looking to expand into more avenues in the future.
How much does it cost?
Sportquest Holidays offers you the complete package including all flights and transfers. To view all prices and availability click the "Dates & Prices" tab above.
Alternatively, if you wish to arrange all your own travel arrangements Sportquest Holidays can book just the lodge and fishing for you.
Tour Reviews
Sportquest Holidays is proud to be different, and one way we stand out from the crowd is our tried and trusted information we provide our customers. This information is not just provided on our own personal experiences but also REAL CUSTOMER reviews.
We are the only fishing & shooting tour operator to operate our own review system whereby customers can review both the packaged holiday and also how we performed on each destination.
How This Destination Performed
How We Performed On This Destination
How Our Customer Feedback Works
See how our customer feedback works and our latest customer reveiws.
Read More
Write a Review
Have you ever visited this destination? Why not write a review and let everyone know how you rated their services?
Write a Review