Overview
Category: Sea Fishing


If fishing for big Halibut and Plaice are something that appeals to you then the Lofoten Islands are somewhere you really must look into visiting and fishing. This holiday is an experience unlike any other, the fishing in the area of Nappstraumen can be some of the best you will find in Northern Norway with monster 2 metre plus Halibut being caught here very year. Not only is the fishing on the Lofoten Islands phenomenal the accommodation you will be staying on this camp is exceptional for Norway, these cabins are fitted out to an extremely high standard with  a smart TV, 2 bathrooms and great cooking facilities, along with all this you will also have single rooms meaning that each angler will be getting their own room. Once booked you will be getting a days guided fishing for free meaning that you will have one of the expert camp guides with you for a whole day showing you where to fish and advising on the best tactics needed to snare one of the monsters that lurk in these waters, these guides will also be on hand all week to answer any questions that you may have. This area is also what we class as weatherproof meaning that whatever the winds are doing there is always somewhere you should be able to get out to and fish. Nappstraumen is a stream in between two fjords running from south to north and it has a very strong current with a sandy bottom ideal for fish species such as Halibut and Plaice. You can also access the open sea from the cabins, which can be very productive for the larger sized Cod which Norway is so very famous for.
Location
Nappstraumen is where you will be based and this is found on the eastern side of the Lofoten Islands. This beautiful destination is set in some of the most magnificent scenery that you will find in Norway, surrounded by towering mountains that lead into a glistening fjord your breath will be taken away when you first set eyes upon this destination. The Lofoten islands are world famous for this phenomenal scenery that you will be fishing in, many artists have travelled to the Lofoten Islands and painted these landscapes also the Lofoten Islands is rated as one of the best destinations to visit to see the awe-inspiring northern lights that can be seen from September through to mid April. You will fishing into the fish rich Norwegian sea which is world renowned for it amazing eco system which produces many great fish each year to visiting anglers.  The Lofoten Islands also has its own micro climate with both temperatures and sea temps being marginally higher than other destinations in northern Norway, this is due to the positioning of the Lofoten Islands in the Gulf stream.
Fishing
The fishing from Nappstraumen can only be described as at times out of this world, this camp has a reputation for producing some truly phenomenal Halibut fishing and year after year monsters are caught from here with 2 metre plus fish being caught by visiting anglers. The fishing from here is done from the camps boats, these 23 ft Arronett aluminium boats are extremely stable and more than capable of fishing these waters and add to this a 150hp Suzuki outboard you have a fishing platform that is very impressive indeed. The Halibut fishing is done by drifting on the tide using either rubber shads or dead baits on an anti-twist rig, these are drifted at a depth near or just off the bottom. The Halibut fishing can be an adrenaline filled explosion, one minute you will be drifting along, quiet and relaxed then in a split second one of your rods will hoop over, ratchet screaming and its a case of hanging on for dear life as you do battle with one of the most powerful fish in the sea. It is not only Halibut that the Lofoten islands are famous for though, these waters hold some amazing Cod, and in the winter the Skrei Cod move in which means that the chance of a 70lb plus specimen is a real possibility. There are resident Cod here at all times of the year though with 30lb plus fish not an uncommon capture, these are fished for by drifting using both shads and pirks which can be fished at a depth you see the fish at on the sounder or just off the bottom. Along with these you will find some cracking Plaice that can be caught here using baited traces on smaller hooks with prawns and worms being the baits if choice to hook these supersized spotties. You will also find many other species to target here including Wolffish, Coalfish and very big Dabs.
Guides
When fishing at Nappstraumen you will have 2 very experienced guides on the camp. There will always be one on land during the day whilst the other is guiding customers on the boats. These guides have exemplary knowledge of the surrounding waters and will be able to give you advice on where to head to to target certain species. When booking this holiday you will get a days guided fishing for free and if you wished to then have extra days with the guide we can arrange this at a small extra cost.
Extra Activities
The town of Leknes is very close to the camp (10 minutes) and here you will find ten pin bowling and some very nice restaurants. There is also hiking to do in the surrounding areas where you will get some amazing views of the stunning scenery.
If you have any questions on our Lofoten sea fishing trips contact us in the office, our experienced team will be happy to help you with any queries you have. Additionally, you can request a free brochure.
You can see all our sea fishing holidays in Norway here.
Accommodation
Nappstraumen Luxury Cabins
These luxurious cabins overlook the impressive Nappstraumen fjord. Downstairs you will find a large bathroom with a hot shower, heated floors and a washing machine. The kitchen area has touch sensitive hobs and fan assisted oven to cook on along with a microwave. These amenities also come with all the pots, pans, trays and cutlery. Each cabin also has a dishwasher. The communal area in these cabins consists of a very comfortable corner sofa, a large dining table and stools with a smart TV. Upstairs you will find 4 rooms all holding twin sleeping arrangements along with another bathroom area.
Rooms: Single Rooms
Internet: Free WiFi
Equipment Hire
Shop: On site tackle shop
Cards Accepted: Debit/Credit card
Freezer Room: Walk in freezer
Filleting Area: Fish cleaning areas
Species Information
Cod
Season: April to September
Peak: April to June
Weight: 10lb to 80lb
Average Weight: 25lb

Halibut
Season: May to September
Peak: June to September
Weight: 20lb to 350lb
Average Weight: 50lb

Coalfish
Season: May to September
Peak: June to September
Weight: 5lb to 40lb
Average Weight: 10lb

Plaice
Season: May to September
Peak: July to September
Weight: 1lb to 8lb
Average Weight: 4lb

Suggested Itinerary
Although the fishing has set weeks, we have daily flights departing from the UK. Therefore should you wish to either extend your stay with additional days at the beginning or end in Norway, the itinerary below can be tailored to suit
DAY 1:
Depart UK (alternative routes available)
Arrive Oslo
Depart Oslo
Arrive Bodo
Depart Bodo
Arrive Leknes
On arrival you will be met and transferred to the fishing camp (Approx 10 mins).
Overnight Accommodation: Luxury Lofoten Cabins (Single rooms) S/C
DAYS 2 TO 4: Fishing Days.
Our guides will make sure that you are completely comfortable with your boats and all the equipment that is supplied. They are there to help you get the most out of your holiday and will recommend areas for you to try for your chosen species.
Some of the best Halibut grounds are only a 5-minute steam from the camp.
If there is a large group of you that want to travel to Norway, then this camp is perfect, as we have a very modern cabin that will sleep 10 people and you get 2 boats. This cabin is one of the best and most modern cabins we have.
Overnight Accommodation: Luxury Lofoten Cabins (Single rooms) S/C
DAYS 5 TO 7: Fishing Days.
The area around Lofoten is fast becoming world famous for its Halibut fishing, as at certain times of the year, the Halibut descend upon these Islands to feed up for the winter on the huge shoals of Coalfish.
The Coalfish fishing is also superb here with it producing huge catches of this species to world record sizes. So if you are after a mixed fishery then you simply do not need to look any further than the Lofoten Islands.
Overnight Accommodation: Luxury Lofoten Cabins (Single rooms) S/C
DAY 8:
In the morning your party will be transferred back to Leknes airport for your return flights.
Depart Leknes
Arrive Bodo
Depart Bodo
Arrive Oslo
Depart Oslo
Arrive UK
Dates & Prices
Remember that Sportquest Holidays' services are completely FREE! When you book a trip with Sportquest Holidays, you never pay more than when you book directly with the lodge and flights independently. Plus what's more if you book with Sportquest Holidays your holiday is protect by our ATOL and the Travel Package Regulations Act. To see more details CLICK HERE.
Dates & prices are best viewed in landscape.
You can scroll the table left and right to view prices and availability.
Start Date
End Date
Days
Nights
Fishing
Angler
Non-Angler
Availability
17/07/2019
24/07/2019
8
7
6

£

1,647
On Request
Sold Out
24/07/2019
31/07/2019
8
7
6

£

1,617
On Request
Sold Out
31/07/2019
07/08/2019
8
7
6

£

1,617
On Request
Sold Out
07/08/2019
14/08/2019
8
7
6

£

1,627
On Request
Sold Out
14/08/2019
21/08/2019
8
7
6

£

1,567
On Request
Sold Out
21/08/2019
28/08/2019
8
7
6

£

1,467
On Request
Sold Out
28/08/2019
04/09/2019
8
7
6

£

1,567
On Request

Book Now

04/09/2019
11/09/2019
8
7
6

£

1,487
On Request

Book Now

11/09/2019
18/09/2019
8
7
6

£

1,467
On Request

Book Now

18/09/2019
25/09/2019
8
7
6

£

1,617
On Request

Book Now

25/09/2019
02/10/2019
8
7
6

£

1,667
On Request

Book Now

02/10/2019
09/10/2019
8
7
6

£

1,527
On Request

Book Now

09/10/2019
16/10/2019
8
7
6

£

1,527
On Request

Book Now

16/10/2019
23/10/2019
8
7
6

£

1,527
On Request

Book Now

29/04/2020
06/05/2020
8
7
6

£

1,612
On Request

Book Now

06/05/2020
13/05/2020
8
7
6

£

1,562
On Request
Sold Out
13/05/2020
20/05/2020
8
7
6

£

1,582
On Request

Book Now

20/05/2020
27/05/2020
8
7
6

£

1,632
On Request
Sold Out
27/05/2020
03/06/2020
8
7
6

£

1,752
On Request
Sold Out
03/06/2020
10/06/2020
8
7
6

£

1,722
On Request
Sold Out
10/06/2020
17/06/2020
8
7
6

£

1,702
On Request
Sold Out
17/06/2020
24/06/2020
8
7
6

£

1,702
On Request
Sold Out
24/06/2020
01/07/2020
8
7
6

£

1,752
On Request
Sold Out
01/07/2020
08/07/2020
8
7
6

£

1,652
On Request
Sold Out
08/07/2020
15/07/2020
8
7
6

£

1,632
On Request

Book Now

15/07/2020
22/07/2020
8
7
6

£

1,742
On Request

Book Now

22/07/2020
29/07/2020
8
7
6

£

1,712
On Request
Sold Out
29/07/2020
05/08/2020
8
7
6

£

1,712
On Request
Sold Out
05/08/2020
12/08/2020
8
7
6

£

1,722
On Request

Book Now

12/08/2020
19/08/2020
8
7
6

£

1,662
On Request

Book Now

19/08/2020
26/08/2020
8
7
6

£

1,562
On Request

Book Now

26/08/2020
02/09/2020
8
7
6

£

1,662
On Request

Book Now

02/09/2020
09/09/2020
8
7
6

£

1,582
On Request

Book Now

09/09/2020
16/09/2020
8
7
6

£

1,562
On Request

Book Now

16/09/2020
23/09/2020
8
7
6

£

1,712
On Request

Book Now

23/09/2020
30/09/2020
8
7
6

£

1,762
On Request

Book Now

30/09/2020
07/10/2020
8
7
6

£

1,622
On Request

Book Now

07/10/2020
14/10/2020
8
7
6

£

1,612
On Request

Book Now

14/10/2020
21/10/2020
8
7
6

£

1,612
On Request

Book Now

21/10/2020
28/10/2020
8
7
6

£

1,612
On Request

Book Now
Price Match Promise
We are so confident that our packaged prices are the best available and offer great value for money.
If, however, you find an identical holiday available with any other fully bonded Tour Operator at a lower price, we will match that price.
Price Notes
Prices are based on four adults sharing transfers, fishing and accommodation (unless otherwise stated) and are correct at the time of going to press. Subject to time of year or date and currency fluctuations, these prices may fluctuate slightly due to flight price increases or fuel surcharge.
ATOL
Holidays or flights booked with Sportquest Holidays Limited are protected by the Civil Aviation Authority by our ATOL bond (Number 6371). ATOL protects you from losing your money or being stranded abroad. It does this by carrying out financial checks on the firms it licenses and requiring a guarantee, called a bond.
Price Supplements
Smaller sized groups
3 anglers sharing 1 cabin and 1 boat additional £195 pp
2 anglers sharing 1 cabin and 1 boat additional £585 pp
Still need some inspiration
Why not enjoy browsing our destinations in the comfort of your own home.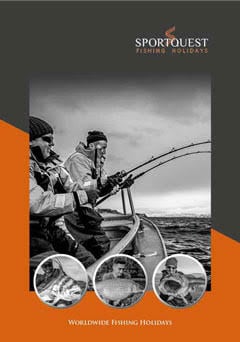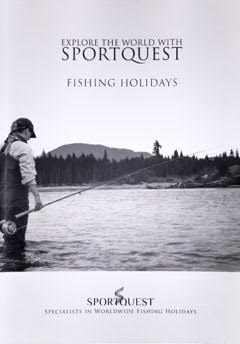 Request a free brochure
What's Included & Excluded
Included
All international flights (Based on London departure)
Transfers to and from Lofoten and Leknes
All accommodation as per itinerary
6 days fishing via self drive boat
Fishing Boat with Sonar, chart plotter (GPS), VHF & radar
Freezer storage for your fish
Access to professional guide for guidance
Bed linen, towels and final cabin cleaning
Excluded
Fuel for boat
Fishing tackle
Personal holiday insurance
Meals
Final boat cleaning
Options
Other UK departure airports are possible (additional cost) Please call a member of the Sportquest team for further information.
Fishing equipment (rod, reel, line) £50 pr week
Survival suits £40 pr week
Tour Notes
Visa
A machine-readable passport with at least 6 months before expiry. No visa for UK citizens required.
Medical Requirements
No vaccinations currently required
Please Note
All details of visa and medical requirements are correct at time of press however please check these requirements for changes.
Departure tax
There is no additional airport departure tax when leaving Norway
Flight Route & Flight Time
UK – Oslo (approx 2 hrs)
Oslo to Bodo (approx 1hr)
Bodo to Leknes (approx 40mins)
Baggage Allowance
Your actual allowance is based on both which airline you are flying with and also what class of seat you are travelling in. Normally in economy it is 1 checked bag, Premium Economy / Business 2 checked bags, First 3 checked bags. In addition to your checked bags you are also allowed 1 cabin bag and either 1-laptop bag or ladies handbag. The actual size and weight limit for bags is dependent on the airline. We therefore recommend that once your flights are booked you check on the airlines website for the up to date allowances.
If your itinerary includes private light aircraft or helicopter flights, we will advise you on your baggage and weight allowance.
Transfer Time
Leknes to Lofoten (Transfer time approx 10mins)
Tour Reviews
Sportquest Holidays is proud to be different, and one way we stand out from the crowd is our tried and trusted information we provide our customers. This information is not just provided on our own personal experiences but also REAL CUSTOMER reviews.
We are the only fishing & shooting tour operator to operate our own review system whereby customers can review both the packaged holiday and also how we performed on each destination.
How This Destination Performed
How We Performed On This Destination
How Our Customer Feedback Works
See how our customer feedback works and our latest customer reveiws.
Read More
Write a Review
Have you ever visited this destination? Why not write a review and let everyone know how you rated their services?
Write a Review
John says:
Overall Rating:
Older Kroner banknotes without the hologram are not accepted in most places in norway.
Good holiday thank you
Matt (Sportquest Holidays) says:

Thank you for the review John

Its great to hear you had a good holiday.
Frederick says:
Overall Rating:
Went to Leknes the facilities are excellent. The fishing is weather dependent but very good in open sea areas, the local bay is available in bad weather but is not nearly as productive.
The return flights were horrendous. Up at 5 in the morning and arrived at Manchester airport 12hrs later.
A direct flight would take about a couple of hours, but unfortunately is out of the question due to remote location.
However, five takeoffs and five landings with one stopover exceeding 4hrs and another of only 40 minutes, diminished by a flight delay, left us a baggage laden half marathon between gates. It is a bit of a challenge for an old geezer like me (78) and my mate of 70 hard years who occupies a well endowed waistline and whilst predominantly liquid fuelled, he is no rocket.
Overall very good but would not choose this venue again unless I could shed a few years, a few pounds, supercharge enthusiasm and develop a craving for airport hurdling.
I would however recommend the venue to those who value good fishing, large catches, very nice fishing boats, great accommodation and excellent and very professional guide. Sportquest did a crackin' admin job, were very pleasant, supportive and efficient.
Paul (Sportquest Holidays) says:

HI Fred, great to chat to you today and thanks for your very humorous feedback. I really wish we could give you better flight routes but these things are completely out of our hands and we always try and get the best most direct flight route for everyone. The Manchester flights are a lot more complicated than the London ones but are there if people wish to travel from Manchester.

Once again thank you for travelling with us and we look forward in helping you again next year

All the best

Paul
Ronald says:
Overall Rating:
Unlucky with the weather as we are all 68+ years old in our party, we only fished when it was fairly calm. Enjoyed the Plaice fishing, we also had some nice cod and a few coalfish but no luck with the halibut. Boat and cabin excellent and Martin the guide is a great chap. The cost of an extra case was excessive due to the Wideroe flight so we had to cut down on gear and could not take enough fillets home (not your fault). will go again and have pictures if you want them.
Ron Sanders
Norwegian Krona have new notes. We had a lot of money from previous trips that was not spendable, it may be a good idea to add this to your advice sheet.
Matt (Sportquest Holidays) says:

Hi Ronald

Thank you for your feedback, it sounds like you did well catching what you did.

Unfortunately in Norway the weather can prove difficult at times and if we could control it to ensure our customers had perfect weather each day we would, we hear many great things about all the Nordic guides and Martin is another guide that is keeping their reputation up as being the Number 1 company for Sea fishing in Norway.

Where are you thinking of going next?

Tight Lines

Martin says:
Overall Rating:
Good points.
Location and equipment (boat, engine, etc) were excellent, second to none. Fishing at this time of year was very good outside. Fantastic location + ease of access to boat. Communication with Sportquest always available.
Memorable moments.
High standard of fishing outside the sounds. Being guided to Moskenstraumen on our 1st day - fishing for Coalfish was excellent. Catching my 1st Halibut - only 2 caught one the camp that week.
Suggestions to make the holiday better.
A notice board / white board with info close to boats - weather forecast, wind directions, what areas are fishing well + for what species, catches from previous week, any trips that the guides are planning. Guides to show at the start which rigs work best for Halibut and Plaice (their Plaice rig was specific for that area). With less experience fisherman an idea of which area would give a lee from that days wind. Just general info left on a board to make life easier.
Areas where there could be an improvement.
Cabin was ok, clean, but a little tired. No real complaint, a camp after all. Don't think I would like to stay there in April. The bed linen (when we got it) was old + not much of it. Poor.
A small thought.
At the end of the week all flotation suit dumped outside walk in freezer. A cage or box needed perhaps (just didn't look professional). Also, the overflowing recycling bins in this are made the area messy.
Blessed with fantastic weather + location all enjoyed the trip!
Paul (Sportquest Holidays) says:

Hi Martin, thanks for you excellent detailed report. Sounds like you guys had a great trip. Well done on your Halibut

I will certainly ask the guides about the information board as I agree that that is a good idea.

I will of course pass your comments on to the guides at the camp and hopefully they will take on board the points you have raised.

All the best

Paul
Michael says:
Overall Rating:
Thanks for a great Holiday. We had some good fishing
Paul (Sportquest Holidays) says:

Hi Michael, thanks for your feedback. Great to hear you guys had good fishing

Tight lines

Paul
Eric says:
Overall Rating:
Thanks for a great Holiday
(Sportquest Holidays) says:

Hi Eric, thank you so much for your feedback. Sounds like you had a good trip

All the best

Paul
Richard says:
Overall Rating:
From the initial booking process through to the flights and transfers, everything went smoothly.
The accommodation and boats were first class. We had a good fishing experience.
Would we recommend Sportquest? Yes!
Will we be going again? Definitely!
A very professional company.
Paul (Sportquest Holidays) says:

HI Richard, thanks for taking the time to fill out your feedback form.

I personally love the Lofoten islands, the landscape, the accommodation and the boats are some of the best in Norway. It really is a great experience and thank you for your very kind words.

Tight lines

Paul
Leonard says:
Overall Rating:
Cracking holiday!
Chalet superb! Brilliant boats (local nav. chart would have been useful though).
Suggest a microwave needed in chalet.
Paul (Sportquest Holidays) says:

Hi Leonard, thanks for taking the time to fill out your feedback. Nappstraumen is an awesome place. Hope you all managed some new PB's. We are trying to put in place microwaves and hopefully next season will see all new ones

Tight lines

Paul
Justin says:
Overall Rating:
All transfers were great!
It was devastating to see certain parties at the camp keep every single fish being caught, regardless of size or weight. This is being done on an industrial scale with all fish vacuum packed, labelled and dates for re-sale.
You will have no camp left if this is not addressed urgently or when word gets out.
Would not return for that reason.
Paul (Sportquest Holidays) says:

Hi Justin, thanks for your feedback

Unfortunately the taking of the fish is out of our hands. The boarder controls are tightening up now so hopefully it will soon stop.

Sounds like you had a great trip and caught plenty. You will like Vesteralen next year

Tight lines

Paul


Melvyn says:
Overall Rating:
Thanks for organising this trip. It all went very well and was lovely first trip to Norway. I managed a couple of very nice sized Halibut, loads of Cod to 35LB and a mid 30 Coal fish.
cabins were what we expected and the guides and boats were perfect.
Thanks Sportquest
Paul (Sportquest Holidays) says:

Hi Mel, thanks for your feed back form and so glad you enjoyed your first experience of Norway. I spoke to Alan the other day and he loved it

Hopefully we can help you guys out in future trips

All the best

Paul
Les says:
Overall Rating:
The accommodation was as we expected, but had to ask for towels (which were provided) and for dish washer and TV to be repaired, which were not.
Received guided day on day 5 of holiday, after which we were much better equipped to take best advantage of holiday. This information should have been given much earlier. None of this spoilt what was a fantastic week of fishing - we still had a great time!
Paul (Sportquest Holidays) says:

Hello Les, thanks for the feedback on this destination. The points you have raised are why we do these feed back forms. i will pass on your comments to the camp owner and hopefully these issues will be addressed straight away. Sorry they were not sorted out for your stay (hopefully you had a deck of cards with you??)

So glad the week overall lived up to what you were expecting and by the sounds of it the fishing was also good

All the best

Paul
John says:
Overall Rating:
The best part was the fishing it was great! Catching 23 kg Halibut.
Paul (Sportquest Holidays) says:

Hi John, thanks for your feedback so pleased the fishing was good for you guys and we look forward to helping you out next year.

All the best

Paul
Arthur says:
Overall Rating:
Fantastic weeks fishing, aided by good weather.
The boat and camp manager were great. The toilet/shower with underfloor heating and constant hot water was fantastic.
Sleeping arrangements diabolical!
Paul (Sportquest Holidays) says:

Hello Arthur, sounds like you guys had a great weeks fishing at Lofoten. Thank you for your feedback on this destination.

So sorry about the sleeping arrangements. As soon as you called us we done everything in our power to sort this out and hopefully the situation improved after this?

I like you comment about the underfloor heating, this is something I also love and have a constant supply of hot water is not always the case in Norway on smaller destination so is a massive plus.

Thanks once again

All the best

Paul
Nicholas says:
Overall Rating:
Would go to Norway again, but earlier in the year. May - July for better fishing.
Paul (Sportquest Holidays) says:

Hi Nicholas, Thank you for your feedback.

May - July would be better for Cod fishing but the time of the year you went is very good for Halibut.

I did hear the fishing was good and the weather was also very kind to you guys.

Hopefully we will catch up soon and we can get some dates fixed for you guys to time in for the run of big Cod

All the best

Paul
RUPERT says:
Overall Rating:
JUNE1st -8th. This year we were not as lucky with the weather as we would have liked but we didn't lose any fishing time. Fishing in the sheltered waters was a little limited to smaller fish when the weather offshore was restrictive. The Arronet once more proved itself a really hardy boat which rode out the rough seas really well and enabled us to fish in conditions that most sub 10m boats just wouldn't. We manged several "firsts" with some great coalfish sport in particular. Camp was very well positioned and well equipped. The cabin was more basic than the others we have visited.
Paul (Sportquest Holidays) says:

Hi Rupert, thanks for taking time to fill out your feedback form.

Such a shame about the weather, it has been like that all over Norway. I totally agree the boats are awesome in rough conditions

Glad the Coalfish played ball and hopefully I will get to see some pictures soon.

All the best and speak soon

Paul
HOWARD says:
Overall Rating:
The camp and fishing was really good, the camp guide was excellent.
the boats were epic.
The cabin could have done with a bit more storage for our clothes, there was only one very small wardrobe for two of us and no cloths hooks in the bedroom or bathroom.
Paul (Sportquest Holidays) says:

Hello Howard, sorry for not replying sooner but have been away guiding. So glad you guys had a great time in the Lofoten Islands. It is one of my favourite places in Norway

I also love the boats and personally think that the guide onsite there is first class.

I have forwarded your comment about storage for clothes as you are not the first person to say this so hopefully they will look at resolving this issue. This is what these customer feedback forms are for, so we can act on anything that is not up to your satisfaction

What is for you guys next year?

All the best and speak with you guys soon

Paul
michael says:
Overall Rating:
Just returned from Lofoten and had an excellent time.Sometimes it was a fish a drop with haddock,coalfish to 20lb and lots of double figure cod to 37lb.We did not manage to catch any halibut and Jonathon the guide said that the water temperature was a bit high and that the halibut were out in deep water.If i went again to target the halibut i would either go in may or october. Jonathon the guide on site was excellent and nothing was to much trouble. Although i took my own rods and reels the quality of tackle on hire is excellent with shimano talica 10 reels and westin rods and also a well stocked tackle shop.The arronet boats were great and could reach speeds of up to 30 knotts and can also handle a big sea.I would certainly go back to Lofoten.
Paul (Sportquest Holidays) says:

So pleased you guys had a good time and shame about not catching a Halibut at least it gives you something to go for next year.

I totally agree with the tackle hire on site, i now never take my gear as i know the hire tackle is such great quality and yes the boats are also top quality.

Look forward to helping you in the future

All the best

Paul
Ronald says:
Overall Rating:
Long journey, but good scenery when we arrived at Norway. First days fishing, it rained all day. Managed to get out to the north on instruments as we could not see much land due to rain and low cloud. It was worth it, as we boated 29 cod, most 15lb to 20lb and Spencer had the best, a fish of 39lb. This gave us our quota of cod fillets for the three of us for our trip.
Second day we targeted the plaice. Plenty of fish, and we kept 10 fish each for filleting, and returned the rest along with some smaller dabs and codling. We tried for plaice later in the trip, and recommend changing the hooks for circles, as we found all the fish were lip hooked and easy to return. Must say, the plaice are still rather thin this time of year.
The weather was quite windy the rest of the trip, but when we got out, we had a few decent cod ,but failed to make contact with any halibut, although several were caught by other boats. The coalfish were scarce for us, just one of 10lb.but we did not target them specifically.
All in all, a good trip with excellent accommodation, 1st class rod and reel hire, and good advice from the guides.
Paul (Sportquest Holidays) says:

Hello Ron

Thank you for taking the time to fill out your feed back form.

Looks like you guys had a great trip and managed to find some quality fish, shame about the Halibut not playing ball but thats fishing. Glad you went for the Plaice as Lofoten is one of my favourite areas to fish for the Plaice.

Hopefully will speak to you soon

All the best

Paul
mark says:
Overall Rating:
Hi Paul,
Ok feed back is better than the last visit I made to napstrumen, again had some issues with the flights as you well know.
Fishing was a lot better, still needed to do a 45 minute steam to find good sized cod, biggest landed was 40 lb, most around 10 -20 lb. No halibut landed but had some cracking takes including one in the first 30 minutes of fishing that snapped a brand new rod and then 70 lb braid . Good numbers of plaice up to 3 lb and 2 at 5.5 lb.
Accommodation was better as we had one of the new cabin's on the right hand side, but there was no microwave ( not such a big deal) , no kettle (major issue) , kettle was sorted by our brilliant guide (his personal kettle) and as the week progressed we ended up with no cutlery as it was cheap plastic that snapped as we used it. When we approached the guide about this he returned with the following msg from the lady in charge, she leases the cabin from someone else and they have no control on how the cabin is stocked with item's. Also it would have been nice if the beds were made up on arrival and the sheets actually fitted the beds lol ! This isn't really criticisms just thought you should know.
Guide was Jonathan and have to say he was bloody great, on the ball when it came to advice and weather report's, and had a great sense of humour and understood British sarcasm brilliantly , I hope he is there for your hosted trip.
No doubt we will be going for a 6 year
cheers mark
Paul (Sportquest Holidays) says:

Hello Mark

Sounds like you guys had a great time and caught plenty, such a shame to have a bad end to such a good holiday. Airlines are a law unto them selves and make it very hard to actually sort things out.

I have emailed the owners of the camp you stayed at and hopefully my words may make sense to them about the plastic cutlery and mentioned that metal ones are not exactly expensive! I have been to so many Norway camps and hardly any of them have kettles and when i mention it they say "You english, thats all you think about" in a jokingly way

Jonathan is a very good guide and seems like he gets on very well with every one and it will nice to meet him when i go out there in June

Anyway, thanks Mark for your feed back and look forward to helping you next year

All the very best

Paul
Moore says:
Overall Rating:
I took 4 fishing friends to nappsraumen fishing camp on the lofoten isles in Norway, one off which was a 73 year old who had never flown before and who's bucket list wish was to catch a large cod (over ten pounds ) job done!!! What a fantastic week. We had the large cabin with plenty of space and a bedroom each, spot on. On day two, one off my friends lofty, fell over a flotation suit and dislocated his arm, Martin one of the guides took us to hospital and after a lot of exrays and pain he had it all sorted !! (Thanks Martin you were fantastic) Many thanks to Paul and Mel at sportquest for all your help and guidance for the holiday of a lifetime, if you are thinking of using sportquest to book your holiday I can recommend that you have made the right choice ( tight lines )
Paul (Sportquest Holidays) says:

Hello Trevor

Sounds like you guys had a great trip, except the dislocated arm. So happy that the guides looked after Lofty and hope he did not loose to many days fishing

Thank you for you very kind words and i shall pass them on to Mel and glad it was a holiday of a lifetime thats what makes this job so good is when we hear words like that

All the very best and if you ever want to go back give me a shout

Paul
Mat says:
Overall Rating:
Great fishing, good boats but the accommodation facilities were a let down
Paul (Sportquest Holidays) says:

Hello Mat, glad to hear the fishing was good and that every one managed to get amongst the fish. I have emailed the lodge about the facilities and just waiting to hear back.

Hopefully they will take note of what i have told them and they will act upon this information

All the best

Paul
Kenneth says:
Overall Rating:
Amazing fishing holiday.Would highly recommend Sportsquestholidays.
Paul (Sportquest Holidays) says:

Thanks for your kind words. Really pleased you guys had a great trip and caught plenty. The large cabin you guys stayed in is awesome.

Ever want to go back just call me

All the very best

Paul
john says:
Overall Rating:
I HAD A GREAT HOLIDAY BUT WOULD NOT RETURN AS I PREFER TO FISH IN T SHIRTS AND SHORTS, THIS WAS A TRIAL TRIP FOR ME AND I HAD A GOOD TIME BUT PREFER SUNNY CLIMATES
I DO HAVE ONE GRIPE I HAVE 3 TO 4 FISHING HOLIDAYS EVERY YEAR AND NOW KNOW THE PROBLEMS THAT ARISE DUE TO MY SIZE SO I DOUBLE AND TRIPLE CHECK ANYTHING THAT I CONSIDER MAY CAUSE A PROBLEM BEFORE BOOKING I RANG YOU UP AND ASKED 3 TIMES ABOUT HIRING A FLOATATION SUIT AND EXPLAINING THAT I AM 6FT 2" AND 24 STONE BUT WAS ASSURED THAT THE CAMP HAD SUITS TO FIT AND ON THE LAST TRIP TO NORWAY THERE WAS A BIGGER GUY THAN ME SUPPLIED WITH A SUIT
SADLY THIS WAS A NEW DESTINATION FOR YOU GUYS AND ALTHOUGH I ASKED YOU JUST ASSUMED AND DIDN'T DOUBLE CHECK THAT THE SUIT SIZE WOULD BE AVAILABLE,THIS TIME LAST YEAR WE WERE TOLD IT WAS -16 LUCKY FOR ME AND YOU THIS YEAR IT WAS +9 I COULDN'T EVEN GET THE SUIT ON ONE SHOULDER JUST IMAGINE IF IT HAD BEEN -16 AGAIN THIS I WOULD OF HAD TO SIT IN THE CABIN ALL DAY AS THERE IS NO WAY I WOULD OF BEEN ABLE TO GO OUT ON THE BOAT IN THOSE TEMPS SO TO PUT IT POLITELY I WOULD OF BEEN PEED OFF SO IN FUTURE PLEASE DO NOT ASSUME BUT DOUBLE AND EVEN TRIPLE CHECK AS WE ALL WORK HARD FOR OUR MONEY
HOW WOULD YOU OF FELT IF YOU HAD PAID £1600 FOR A FISHING TRIP AND YOU COULDN'T EVEN GO FISHING SO PLEASE LEARN FROM THIS AND YOU COULD SAVE YOURSELF AND CLIENTS A LOT OF BAD FEELING AND GRIEF
REGARDS JOHN
Paul (Sportquest Holidays) says:

Hi John, it was a great pleasure to finally meet you and hear many fishy stories from you. From talking to you on the phone, i was a little shocked that you wanted to go to Norway as you normally travel to much warmer places, however hoped you enjoyed the trip and may see you again one day.

Our apologies about the suit and have passed these comments on the the owner of the camp. It was wrong to have assumed there were suits big enough and like i mentioned to you that these suits do go up to Giant size and all the other camps have them and yes i should of checked for you but i truly thought that a triple xl suit would fit you.

Thanks for your feedback

Kindest regards

Paul
John says:
Overall Rating:
The weather was very mild during our week (late Sep) and Norway had experienced an unusually warm summer. Locals told us that the water temperature was too high and the halibut fishing would be better when it had fallen below 11 degrees. Sadly, this was true for us. We had decent cod and big coalfish and some fun catching plaice but the halibut eluded us.
The fishing is quite close to the camp but without venturing too far we ran up a bill of £350 for fuel. Visitors should be aware that the transfer from the airport is three and a half hours.
For those interested in the wildlife we saw a whale, dolphins and sea eagles.
The free provision of the minibus to go supermarket shopping in Leknes (10 mins) was very useful.
Paul (Sportquest Holidays) says:

Hi John

Glad you had a good time even after all the flight issues you had…. Shame about the Halibut but better luck next time.

I agree with you, the fishing is very close by and normally a fuel bill of around £350 for the week is split between 4 anglers making it around £85 per person which for Norway prices isn't to bad

The area around Lofoten is rich with wildlife and even if the fish are not biting then there is always something to look at

Where next then John?

Hopefully will catch up with you soon

Paul
Harold says:
Overall Rating:
What a great trip, was much more than we ever imagined. From the fishing to the guides that are on hand 24hrs a day. We would like to send our thanks to head guide, Fredrik, who helped us old gits get on to the fish every time he took us out. The halibut fight so hard and with out his help and guidance we would of never landed these huge fish
Thanks from the Old Gits
Paul (Sportquest Holidays) says:

Thanks Old gits!…….. i shall pass your regards on to Fredrik and i agree he is one of the best guides i have fished with in Norway

Halibut do pull hard and if its a big one takes great skill to land

Regards

Paul
Peter says:
Overall Rating:
When we contacted Sportquest Holidays and enquired about going to Norway for some Halibut, we never realised that they fought so hard. we only managed to land a couple each and thats because they were on the small size. we hooked so many Halibut that we couldnt stop, they just seemed to pull so much line from our reels!
We will be back next year once we have been to the gym....
Paul (Sportquest Holidays) says:

Peter, tell me about it i have also hooked Halibut that have almost spooled me. Lofoten has some superb Halibut fishing and all very close to the camp.

Once you have built your arms a bit more give me a call

Regards

Paul
Barry says:
Overall Rating:
We contacted you about a destination that was very good for Plaice and you kindly recommended your Lofoten Cabins. we have been a few times before to different places and never experienced Plaice fishing like this any where in Norway. You were spot on with recommendations of what tackle etc to take and the other plus about this place was the guides that are at your disposal 24hrs a day
Thanks for all your help
Paul (Sportquest Holidays) says:

I remember talking to you in great detail about the best destinations for Plaice and i think this one is my personal favourite. The guides at the camp are also spot on with their advice

It was our pleasure to help you and your party

Regards

Paul
Leon says:
Overall Rating:
Thanks for such a great trip, we will book for next year highly recommended
Paul (Sportquest Holidays) says:

Glad you liked it Leon, and they have roughly the same dates left for next year if you are up for it?

Speak soon

Regards

Paul
Tony says:
Overall Rating:
Brilliant Cabins, excellent guides and superb fishing. A big thanks to the guys in the office for all your help at such short notice, a little cold but i guess thats Norway
Paul (Sportquest Holidays) says:

Hi Tony, i totally agree the cabins are great and did you get a chance to look around the 10 bed cabin? it may of not been finished when you were there but it looks very modern

Regards

Paul
Raymond says:
Overall Rating:
The fishing and boats we excellent, the accommodation is a little basic but a great trip.
Paul (Sportquest Holidays) says:

Thank you for taking the time to talk on the phone, glad you had a good time fishing, sorry that you found the accommodation basic, may be I did not explain this properly as all the cabins in Norway are just basic log cabins. We do offer some other fishing destinations in Norway with hotel accommodation, but again this does tend to be on the basic side. Regards Paul