Overview
Category: Sea Fishing


Sørøya is known as one of the best sea fishing locations in the world with it being home to the world record rod and reel caught Cod at 104lb, with this in mind we have partnered up with Big Fish Adventures to offer UK anglers the opportunity to venture to "the land of the big fish". The destination of Soroya is world famous for the big fish that inhabit these waters, in the winter the monster Skrei cod move into the area and will provide visiting anglers with some truly amazing sport. it is not only the fantastic Cod fishing that Soroya is world famous for, this area also produces some fantastic Halibut fishing in the Summer months with 2 metre plus fish caught here every year. This camp has guides available who are always willing to offer advice and help when they are needed.
Location
This destination is a camp called Hasvik on the island of Soroya which is in Northern Norway, the destination of Hasvik in Soroya is one that many anglers will have heard of. This destination is famed for its amazing fishing and is produces some truly fantastic Skrei cod fishing. This Island is a truly magical destination and one that any self respecting sea angler just has to visit, with its many fjords and access to the open sea this is a destination that can be fished in most weathers. With the airport being a very short drive away, once landed you will be at the camp in no time at all meaning no long transfers once you have arrived.
Fishing
The main season for catching enormous Skrei Cod is March and April. This is when the massive shoals of Skrei Cod travel from the Barents Sea to the spawning grounds located around the north of Norway. Sørøya is not just about the early season Cod, each year Sørøya produces giant Halibut in excess of 200lb. It is also home to many other species such as the mighty hard fighting Coalfish and the Redfish. The majority of your fishing here will be done from your boat using shads or dead-baits depending on which species you are looking to target, you can also catch Plaice and other smaller species by scaling down your tactics if you wish.
Most anglers will choose the self-drive option as this allows them to go to sea when it suits them. We have 45 boats from 19 feet, 22ft, 23ft and 25ft here is a bit of information about the new boats. The 19ft aluminium boats are spacious,  they have 50 Hp four-stroke engines and are equipped with sonar and GPS. 3-4 people can fish comfortably on board and life vests are included of course. we also have 2 upgrade options available first the Kaasbøll 660SC is a good looking, fast and stable 22-footer, and with its delicate and sporty shape it cuts nicely through rough seas. It has a deep V-bottom, which provides very good sea going characteristics. This is a solid boat for people who want to move quickly out to the banks, even when the weather is a bit choppy. The second option is the  Kaasbøll 760HT which is a large, powerful aluminium boat with a hardtop centre-console. Its modern and sporty design makes it a very desirable boat to fish from. It has a slim and deep V-bottom that makes this a boat that can withstand rough sea at high speed. With four people you'll have more than enough space.
Both of our upgraded boats are equipped with two Garmin echoMAP 92s and the GT51-M transducer. With this rig you will be able to use normal sonar and also downview and sideview options. With this transducer you can easily sea fish down to 300-400 metres. They will also be equipped with Zipwake which is a dynamic trim-control system, that automatically calculates the weight shift on the boat and compensates for this. What that means in practice is that the boat will remain correctly angled while driving, making the V-bottom work optimally. The system has a very good and reliable automatic mode, so you don't have to trim it manually. The engines of the models are the trusty Yamaha F150DETX. models, we have had Yamaha on all our boats and have had very few problems during our 16 years. We are confident that this is the engine that is the best for our guests.
Guides
There are guides at the camp of Soroya who will be willing to help with any questions you may have, we can also organise days with the guide and even fully guided holidays at extra cost. Ask one of our sea fishing team in the office for more information on this.
If you have any questions on our Sørøya fishing trips you can contact us in the office, our sea fishing team will be happy to help you with any queries you have. Additionally, you can request a free brochure.
Accommodation
The accommodation has two options. The first is based on our standard Norwegian cabins that sleep 4 people(single beds and bunk beds). These are self-catering units with all the mod cons needed. The kitchen and living room are an open space. The kitchen has a refrigerator, stove, microwave oven, coffee machine, kettle, dishwasher, and anything else you may need for simple cooking.  The apartment has a TV set with a channel package and wireless internet. These cabins have spacious living areas and bathrooms.
Altrenatively you can upgrade to the new cabins, each house has two floors over a total of 86 square metres, and six beds distributed over three bedrooms. On the first floor you have two bedrooms, a bathroom with shower and washing and drying room. The first floor also has a terrace heater so you can sit and enjoy the stunning view even during the cold days!
If you walk up the stairs the open kitchen and living room welcomes you and if you turn your head right you get a jaw dropping view with the whole wall being made out of windows! There is also a balcony you can enjoy your morning coffee on.
The kitchen has a stove, dishwasher, fridge with a small freezer, coffee machine and a microwave etc.
There is also a bathroom and a bedroom on the second floor.
Rooms: Twin
Internet: WiFi
Equipment Hire: Onsite tackle shop
Shop: Tackle shop
Cards Accepted: Debit / Credit Card
Cash Accepted: Norwegian Kroner
Freezer Room: Walk in Freezer
Filleting Area: At the top of the marina
Species Information
Cod
Season: March to September
Peak: March & April
Weight: 5 lb to 65 lb
Average Weight: 20 lb

Skrei Cod
Season: March & April
Peak: March & April
Weight: 15 lb to 104 lb
Average Weight: 35 lb

Halibut
Season: May to September
Peak: July to September
Weight: 20 lb to 450 lb
Average Weight: 80 lb

Plaice
Season: May to September
Peak: September
Weight: 1 lb to 10 lb
Average Weight: 4 lb

Coalfish
Season: May to September
Peak: July
Weight: 2 lb to 45 lb
Average Weight: 10 lb

Redfish
Season: April to September
Peak: September
Weight: 1 lb to 18 lb
Average Weight: 5 lb

Haddock
Season: May to September
Peak: July & August
Weight: 1 lb to 12 lb
Average Weight: 4 lb

Suggested Itinerary
The below itinerary is only a suggested one, as we have regular flights departing from the UK, therefore should you wish to extend your stay with either more fishing days or free days, the itinerary below can be tailored to suit.
DAY 1:
Depart London Heathrow with SAS
Arrive Oslo
Depart Oslo
Arrive Tromso
Depart Tromso
Arrive Hasvik
Once you have picked up your luggage and cleared customs, make your way outside of the terminal where there will be a representative from Big Fish Adventures waiting to transfer you to your accommodation.
You are then free to unpack and get your fishing tackle ready for your very first days fishing.
Overnight Accommodation: Sørøya Cabins (Twin rooms) S/C
DAYS 2 & 3: Fishing Days.
As you have your own boat there is no time limit to how much or how little you wish to fish and even at certain times of the year, it remains daylight for 24hrs.
There are so many different areas around Sørøya from close in excellent Halibut marks to areas unexplored in the open ocean.
Overnight Accommodation: Sørøya Cabins (Twin rooms) S/C
DAYS 4 & 5: Fishing Days.
Our guides at this camp will be on hand each day to help you get the most out of your stay with them. If you let us know well in advance it is even possible to book either a single days guided fishing or even a full week of guided fishing
Overnight Accommodation: Sørøya Cabins (Twin rooms) S/C
DAYS 6 & 7: Fishing Days.
The fjord outside of your accommodation is a great area if the weather is rough and you can normal find some very good fishing for Halibut, Wolfish and even some super huge Plaice
Overnight Accommodation: Sørøya Cabins (Twin rooms) S/C
DAY 8:
In the morning you will check out of your cabin and then be transferred back to Hasvik airport for your return flight.
Depart Hasvik
Arrive Tromso
Depart Tromso
Arrive Oslo
Depart Oslo
Arrive London Heathrow
Dates & Prices
Remember that Sportquest Holidays' services are completely FREE! When you book a trip with Sportquest Holidays, you never pay more than when you book directly with the lodge and flights independently. Plus what's more if you book with Sportquest Holidays your holiday is protect by our ATOL and the Travel Package Regulations Act. To see more details CLICK HERE.
Dates & prices are best viewed in landscape.
You can scroll the table left and right to view prices and availability.
Start Date
End Date
Days
Nights
Fishing
Angler
Non-Angler
Availability
17/07/2019
24/07/2019
8
7
6

£

1,384
On Request

Book Now

24/07/2019
31/07/2019
8
7
6

£

1,424
On Request

Book Now

31/07/2019
07/08/2019
8
7
6

£

1,374
On Request

Book Now

07/08/2019
14/08/2019
8
7
6

£

1,459
On Request

Book Now

14/08/2019
21/08/2019
8
7
6

£

1,334
On Request

Book Now

21/08/2019
28/08/2019
8
7
6

£

1,334
On Request

Book Now

28/08/2019
04/09/2019
8
7
6

£

1,324
On Request

Book Now

04/09/2019
11/09/2019
8
7
6

£

1,359
On Request

Book Now

11/09/2019
18/09/2019
8
7
6

£

1,329
On Request

Book Now

18/09/2019
25/09/2019
8
7
6

£

1,334
On Request

Book Now

25/09/2019
02/10/2019
8
7
6

£

1,344
On Request

Book Now

04/03/2020
11/03/2020
8
7
6

£

1,385
On Request

Book Now

11/03/2020
18/03/2020
8
7
6

£

1,385
On Request

Book Now

18/03/2020
25/03/2020
8
7
6

£

1,585
On Request
Sold Out
25/03/2020
01/04/2020
8
7
6

£

1,585
On Request
Sold Out
01/04/2020
08/04/2020
8
7
6

£

1,385
On Request

Book Now

08/04/2020
15/04/2020
8
7
6

£

1,425
On Request

Book Now

15/04/2020
22/04/2020
8
7
6

£

1,535
On Request

Book Now

22/04/2020
29/04/2020
8
7
6

£

1,390
On Request

Book Now

29/04/2020
06/05/2020
8
7
6

£

1,385
On Request

Book Now

06/05/2020
13/05/2020
8
7
6

£

1,415
On Request

Book Now
Price Match Promise
We are so confident that our packaged prices are the best available and offer great value for money.
If, however, you find an identical holiday available with any other fully bonded Tour Operator at a lower price, we will match that price.
Price Notes
Prices are based on four adults sharing transfers, fishing and accommodation (unless otherwise stated) and are correct at the time of going to press. Subject to time of year or date and currency fluctuations, these prices may fluctuate slightly due to flight price increases or fuel surcharge.
ATOL
Holidays or flights booked with Sportquest Holidays Limited are protected by the Civil Aviation Authority by our ATOL bond (Number 6371). ATOL protects you from losing your money or being stranded abroad. It does this by carrying out financial checks on the firms it licenses and requiring a guarantee, called a bond.
Price Supplements
n/a
Still need some inspiration
Why not enjoy browsing our destinations in the comfort of your own home.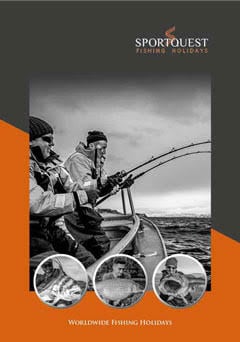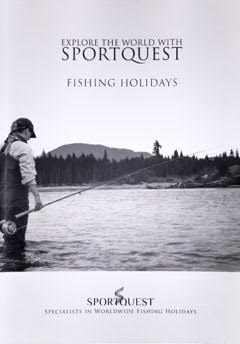 Request a free brochure
What's Included & Excluded
Included
All international flights (Based on London departure)
Internal flights
Transfers to and from Cabin to Hasvik
All accommodation as per itinerary
6 days fishing via self drive standard 19ft boat
Fishing Boat with Sonar, chart plotter (GPS) & VHF
Freezer storage for your fish
Access to professional guide for guidance
Bed linen, towels and final cabin cleaning
Excluded
Fuel for boat
Fishing tackle
Personal holiday insurance
All meals
Final boat cleaning
Options
Other UK departure airports are possible (additional cost) Please call a member of the Sportquest team for further information.
Additional luggage can be added, please enquire about up to date prices.
Welcome pack – Milk, juice, bread, eggs, ham, cheese, salad, fruit, coffee and tea (Please enquire at the time of booking)
Tour Notes
Visa
A machine-readable passport with at least 6 months before expiry. No visa for UK citizens required.
Medical Requirements
No vaccinations currently required.
Please Note
All details of visa and medical requirements are correct at time of press however please check these requirements for changes.
Departure tax
There is no additional airport departure tax when leaving Norway.
Flight Route & Flight Time
UK – Oslo (approx 2.5 hrs) Oslo to Tromso (approx 1hr 55 mins) Tromso to Hasvik (Approx 1hr 18 mins)
Baggage Allowance
Your actual allowance is based on both which airline you are flying with and also what class of seat you are travelling in. Normally in economy it is 1 checked bag, Premium Economy / Business 2 checked bags, First 3 checked bags. In addition to your checked bags you are also allowed 1 cabin bag and either 1-laptop bag or ladies handbag. The actual size and weight limit for bags is dependent on the airline. We therefore recommend that once your flights are booked you check on the airlines website for the up to date allowances.
If your itinerary includes private light aircraft or helicopter flights, we will advise you on your baggage and weight allowance.
Transfer Time
Hasvik to Cabins (approx 10 mins)
Questions & Answers
Where is the Lodge?
The cabins are located on an Island called Sørøya, which is in the very north of Norway. It is a small rocky island with the highest point only being 659 metres above sea level. The coastline is very jagged and has numerous fjords that cut into the island from the open ocean.
Where do they fish?
The cabins are far North, next to the Barents Sea, with the fishing grounds right outside the window. The proximity to the Gulf Stream gives us ice-free ports, and despite the harsh climate, deep-sea angling conditions are usually good. You have many fjords to fish and with the cabins being located at the end of a fjord, this gives fishing in rough conditions a much better chance.
How long does it take to reach the fishing grounds?
The Skrei fishing grounds can be found as close as 15 minutes and up to 45 minutes from the harbour. Some of the closest Halibut grounds are only a couple of minutes away but better areas are around 40 minutes away.
What fish will I catch?
The main draw to Sørøya is the huge run of Skrei Cod. These grow to huge sizes and a 50lb Cod caught here is not seen as a big fish. Another species that you will be targeting is the super large Flatfish, the Halibut. These can grow well over 400lb. You will be able to target the Coalfish but it's not renowned for the really big ones. The Plaice fishing is also very good along with Wolfish and the fairly rare Grey spotted Wolfish.
How many fish will I catch?
If you decide to travel to Sørøya when the Skrei Cod run is happening, March and April. Normal times of the year you can expect to catch around 20 Cod a day. The Halibut fishing, on the other hand, is a little slower but remember you are targeting trophy fish and these tend to spend the majority of their time alone. 
How do they fish?
The main way of fishing in Norway is by drift fishing using either lures, baits or pirks. You can also troll at a very low speed for the Halibut and Coalfish.
Do the guides speak English?
All our guides in Norway speak many different languages including fluent English.
Who is best suited to this destination?
For the Skrei season (March/April) you will need to be fairly fit as the days tend to be long and the weather is normally cold. The summer season is suitable for all levels of fitness and age.
What skill level is required?
There is no skill level required for fishing in Norway. A general knowledge of boat fishing would be helpful but not necessary as most of our Norway destinations have guides onsite to help you get the most out of your holiday. 
How physically demanding is this trip?
On the whole, you do not have to be physically fit for this holiday but you need to be able to stand and fish from a boat all day. It is a very short walk to the boats.
When to go?
The main Skrei season runs from March to April but please be aware that it is likely you will lose fishing time due to bad weather. If you want to target the Halibut then May until October.
How will I get there?
The best route to get to Soroya is via London Heathrow with SAS. This route will cut out the need to overnight in Oslo, we will be able to get you there in one day. If it is from other UK airports you will need to speak to a member of our staff for further details.
What is the accommodation like?
At this destination, we have two different styles of accommodation. The one we have based the itinerary on is the standard 4 person self-catering cabins. These are very roomy, have their own kitchens with all mod cons plus two twin bedrooms with single beds. There is an upgrade available if you would like to stay in the hotel. This is a full board option. These rooms in the hotel are spacious and come with 2 single beds.
What is the food like?
The food in the hotel and restaurant is very fresh. It is cooked from locally sourced produce. The food shops locally have all the same goods in them as you would find in any UK supermarket.
Does the lodge provide fishing tackle?
Big Fish Adventures offer complete hire fishing packages and you can hire flotation suits.
Is the internet and phone signal available?
The phone signal all over Norway is very good, even in the remotest of areas. The Wi-Fi is available around the camp and is good for emails, social media and making video chats.
Are there other activities available?
The Island of Sørøya is fairly remote so the only other activities on offer are walking and visiting the local pub.
How much does it cost?
Sportquest Holidays offers you the complete package including all flights and transfers to view all prices & availability click the "Dates & Prices" Tab above.
Alternatively, if you wish to arrange all our own travel arrangements Sportquest Holidays can book just the lodge and fishing for you.
Tour Reviews
Sportquest Holidays is proud to be different, and one way we stand out from the crowd is our tried and trusted information we provide our customers. This information is not just provided on our own personal experiences but also REAL CUSTOMER reviews.
We are the only fishing & shooting tour operator to operate our own review system whereby customers can review both the packaged holiday and also how we performed on each destination.
How This Destination Performed
How We Performed On This Destination
How Our Customer Feedback Works
See how our customer feedback works and our latest customer reveiws.
Read More
Write a Review
Have you ever visited this destination? Why not write a review and let everyone know how you rated their services?
Write a Review
Stephen says:
Overall Rating:
The hotel was a great option. Food, drink hospitality first class. Armed the proprietor would love to see somebody from Sportquest. He is very proud of his operation and would love more english.
New housing, dock and boats represent large investment. We all took far too much equipment, its all there at UK prices. The fishing was made difficult by the weather.
Paul (Sportquest Holidays) says:

Hello Stephen, so glad you liked the set up. The guys over there have made huge investments and by the sounds of it, it shows. I would love to go over there right now but a little too busy, it will have to wait until March 2020 when I am running a hosted trip after the Cod.

All the best

Paul
Iain says:
Overall Rating:
Fishing out this world people running big fish adventures spot on on very helpful and there if needed
Paul (Sportquest Holidays) says:

Hello Iain thank you for taking the time to send us your feedback. Soroya is a true big fish destination offering some of the best cod fishing in Norway. They kept us informed on how you were getting on and by the sounds of it, it went very well

Tight lines

Paul