Overview
The giant dinosaurs of the Fraser River also known as the White Sturgeon attract many anglers from across the globe and it comes as no surprise that anglers tend to return year after year to try and beat their personal best. With Sturgeon averaging between 75–200lbs now being the norm this is an action-packed wilderness adventure not to be missed.
Everything has been carefully put together on this holiday including flights,  airport transfers, accommodation and some of the best guides in Chilliwack. On top of this, all fishing tackle and bait are included.  You will have a guide per boat and these guides have been fishing the Fraser River for many years. They will take you to their hotspots and pass on their vast amount of knowledge.
Location
With its year-round action, any travelling angler can expect a full-on Sturgeon fishing adventure and when you combine this with guides who have exceptional knowledge, you will be in a fishing paradise. This part of Canada is world famous for its huge run of the White Sturgeon and it's not just the number that are present, it's the size that attracts anglers from around the world as these prehistoric beasts grow very large and fight very hard. The fishing takes place from a town called Chilliwack which is the perfect base for your adventure and with it only being a short 40-minute drive from Vancouver.
Fishing
The style of Sturgeon fishing on the Fraser River is arm aching, some fights can last over 4 hours especially when hooked up to a 10ft plus fish. But the ache is worth it when you see a Sturgeon giving an aerial display as they begin to battle. On average the White Sturgeon on the Fraser river tend to be on average 75–200lbs but each week there is always a couple of very special fish caught and these special ones are what keeps anglers coming back.
The main method of fishing is with a zip slider lead of a couple of pounds and a long hook length leading down to your bait. Bait varies throughout the year and will always depend on what bait is running the river at your chosen time. The bait and lead are then cast behind the boat and the rods are then placed in rod holders on the boat. You will then sit back whilst watching the tip of the rod, but keep your eyes peeled as some bites are very twitchy and the tip may just tremble a couple of times, but more times than not the rod will just hoop over and the battle will commence. The rods and reels you will be using are mainly uptide rods with very good quality multipliers.
Each day your guide will pick you up from the designated area outside of your hotel, this will be discussed with you when you arrive, they will then take you down to the jetty where your state of the art jet boat will be waiting to take you out for your full days fishing. The jet boats you will be fishing from are 21–24 ft aluminium boats powered by 300hp inboard V8 engines. All boats are equipped with a full top, complete with side windows and back-drop curtains, as well as heaters. Every boat is professionally outfitted with all the fishing equipment you will need to enjoy your day on the Fraser River. Most importantly, your boat is operated by a safe, conscientious and professional fishing guide.
Guides
The Sturgeon fishing guides are a hand-picked crew that reflect the positive attributes required to be working in this industry. They have a passion for fishing, q desire to succeed in meeting and exceeding your expectations, a great sense of humour and a very friendly persona.
Other Activities
Chilliwack is a vibrant town, rich in history, tons of outdoor adventures so why not make a family holiday out of your fishing adventure. We can organise numerous hikes, spend an afternoon golfing, walking around the numerous shops and museums.
If you have any questions about our Sturgeon fishing trips contact our expert team who will be happy to answer any queries you have. Alternatively, you can request a free brochure.
Accommodation
Our very modern stylish hotel in the heart of Chilliwack is surrounded by some of the most stunning rivers, parks and mountain views. It is located in a prime area for tourists, as it is minutes away from many non-angling activities such as shopping, movies, live theatres and many sports bar.
This hotel has a superb indoor pool, hot tub and sauna and if that's not enough, why not take a seat in our Euro-Asian inspired dining experience called Preston's, where you will be amazed at some of the finest Asian food all cooked in house by our chef.
The Coast hotel was recently renovated and features a newly built 5,000 square foot meeting space for friendly gatherings or corporate events.
We have also added a complete fitness facility featuring many cardio machines and weights so you can keep up with your fitness regime whilst on your holiday.
Board: Room only
Rooms: Single, double & twin available
Telephone: In room
Internet: Free WiFi
Laundry: Chargeable
Power: 110 Volts
Air Conditioning: Throughout hotel
Meals: Hotel restaurant
Alcohol: Available to purchase
Cards Accepted: Debit & credit cards
Cash Accepted: Canadian Dollars
Species Information
Sturgeon
Season: April to November
Peak: June to October
Weight: 20lb to 1000lb
Average Weight: 100lb

King / Chinook Salmon
Season: May to October
Peak: 21 June to 12 August
Weight: 10lb to 60lb
Average Weight: 20lb

Chum Salmon
Season: August to October
Peak: 10 August to 19 September
Weight: 5lb to 16lb
Average Weight: 10lb

Sockeye / Red Salmon
Season: August to October
Peak: 20 August to 27 September
Weight: 4lb to 12lb
Average Weight: 8lb

Pink Salmon (Odd years)
Season: August to September
Peak: 19 August to 15 September
Weight: 2lb to 6lb
Average Weight: 4lb

Coho / Silver Salmon
Season: September to December
Peak: 15 October to 15 November
Weight: 6lb to 20lb
Average Weight: 12lb

Suggested Itinerary
The below itinerary is only a suggested one as we have daily flights departing from the UK, therefore should you wish to extend your stay with either more fishing days or free days, the itinerary below can be tailored to suit.
DAY 1:
Depart UK (alternative routes available)
Arrive Vancouver
After you have picked up your luggage and cleared customs, walk through to the public meeting area where a Sportquest Holidays representative will meet you.
Transfer via private car to the Coast Hotel in Chilliwack.
Overnight Accommodation: Coast Hotel Chilliwack (Twin rooms) R/O
DAY 2: Fishing Day.
Early morning our guide will pick you up from your accommodation and drive down to the river for 8hrs guided fishing.
Overnight Accommodation: Coast Hotel Chilliwack (Twin rooms) R/O
DAY 3: Fishing Day.
Each day you will be picked up from your hotel and driven to the river for your days fishing.
Overnight Accommodation: Coast Hotel Chilliwack (Twin rooms) R/O
DAY 4: Fishing Day.
Each day you will be exploring new areas and targeting the mighty Sturgeon on top quality tackle.
Overnight Accommodation: Coast Hotel Chilliwack (Twin rooms) R/O
DAY 5: Fishing Day.
Each day on the way to new and exciting fishing spots, you will experience some of the most stunning scenery Canada has to offer.
Overnight Accommodation: Coast Hotel Chilliwack (Twin rooms) R/O
DAY 6: Fishing Day.
Each day you will enjoy full 8hrs fishing from your jet boats allowing you and your guide to explore and access the best remote fishing spots.
Overnight Accommodation: Coast Hotel Chilliwack (Twin rooms) R/O
DAY 7: Fishing Day.
Last days fishing you and your guide will explore and access the best remote fishing spots all before returning to your hotel around 4.30PM.
Overnight Accommodation: Coast Hotel Chilliwack (Twin rooms) R/O
DAY 8:
After checking out of the Coast Hotel, our representative will be waiting to transfer you back to Vancouver International Airport for your return flight home.
Depart Vancouver
DAY 9:
Arrive UK
Dates & Prices
Remember that Sportquest Holidays' services are completely FREE! When you book a trip with Sportquest Holidays, you never pay more than when you book directly with the lodge and flights independently. Plus what's more if you book with Sportquest Holidays your holiday is protect by our ATOL and the Travel Package Regulations Act. To see more details CLICK HERE.
Dates & prices are best viewed in landscape.
You can scroll the table left and right to view prices and availability.
Start Date
End Date
Days
Nights
Fishing
Angler
Non-Angler
Availability
01/05/2019
31/05/2019
9
8
6

£

1,862
On Request

Book Now

01/06/2019
21/06/2019
9
8
6

£

2,012
On Request

Book Now

22/06/2019
30/06/2019
9
8
6

£

2,468
On Request

Single Angler

02/07/2019
31/07/2019
9
8
6

£

2,112
On Request

Book Now

01/08/2019
31/08/2019
9
8
6

£

2,162
On Request

Book Now

10/08/2019
18/08/2019
9
8
6

£

2,468
On Request

Single Angler

01/09/2019
30/09/2019
9
8
6

£

1,912
On Request

Book Now

01/10/2019
31/10/2019
9
8
6

£

1,812
On Request

Book Now

01/11/2019
30/11/2019
9
8
6

£

1,662
On Request

Book Now

01/05/2020
31/05/2020
9
8
6

£

2,017
On Request

Book Now

01/06/2020
22/06/2020
9
8
6

£

2,167
On Request

Book Now
Price Match Promise
We are so confident that our packaged prices are the best available and offer great value for money.
If, however, you find an identical holiday available with any other fully bonded Tour Operator at a lower price, we will match that price.
Price Notes
Prices are based on four adults sharing transfers, fishing and accommodation (unless otherwise stated) and are correct at the time of going to press. Subject to time of year or date and currency fluctuations, these prices may fluctuate slightly due to flight price increases or fuel surcharge.
ATOL
Holidays or flights booked with Sportquest Holidays Limited are protected by the Civil Aviation Authority by our ATOL bond (Number 6371). ATOL protects you from losing your money or being stranded abroad. It does this by carrying out financial checks on the firms it licenses and requiring a guarantee, called a bond.
Price Supplements
3 anglers sharing 1 boat and 1 guide in 1 twin and 1 single bedded rooms: Additional £300 Per Person
2 anglers sharing 1 boat and 1 guide in 1 twin bedded room: Additional £670 Per person
Still need some inspiration
Why not enjoy browsing our destinations in the comfort of your own home.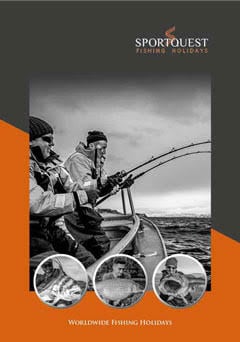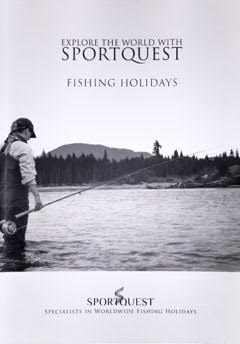 Request a free brochure
What's Included & Excluded
Included
All international flights
Transfers to and from Coast Hotel to Vancouver
All accommodation as per itinerary
Access to professional guide
State of the art Jet boat
6 days Guided fishing
Bait and tackle
Canadian taxes
Excluded
Personal holiday insurance
Personal items
Canadian eTA
All meals
Local tips
Fishing licence
Options
Alternative flights with British Airways
Flight upgrades
Single room upgrades available
Breakfast can be pre booked at an additional £8 per person per day
Lunch can be pre booked at an additional £10 per person per day
Tour Notes
Visa
A machine-readable passport with at least 6 months before expiry. The Canadian Government announced that from 15th March 2016 certain visitors flying into Canada will require an Electronic Travel Authorisation (eTA).
If you do not normally require a visa to enter Canada (e.g. British Citizens), you will need to get an eTA.
The cost to apply for an eTA is $7 (CAD) per person, which is paid at the time of application.
Medical Requirements
No vaccinations currently required
Please Note
All details of visa and medical requirements are correct at time of press however please check these requirements for changes.
Departure tax
There is no departure tax from Canada
Flight Route & Flight Time
UK – Vancouver (approx 10 hrs)
Baggage Allowance
Your actual allowance is based on both which airline you are flying with and also what class of seat you are travelling in. Normally in economy it is 1 checked bag, Premium Economy / Business 2 checked bags, First 3 checked bags. In addition to your checked bags you are also allowed 1 cabin bag and either 1-laptop bag or ladies handbag. The actual size and weight limit for bags is dependent on the airline. We therefore recommend that once your flights are booked you check on the airlines website for the up to date allowances.
If your itinerary includes private light aircraft or helicopter flights we will advise you on your baggage and weight allowance.
Transfer Time
Vancouver – Coast Hotel (Transfer time approx 1.5 hrs)
Questions & Answers
Where is the hotel?
 The hotel where you will be staying for the week is in a town called Chilliwack. The town has many bars, restaurants and cafes and along with these, there are many shops and other attractions.
Where will I fish?
The guides each day will pick you up from outside of the hotel and take you the short drive to the river where they will launch the boats ready for your day ahead. The fishing is mainly performed on the Fraser River, however, if the guides think that some of the side streams maybe worth targeting then they will advise you on the day.
How long does it take to reach the fishing grounds?
The Fraser River is a very wide and long river, some of the fishing grounds are opposite the launch ramp and some can be as far up or downstream as 45 minutes. The guides will on each day let you know where you will be fishing and how far the fishing grounds they intend on travelling to are. Each day you will fish different spots until the guides have located good feeding areas.
What fish will I catch?
Each day you will be targeting White Sturgeon as the Fraser River is the best place in the world for these mighty fish.
How many fish will I catch?
This all depends on the time of year you are travelling. April and October are good months for the bigger fish but you will not be catching as many. The warmer months will see the catch rate go up a lot and is sometimes harder to find the really big ones but who would complain about catching 4 – 7 ft Sturgeon. 
How do they fish?
All the fishing is performed from a state of the art jet boat. There will be quality rods and multipliers set up each day with heavy running weights and fish baits. These are cast out downstream of the boat and the clutch is loosened and then the fun begins.
Do the guides speak English?
 The guides speak perfect English.
Who is best suited to this destination?
 This style of fishing is open to all abilities and age. The guides are there to help you to land your dream fish, albeit a small Sturgeon or a huge one.
What skill level is required?
General knowledge of fishing from a boat is an advantage but not necessary. The guides are there to help you achieve what you want out of your holiday.
How physically demanding is this trip?
On whole, the trip is not that physical apart from playing the fish. The boats are very easy to walk around with a big fishing platform at the rear. The walks to the boat are very small and are on the hard ground, so no clambering over wet rocks to get in a boat.
When to go?
The season runs from April to end of October with peak time being September and October.
How to get there?
The best route to get to Vancouver from the UK is London Gatwick to Vancouver as these are direct flights. We can fly people to Vancouver from anywhere in the world, so please ask us for the best route possible and we will search for the best options from the closest airport to you.
What is the accommodation like?
The hotel is a very good hotel, the best in Chilliwack. There is a very good onsite restaurant, however, there are also many different styles of restaurants in the town which are only a few minutes walk.
 What is the food like?
Breakfast can range from continental style breakfast to bacon rolls which can be purchased either from the hotel or café opposite the hotel. Lunches can be pre-ordered and consist of different flavoured sandwich's or baguettes. These can be pre-ordered before arrival. Evening meals can be either taken in the hotel or one of the many restaurants in town. There are fine dining restaurants, burger bars, pizza houses and even McDonalds.
 Is fishing tackle provided?
On every boat, you will find top quality sets of fishing equipment to tackle these huge Sturgeon. Also, if you wish to change one of your days to target Salmon then there is also sets of Salmon fishing spinning equipment available (not fly fishing tackle)
Is the internet and phone signal available?
The phone signal and internet is good all over Chilliwack. You will get free Wi-Fi in the hotel.
 Are there other activities available?
Chilliwack is set amongst some of the most stunning Canadian countrysides and guided walks are available to pre-book. If you are looking for lots of interesting activities such as other tourist attractions then these are best booked and added to the end of your holiday when you get back to Vancouver. We can discuss with you adding extra days on and give you information on non-fishing activities.
How much does it cost?
We offer the complete package including all flights and transfers. To view all available weeks and prices click the 'Dates & Prices' tab above. We also offer single angler trips to Canada for the Sturgeon each year, which are ideal for single anglers.
If you wish to arrange all our own travel arrangements we can book just the lodge and fishing for you. If you wish to book or have any questions please call us on 01603 407596 or fill in our contact form.
Tour Reviews
Sportquest Holidays is proud to be different, and one way we stand out from the crowd is our tried and trusted information we provide our customers. This information is not just provided on our own personal experiences but also REAL CUSTOMER reviews.
We are the only fishing & shooting tour operator to operate our own review system whereby customers can review both the packaged holiday and also how we performed on each destination.
How This Destination Performed
How We Performed On This Destination
How Our Customer Feedback Works
See how our customer feedback works and our latest customer reveiws.
Read More
Write a Review
Have you ever visited this destination? Why not write a review and let everyone know how you rated their services?
Write a Review
Andrew says:
Overall Rating:
Experience of a life time! Absolutely privilege to catch such wonderful fish in a jaw dropping, stunning environment. Huge thanks to Marc and his guides for making it possible.
Paul (Sportquest Holidays) says:

Hello Andrew, thanks for your feed back. Sounds like you guys had a super holiday and managed to catch some huge Sturgeon. WHats next for you guys?

Look forward to speak with you

Tight lines

Paul
Adam says:
Overall Rating:
Absolutely blown away by the whole experience.
Breathtaking scenery and excellent fishing for the White Sturgeon on the Fraser River.
The whole trip went without any hiccups or delays.
Everything was straightforward .
Only gripe was the plane seats, bit of a budget airline.
Matt (Sportquest Holidays) says:

Hi Adam

Thank you for the amazing feedback it sounds like you had a great time.

Where to next??

Tight Lines
Jason says:
Overall Rating:
lots of memorable moments the two most memorable being two takes on two rods simultaneously and the capture of a 480 - 500LBS Sturgeon
Paul (Sportquest Holidays) says:

Hi Jason, thanks for your feed back and we will get a memory stick sent out ASAP.

All the best

Paul
Ricky says:
Overall Rating:
lots of memorable moments the two most memorable being two takes on two rods simultaneously and the capture of a 480 - 500LBS Sturgeon
Paul (Sportquest Holidays) says:

Hi Ricky, a huge well done on such a fish something that is high on my bucket list. Thanks for the feedback form

All the best

Paul
Mike says:
Overall Rating:
Flights went well and were as requested.
Accommodation is great but hotel dinner v poor and expensive, useful to have dinner options.
Fishing was quite mixed but Cascade are first class and work hard to please their clients.
Overall a great holiday marred by uncomfortable transfer back to the airport.
Matt (Sportquest Holidays) says:

Hi Mike

Thank you for the feedback It sounds like you had a good trip.

Cascade are very good aren't they

Tight Lines
Marek says:
Overall Rating:
Deanna & Andrew were brilliant as before, the new lodge is perfect base camp. Unfortunately for us the Salmon fishing the first week on the Skeena River was disappointing due to the freak weather
The saving grace for us was the follow on week Sturgeon fishing the 3 days on the Frazer River we had 7 huge Sturgeon.
As mentioned I hope the poor run of fish down to the recent weather conditions. I still have a chinook to catch to give me the full set of Salmon Species.
Sportquest I cannot fault, superb servoce, from door to door, this was my second trip with you and I would totally recommend your company.... first class
Peter (Sportquest Holidays) says:

Eric

Thanks for talking the time to chat again like many customers on that week the weather was a killer especially for Salmon fishing. It has been a tough year on the Skeena and its tributaries. However I am sure it will be back to normal for next season.

Thank you for your continued feedback and support.

As discussed I would love to get you and your brothers to join me on the East coast next time fishing for the Atlantics.

Talk again soon

Tight lines Peter
john says:
Overall Rating:
Obviously, the best part was the fishing. Guides were superb, consistantley trying to put us on fish even though the fishing was hard.
Highlight was the last fishing day when I caught a 9 foot 3" 440 lb sturgeon and then the next fish hooked was even bigger. Even the guide was excited!! Unfortunately on the bigger fish although the fish was brought along side the boat, we were a long way from the beach. We tried to tow it to a beach but the hook pulled at the last minute.
Paul (Sportquest Holidays) says:

Hi John, thank you for your feed back it is a great help for future travellers. Sounds like you guys had an excellent trip and managed to see and hook some of the better fish. We ahve sent you a memory stick to hopefully get some of your pictures. Once again well done on the fish you caught

Tight lines Paul
John says:
Overall Rating:
Leaping Sturgeon and the realisation of just how strong they are!! I should like to go again soon, but a little later in the year. Suggestion:- Train the guides to use a camera (You cannot train clients and some are useless with a camera)
Paul (Sportquest Holidays) says:

Hi John, thanks for your feedback. Well done on your fish and so glad you had a good time. I believe you have booked up for 2019 lets hope the guides have learnt how to use the camera by then.......

Tight lines Paul
Paul says:
Overall Rating:
Take a good camera. Mine was not good enough
Paul (Sportquest Holidays) says:

Hi Paul, thanks for your feedback. And yes what an excellent piece of advice, people spend a lot of money on holidays and then dont take a good camera to catch the magical moments.

Glad you guyshad a good time and will organise your booking as soon as I can

Tight lines Paul
ian says:
Overall Rating:
Awesome Place. Amazing Fishing. Get out there!!
Luggage misplaced Bit tedious
Still repeated annoying pop up. Once is enough
(Sportquest Holidays) says:

Hello Ian, thanks for your feedback. So glad you liked the Sturgeon fishing it is one place that I really must visit one day.

Tight lines Paul
John says:
Overall Rating:
With out a doubt best and most memorable parts of the holiday was the fishing. Seeing the river for the 1st time on our 1st trip was certainly a eye opener, I never imagined the river was that big and that fast. Hooking your 1st sturgeon, which all 3 of us on our boat did on the 1st day, was once again memorable as the sheer power of the fish could never be explained unless you experience it. The fishing was never easy but we managed at least we managed at least 1 fish on our boat everyday largely due to the skill of our guide. Our best was 6 fish in a day and even managed a double hook up one day. The most memorable day was the last day when I hooked and landed a 9 foot 3 inch 440lb fish. The fish of a lifetime and one which I will struggle to beat if or should I say when I return to Canada. Even after this fish we hooked a even bigger fish which we brought close to the boat and in the words of our guide the fish was beaten and we could just unhook and release. But even the guide wanted to try and get the fish to a beaching area and measure, so we towed the fish nearly 2 miles and beached boat but the fish had recovered and then took 200m of line in very quick time and in bring the fish back the hook pulled.
The guides, boats and tackle from Cascade were 1st class and I struggle to believe that they could be bettered.
Everything about the holiday was good and I struggle to fault anything.
I was a bit nervous about going on a trip with 5 other anglers I had not met before but we got on remarkably well.
Paul (Sportquest Holidays) says:

Hi John, thank you for your feedback it is a real help for future travellers.

What can I say about your report....... apart from thanks and if there are some serious specimen hunters out there they really need to try this

Tight lines

Paul
Karen says:
Overall Rating:
The best part of the holiday was obviously the fishing, as this is why we booked.
The guides were excellent and worked very hard to make sure we caught plenty of good size fish. It was also well organised and the surrounding wildlife made it even more enjoyable.
(Sportquest Holidays) says:

Hello Karen, thank you so much for taking the time to fill out your feed back form. Sounds like you guys had an excellent trip and caught plenty of Sturgeon. Would be great to see any pictures you may have and you never know, you may appear in our new brochure that is currently being worked on.

If you want to email me a couple of pictures then send them to paul@sportquestholidays.com

All the best

Paul
Gary says:
Overall Rating:
The most memorable moment for me was after playing my 1st Sturgeon seeing this immense creature surface next to the boat. Amazing!
(Sportquest Holidays) says:

Hi Gary, thank you for filling out your feed back form. A huge well done on catching your first Sturgeon, something I wish to tick off my list eventually.

Sounds like you and Karen had a great time and hopefully Mathew said hello?

All the best

Paul
Michael says:
Overall Rating:
This was a short trip (just 3 fishing days) which I bolted on to the end of a holiday with my wife which included an Alaskan cruise & a stay on Vancouver Island in British Columbia.
I caught 10 sturgeon to 6 feet 9 inches during my 3 days fishing. My guides were excellent as they constantly looked for fish holding areas & were always aiming to be catching.
The scenery, wildlife & fishing on the Frasier river is phenomenal. Marc who runs Cascade told me that the capture of an 8 foot sturgeon is now quite common & he reckons that in 2 to 3 years time that 10 feet fish will be caught fairly regularly.
I will certainly be going back as not only is it a privilege to experience the fishing that the Frasier offers but the thought of a 10 foot sturgeon lying alongside the boat is one of my dreams.
Paul (Sportquest Holidays) says:

Hi Mike, so glad you guys had an excellent end to your holiday with some Sturgeon fishing. I know how much you love your fishing Mike and I am sure that your day will come with a 10FT + fish.

Canada is one place that I would love to travel to as the scenery looks simply amazing.

All the best and we should catch up soon

All the best

Paul
John says:
Overall Rating:
The flight transit out was awful - cramped and no legroom ect., very uncomfortable, the return was better (Airbus) had more room.
Talking to another angler in hotel, he flew from London Heathrow with Air Canada and was very good. Maybe Sportquest could give alternative airport and choice of who to fly with, as will seriously consider not going to Canada next year. Everything else was great.
Paul (Sportquest Holidays) says:

Hi John, thanks for taking the time to fill out your feedback form. Sorry to hear that the journey out wasnt great and we will take onboard what you have said and will from now on offer people the option. As mentioned when we spoke yesterday we can get you going from London Heathrow with either Air Canada or BA both slightly more money but well worth the extra leg room

Look forward to helping you again next year

All the best

Paul
Caroline says:
Overall Rating:
I came with my husband, but didn't fish. I had plenty to do - walking and painting and the hotel staff were excellent in helping me with this.
Paul (Sportquest Holidays) says:

Hi Caroline, it was good to catch up with you yesterday and I am so pleased you liked Chilliwack it is a stunning place and it was also very pleasing to hear that your husband had such a great time. Will he be taking you back there next year?

All the best

Paul
ALAN says:
Overall Rating:
Our trip was a little more involved as it was made up of three destinations in Canada. So to answer the questions below is really a very broad view. I will answer by each destination
Sturgeon. The accommodation was absolutely stunning, on the river(good fishing)deer and bears in the garden. George the owner was really hospitable with his home made wine and use of his fishing tackle. (I will supply photos). The guides were excellent, very knowledgeable and tried very hard every day of our eleven days fishing. All four of us caught fish of a life time.
Carp fishing. Paul had every base covered on this part of the trip. A totally professional operation. The carp are hard fighting to say the least. They are shaped like bullets and swim as fast as one. We had 42 carp with 28 over twenty pounds. Most had never been caught before. The home cooked food at the end of the day was just what we needed to finish the day off.
Halibut fishing. The flights were an experience, small planes and the scenery. The Range of different fishing available is perfect. There is fishing on offer whatever the weather. Sea fishing 30/40 miles out, inshore or trolling in the narrows. The wildlife here is amazing we had eagles taking fish we had thrown for them. The grey whales feeding. Sea lions stealing the salmon we hooked and bears foraging on the shore. I must say that Shawn our guide was excellent, he combined the fishing and wildlife together. We caught Halibut chinook coho lingcod snapper and various species of rock fish..
Paul (Sportquest Holidays) says:

Hi Alan & group. Thanks for taking the time to fill out your feed back form.

This trip was amazing to put together and one I would personally loved to have done. That first lodge we got you looked amazing and after speaking with you sounded awesome.

The Sturgeon fishing sounded like it went very well as you all managed some huge fish (Would love to see some of your pictures)

Then you guys went Carp fishing in Canada, something I have always wanted to do but its finding the time. Sounds like everything went to plan and you managed to get a feel for these river Carp.

Finally you went Halibut fishing and by the sounds of that, it went very well and you guys managed to lovely fish and plenty of species were boated.

Like I said above, it would be great to see some pictures of your adventure

All the best

Paul
Graham says:
Overall Rating:
The fishing adventure of a lifetime, great accomodation the guides where fantastic and the fishing is out of this world. The flight would be the only downside from my point of view.
Paul (Sportquest Holidays) says:

Hi Graham, thanks for your feedback. This destination is a must for any freshwater angler and is some where I will visit one year

Perhaps if you would like to return one year we can look at an upgrade on the flight for you.

All the best

Paul
Alan says:
Overall Rating:
Dear Paul,
Just a short note regarding our trip to British Columbia Sturgeon fishing in August - September 2016.
We had a fantastic time catching the fish of a lifetime Sturgeon a 9FT 2inch monster which took 1hr 20 minutes to land!
We also caught an 8FT 5inch (Nick) and a 7FT also others to 6FT plus
All told we had 11 fish in six days fishing - 6 to me and 5 to Nick. The guides were brilliant everyday trying very hard to put us on fish. Their knowledge of the river was outstanding, they were extremely friendly and made each day special.
I hope you like the videos and stills and this short note regarding the trip, we would both return in a flash, and would recommend highly to any other fisherman who would like to have a lifetime experience at catching Sturgeon.
We would like to say a massive thank you for your Company's excellent organisation of this trip.
Regards
Alan & Nick
Paul (Sportquest Holidays) says:

Hi Alan

Thank you so much for very kind words. It is truly an excellent place and one that is very high on my wish list.

The video footage is excellent and love the hat!! Thanks for choosing Sportquest Holidays and look forward to helping you in the future

All the best

Paul Stevens
Chris says:
Overall Rating:
An excellent trip from beginning to end. Superbly organised with personal attention from the Sportsquest staff. Ready answers to most questions and answers to others swiftly found. Comprehensive pre-travel information lead to a smooth journey to the Coast Hotel in Chilliwack. The hotel was comfortable with pleasant and responsive staff. We were disappointed to be told by our guides that the sturgeon fishing had recently been as hard as they had known it due to the poor salmon run this year. However they were clearly very knowledgeable and worked hard to get us some fish. The equipment was all provided and of a good standard. The ride in the jet boat to the fishing spots was excitement enough before we had caught any fish. My son and I caught 12 sturgeon between us in 5 days fishing. My biggest fish took me over an hour of hard work to land and measured 7 foot 5 inches. Perhaps for the first time in my life I was considering whether I wanted to hook a bigger fish than the last ones had caught! My son's best was 8 foot six inches long, with a girth of 36 inches, weighing well over three hundred pounds. The week's fishing left us entirely satisfied. If we were to go back in a "good" year a few pre-trip visits to the gym might be in order!! I haven't mentioned the seals, deer, black bear, bald eagles, ospreys and turkey vultures that all added to the enjoyment of the holiday. One of the guides even had a bird identification book on board! The weather was kind to us and the whole experience was all that we had hoped for. We didn't set ourselves goals for size or number of fish because these are beyond our control. More fish and bigger fish would not have made our trip any more enjoyable than it was. A brilliant overall experience.
Paul (Sportquest Holidays) says:

HI Chris, thank you so much for taking the time to fill out your feedback form. The guides overt there are head and shoulders above the rest and their catch reports reflect this. Just imagine what it would be like if it was in its prime!!

Well done on your huge Sturgeon I bet your arms were burning after that fight?

Would love to see some pictures Chris if you could email them over. Hopefully we can get the opportunity to make other fishing dreams come true for you and your son in the future

All the best

Paul
Resort Manager says:
Thanks Paul. I believe this was Chris and Robin Higgins. Fishing has been pretty tough, but we are working hard. Good to hear guests are still enjoying themselves and having a good time.

Cheers
Marc
Alan says:
Overall Rating:
Best part - catching a PB Sturgeon of 9ft 2inches.
Guides were excellent + scenery stunning!
Negatives - Hotel room not ready when we got there - had to wait 1 hour. No meet + greet, so a little in the dark as for where and what to do, especially the first mornings fishing. A simple 10 min meet up on arrival would soon sort this out. Overall 9.5 out of 10.
Would definitely go on this trip again!
Paul (Sportquest Holidays) says:

Hi Alan, thank you so much for taking the time to fill out your feedback form. They are a great help[ to future travellers and also us so if there are any issues we can try our hardest to resolve them.

Sounds like you guys had some huge fish and when we spoke sounded like you had the best time. So sorry about the hotel room these should be ready well in advance hopefully this will not happen again.

We have taken some steps to hopefully be a bit more organised on your first days fishing. There is now some very helpful and clear instructions in the pre departure paper work on where and at what time you should be meeting your guides.

Can not wait to see the pictures and especially the video of the big one

All the best

Paul Stevens
Jurgen says:
Overall Rating:
Hi Sportquest thanks for organising this trip for my two sons and myself. The fishing was a little hard but we did manage a Sturgeon just over 8ft which made our three days fishing.
Hotel was good, boats and guides were also very good. We did not catch anything the first day so Marc the owner kindly swapped our guide for Clayton and we then caught fish. The fishing tackle was also very good
This trip is very suitable for younger people. My sons are 15 and 17 and they loved it
Paul (Sportquest Holidays) says:

Hi Jurgen, thanks for the telephone call today and glad to hear you had a good trip. Shame the fishing wasn't manic but at least you got to see one of the better fish the Fraser holds. Hope your sons enjoyed the experience and am looking forward to seeing some pictures.

All the best

Paul
John says:
Overall Rating:
The Kalum River Lodge put huge effort into making their guests welcome; catering for individual needs be that dietary concerning food or direction and tuition with fishing for those "like me" that needed it.
The conditions for fishing were challenging, but Andrew and Deanna delivered an outstanding package.
The Sturgeon fishing was "awesome" to quote a favourite Canadian word.
The Coast hotel was comfortable and we did dine there through our choice and it was expensive but ok.
The only gap in the holiday was perhaps for Sportquest in the documentation to make clear that Cascade were responsible for arranging transfer to/from Vancouver.
We did not have a pick up time and the hotel did not know about our transfer.
In the end Melanie gave me the contact and we spoke to Marc (Cascade) once we knew they were the organiser.
All in all the holiday was an amazing trip and one I would love to do again soon.
Peter (Sportquest Holidays) says:

John

Thank you so much for your feedback and also taking the time to chat on the telephone. It was great listening to your stories about all the big fish as it sounds like you both had an amazing holiday. I can also see from the pictures you kindly sent through that the fishing was very enjoyable.

I am sorry that there was some confusion about who and when the transfers were talking place on the return, I am not sure what happened and why there was the concern as we have always used cascade to run the transfers. I will have to look in to this further.
I know you both would like to return next year, but understand that it classes with the family holiday thats already booked. Never mind we can always look at the following year as the lodges and fishing will still be there.

Once again, thank you for your custom as it is alway very much appreciated.

Regards Peter

Robin says:
Overall Rating:
We had a great time fishing both Kalum River Lodge and Sturgeon fishing in Chilliwack, the staff and the fishing made for a great two centre holiday.
The only issue was flights as we had to pay $350 excess baggage on the flight to + back from Terrace, as they said that it was over their allowance. We were within British Airways limits, but not Westjet + the information we had did not highlight this.
Peter (Sportquest Holidays) says:

Robin

Thank you for your feedback I am so glad that you both had a great time and the fishing was as you wished for.

I am so sorry for the flights as I have no idea what they are doing. First the issue of one of you being down graded in class of seat to then charge you for excess baggage on the return.

The rules of the baggage is as the flights are booked as a through fare (E.G one ticket) the babe allowance should be as per the international allowance, so we have no idea what or why they charged you.

Please accept our apologies over this, but we do have no control over the airlines as they do seem to be law unto themselves.

Thank you for the excellent scores on everything apart from the flights as these score mean a lot to both me and all the staff.

Also thank you for your custom, it will be a pleasure in managing your next fishing adventure.

Regards Peter
Daniel says:
Overall Rating:
Had an amazing holiday with my farther salmon fishing at Kalum River Lodge and then Sturgeon Fishing on the Frazer River on the return. The fishing, organisation and staff was all perfect.
The only issue was British Airways.
Booked Business Class flights + had to go out Premium Economy Class. Down to British Airways not Sportquest Holidays, otherwise all very good.
Would not fly with British Airways again - can you book Air Canada Business Class from Manchester?
Peter (Sportquest Holidays) says:

Daniel

Thanks for the customer feedback and also the amazing scores for both Sportquest and the lodge staff, it is very much appreciated. The score for the flights is totally understandable considering all the issues caused by British Airways.

When they over sell the plane then have to down grade customer who have purchased a higher class ticket is nothing short of disgusting. (We are trying to encourage ALL customers to check in online before arriving at the airport as this goes a very long way to prevent them getting down graded.

We are processing the claim against BA and we will keep you informed. In relation to alternative flights yes we can book Air Canada plus others, so once you and your father are ready, just let me know and I can sort out everything for you both again.

Tight Lines Peter
Peter says:
Overall Rating:
What a great adventure both Salmon fishing and then Sturgeon fishing afterwards.
Very well organised
Peter (Sportquest Holidays) says:

Peter

It was a great talking to you on return of your fishing adventure in Canada. I am so happy that you both enjoyed the Salmon fishing first, before moving onto the Sturgeon fishing on the Frazer River.

I hope to have you both back travelling with us very soon.

Kind Regards Peter
Martin says:
Overall Rating:
The fishing and guides were bril. More info was needed about the Salmon fishing when the run starts? But this did not spoil the Sturgeon fishing that was fantastic
Paul (Sportquest Holidays) says:

Hi Martin, glad you loved the fishing and I totally agree the guides are top class.

So sorry about there not being enough information about when the Salmon start to run, perhaps we will change that in the paper work.

All the best

Paul
John says:
Overall Rating:
Everything was first class, transfers, hotel, guides and the fishing was unbelievable.
The only down side was we wanted to celebrate some large fish caught and the bar shuts at 10pm week days
Paul (Sportquest Holidays) says:

Hi John, so glad you guys had a great time. A little different from the Mahseer fishing but I knew you would like this. The guys over there are first class guides and hosts

We would be more than happy to send you again in 2017. I will call you in the next couple of days to have a quick chat.

Speak soon

All the best

Paul
Amanda says:
Overall Rating:
What an amazing honeymoon we had!! The fishing (even though we were told by the guides was a quite slow this time of year) was absolutely fantastic with fish from 30 to almost 300LB!! Our guide (Clayton) was brilliant, very friendly, knowledgeable and went all out to catch you fish.
The only thing we weren't told was our pick-up time from hotel back to airport, but one mention of it to Cascade and they got it sorted. Excellent!! We will be back
Paul (Sportquest Holidays) says:

Hi Amanda so glad you guys loved the trip and what an amazing place to spend your honeymoon. I bet lots of anglers out there will be jealous!!

The pictures you kindly sent us are amazing and a huge congratulations on catching such big fish.

I shall pass on your lovely feedback to Cascade and once again thanks for choosing Sportquest Holidays to arrange such a personal and wonderful celebration.

All the best

Paul
Mike says:
Overall Rating:
What an amazing holiday, could not recommend it enough. This was our honeymoon so wanted it to be special and was not let down. Everything went very well from the pick up at the airport to the fishing, whole holiday was just perfect.
We caught 36 Sturgeon in total ranging from 60lb to just over 300lb it was such a good holiday. My wife and I loved it
The restaurants in town were very reasonable at around $80 in total for food and drink you could not of asked for more, the amount of food you got was also huge!
I have been on many fishing holidays in my life but this one was the best. We were guided by Clayton for most of our time and was more than pleased with his abilities.
Thanks Sportquest and we will be in touch for a return trip in 2017
All the best Mike
Paul (Sportquest Holidays) says:

Hello Mike thanks for speaking with me today on the phone. Sounds like both of you had a wonderful time and thank you for filling out your form.

I like the bit you said when the guides said ti wasn't even fishing that well...... I think 36 Sturgeon in a week was brilliant

Perhaps next year your trip will be even better especially if you time it for the big Salmon run in mid August in to September

Once again thank you choosing Sportquest Holidays and we would love to help you organise next years trip

All the best, Paul
Resort Manager says:
Hi Paul,

Good to hear that Mike and Amanda had a great time fishing with us and that they found all the amenities and the fishing to be to their satisfaction. Looking forward to seeing them here again.

Regards,
Marc
Michael says:
Overall Rating:
Our guides on this trip were Marc Laynes, CEJ Mussell and Rob Mumford, as we had a group of 8 people going out to fish for Sturgeon.
I was looking forward to this trip so much, and it more than lived up to my expectations. Any one who loves fishing should give it ago with these guys. Great fun, great service, very professional and the whole trip was just excellent from start to finish.
We will definitely be recommending this trip to everyone.
Paul (Sportquest Holidays) says:

They are the best guides in the area.

Thank you for the review
Craig says:
Overall Rating:
Thanks for a brilliant fishing trip this month, this was my second time fishing with you and the travel from Scotland is always worth it.
I can't fault your service at all, from the airport pick up, to the morning meetings at the door of the hotel right down to the first cast, the professionalism of your selves and your guides is outstanding and your knowledge of the river and the fishing is clearly clinical, no detail is missed.
We had a brilliant week of fishing with a new personal best sturgeon for all of our party. We can't wait to return to Canada to fish with you again. I wouldn't hesitate to recommend your company to my friends and family.
See you again soon.
Paul (Sportquest Holidays) says:

Thank you for the destination review, very very much appreciated and so glad you had another amazing time.
Chris says:
Overall Rating:
I would like to say a very big THANK YOU to you Marc and Maggie and the rest of your team for the excellent fishing you gave us again this year.
We have been fishing with you for over 12 years now and it just keeps getting better and better, for the third year in a row you have delivered me a PB. Your organisation always runs like a well-oiled machine.
The memories of the fishing go on for a lot longer after the fishing has finished. It is not just the fishing that makes it so special, all the views and the wildlife that you see while you are out there are an added bonus. Sturgeon fishing should be on everybody's wish list.
Hope to see you all again soon.
Paul (Sportquest Holidays) says:

Chris thank you for taking the time to write a review.
Martin says:
Overall Rating:
Now that I have slept/properly recovered, I would like to record – on behalf of myself & all in my fishing party – our thanks to everyone.
The week we have just spent in Chilliwack being guided on the Fraser River has truly realised for the 8 anglers involved, the fishing trip of a lifetime for all of us…………….both individually & collectively.
The fishing was "out of this world" + we recognise just how fortunate we have been. Over the 6 days, the final tally was 134 fish landed; of these, a staggering 24 involved sturgeon of 300lbs plus. 4 fish were estimated at over 400lbs each – with a top weight of 500lbs for a single fish of 10 feet in length, with a girth that measured at 50 inches !!
However, being a veteran of many fishing trips, I realise that catching fish is only a part of the experience. All of your guides, boats, tackle + organisation were first class and summed to an unforgettable Canadian adventure.
Tracey (Sportquest Holidays) says:

Wow sounds like you had an amazing trip, Thank you for the feedback as its a great help.
Paul says:
Overall Rating:
The fishing trip and guides were excellent to go along with the fantastic scenery. Another holiday of a lifetime
Paul (Sportquest Holidays) says:

Thanks for filling out your feed back form. I have tried calling you several times and will keep trying you. Glad you guys had a great time it is a fantastic place that leaves you with memories for a lifetime

All the best

Paul
Mark says:
Overall Rating:
Thanks for a great trip, we caught 18 sturgeon 4 which were 200lb+
The guides were first rate as well as the tackle and boats.
Would highly recommend this trip to anyone who likes to have their arms pulled!!! we are all going back in 2017.
Peter (Sportquest Holidays) says:

Was really good to chat to you on the telephone also to hear that you all had a great trip. (Music to our ears)

I have sent out your paperwork for the return trip.

I look forward to receiving a few pictures for our website.

Tight Lines and again thanks for your continued custom. Rgds Peter


Robin says:
Overall Rating:
Good Morning Peter,
I must apologise for the delay in getting in touch but I have been very busy catching up since our return from British Columbia.
The trip was great. Everything organised, good guides and Marc looked after us very well.
Even the weather was perfect.
We caught a total of 16 sturgeon and lost 4 big ones.
We did not bother with the salmon.
I have loads of pictures and will forward you two pictures of the biggest one we landed which was 8ft 6 ins long, 54 ins in girth and was 450lbs. My son Daniel hooked and landed this one.
We hooked another two that were 9ft+ and we had one at around 270lbs 260lbs and 250lbs and the rest were smaller.
I have a video of one jumping clear of the water if you want I can try and send it to you.
Many thanks for everything
Kind Regards
Robin
Peter (Sportquest Holidays) says:

HI Robert thanks for getting back to me, OMG one of those pictures is amazing great shot of you with a monster sturgeon head on..... :)

Glad you both had an amazing time and got in to some real biggies. The biggest fish do really take some landing..

Thank you for choosing to travel with Sportquest Holidays, I personally look forward in managing future bookings for you and your son.

Kind Regards Peter
Stuart says:
Overall Rating:
Thanks for another amazing holiday. Transfers were great accommodation spot on and lets just say the fishing was amazing. i think you got the pictures of my big fish! it took me 98minutes to get in and nearly broke ME….. all in all a great trip and i am sure i will return next year
India next, can wait
Paul (Sportquest Holidays) says:

Hi Stuart. Sounds like you had an amazing trip and to catch that fish you really must have the best of luck. It was simply a massive fish well done. did you see the blog we done on it? looks even more impressive

India is just round the corner now

Tight lines

Paul
matt says:
Overall Rating:
Excellent trip to the Fraser River. Can't fault anything, to the extent i am now saving hard for next years return trip!
Paul (Sportquest Holidays) says:

Hi Matt So pleased you had a great trip and i bet it was a real pleasure to see such a huge fish caught, just a shame it wasn't on your rod but maybe next year

Just give me a shout when you want me to look some dates for you

All the best

Paul
Kenneth says:
Overall Rating:
Thanks Sportquest for organising such a great trip. This is now been my 10th visit to Canada for the Sturgeon and have enjoyed every trip and am making plans for next year already. The transfers, accommodation and fishing was excellent as always
Fishing was a little slower than previous years but thats fishing.
Thank you
Ken
Paul (Sportquest Holidays) says:

Hi Ken

Thats great to hear. For you to travel to this destination so many times it must be good. Let us know the dates for next year and we can sort it for you

I shall pass on your kind comments to the guys in Canada and look forward to speaking with you later

Regards

Paul
Steve says:
Overall Rating:
This was our second trip with you and we must say we even enjoyed it more the seconded time, which was something we did not think possible. Thanks to all our guides and your staff.
Mel (Sportquest Holidays) says:

It was pleasure to have you come back to us and hopefully we will be making more of your dreams come true

Tight lines

Mel
Chris says:
Overall Rating:
Just a very quick note to say thanks to Mark, head guide plus all the rest of your team. We all thoroughly enjoyed it from start to finish. Oh and the look on the boys faces when we were escorted to the awaiting limo in Vancouver, just brillante.
Paul (Sportquest Holidays) says:

Cheers Chris i will pass your kind comments on to our operators in Canada

Kind Regards

Paul
Tony says:
Overall Rating:
Peter just a quick note saying the new accommodation at the Royal Hotel is just fine. The service is so much better than before at the Rhombus. We even got breakfast on time every morning. What dates do you have for the last quarter?
Peter (Sportquest Holidays) says:

Glad you liked the change of accommodation. We had a few people moan about the last hotel so we thought we would offer some where new and to get some feedback is most appreciated

I will email you some dates later today

All the best

Peter
Tony says:
Overall Rating:
"The holiday brochure advertised it as a 'Fishing Adventure of a Life Time' and it certainly lived up to every bit of that statement. Fishing for the Giant White Sturgeon on the Fraser River at Chilliwack in British Columbia has to be one of the best fishing holidays experiences, catching a 6ft, 150lb Sturgeon in the fast flowing waters of the Fraser river on 50lb class stand up and fight tackle was a serious rush of adrenalin which tested our strength, stamina and fishing ability to its absolute limit. Our guide Marc Laynes runs 'Cascade Fishing Adventures' which provides the best guiding service in Chilliwack, Marc's knowledge of the Fraser River and the sturgeon fishing is second to none. He has a great feel for the river and in his 40mph jet boat 'Relentless' we explored many miles of it. Nothing was to much trouble to get that 'big one'. Our accommodation in the historic Royal Hotel (circa 1908) was first class and the great evenings spent in one of the many local bars or restaurants in Chilliwack was all part of our holiday, but it is the daily experience of snow covered mountains, fabulous wild life and of course the mighty Sturgeon that will brings us back to the Fraser River again next year. Our thanks to the Sportquest Holidays and in particular Marc Laynes for making our 'fishing holiday of a life time'. Regards, Nelson, Brian, Graham and Tony"
Peter (Sportquest Holidays) says:

Hi Guys, thanks for your great feedback the fishing for Sturgeon must make it on to all anglers to do list. The rush you get from this fishing is awesome, plus being surrounded by some of the Worlds best scenery is just a bonus

We have some great dates available for next so i will call you guys this week to see how they work for you

Regards

Peter