Overview
Category: Freshwater Fishing, Freshwater Fly Fishing


Wilderness Lakes is one of Europes Pike fishing meccas, it is a huge expanse of waterways that are full to the brim with hungry predators. The boats that you fish from during a week at Wilderness Lakes are perfect for covering the water and then working areas of the structure. With a cooked meal to return back to each evening and breakfast and lunches prepared each day you can put all your efforts into searching out the big toothy critters that inhabit this place.
Location
Little is known about the history of Lapland's Wilderness Lakes, the only real snippets of information that has repeatedly been mentioned about the area are of the leviathans that dwell in its lakes. Local people have often spoken of giant water demons inhaling their Char or Brown Trout just before they reach their outstretched hands.
The lake system is made up of many lakes ranging from massive expenses to smaller bodies of water most of which are joined by channels or rivers. There are more than 74 miles of water to go at and it would take an angler many whole summers to explore just half of its secrets.
The area where Wilderness lakes can be found is also well known for its huge heard's of Reindeer, you will also be able to spot some very large Moose roaming the area at times. The nearest shops are approx. 25mins drive from the lodge and there are several traditional log cabins scattered about in the local area.
Fishing
The system has countless shallow bays scattered around and you can reach these either by boat or car, these bays are the main area for big Northern Pike to lie basking in the sun waiting for their next meal to pass this can make for some fantastic surface fishing. When shallow running or topwater flies and lures are cast into these bays it can be a frenzied explosion as multiple fish charge in to be the first to eat.
The fish in this system are incredibly long and renowned for their fighting qualities. As well as these large Pikes, the lakes also hold big Brown Trout and Grayling that can be caught frequently and can make a nice change from chucking big flies and lures at huge predators.
For more information about this tour, contact our experienced team who will be happy to answer any queries you have. Alternatively, can request a free brochure.
Accommodation
Wilderness lodges are part of a clean, tidy and well managed camp, they are very basic but the food and accommodation is of a good standard and the camp staff are always eager to help in anyway possible.
The camp consists of 5 cabins, the main lodge has a twin bedroom, sitting room and kitchen, outside it has a large decked porch that is perfect for tackle prep and BBQs. The kitchen in the main lodge is where breakfasts and evening meals are generally taken and packed up lunches are made for guests during the days. Wine and beer is served with evening meals but for anyone wanting to drink into the evenings it would be advised to bring some extra as well as any spirits that might be wanted.
As well as the main lodge the camp has two other cabins with twin bedrooms in both, it also has a main shower room with a toilet and a separate laundry room which also has a toilet in it!
The lodges are only a very short walk from where the boats are docked so it is very easy to load your gear in and be fishing with in minutes and this gives you great flexibility for planning your days fishing.
Board: Full
Rooms: Twin
Internet: WIFI
Laundry: Washing Machine
Power: 230v type C and F
Meals: Three courses
Alcohol: Beer and Wine with dinner
Shop: Small selection
Cash Accepted: Swedish Krona
Species Information
Pike
Season: June to September
Peak: July
Weight: 3lb to 40lb
Average Weight: 9lb to 16lb

Brown Trout
Season: June to September
Peak: August
Weight: 2lb to 14lb
Average Weight: 3lb to 6lb

Grayling
Season: June to September
Peak: August
Weight: 1lb to 4lb
Average Weight: 2lb

Suggested Itinerary
Although the fishing has standard set weeks we can if required extend your holiday with either additional days fishing or non fishing days in Sweden.
DAY 1: (Saturday)
Depart UK (alternative routes available)
Arrive Stockholm- Arlanda
Depart Arlanda Airport
Arrive Lulea Airport
Once you have collected your bags make your way to the exit where you will find your hire car, the cars have built in sat-nav and you will have the details to enter so it can direct you to your accommodation. (approx. 3.5hrs). After checking into the lodge and making yourself comfortable there will be a scheduled meet and greet by one of the lake guides. This is your opportunity to ask any questions about the forthcoming week.
Overnight accommodation: Wilderness Lodge (Twin room) F/B
DAY 2: (Sunday) Fishing Day.
After your breakfast you can have a chat with the guides about where to fish on the days given conditions, you can either drive or the boats are situated just a short walk from your accommodation (approx 50m), this first day is a great one to travel about and get a bit of a feel for the area.
Overnight accommodation: Wilderness Lodge (Twin room) F/B
DAYS 3 & 4: (Monday & Tuesday) Fishing Days.
Speaking to the guides either at breakfast or the evenings before you can start to make day by day plans to explore different areas of the lakes and you can start to understand the exact depth that the fish are standing in.
Overnight accommodation: Wilderness Lodge (Twin room) F/B
DAYS 5 & 6: (Wednesday & Thursday) Fishing Days.
This Swedish Pike fishing should really have you fired up now and hopefully having caught loads of big fish already, it can be good to try some different methods to how you have caught already. Sometimes it can be good to go for a supersized fly to really try and target one of the monsters that live in the lake.
Overnight accommodation: Wilderness Lodge (Twin room) F/B
DAY 7: (Friday) Fishing Day.
As it is your last day on the water you can either spend it chasing that last big Pike you can relax by trying to target either the lovely Grayling or Brown Trout that live in the area.
Overnight accommodation: Wilderness Lodge (Twin room) F/B
DAY 8: (Saturday).
In the morning drive back to Lulea Airport and drop your hire car off (remember to re fuel the hire car before you drop it off). Make sure you leave in plenty of time to make your flight.
Depart Lulea Airport
Arrive Stockholm- Arlanda
Depart Stockholm- Arlanda
Arrive Uk
Dates & Prices
Remember that Sportquest Holidays' services are completely FREE! When you book a trip with Sportquest Holidays, you never pay more than when you book directly with the lodge and flights independently. Plus what's more if you book with Sportquest Holidays your holiday is protect by our ATOL and the Travel Package Regulations Act. To see more details CLICK HERE.
Dates & prices are best viewed in landscape.
You can scroll the table left and right to view prices and availability.
Price Match Promise
We are so confident that our packaged prices are the best available and offer great value for money.
If, however, you find an identical holiday available with any other fully bonded Tour Operator at a lower price, we will match that price.
Price Notes
Prices are based on two adults sharing transfers, fishing and accommodation (unless otherwise stated) and are correct at the time of going to press. Subject to time of year or date and currency fluctuations, these prices may fluctuate slightly due to flight price increases or fuel surcharge.
ATOL
Holidays or flights booked with Sportquest Holidays Limited are protected by the Civil Aviation Authority by our ATOL bond (Number 6371). ATOL protects you from losing your money or being stranded abroad. It does this by carrying out financial checks on the firms it licenses and requiring a guarantee, called a bond
Price Supplements
N/A
Still need some inspiration
Why not enjoy browsing our destinations in the comfort of your own home.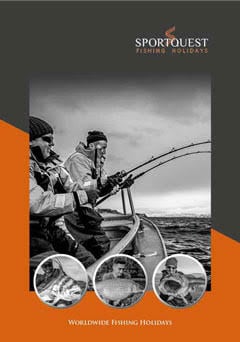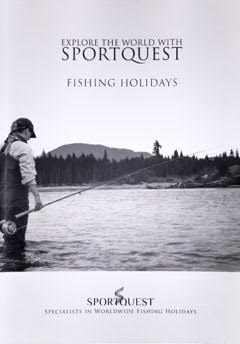 Request a free brochure
What's Included & Excluded
Included
All international flights
Car hire
All accommodation as per itinerary
Fuel for boat
6 days fishing via self drive boat
Fishing Boat with Sonar, chart plotter (GPS)
Access to professional guide for guidance
All meals during stay at lodge
Bed linen, towels
Excluded
Fishing tackle
Personal holiday insurance
Tips for the guides
Options
Flight Upgrades
Full Guiding
Tour Notes
Visa
A machine readable passport with at least 6 months before expiry is required. No visa for UK citizens required.
Medical Requirements
No vaccinations currently required
Please Note
All details of visa and medical requirements are correct at time of press however please check these requirements for changes.
Departure tax
There is no additional airport departure tax when leaving Stockholm- Arlanda
Flight Route & Flight Time
UK -Stockholm- Arlanda  (approx 2 hrs 30 mins)
Arlanda – Lulea (approx 1hr 15 mins)
Baggage Allowance
Your actual allowance is based on both which airline you are flying with and also what class of seat you are travelling in. Normally in economy it is 1 checked bag, Premium Economy / Business 2 checked bags, First 3 checked bags. In addition to your checked bags you are also allowed 1 cabin bag and either 1-laptop bag or ladies handbag. The actual size and weight limit for bags is dependent on the airline. We therefore recommend that once your flights are booked you check on the airlines website for the up to date allowances.
If your itinerary includes private light aircraft or helicopter flights we will advise you on your baggage and weight allowance.
Transfer Time
Lulea to lodge (approx 3hr 30mins)
Questions & Answers
Where is the Lodge?
You will find the lodge in Swedish Lapland halfway between the Baltic Sea and the Norwegian Border, the sheer volume of lakes and rivers in this area is even extreme by Swedens standards.
Where will I fish?
The fishing on Wilderness Lakes takes place pretty much all over, but as is the norm with Swedish Pike fishing the best sport is found in the shallows where explosive takes will take your breath away.
How long does it take to reach the fishing grounds?
The boats are only a stone throw away from the lodge so you can be fishing within 10 minutes, but if you want to venture to the other end of the lake system it will take approx 45 minutes.
What fish will I catch?
Big angry Northern Pike is the main focus of a trip to Wilderness lakes, but good quality Brown Trout, Perch and Grayling can also be caught.
How many fish will I catch?
On an average week, a good angler should be able to catch plenty of fish on a daily basis but bad weather conditions can make this number change from time to time. Swedish Pike fishing is generally so consistent that good numbers of fish are expected.
How will I fish?
Whether you are fly fishing or lure fishing the recommended equipment would be aimed at catching big Pike. Fly gear should be 9ft rods in either 9#,10# or 11# with matching reels capable of holding big fly lines with at least 200m of backing. Fly lines are in the majority floating lines but it is a good idea to bring both a slow sinking intermediate as well as a full sink line of something like a S4. Recommended tippets of around 40lb help turn over big flies and can also help with pulling big fish away from snags. Wire traces need to be at least 40lb or more with a strong clip for changing flies. Flies normally range between 6 to 10 inch in either tubes or hook tied versions, surface poppers can work very well and produce some awesome takes.
When lure fishing big jerkbait rods and reels and heavy spinning tackle is recommended, for jerkbait fishing multiplier reels loaded with 100lb braid strait through to a 100lb wire trace, spinning rods are normally lighter and would have strong 3000/4000 reels with 40lb braid and 50lb wire traces. bigger lures used would be both large soft paddle baits and hard jerkbaits and good lures for lighter set ups would be spinnerbaits, spoons and plugs.
Do the guides speak English?
All the guides speak English.
Who is best suited to this destination?
Anyone who wants to experience a truly wild environment with Swedish Pike fishing that is in a league of its own.
What skill level is required?
As long as you can cast a half decent line of say 10 yards with either fly or lure you will put yourself in with a good chance of catching fish. We would however always advise on getting some casting lessons before leaving for any of our trips to put yourself in with the best possible chance to maximise your trip.
How physically demanding is this trip?
The walking and wading is over short distances and of an easier nature, but if you want to push yourself then some parts of the lakes and rivers can be more challenging.
When is the best time to go go?
Any time between June and September is good, as long as the weather has been warm! With all Swedish Pike fishing, you need the water temperature to be warm to activate the fish into chasing a fly or lure.
How to get there?
A flight from the UK to Stockholm (Arlanda) that takes approx 2hr 30min and then a flight from Arlanda to Lulea that is approx 1hr 15mins
What is the accommodation like?
The accommodation is basic but comfortable, the Camp is well organised and you will struggle to find more helpful guides/camp staff than these guys anywhere.
 What is the food like?
The food is basic but very nice. The dishes are often based on Italian dishes due to the camp staffs origins.
Does the lodge provide fishing tackle?
Wilderness Lake does not provide tackle or waders so these need to be taken by guests wishing to visit. Please inform us before travel if you wish to use the lodge rods and reels.
Is internet and phone signal available?
Although the lodge does have internet, phone signal may or may not work due to the location of the lodges.
Are there other activities available?
Walking and nature watching would be the only other activities that could be catered for whilst at the lodge
How much does it cost?
We offer the complete package including all flights and transfers. To view all prices and availability click the "Dates & Prices" tab above.
Alternatively, if you wish to arrange all your own travel arrangements we can book just the lodge and fishing for you.
Tour Reviews
Sportquest Holidays is proud to be different, and one way we stand out from the crowd is our tried and trusted information we provide our customers. This information is not just provided on our own personal experiences but also REAL CUSTOMER reviews.
We are the only fishing & shooting tour operator to operate our own review system whereby customers can review both the packaged holiday and also how we performed on each destination.
How This Destination Performed
How We Performed On This Destination
How Our Customer Feedback Works
See how our customer feedback works and our latest customer reveiws.
Read More
Write a Review
Have you ever visited this destination? Why not write a review and let everyone know how you rated their services?
Write a Review