Watamu Kenya Big Game Fishing Q&A
Kenya was put on the fishing map years ago by Ernest Hemmingways, where he caught his very first Blue Marlin back in 1933. Ever since people from all over have flocked to this amazing part of the world. It's not just the amazing Marlin fishing that is the attraction, each year sees a huge run of the fastest fish in the ocean, the Sailfish. Along with these ultimate Billfish, there are many other species to target from GT's, Tuna, Wahoo, Dorado and many different sharks. This destination offers anglers of all abilities the opportunity to do battle with some huge fish whilst being completely cared for by some of the friendliest people on this planet.
Where is the Resort? 
Ocean Sports Resort is located in the Watamu Bay in Kenya and is one of the finest around. With its location being close to most of the prime fishing grounds in the Indian Ocean.
Where do they fish?
Depending on the chosen species you wish to target, your fishing guide will put together a package when you arrive, giving you the correct areas to target your chosen species. Most of the Billfishing will take place around Malindi which sees the biggest run of Marlin and Sailfish. If it's the Dorado and Tuna you are after then the fishing grounds can be reached very quickly.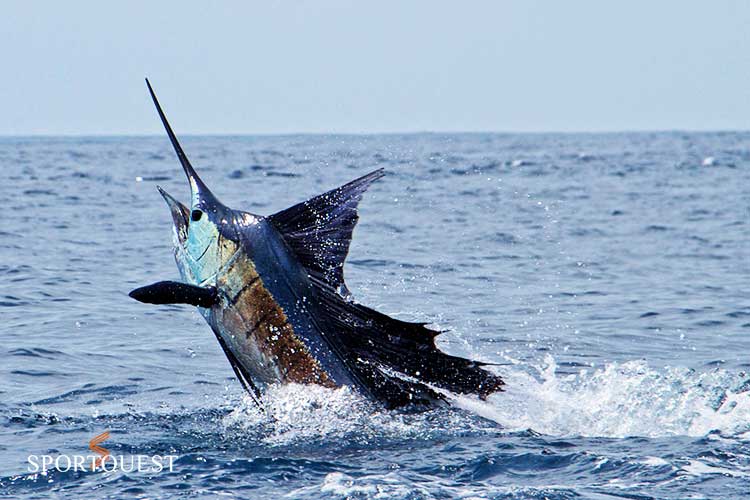 How long does it take to reach the fishing grounds?
 If you would like to target the Billfish, this will need to be done on a long day as the grounds as these are located over an hour away. If you are just after getting a bend in your rod then the fishing will start as you leave the harbour at Watamu.
What fish will I catch?
 The main reason people travel to this part of the world is the Marlin and Sailfish run but we can assure you that there are many more species that you will have a huge amount of fun with. We can take you reef fishing to target huge GT's, troll the boat at a faster speed for the Wahoo or even put the boat in huge shoals of Tuna whilst you throw lures and make your arms ache.
How many fish will I catch?
 This all depends on your chosen species. If it is the Marlin you want to fish for then you must understand that these are specimen fish and therefore time spent trolling for these is always time well spent as you never know when one will take the lures. A realistic expectation is 1 Marlin a day. If it was a multi-species day you wanted then you can expect to catch in excess of 20 fish of all different species.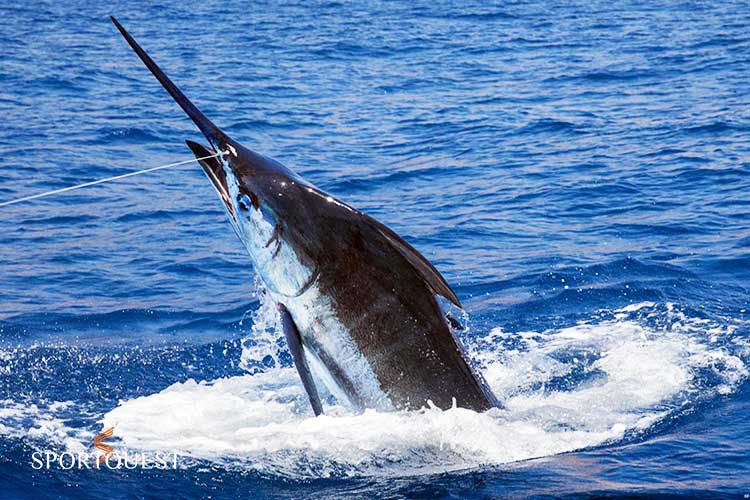 How do they fish?
The main style practised is trolling spreads of artificial lures along with teasers. The lures will differ in size depending on what is feeding, how bright the sun is and also how fast the boat is moving. If you speak to the captain of the boat and express your preferred styles they will make sure they take you to areas which will match the style you want to practise.
Do the guides speak English?
 Yes, all the guides speak very good English
Who is best suited to this destination?
 This style of fishing really is accessible to all abilities as the captain and deckhands will make it as easy or as hard as you wish it to be. If you want to simply sit back, sip a beer and be handed a rod with a fish on, they will accommodate. On the other hand, if you are a keen angler and really want to be involved then make them aware of this and they will get you involved with rigging rods, paying out lure patterns and also the main part of it – setting the hook.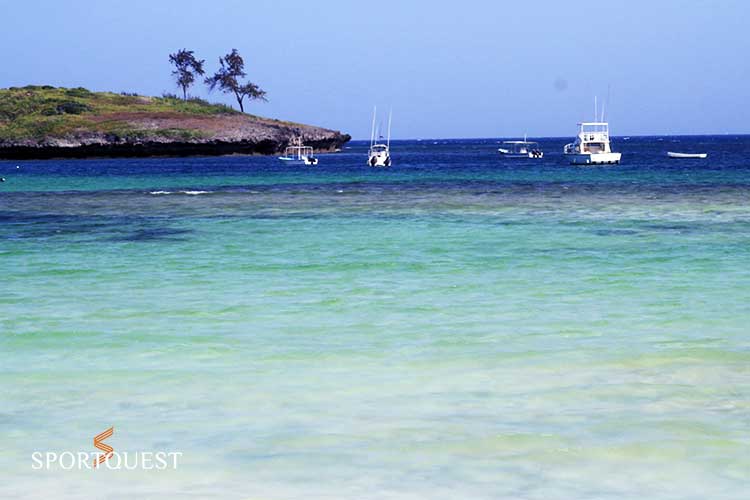 What skill level is required?
There is no skill level required for this style of fishing as the boat crew will do pretty much everything for you if that's what you want them to do. However, they really appreciate someone who is willing to learn and of course help out.
How physically demanding is this trip?
 On the whole, this holiday is open to all as the amount of walking is very small and also the boats are large making it very easy to manoeuvre around. With plenty of comfortable seating onboard it is a very relaxing holiday.
When to go?
 The season runs from July to April with October, November and December being the most fish packed months of the year.
How will I get there?
 The best route to Malindi airport is via Doha then onto Nairobi. You will then board a small plane which will take you to your final airport located a short drive from Ocean Sport resort.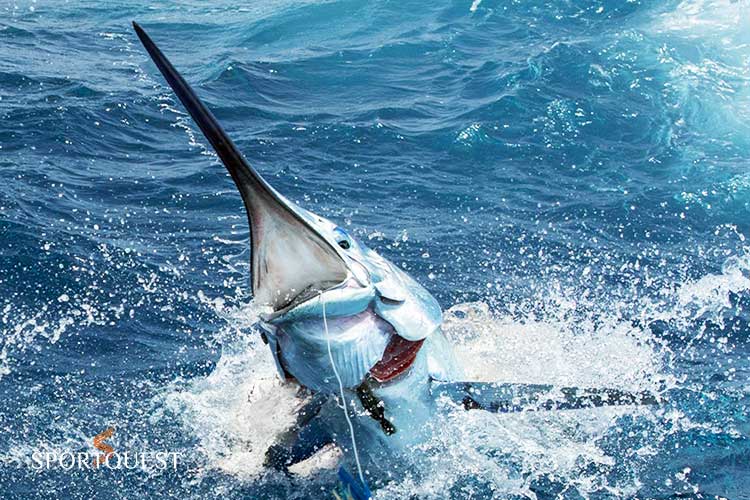 What is the accommodation like?
 The accommodation is one of the most established resorts in Watamu and offers a relaxed and friendly atmosphere. It is located right on the beach so most rooms have great ocean views. This resort will take great care of you.
What is the food like?
Fresh seafood and locally grown fruit and vegetables flavoured with local herbs and spices are the main features that make up the simple menus. Florian and his enthusiastic team create daily specials using the freshest produce available, often with a distinct 'French twist'. A wood-burning pizza oven on site ensures there is something for everybody; doubling up to bake homemade French bread and croissants daily. The food is complemented by a well rounded, comprehensive wine list.
 Does the lodge provide fishing tackle?
 Everything for your fishing days will be included apart from some fly fishing equipment.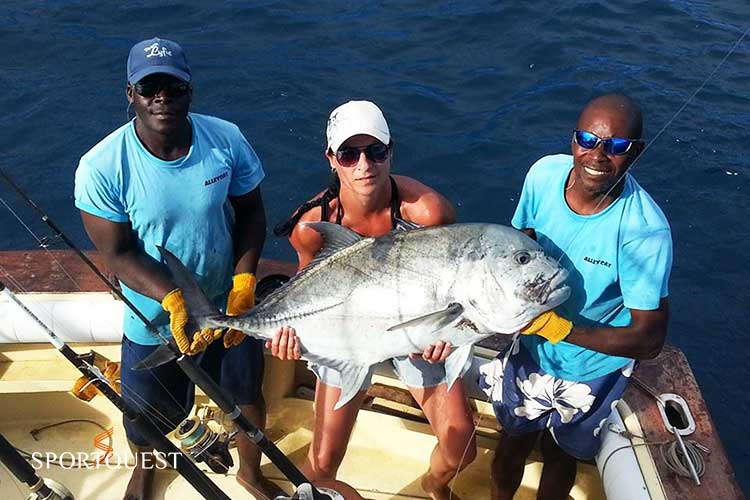 Is internet and phone signal available?
The lodge has very good free Wi-Fi service and some mobile phones will get a good signal.
Are there other activities available?
 There are many different activities available at the resort which we can provide a detailed list on request.
How much does it cost?
Sportquest Holidays offers you the complete package including all flights and transfers. To see all available weeks and prices click the 'Dates & Prices' tab on the Watamu Kenya page.
Sportquest Holidays also offers hosted trips to Reisastua Lodge each year, which are ideal for single anglers to view.
Alternatively, if you wish to arrange all your own travel arrangements Sportquest Holidays can book just the lodge and fishing for you. If you wish to book or have any questions please feel free to call our offices on 01603 407596.