Overview
Category: Fishing Holidays, Freshwater Fly Fishing


The thing that sets El Rincon Lodge apart from the rest is the versatility of water that it possesses. This versatility is one of the main reasons that the lodge can produce such consistent catches throughout its seasons. The lodge its self is very comfortable with six single rooms giving anglers the privacy they need for a good night's sleep. On top of this, El Rincon can provide all of the tackle.
Location
El Rincon can be found in the heart of Patagonia on the world famous Rio Gallegos River at the point where it is met by the less well known but equally important Rio Penitente. The region is known for its superb red wines, succulent beef and flavoursome lamb all of which will be sampled readily during a week's stay at the lodge. The area has some fantastic wildlife and looking across the flat plains towards the distant Andes mountains you are likely to see rhea's, armadillo, skunks and flocks of pink flamingos.
 The Rio Gallegos:
Our privately owned double bank section of the Rio Gallegos fishing is a short drive from the lodge. Along these 12 miles, we have a selection of classic looking pools holding good numbers of migrating Sea Trout. Brown Trout are also here but usually, we are concentrating our efforts on the Sea Trout populating the river on their migration upstream. These fish are big and angry at having their journey interrupted, so be prepared for some rod bending action when encountering one of these hard fighting chromers!
The Rio Penitente:
Our 21 miles of the Rio Penitente is just a short distance from the lodge so guests have the opportunity to pick up a rod and walk the few steps across the garden to try a few casts in any of the home pools of this stunningly pretty river. At its normal level, the Penitente is best fished with a single handed rod or one of the lighter double-handed switch rods around a 7#. Lines should be floating/sink tip or intermediate in normal conditions with slightly heavier sinking lines, (S3 orS6), working well during periods of higher water.
Fishing
A weeks fishing at El Rincon will see you encounter some amazing fish with silver Sea Trout being regularly caught in both rivers in excess of 20lb as well as good numbers of fish in the hard fighting double figure range.
Rods can be either single or double hand, depending on personal preference. We recommend a double hander around 8# matched to an intermediate line for normal conditions. Possibly moving up to an S3 or S6 in higher water following a spate. A floating line/sink tip may be used in lower water and if the conditions are right a skated fly can produce some explosive results.
Dry flies can be used effectively in settled and lower water conditions, with streamer patterns often turned to in higher water or in the numerous cut channels and deep holes spread out along the entire river system.
Guiding 
All the guides who work here are local to the area and have many years' experience under their belts and this really helps when there is so much water to fish every day. Each day your guide will drive you out to your days designated fishing area with your guide and fishing partner, the areas are huge and you will find many pools that have not seen a fly for some time.
Other activities
Other activities that can be included on a trip to El Rincon include river walks, horse riding, shooting and other Argentinian fishing opportunities.
El Rincon is definitely a place that any avid Sea Trout angler should have on their radar, with great hospitality and great fishing it really makes for a perfect holiday.
For more information about this tour, contact our experienced team who will be happy to answer any queries you have. Alternatively, can request a free brochure.
Accommodation
The El Rincon fly fishing programme is a true "El Campo" style operation run from Estancia Rincon De Los Morros, Southern Patagonia, some 1 hour an 40 minutes drive from the town of Rio Gallegos.
The Estancia owns exclusive private access to 20 kilometres of the world famous river, the Rio Gallegos, which enjoys strong runs of Sea Trout all through the season. In addition, there is a further 35 kilometres of private double bank fishing on the picturesque Rio Penitente which also has large runs of Sea Trout plus a very healthy stock of indigenous Brown Trout running up into double figures.
The lodge retains all the character and charm of its original turn of the century roots, having been imported from England in 1902 and completed in 1906. It stands on the banks of the beautiful Penitente river with uninterrupted views over the surrounding countryside, together with the Andes mountains as a panoramic backdrop. All of this can be enjoyed from the comfortable and expansive lounge area within the lodge complete with open log fire.
All guests bedroom accommodation is based on single occupancy unless couples wish to share. All meals and drinks, including alcoholic beverages, are included in the price.
Board: Full Board
Rooms: Single rooms
Laundry: Included
Power: 220 Volt
Meals: In lodge dining and riverside picnics
Alcohol: All Included
Equipment Hire: Rods and reels available
Shop: Flies
Cash Accepted: US Dollars
Species Information
Sea Trout
Season: November to April
Peak: January to February
Weight: 5LB to 30lb
Average Weight: 10lb

Brown Trout
Season: November to April
Peak: December to march
Weight: 1lb to 10lb
Average Weight: 4lb

Suggested Itinerary
Although the fishing has set weeks, we have daily flights departing from the UK, therefore should you wish to either extend your stay with additional days at the beginning or end in Buenos Aires, the itinerary below can be tailored to suit. It is also possible to combine Sea Trout Fishing with Golden Dorado, Steelhead and King Salmon fishing. You can even combine all our Argentina fishing packages with any of our shooting packages to make the ultimate trip.
DAY 1: (Thursday)
Depart UK (alternative routes available)
DAY 2: (Friday)
Arrive Buenos Aires
On arrival take a taxi to your overnight accommodation (taxi not included)
Overnight Accommodation: Buenos Aires Hotel (Twin rooms) B/B
DAY 3: (Saturday)
Depart accommodation via taxi and travel to Jorge Newbery airport (taxi not included)
Depart Jorge Newbery
Arrive Rio Gallegos
On arrival at Rio Gallegos our staff will be waiting to transfer you to the lodge. (transfer will take approx 2 hours)
On arrival at the lodge, once you have settled into your rooms if time permits you will have the chance at your first session fishing on the river.
Overnight Accommodation: El Rincon Lodge (Single Rooms) F/B
DAYS 4 & 5: (Sunday & Monday) Fishing Days.
Over the next six days you will have the chance to fish all the lodges water on both the Rio Gallegos and Penitente rivers. The rivers are divided into sections allowing pairs of anglers to fish two sections per day and is based on two anglers per guide.
Overnight Accommodation: El Rincon Lodge (Single Rooms) F/B
DAYS 6 & 7: (Tuesday & Wednesday) Fishing Days.
Fishing 2 sessions per day will allow anglers to fully explore the vast amount of water that El Rincon provides. Fishing is either with double handed rods or single-handed rods all-dependent on which river you are fishing and the wind, water levels, and its clarity.
Overnight Accommodation: El Rincon Lodge (Single Rooms) F/B
DAYS 8 & 9: (Thursday & Friday) Fishing Days.
If anglers want to start their mornings fishing before breakfast, a short walk to the Rio Penitente allows the Angler to access several quality pools and the chance to fish on their own or with a friend.
Overnight Accommodation: El Rincon Lodge (Single Rooms) F/B
DAY 10: (Saturday) 
Early in the morning transfer back to Rio Gallegos airport.
Depart Rio Gallegos
Arrive Jorge Newbery
On arrival take a taxi to your hotel. (Taxi not included)
Overnight Accommodation: Buenos Aires Hotel (Twin rooms) B/B
DAY 11: (Sunday)
Take a taxi back to Buenos Aires International Airport. (taxi not included)
Depart Buenos Aires
DAY 12: (Monday)
Arrive UK
Dates & Prices
Remember that Sportquest Holidays' services are completely FREE! When you book a trip with Sportquest Holidays, you never pay more than when you book directly with the lodge and flights independently. Plus what's more if you book with Sportquest Holidays your holiday is protect by our ATOL and the Travel Package Regulations Act. To see more details CLICK HERE.
Dates & prices are best viewed in landscape.
You can scroll the table left and right to view prices and availability.
Start Date
End Date
Days
Nights
Fishing
Angler
Non-Angler
Availability
07/11/2019
18/11/2019
12
11
6

£

5,212
On Request

Book Now

14/11/2019
25/11/2019
12
11
6

£

5,212
On Request

Book Now

21/11/2019
02/12/2019
12
11
6

£

5,212
On Request

Book Now

28/11/2019
09/12/2019
12
11
6

£

5,212
On Request

Book Now

05/12/2019
16/12/2019
12
11
6

£

5,212
On Request

Book Now

12/12/2019
23/12/2019
12
11
6

£

5,312
On Request

Book Now

19/12/2019
30/12/2019
12
11
6

£

5,462
On Request

Book Now

26/12/2019
06/01/2020
12
11
6

£

5,562
On Request

Book Now

02/01/2020
13/01/2020
12
11
6

£

5,887
On Request

Book Now

09/01/2020
20/01/2020
12
11
6

£

5,687
On Request

Book Now

16/01/2020
27/01/2020
12
11
6

£

5,687
On Request

Book Now

23/01/2020
03/02/2020
12
11
6

£

5,687
On Request

Book Now

30/01/2020
10/02/2020
12
11
6

£

5,687
On Request

Book Now

06/02/2020
17/02/2020
12
11
6

£

5,687
On Request

Book Now

13/02/2020
24/02/2020
12
11
6

£

5,687
On Request

Book Now

20/02/2020
02/03/2020
12
11
6

£

5,687
On Request

Book Now

27/02/2020
09/03/2020
12
11
6

£

5,687
On Request

Book Now

05/03/2020
16/03/2020
12
11
6

£

5,687
On Request

Book Now

12/03/2020
23/03/2020
12
11
6

£

5,687
On Request

Book Now

19/03/2020
30/03/2020
12
11
6

£

5,687
On Request

Book Now
Price Match Promise
We are so confident that our packaged prices are the best available and offer great value for money.
If, however, you find an identical holiday available with any other fully bonded Tour Operator at a lower price, we will match that price.
Price Notes
Prices are based on two adults sharing transfers, fishing and staying in single rooms at the lodge (unless otherwise stated) and are correct at the time of going to press. Subject to time of year or date and currency fluctuations, these prices may fluctuate slightly due to flight price increases or fuel surcharge.
ATOL
Holidays or flights booked with Sportquest Holidays Limited are protected by the Civil Aviation Authority by our ATOL bond (Number 6371). ATOL protects you from losing your money or being stranded abroad. It does this by carrying out financial checks on the firms it licenses and requiring a guarantee, called a bond.
Price Supplements
N/A
Still need some inspiration
Why not enjoy browsing our destinations in the comfort of your own home.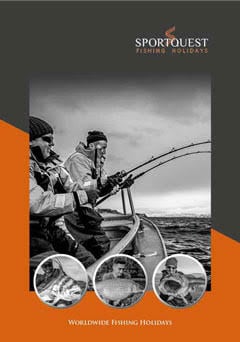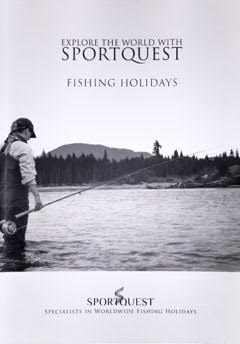 Request a free brochure
What's Included & Excluded
Included
All international flights
Internal flight Rio Gallegos to Buenos Aries
Transfers to and from Lodge
All accommodation as per itinerary
All meals at Lodge
All soft & alcohol drinks at Lodge
6 days fishing
Fishing license
Excluded
Personal holiday insurance
Meals at Buenos Aries Hotels or bar expenses
Transfers in Buenos Aries
Tips for guides and all camp staff
Fishing tackle
Waders & Boots
Options
Flight upgrades
Additional nights in Buenos Aries
Single rooms in Buenos Aries
Tackle hire $250 per week paid direct to lodge
Dorado Fishing add on
Steelhead Fishing add on
King Salmon Fishing add on
Dove shooting add on
Tour Notes
Visa
A machine-readable passport with at least 6 months before expiry, no visa for UK citizens required.
Medical Requirements
No vaccinations currently required
Please Note
All details of visa and medical requirements are correct at time of press however please check these requirements for changes.
Departure tax
There is no additional airport departure tax when leaving Argentina
Flight Route & Flight Time
UK – Buenos Aires (approx 14hrs) Buenos Aires – Rio Gallegos (approx 3 hours).
Baggage Allowance
Your actual allowance is based on both which airline you are flying with and also what class of seat you are travelling in. Normally in economy it is 1 checked bag, Premium Economy / Business 2 checked bags, First 3 checked bags. In addition to your checked bags you are also allowed 1 cabin bag and either 1-laptop bag or ladies handbag. The actual size and weight limit for bags is dependent on the airline. We therefore recommend that once your flights are booked you check on the airlines website for the up to date allowances.
If your itinerary includes private light aircraft or helicopter flights, we will advise you on your baggage and weight allowance.
Transfer Time
El Rincon Lodge – Rio Gallegos (approx 2 hours)
Questions & Answers
Where is the Lodge?
The lodge is situated at the top of the Rio Gallegos River close to the banks of its feeder stream, the Rio Penitente in Patagonia. It is based on a traditional working estancia with access to large stretches of both the Rio Gellegos and Rio Penitente. Looking across the plains at the distant mountain range, it is quite normal to see rheas trotting around in clouds of dust whilst pink flamingos fly overhead looking to settle down by the river's edge.
Where do they fish?
Fishing takes place in the many pools of the Rio Gallegos River and Rio Penitente and guest are guided in twos by the lodge's vastly knowledgeable guides. At the start of each week, a fishing rota is written up with the zones that each guided couple will fish each day. The great thing about El Rincon lodge is that it has so much available water free zones can be taken each day if the zones on your rota are not to your liking.
How long does it take to reach the fishing grounds?
Both the Rio Gallegos River and the Rio Penitente are close; the Rio Gellegos is approximately 15 minutes by car to its nearest pools and a further 25mins from that. The Penitente winds its way through the estancia and totals 35km. The nearest point to the lodge can be walked in just a couple of minutes. Guests can walk and fish those beats in the morning before breakfast but in the main part of the fishing day, the furthest point that you generally travel is 25 minutes by car. If you are more adventurous, you can go out to the border of Argentina and Chilli. This is approximately a 1-hour drive from the lodge.
What fish will I catch?
The main target species for El Rincon is Sea Trout. Even though the lodge is far up the river system, it gets more than its fair share of fresh run fish. When Sea Trout start running they will move exceptionally quick, even when they have been in the river for a few weeks. As well as the Sea Trout, El Rincon's Brown Trout fishing can be spectacular with a great average weight and some huge trophy fish thrown in for good measure.
How many fish will I catch?
One of the reasons why El Rincon has such a successful fishery is due to it having so much water on two completely different types of rivers. This allows for it to fish well in many more different water heights and weather conditions than if it was limited to just one river. It is always hard to give an exact figure on numbers of fish but on a good week, a competent angler should be able to contact between 5 and 10 fish a day at least.
How do they fish?
Due to El Rincon having two rivers, the effective styles of fishing is virtually limitless within traditional Trout methods. The Rio Gallegos is more suited to small double handed rods or switch rods in 7# 8# and 9#. These are perfect for average water and wind conditions. Versitip lines are perfect with quick interchangeable tips from float to sink 8-9. This gives you the ability to change between pools for the ideal presentation.
When you fish the Rio Penitente, the tools you need are single handed rods in 5# 6# and 7#. Depending on the height of the river, you can fish an array of different flies and techniques. All of which will work at different times. Sometimes they will all work on the same day.
Fishing small nymphs, the 5#/6# will work with winging them, stripping them or fishing them upstream. Using the same rods, dry flies can be deadly at different times with both Brown Trout and Sea Trout. The 7# rod can be employed for either swinging or stripping large streamer patterns, fishing big rubber legs or fishing larger deer head surface flies.
Do the guides speak English?
Currently, all the guides speak very good English. In Argentina, a fishing guide is regarded as a very prestigious role and young children grow up wanting to be guides. For this reason, they normally speak good English and take pride in their performance.
Who is best suited to this destination?
Due to the comfort and huge diversity of fishing that El Rincon has to offer, it really is a lodge for everyone. In normal conditions, any age or ability of angler is going to have a good time at the lodge. Although there is not a vast amount of activities for the non-angler to do, this accommodation is suitable for any non-angler who wants a relaxed week whilst being looked after with plentiful food and wine.
What skill level is required?
The skill level required to fish at El Rincon is not high. Any level of angler will be able to find fishing that is suitable to their level at the lodge. With such experienced guiding team anglers are more than likely to come away from a trip to El Rincon a better angler than before.
How physically demanding is this trip?
As far as wade fishing goes, El Rincon is very undemanding. It has a good mix of very easy wading pools to some that are much harder but due to the volume of different water and fish, there is no need to fish pools out of your comfort zone. Another factor that helps less physically fit anglers is that most of the pools can be reached by 4×4. For anyone who likes a walk whilst fishing, you can be dropped off in your team with your guide and walk along the river, fishing each pool as you go can be a really nice experience.
When to go?
Although the Brown Trout fishing can be amazing in both November and December the main run of Sea Trout turn up in January. The fishing for these stays good through until March.
How to get there?
International flights head into Buenos Aires and then it's a taxi across the city to the Airoparque Internal airport to catch a connecting flight to Rio Gallegos airport. At Rio Gallegos airport a Sportquest Holiday representative will meet you and transfer you approximately 1 hour 40 minutes to the lodge.
What is the accommodation like?
The lodge has a very relaxed comfortable feel to it. It is clean and the rooms are all single ensuites with plenty of space. The lodge has a large porch with rod stands and a good sized cloakroom for hanging waders and jackets. The only potential downside to the lodge is it doesn't have 24-hour electricity. There is a quiet generator that runs during cooking times and into the evening for charging phones and cameras.
What is the food like?
The food is excellent. It is a true Argentinian style with plenty of traditional meat dishes. You will eat a cooked breakfast before you head out for the day. Your guide will bring along a picnic for you to have by the riverbank whilst you are fishing. Evening meals are eaten at the dining table and are three courses. During the evening, the wine never stops flowing so it normally makes for an entertaining night as fisherman's tails get ever more flamboyant.
Does the lodge provide fishing tackle?
The lodge does not hire out tackle but as long as they are given pre warning they are happy to lend out all that is needed during your stay. Flies can be purchased at the lodge and they normally have a good selection.
Is internet and phone signal available?
Because of the remoteness of the lodge, it does not have WIFI and phone signal can be very hit and miss. There are some corners of the lodge that most phones will work.
Are there other activities available?
For anyone that likes peaceful walks, El Rincon is the perfect place. You can walk for miles in any direction and all you will be disturbed by is the occasional gaucho riding across the estancia or the many animals that live on the plain. Horse riding can also be arranged with plenty of pre-warning.
How much does it cost?
We offer the complete package including all flights and transfers. To view all prices and availability click the "Dates & Prices" Tab above.
Alternatively, if you wish to arrange all your own travel we can book just the lodge and fishing for you.
Tour Reviews
Sportquest Holidays is proud to be different, and one way we stand out from the crowd is our tried and trusted information we provide our customers. This information is not just provided on our own personal experiences but also REAL CUSTOMER reviews.
We are the only fishing & shooting tour operator to operate our own review system whereby customers can review both the packaged holiday and also how we performed on each destination.
How This Destination Performed
How We Performed On This Destination
How Our Customer Feedback Works
See how our customer feedback works and our latest customer reveiws.
Read More
Write a Review
Have you ever visited this destination? Why not write a review and let everyone know how you rated their services?
Write a Review