Overview
Category: Fishing Holidays, Popper & Jig Fishing, Single Angler Fishing, Hosted Popper, Jig & Big Game Fishing


We are proud to be able to offer you an exclusive fishing holiday like no other. With our Madagascan partner, Nirvana Fishing, we have put together an exclusive popper fishing school designed around teaching you everything there is to know about the art of popper and jig fishing for super hard fighting fish such as GT and the Dogtooth Tuna to name but a few.
Alain Soulet the founder and manager of Nirvana Fishing is known worldwide as an excellent fishing guide and holds a state diploma BPJEPS. Alain is a former competitor with 'carnivorous' lures at an international level and collaborator for 'fisheries journals'. He will be passing on all his years of experience on a one to one basis and is the perfect person to teach you all the basics of one of the hardest styles of fishing. The different styles he will be teaching are:
Classical Popping (stop and go action)
Pencil Popping (darting medium to high speed)
Flappers
Stickbaits (floating and sinking)
Our Popper Fishing School is based on board one of our stylish catamarans. You will also be fishing from two deluxe sport fishing boats perfect for casting lures. The fishing days will be based on four anglers per boat and Alain will be on board to help with everything, he will spend one day on one boat then alternate his days so everybody benefits from his expertise.
Don't worry if you haven't got all the fishing tackle needed as we will put together combo kits to hire of the very best tackle. We realise that rods and reels for this style of fishing have to be up to the job, with them being light enough to hold all day and strong enough to land these aggressive hard fighting fish. The reels are top of the range and as that is what will be doing most of the work, we have spared no expense in arranging the very best tackle for you to hire.
If you have any questions on any of the hosted fishing trips we offer then contact us in the office, our team will be happy to help you with any queries you have or you can request a free brochure.
Accommodation
We know how important it is that you can sleep and rest in the best conditions, especially after intense days of fishing and that's why we carefully select the best Catamarans for their quality and comfort for sleeping. Each angler will get his or her own sleeping cabin with either a single or double bed.
On board the Catamarans, you will of course have access to electricity (220 V sockets) to recharge your batteries and devices. There is also fresh running drinking water available on board. On our Catamarans you will have a wide screen TV for you to plug your cameras in to to view all your stunning videos and images of the trip.
We strongly believe that the success of your fishing trip will come down to comfortable sleeping arrangements, excellent food and places to relax in the evening meaning you can completely concentrate on the fishing.
The food that is served on board is delicious, varied and original and is prepared by our talented chefs. The food is produced and prepared with local fresh produce and mostly organically grown (fruits, vegetables, meat and eggs). Breakfast and evening meals will be served and eaten on board the Catamaran and the lunches will be prepared and packed on the fishing boat for you to enjoy whilst out fishing. As for drinks, spring water bottle is kindly provided and included in the full board of our formulas. All other beverages (soft drinks, beers, wines, spirits, espresso coffee) are extra, payable on the catamaran at the end of your stay.
We have a selection of Catamarans, all are of a high standard and will be assigned to you dependant on your group size.
Board: Full Board
Rooms: Single rooms
Telephone: On board Satellite phone
Power: 220 Volt
Air Conditioning: Except Catamaran Noah
Meals: On Board
Alcohol: Chargeable
Equipment Hire: Complete pop & jigg outfits
Shop: On Board Tackle shop
Cash Accepted: Euros
Species Information
Giant Trevally
Season: All Year
Peak: All Year
Weight: 10LB to 140LB
Average Weight: 55LB

Dogtooth Tuna
Season: All Year
Peak: All Year
Weight: 30LB to 220LB
Average Weight: 60LB

Giant Grouper
Season: All Year
Peak: November to April
Weight: 50LB to 550LB
Average Weight: 220LB

King Mackerel
Season: All Year
Peak: All Year
Weight: 20LB to 75LB
Average Weight: 30LB

Amberjack
Season: All Year
Peak: All Year
Weight: 20LB to 65LB
Average Weight: 30LB

Black Marlin
Season: All Year
Peak: March to June
Weight: 150LB to 1100LB
Average Weight: 300LB

Sailfish
Season: March to June & Oct to Dec
Peak: May & June
Weight: 40LB to 135LB
Average Weight: 65LB

Barracuda
Season: All Year
Peak: All Year
Weight: 10LB to 85LB
Average Weight: 40LB

Yellowfin Tuna
Season: March to June
Peak: April to June
Weight: 25LB to 100LB
Average Weight: 40LB

Wahoo
Season: All Year
Peak: March to June
Weight: 20LB to 80LB
Average Weight: 40LB

Dorado
Season: All Year
Peak: October to April
Weight: 10LB to 60LB
Average Weight: 25LB

Suggested Itinerary
The below itinerary is only a suggested one as we have daily flights departing from the UK, therefore should you wish to extend your stay with either more fishing days or free days, the itinerary below can be tailored to suit.
DAY 1:
Depart UK (alternative routes available)
DAY 2:
Arrive Addis Ababa
Depart Addis Ababa
Arrive Nosy Be
Once you have arrived at Nosy Be and collected your bags, head to the arrivals hall where one of Sportquest Holidays representative will be waiting to meet you. They will then assist you and your luggage to your private taxi. You will then be transferred to the marina where we will have our speed boat waiting to take you out to your Catamaran. (Transfer approx. 2 30 hours)
Before boarding the speed boat our guide will treat you to a light lunch then once you are ready we will take you out to your Catamaran.
When you board the Catamaran and have unpacked you will be invited to the top deck where you will get to meet your crew for the week. This is then your opportunity to discuss with the head guide what you would like to achieve from your week.
Overnight accommodation: Catamaran F/B
DAY 3: Fishing Day.
Over the next 5 days, after breakfast you will depart with your boat and crew to the various areas to fish different methods or target your chosen species.
The coastline on the South of Nosy Be is full of very interesting popper and lure features from coral reefs to steep drop offs where you can pop to raise some fantastic GT's
Return back to the Catamaran for some relaxation and a good meal.
Overnight accommodation: Catamaran F/B
DAYS 4 & 5: Fishing Days.
The fishing is conducted from our 10.5 metre / 34.5ft purpose built boat perfect for a days popper or jig fishing. Our guides will help you as much as you need.
Overnight accommodation: Catamaran F/B
DAY 6: Fishing Day.
Your fishing boat has been kitted out with top of the range down rigging equipment so you can take advantage of deep feeding fish and you just never know when you troll fish baits or shads at depths that normally are not fishable.
Overnight accommodation: Catamaran F/B
DAY 7: Fishing Day.
Each day you can choose to fish different styles, simply make it clear to your guide and he will take you to the best areas for your chosen style of fishing. We can organise you a days popper fishing, jig fishing or trolling it is entirely up to you, or why not take a fly rod and chance your arm at catching one of these beasts on a fly rod.
On your last days fishing you will start earlier around 06:00 and you will fish until its time to depart back towards Nosy Be (The departure will depend on the distance needed to travel back to Nosy Be)
Once the boat has made its way back to Nosy Be, we will then transfer you to your overnight hotel in Nosy Be.
Overnight accommodation: Nosy Be Hotel (Twin Room) B/B
DAY 8:
Free day to relax and explore Nosy Be. This is a stunning beach side location so there are plenty of things to keep you occupied. Alternatively, if you give us plenty of notice and subject to availability we can extend your fishing days given you an extra day and night on the Catamaran.
Overnight accommodation: Nosy Be Hotel (Twin Room) B/B
DAY 9:
In the morning once you have checked out of your hotel, take a taxi back to Nosy Be airport (Taxi not included) to start your journey back to the UK.
Depart Nosy Be
Arrive Addis Ababa
DAY 10:
Depart Addis Ababa
Arrive UK (alternative routes available)
Dates & Prices
Remember that Sportquest Holidays' services are completely FREE! When you book a trip with Sportquest Holidays, you never pay more than when you book directly with the lodge and flights independently. Plus what's more if you book with Sportquest Holidays your holiday is protect by our ATOL and the Travel Package Regulations Act. To see more details CLICK HERE.
Dates & prices are best viewed in landscape.
You can scroll the table left and right to view prices and availability.
Start Date
End Date
Days
Nights
Fishing
Angler
Non-Angler
Availability
22/11/2019
01/12/2019
10
9
5

£

3,654
On Request

Book Now
Price Match Promise
We are so confident that our packaged prices are the best available and offer great value for money.
If, however, you find an identical holiday available with any other fully bonded Tour Operator at a lower price, we will match that price.
Price Notes
Prices are based on four adults sharing transfers, fishing and accommodation (unless otherwise stated) in one of our Catamarans and are correct at the time of going to press. Subject to time of year or date and currency fluctuations, these prices may fluctuate slightly due to flight price increases or fuel surcharge.
ATOL
Holidays or flights booked with Sportquest Holidays Limited are protected by the Civil Aviation Authority by our ATOL bond (Number 6371). ATOL protects you from losing your money or being stranded abroad. It does this by carrying out financial checks on the firms it licenses and requiring a guarantee, called a bond.
Price Supplements
There are no supplements for being a single angler
Still need some inspiration
Why not enjoy browsing our destinations in the comfort of your own home.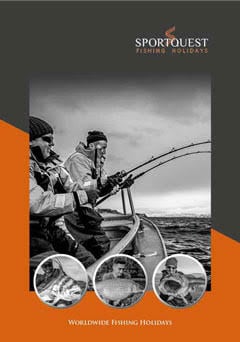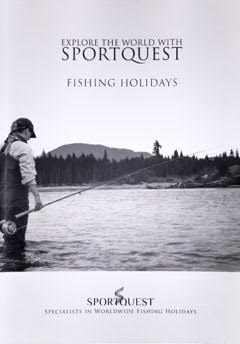 Request a free brochure
What's Included & Excluded
Included
All international flights
All internal flights
Nosy Be airport to Catamaran transfers
Catamaran for accommodation
All meals on Catamaran
State of the art 34ft fishing boat
Professional guide
5 days fishing
Nosy Be overnight hotel
Excluded
Personal holiday insurance
Nosy Be to airport taxi
All drinks
Personal items
Fishing tackle and local tips
National Park Fees €15 a day per person
Options
Tackle hire: We have complete rental packages to suit all styles of lure fishing from heavy popper set ups to light jigging. All rods and reels are top quality brands and come fully loaded with brand new line. The equipment on hire is completely set right for the style of fishing so if you have not got the right equipment then we highly recommend taking the hire tackle package. There is also a tackle shop on board the Catamaran where you can purchase the correct lures and are all very reasonably priced. Anything purchased in the tackle shop must be paid in cash (Euros)
Popper School Special Package: Along with Alain from Nirvana Fishing, we have put together the perfect tackle hire package for this trip. It includes:
Light casting rod and reel
Heavy popper rod and reel
Heavy jigging rod and reel
We have put this hire package together from top quality rods and reels aimed at the areas you will be fishing. All reels come complete with brand new braid so all you need to do is either bring your own end tackle or why not simply purchase all you need from our tackle shop on board the Catamaran that way you will be buying and using what works.
The total for the above hire package is £350
Flight upgrades: Please contact us for an up to date price if you interested in upgrading your flights
Tour Notes
Visa
A machine-readable passport with at least 6 months before expiry is required. You will be asked to fill out a tourist Visa once you arrive at Madagascar airport. This costs around €25
Medical Requirements
Malaria, Hepatitis, Typhoid and Tetanus.
Please Note
All details of visa and medical requirements are correct at time of press however please check these requirements for changes.
Departure tax
There is no additional airport departure tax when leaving Madagascar.
Flight Route & Flight Time
UK – Paris (approx 1.5 hours)
Paris –  Saint Denis de la Reunion (approx 10.5 hours)
Saint Denis de la Reunion – Nosy Be (approx 1.5 hours)
Baggage Allowance
Your actual allowance is based on both which airline you are flying with and also what class of seat you are travelling in. Normally in economy it is 1 checked bag, Premium Economy / Business 2 checked bags, First 3 checked bags. In addition to your checked bags you are also allowed 1 cabin bag and either 1-laptop bag or ladies handbag. The actual size and weight limit for bags is dependent on the airline. We therefore recommend that once your flights are booked you check on the airlines website for the up to date allowances.
If your itinerary includes private light aircraft or helicopter flights, we will advise you on your baggage and weight allowance.
Transfer Time
Nosy Be to Catamaran (approx 3.5 hours)
Tour Reviews
Sportquest Holidays is proud to be different, and one way we stand out from the crowd is our tried and trusted information we provide our customers. This information is not just provided on our own personal experiences but also REAL CUSTOMER reviews.
We are the only fishing & shooting tour operator to operate our own review system whereby customers can review both the packaged holiday and also how we performed on each destination.
How This Destination Performed
How We Performed On This Destination
How Our Customer Feedback Works
See how our customer feedback works and our latest customer reveiws.
Read More
Write a Review
Have you ever visited this destination? Why not write a review and let everyone know how you rated their services?
Write a Review