Overview
In conjunction with our Madagascan partners, Nirvana Fishing, we have put together another very exciting adventure that will satisfy the most keenest of lure angler and with excellent chances for extreme jigging and casting lures. Explore the huge offshore bench with such fish as Dogtooth Tuna, GT's and pelagics like Sailfish, Yellow Fin Tuna.Dorado, Wahoo and  even Black Marlin.
40 km north-west of the island of Nosy Be, discover the fabulous Leven bench, which covers an area of about 2500 km² and is by far the largest offshore bank of Madagascar. In connection with the auxiliary benches of the Great Beaver in the South, the Voltigeur in the South-West and the Cordelier in the North, it forms a base of volcanic origin, 90 km long and 15 to 30 km wide, appearing as a vast mass tabular with cut out contours. A gigantic playground whose surface is swollen by up rises up to 15 meters deep, where many coral formations develop.
In popping mode, superb possibilities (still largely unexploited) are offered to you to provoke the GT, Blue Fin Trevallies, Dogtooth Tuna and other fierce opponents. With regards to jigging, you can explore the slopes and tops of the bench where anything awaits you but especially the furious "doggies" (Dogtooth Tuna), which will beat you up and spit you out. Not to mention pelagic fish of all kinds. The Leven bench is probably one of the best spots in the world for Dogtooth Tuna, reaching their maximum sizes with GT's over 100LB and Dogtooth Tuna reaching the magical 200LB
We are very excited about this destination, as the fishing off Nosy Be is very much untapped and just waiting for you to chance your arm at landing one of the islands gems.
The same with our other Madagascar holidays, we will be using one of stunning Catamarans, we have a variety on offer and will be assigned dependant on group size, which are the perfect base for living and dining from. We know how important it is that you can sleep and rest in the best conditions especially after an intense days fishing and that's why our Catamarans have been selected for their quality and comfort of the sleeping cabins. There are also great relaxation areas, either in the lounge with sofas or on deck (sun deck) to enjoy the great outdoors, basking in the sun, watch the magnificent starry sky of Madagascar or prepare your fishing arrangements.
The actual boats you will be fishing from follow the Catamaran out to the fishing grounds. They are very functional, comfortable, equipped with unparalleled safety equipment and are top quality boats (10.30 metre fiberglass shell, central console, engines 2 x 250 HP, equipped with high-tech electronics, with a cabin with WC, washbasin and shower), accommodating up to 4 fishermen and able to navigate with ease by seas, unequalled performance (top speed of 45 knots !) simply the best extreme fishing boats available at Madagascar.
To view all our saltwater destinations Click Here
Accommodation
We know how important it is that you can sleep and rest in the best conditions, especially after intense days of fishing and that's why we carefully select the best Catamarans for their quality and comfort for sleeping. Each angler will get his or her own sleeping cabin with either a single or double bed.
On board the Catamarans, you will of course have access to electricity (220 V sockets) to recharge your batteries and devices. There is also fresh running drinking water available on board. On our Catamarans you will have a wide screen TV for you to plug your cameras in to to view all your stunning videos and images of the trip.
We strongly believe that the success of your fishing trip will come down to comfortable sleeping arrangements, excellent food and places to relax in the evening meaning you can completely concentrate on the fishing.
The food that is served on board is delicious, varied and original and is prepared by our talented chefs. The food is produced and prepared with local fresh produce and mostly organically grown (fruits, vegetables, meat and eggs). Breakfast and evening meals will be served and eaten on board the Catamaran and the lunches will be prepared and packed on the fishing boat for you to enjoy whilst out fishing. As for drinks, spring water bottle is kindly provided and included in the full board of our formulas. All other beverages (soft drinks, beers, wines, spirits, espresso coffee) are extra, payable on the catamaran at the end of your stay.
We have a selection of Catamarans, all are of a high standard and will be assigned to you dependant on your group size.
Board: Full Board
Rooms: Single rooms
Telephone: On board Satellite phone
Power: 220 Volt
Air Conditioning: Except Catamaran Noah
Meals: On Board
Alcohol: Chargeable
Equipment Hire: Complete pop & jigg outfits
Shop: On Board Tackle shop
Cash Accepted: Euros
Species Information
Giant Trevally
Season: October to May
Peak: November to April
Weight: 10LB to 140LB
Average Weight: 55LB

Dogtooth Tuna
Season: October to May
Peak: November to April
Weight: 30LB to 220LB
Average Weight: 60LB

Giant Grouper
Season: October to May
Peak: November to April
Weight: 50LB to 550LB
Average Weight: 220LB

King Mackerel
Season: October to May
Peak: November to April
Weight: 20LB to 75LB
Average Weight: 30LB

Barracuda
Season: October to May
Peak: November to April
Weight: 10LB to 85LB
Average Weight: 40LB

Yellowfin Tuna
Season: October to May
Peak: November to April
Weight: 25LB to 100LB
Average Weight: 40LB

Sailfish
Season: October to May
Peak: November to April
Weight: 40LB to 135LB
Average Weight: 65LB

Black Marlin
Season: October to May
Peak: November to April
Weight: 150LB to 1100LB
Average Weight: 300LB

Dorado
Season: October to May
Peak: November to April
Weight: 10LB to 60LB
Average Weight: 25LB

Suggested Itinerary
The below itinerary is only a suggested one as we have daily flights departing from the UK, therefore should you wish to extend your stay with either more fishing days or free days, the itinerary below can be tailored to suit.
DAY 1:
Depart UK (alternative routes available)
DAY 2:
Arrive Addis Ababa
Depart Addis Ababa
Arrive Nosy Be
Once you have arrived and collected your bags, a Sportquest Holidays representative will be waiting to meet you. You will then be transferred by private taxi (approx. 45minutes) to the marina where you will board our speedboat to be taken out to the Catamaran (approx. 2.30 hours). Before you board the speed boat you will be treated to lunch with our guides and then when you are ready, you and the crew will make your way via our speed boat out to meet the Catamaran.
Once you have arrived at the Catamaran and had a chance to unpack you will be invited on deck to have your first fishing meeting.
Overnight accommodation: Catamaran (Single rooms) F/B
DAY 3: Fishing Day.
As you have the use of our top quality fishing boats, you can choose different fishing areas to try out different styles of fishing. One day you can be trolling for the hard fighting Black Marlin then the next day you can be jigging the many different shelves for Dogtooth Tuna.
After each day you will be taken back to the Catamaran where you can then relax and unwind over a couple of cold beers whilst chatting about your days fishing.
Overnight accommodation: Catamaran (Single rooms) F/B
DAYS 4 & 5: Fishing Days.
Once a fishing programme has been discussed, our guides will try their hardest to make this happen (weather dependant) so if you are purely after species then make this clear but on the other hand if you are after targeting a certain species our guides will put a programme together to try and achieve it.
Overnight accommodation: Catamaran (Single rooms) F/B
DAY 6: Fishing Day.
We have a fully qualified saltwater instructor that will come aboard and spend the day with you. He has a vast knowledge of all lure practises and will teach you many different techniques to make any saltwater exotic destination fishing that much easier.
Overnight accommodation: Catamaran (Single rooms) F/B
DAY 7: Fishing Day.
There are so many different species to target around these seas and we would highly recommend at least one day spent fishing for the "doggies" (Dogtooth Tuna) as they are plentiful in these waters and once you have felt the sheer power of these fish, you will be hooked.
On your last days fishing you will start earlier around 06:00 and you will fish until its time to depart back towards Nosy Be (The departure will depend on the distance needed to travel back to Nosy Be)
Once the boat has made its way back to Nosy Be, we will then transfer you to your overnight hotel in Nosy Be.
Overnight accommodation: Nosy Be Hotel (Twin Room) B/B
DAY 8:
Free day to relax and explore Nosy Be. This is a stunning beach side location so there are plenty of things to keep you occupied. Alternatively, if you give us plenty of notice and subject to availability we can extend your fishing days given you an extra day and night on the Catamaran.
Overnight accommodation: Nosy Be Hotel (Twin Room) B/B
DAY 9:
In the morning once you have checked out of your hotel, take a taxi back to Nosy Be airport (Taxi not included) to start your journey back to the UK.
Depart Nosy Be
Arrive Addis Ababa
DAY 10:
Depart Addis Ababa
Arrive UK (alternative routes available)
Dates & Prices
Remember that Sportquest Holidays' services are completely FREE! When you book a trip with Sportquest Holidays, you never pay more than when you book directly with the lodge and flights independently. Plus what's more if you book with Sportquest Holidays your holiday is protect by our ATOL and the Travel Package Regulations Act. To see more details CLICK HERE.
Dates & prices are best viewed in landscape.
You can scroll the table left and right to view prices and availability.
Start Date
End Date
Days
Nights
Fishing
Angler
Non-Angler
Availability
01/01/2019
31/01/2019
10
9
5

£

3,156
On Request

Book Now

01/02/2019
28/02/2019
10
9
5

£

3,156
On Request

Book Now

01/03/2019
31/03/2019
10
9
5

£

3,156
On Request
Sold Out
01/04/2019
30/04/2019
10
9
5

£

3,156
On Request

Book Now

01/05/2019
31/05/2019
10
9
5

£

3,156
On Request

Book Now

01/06/2019
30/06/2019
10
9
5

£

3,156
On Request

Book Now

01/07/2019
31/07/2019
10
9
5

£

3,326
On Request

Book Now

01/08/2019
31/08/2019
10
9
5

£

3,306
On Request

Book Now

01/09/2019
30/09/2019
10
9
5

£

3,206
On Request

Book Now

01/10/2019
31/10/2019
10
9
5

£

3,156
On Request

Book Now

01/11/2019
30/11/2019
10
9
5

£

3,156
On Request

Book Now

01/12/2019
31/12/2019
10
9
5

£

3,326
On Request

Book Now
Price Match Promise
We are so confident that our packaged prices are the best available and offer great value for money.
If, however, you find an identical holiday available with any other fully bonded Tour Operator at a lower price, we will match that price.
Price Notes
Prices are based on four adults sharing transfers, fishing and accommodation (unless otherwise stated) in Catamaran Noah and are correct at the time of going to press. Subject to time of year or date and currency fluctuations, these prices may fluctuate slightly due to flight price increases or fuel surcharge.
ATOL
Holidays or flights booked with Sportquest Holidays Limited are protected by the Civil Aviation Authority by our ATOL bond (Number 6371). ATOL protects you from losing your money or being stranded abroad. It does this by carrying out financial checks on the firms it licenses and requiring a guarantee, called a bond.
Price Supplements
If you group size is smaller than the standard four then contact us for an up to date price.
Still need some inspiration
Why not enjoy browsing our destinations in the comfort of your own home.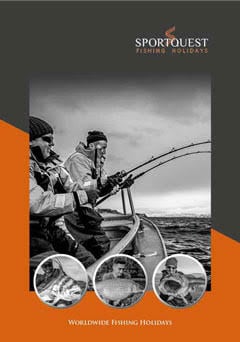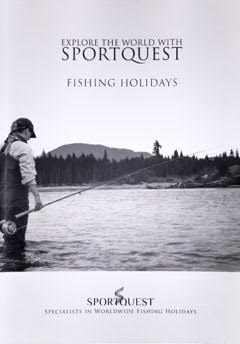 Request a free brochure
What's Included & Excluded
Included
All international flights
All internal flights
Nosy Be airport to Catamaran transfers
Catamaran Noah for accommodation
All meals on Catamaran
State of the art 34ft fishing boat
Professional guide
5 days fishing
Nosy Be overnight hotel
Excluded
Personal holiday insurance
Nosy Be to airport taxi
All drinks
Personal items
Fishing tackle and local tips
National Park Fees €15 a day per person
Options
Custom Coaching: If you are a beginner or a experienced lure angler we can offer you coaching from the owner of Nirvana Fishing, Alain. He is fully qualified and recognised around the world as being one of the best. (BP JEPS – France) Alain will spend the day with your group helping iron out any bad habits you may of picked up. He has such a wide knowledge of all lure fishing and techniques that after you spend the day with him, it will vastly improve your saltwater adventures.
Tackle hire: We have complete rental packages to suit all styles of lure fishing from heavy popper set ups to light jigging. All rods and reels are top quality brands and come fully loaded with brand new line. The equipment on hire is completely set right for the style of fishing so if you have not got the right equipment then we highly recommend taking the hire tackle package. There is also a tackle shop on board the Catamaran where you can purchase the correct lures and are all very reasonably priced. Anything purchased in the tackle shop must be paid in cash (Euros)
Catamaran Upgrade: Please contact us for an up to date price if you interested in upgrading the live aboard Catamaran
Flight upgrades: Please contact us for an up to date price if you interested in upgrading your flights
Tour Notes
Visa
A machine-readable passport with at least 6 months before expiry is required. You will be asked to fill out a tourist Visa once you arrive at Madagascar airport. This costs around €25
Medical Requirements
Malaria, Hepatitis, Typhoid and Tetanus.
Please Note
All details of visa and medical requirements are correct at time of press however please check these requirements for changes.
Departure tax
There is no additional airport departure tax when leaving Madagascar.
Flight Route & Flight Time
UK – Paris (approx 1.5 hours)
Paris –  Saint Denis de la Reunion (approx 10.5 hours)
Saint Denis de la Reunion – Nosy Be (approx 1.5 hours)
Baggage Allowance
Your actual allowance is based on both which airline you are flying with and also what class of seat you are travelling in. Normally in economy it is 1 checked bag, Premium Economy / Business 2 checked bags, First 3 checked bags. In addition to your checked bags you are also allowed 1 cabin bag and either 1-laptop bag or ladies handbag. The actual size and weight limit for bags is dependent on the airline. We therefore recommend that once your flights are booked you check on the airlines website for the up to date allowances.
If your itinerary includes private light aircraft or helicopter flights, we will advise you on your baggage and weight allowance.
Transfer Time
Nosy Be to Catamaran (approx 3.5 hours)
Tour Reviews
Sportquest Holidays is proud to be different, and one way we stand out from the crowd is our tried and trusted information we provide our customers. This information is not just provided on our own personal experiences but also REAL CUSTOMER reviews.
We are the only fishing & shooting tour operator to operate our own review system whereby customers can review both the packaged holiday and also how we performed on each destination.
How This Destination Performed
How We Performed On This Destination
How Our Customer Feedback Works
See how our customer feedback works and our latest customer reveiws.
Read More
Write a Review
Have you ever visited this destination? Why not write a review and let everyone know how you rated their services?
Write a Review