Angola | Fishing Holidays
For many years Angola has been off the radar for the international fishing community, however, it's not something that could be kept quiet for long as each year Angola produces some fantastic catches and a huge array of species can be targeted either on lure or fly. The waters around this lodge are alive with African Cubera Snapper, Senegal Kob, Giant African Threadfins and the supercharged Jacks. All of the species are more than willing to smash a well presented lure leading to an explosive fight.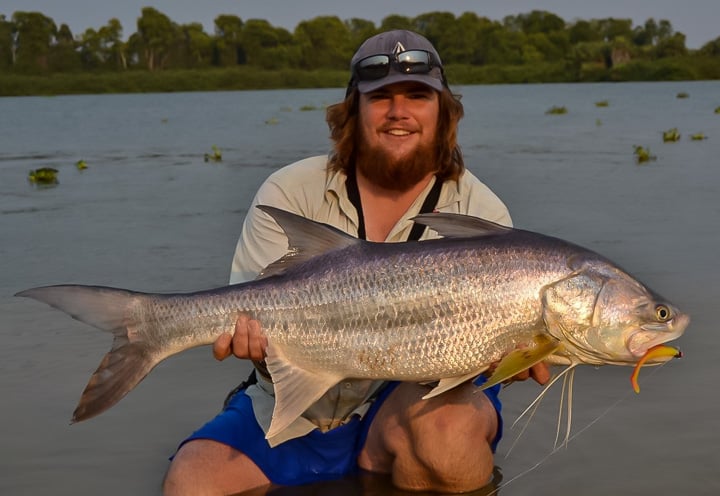 Kwanza Tarpon Lodge | Lure & Popper Fishing | Angola
At Kwanza Lodge the fishing is varied with the opportunity to one day, fish the freshwaters of the river Cuanza for super huge Tarpon and then the next to be some nautical miles offshore fishing for huge Marlin. The guides will make sure that all your requirements are catered for, so if you wish to troll all day or even popper fish then this will be tailored into your itinerary... Read more
Category: Big Game Fishing, Popper & Jig Fishing
Additional Information
Kwanza Lodge is located at the mouth of the Cuanza River giving the travelling angler some of the best access to both fresh and saltwater fishing opportunities. Situated on the Western Coast of the continent of Africa this lodge benefits from some amazing blue water fishing for big Marlin to shoals of Tuna and Dorado.
The surrounding landscape of Kwanza Lodge is very unique as in front of the lodge you have the murky freshwater Cuanza River then behind the lodge, you have miles upon miles of unspoilt and untouched beaches fringed with palm trees which is a great place to sit and relax and soak up the beautiful surroundings.
If you love to witness lots of wildlife whilst fishing then Kwanza Lodge will tick many boxes as the wildlife is in abundance with some of the worlds prettiest birds flying close to the lodge, to the bigger came species that this part of the world is renowned for.
Kwanza Lodge is a great destination for anglers who specialise in lure and bait fish as most of the species you will be targeting are very aggressive feeders and will always be more than willing to smash a surface lure or a shallow diving lure. Bait fishing always throws up surprises and is a must if you fancy breaking your day up of casting lures.
Contact one of our experts to help you organise your perfect fishing holiday to Kwanza Lodge and before you know it, we will be flying you out to the perfect lure and popper fishing destinations in Angola.
Stay in Touch
Sign Up To Our Newsletter
Sign up to our weekly newsletter to get the latest travel advice, offers and adventures.
Request A Brochure
Our inspiring, free brochure is packed with incredible travel inspiration from every corner of the planet.
Submit An Enquiry
Our experienced team are always on hand to help you with any questions or advice you need.