Overview
Category: Freshwater Fly Fishing


Winsnes Lodge on the River Gaula is a great destination for any Salmon angler wishing to experience a well run Salmon river. The Gaula River appears in the top five rivers in Norway most years for its regular catch statistic's and Winsnes Lodge is a very large contributor to these statistics. Winsnes Lodge is also a good destination for both groups and single anglers alike due to the lodge catering for up to eight rods a week with some single rooms available.
Location
The Gaula River is the largest in central Norway and runs its course over 95miles, the river begins in Holtålen municipality near the mountain Kjølifjellet and finishes life in Trondheim Fjord. In 2005 the Gaula was named as the best Salmon river in Norway and its yearly catch stats still put it in contention to regain its crown each year.
Atlantic Salmon fishing rivers, beats and pools in Norway have been fished continuously and never given any rest periods, until now. We have set up this fishery to focus on the quality fishing and quality beats which are well rested exclusively for fly fishing.
In recent years the Salmon catches have been improving and the lodge is regarded as one of the most prolific parts on the river. The beats are limited to eight guest rods per week with two rods retained by the landowners. During June and July, the lodge operates a resting system, closing all of the pools for two 4 hour sessions per day, allowing the pools and our guests to rest. This policy has resulted in increased catches and has proved very popular with visitors. Winsnes also operates a total catch and release policy in an effort to preserve the incredible Gaula River Atlantic Salmon for future generations.
Fishing
Winsnes Lodge controls 4 km double bank fishing and some mouth-watering fly fishing pools on the Gaula River. The fishery is unusual as it is a continuous stretch, rather than a series of broken up pools, divided into nine beats. There is the Kjelflløe pool which moves upstream and the Oksoy pool, Rohølen pool and the Lilllesterøm pool which end at the most famous pool on the Gaula Kroken.
Upstream from Kroken is our new water part of the Flaskholen beat which starts with Bottle Pool, then the Railway pool and Old Bridge pool. It ends with the top pool named Junction pool. All of the beats offer fishing in all water conditions from high to very low with great holding spots for Atlantic salmon.
Both traditional double handed rods and single handers can be used to good effect depending on water height, with the single handed rods coming into their own in lower water conditions. The river has good runs of fish and the lodge accounts for numbers of fish caught between 100 to 200 per season with an average size of 17lb. During the early part of the season, some very big fish run the river and fish caught up to 40lb are recorded each season.
Guides
The guiding scheme at Winsnes Lodge works on a rotation with the guide walking between anglers to give advice, problem solve and help you land and photograph fish. Each morning the guide will talk to you about the pools you will be fishing and give you a rough plan to work to with regards to lines and flies that should be used.
Other Activities 
With such fantastic local countryside, it is easy to see why so many non-fishing companions like to travel to the lodge for relaxation and the chance to walk in and experience the beauty of Norway.
If you have any questions on any of the Atlantic Salmon fishing we offer then contact us in the office, our experienced team will be happy to help you with any queries you have. Additionally, you can request a free brochure.
Alternatively, you can view all our Atlantic Salmon fishing destinations here.
Accommodation
The Winsnes Lodge is owned and run by Anne Marit Winsnes and her partner, British TV angler, Matt Hayes. The atmosphere at Winsnes is friendly and informal – guests are encouraged to come and go as they please. Help is always on hand for guests who want assistance with their fishing equipment, advice about the river, fly choices etc.
With highly developed catering facilities, Winsnes is famous for the quality of its food – a mixture of traditional Norwegian and international cuisine. British touches can be seen on the menu – British tea and Marmite at breakfast being prime examples!
Winsnes was built in 1882. From approx. 1890 to 1910 the house was used for the English 'salmon lords', who began to visit the Gaula during this period. A number of pictures and other paraphernalia can still be seen from this period. Built form traditional Norwegian wood, the house has been extended and modernised with a large ground floor kitchen, a spacious dining area and lounge. In high summer, most guests sit outside in the courtyard to sit and chat, drink wine or gin and tonic. All 7 bedrooms are on the first and second floor with shared or single occupancy possible. Some, but not all of the rooms are en-suite. There are 5 bathrooms in total.
Guests will be well looked after. Packages are full board, comprising breakfast and dinner with the opportunity to make your own packed lunch from the large spread put out at the breakfast table. Non-fishing guests and families will be able to choose from a list of activities and are very welcome at the lodge too.
Also, new at the Winsnes site, is the Lax Café and Pub and a fly fishing shop, just incase you need those extra flies and fly lines.
Built using the structure of a barn that was part of the original Winsnes Farm from several hundred years ago, the barn was constructed in the 18th century and refurbished in 2010. The Lax Cafe retains the original architecture of the traditional building and much of the furniture is original to the Winsnes farm (indeed, almost all the furniture was made by members of the Winsnes family on the farm).
A meeting place for both local people and tourists, the Lax Cafe and Pub is open from Friday to Sunday. It is open for guests and special events at any time.
Visitors enjoy the well-stocked bar, which includes a full-range of alcohol and soft drinks (the beer is available on draught and in bottles with individual beers from Scandinavia, Germany, Ireland and the UK). Food is available on site. This includes a selection of bar food during normal opening hours or special catering for events and groups.
Board: Full Board
Rooms: Single & twin
Telephone: Chargeable
Internet: WiFi
Power: 220 volt
Meals: In dining room
Alcohol: Lax Café and Pub
Equipment Hire: Nominal charge
Shop: Fly shop
Cash Accepted: Norwegian Kroner
Species Information
Atlantic Salmon
Season: 1st June to 29th August
Peak: July
Weight: 8lb to 47lb
Average Weight: 14lb

Suggested Itinerary
Although the fishing has set weeks, we have daily flights departing from the UK, therefore should you wish to either extend your stay with additional days at the beginning or end in Norway, the itinerary below can be tailored to suit you.
DAY 1: (Sunday) Fishing Day.
Depart from the UK (alternative routes available)
Arrive in Trondheim
At Trondheim Airport you will pick up your pre-arranged hire car. Please note that is not included in the price but we can book this for you.
Note: we do offer a meet and greet at the airport for an additional £100 pp.
On arrival at Winsnes Farm, our hosts will check you in, give you a tour of the facilities, talk about the rotation and all the fishing areas on the Gaula River
Fishing normally starts around 9 PM.
Overnight accommodation: Winsnes Farm F/B (Twin Room)
DAYS 2 & 3: (Monday & Tuesday) Fishing Days.
Each day breakfast is served and you can either return to the lodge for lunch or alternatively make yourself a packed lunch at breakfast to take out to the water and eat while you enjoy a days fishing.
Fishing Tip: even though we rest the Salmon fishing pools every 6 hours, its best to give each pool a rest once you have fished through, as resting fish will respond better to your flies.
Overnight accommodation: Winsnes Farm F/B (Twin Room)
DAYS 4 & 5: (Wednesday & Thursday) Fishing Days.
Salmon fishing each day is based on 2 rods per beat and you will rotate beats every 4 hours.
Fishing is based on light guiding, so each day our guides will come to visit you throughout the day and give you advice on all the pools and runs.
Overnight accommodation: Winsnes Farm F/B (Twin Room)
DAYS 6 & 7: (Friday & Saturday) Fishing Days.
Enjoy the days fishing, there is a mandatory rest period on the Gaula River for all pools between the hours of 2 AM to 6 AM and 2 PM to 6 PM.
Evening meals are served at the lodge.
Overnight accommodation: Winsnes Farm F/B (Twin Room)
DAY 8: (Sunday)
In the morning drive yourself back to Trondheim Airport and drop off the car.
Depart Trondheim
Arrive in the UK
Dates & Prices
Remember that Sportquest Holidays' services are completely FREE! When you book a trip with Sportquest Holidays, you never pay more than when you book directly with the lodge and flights independently. Plus what's more if you book with Sportquest Holidays your holiday is protect by our ATOL and the Travel Package Regulations Act. To see more details CLICK HERE.
Dates & prices are best viewed in landscape.
You can scroll the table left and right to view prices and availability.
Start Date
End Date
Days
Nights
Fishing
Angler
Non-Angler
Availability
14/07/2019
21/07/2019
8
7
6

£

3,169
On Request
Sold Out
21/07/2019
28/07/2019
8
7
6

£

2,770
On Request

Book Now

28/07/2019
04/08/2019
8
7
6

£

2,471
On Request
Sold Out
04/08/2019
11/08/2019
8
7
6

£

2,322
On Request

Book Now

11/08/2019
18/08/2019
8
7
6

£

2,322
On Request

Book Now

18/08/2019
25/08/2019
8
7
6

£

2,277
On Request

Book Now

25/08/2019
01/09/2019
8
7
6

£

2,277
On Request

Book Now

31/05/2020
07/06/2020
8
7
6

£

1,948
On Request

Book Now

07/06/2020
14/06/2020
8
7
6

£

1,968
On Request

Book Now

14/06/2020
21/06/2020
8
7
6

£

2,965
On Request

Book Now

21/06/2020
28/06/2020
8
7
6

£

3,154
On Request

Book Now

28/06/2020
05/07/2020
8
7
6

£

3,533
On Request

Book Now

05/07/2020
12/07/2020
8
7
6

£

3,483
On Request

Book Now

12/07/2020
19/07/2020
8
7
6

£

3,269
On Request

Book Now

19/07/2020
26/07/2020
8
7
6

£

2,870
On Request

Book Now

26/07/2020
02/08/2020
8
7
6

£

2,571
On Request

Book Now

02/08/2020
09/08/2020
8
7
6

£

2,422
On Request

Book Now

09/08/2020
16/08/2020
8
7
6

£

2,422
On Request

Book Now

16/08/2020
23/08/2020
8
7
6

£

2,377
On Request

Book Now

23/08/2020
29/08/2020
8
7
6

£

2,377
On Request

Book Now
Price Match Promise
We are so confident that our packaged prices are the best available and offer great value for money.
If, however, you find an identical holiday available with any other fully bonded Tour Operator at a lower price, we will match that price.
Price Notes
Prices are based on two adults sharing transfers, fishing and accommodation (unless otherwise stated) and are correct at the time of going to press. Subject to time of year or date and currency fluctuations, these prices may fluctuate slightly due to flight price increases or fuel surcharge.
ATOL
Holidays or flights booked with Sportquest Holidays Limited are protected by the Civil Aviation Authority by our ATOL bond (Number 6371). ATOL protects you from losing your money or being stranded abroad. It does this by carrying out financial checks on the firms it licenses and requiring a guarantee, called a bond.
Price Supplements
N/A
Still need some inspiration
Why not enjoy browsing our destinations in the comfort of your own home.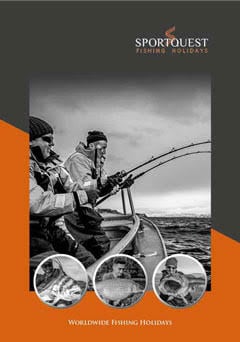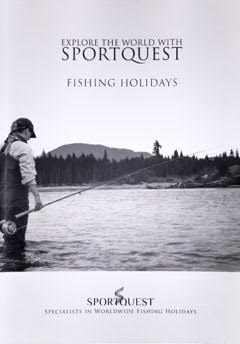 Request a free brochure
What's Included & Excluded
Included
International flights
Road maps
7 nights accommodation
Full board
Private beat fishing
Guiding on light guiding basis
All required fishing permits
Disinfection certificate
Excluded
Personal holiday insurance
Car hire
Petrol
Tips for the guide
Options
Extra Bag £55 pr bag 20 kilos
Meet and Greet at Airport £100 per person
Car Hire approx £450
Flight upgrades
Tour Notes
Visa
A machine-readable passport with at least 6 months before expiry. No visa for UK citizens required.
Medical Requirements
No vaccinations currently required
Please Note
All details of visa and medical requirements are correct at time of press however please check these requirements for changes.
Departure tax
There is no additional airport departure tax when leaving Norway
Flight Route & Flight Time
UK – Trondheim (approx 2.5 hrs)
Baggage Allowance
Your actual allowance is based on both which airline you are flying with and also what class of seat you are travelling in. Normally in economy it is 1 checked bag, Premium Economy / Business 2 checked bags, First 3 checked bags. In addition to your checked bags you are also allowed 1 cabin bag and either 1-laptop bag or ladies handbag. The actual size and weight limit for bags is dependent on the airline. We therefore recommend that once your flights are booked you check on the airlines website for the up to date allowances.
If your itinerary includes private light aircraft or helicopter flights we will advise you on your baggage and weight allowance.
Transfer Time
Trondheim – Winsnes Lodge (approx 1 hr 20 mins)
Questions & Answers
Where is the Lodge?
The lodges sit just across the road from the Gaula River and fairly central to all our beats/zones making it the ideal place to base the fishing operation from.
Where do they fish?
There is a tradition in Norway of Salmon fishing round the clock during the summer months, brought about by the size of the salmon and the chance to fish for them in almost 24 hour daylight. Such fanaticism, while understandable, is counter-productive to the health of the fishery, the mood of the guests and results in suppressed catches. While most of the water on Gaula is fished round the clock, at Winsnes the hours are different.
We run a unique system on the Gaula River, offering our customers the guarantee that they will fish rested water every day. This prevents Salmon pools from becoming stale and the mood of fish and anglers becoming dour. In June and July when it is almost never dark, the fishing is in 4 x 4-hour shifts, with rest periods in between, during which time, the river is closed to allow pools to rest.
Fishing is available for 16 hours per day (4 x 4-hour sessions) with the river closed for resting between 14.00pm and 18.00pm and from 2.00am – 6.00am. Whilst there are those who dislike this system, our customers love it and the catch ratio, per man, per hour, fished always results in the Winsnes fishery taking the top spot. We catch more fish (all on the fly) per hour fished than any other fishery on the river regardless of the method being used.
How long does it take to reach the fishing grounds?
As during your fishing week you will have a car hire (pre-booked by Sportquest Holidays) the fishing from our various zones is from just over the road up to 40 mins travel by car.
What fish will I catch?
Our fishing operation on the Gaula River is based on targeting Atlantic Salmon.
How many fish will I catch?
All Salmon fishing depends on the week you fish, the current water conditions and weather. However, we have the 5-year averages of all the weeks so we can advise you what are the best weeks for numbers of fish and which weeks on average produce the larger fish. Another factor that affects the number of fish caught is angler ability. In any given week you can expect anything from 1 to 10 fish all depending on the above.
How do they fish?
Fishing is all wading and with double handed 13 to 15 ft rod. Lines are normally floating lines with interchangeable tips allowing customers to get to the correct depth.
Do the guides speak English?
There is only light guiding on these trips and the guides speak good English.
Who is best suited to this destination?
Fishing on the Gaula River is best suited to customers who are not looking for numbers of fish but chances of catching Atlantic Salmon over 40LB, as that's the dream that draws our customers to this destination.
What skill level is required?
We have had beginner anglers but for the Gaula it is best suited to anglers with double handed fishing experience. Customers need to be able to cast a nice long straight line and have a good understanding about controlling the swing and fishing flies at different depths, with some experience of playing hard fighting fish in powerful rivers.
How physically demanding is this trip?
As you have a car for the week there is not too much walking to the fishing each day. However, the Gaula River is a big river, sometimes the fishing involves wading waist deep which combined with the slippery boulders can make for difficult wading. For this reason, it is best suited to customers who are good on their feet in this type of wading conditions.
When to go?
The season runs from the 1st June through to the last day of August each year. The week you pick will depend on what your goals are. Talk to our staff in the office and they can advise you with all the information and catch statistics.
How to get there?
Fly to Trondheim and pick up your pre-booked car hire, from there it is only a simple 1.2 hours drive to our lodge.
What is the accommodation like?
Winsnes Lodge is situated on the banks of the Gaula River. This Lodge now provides high-quality guesthouse accommodation for anglers and their families over the fishing season from June-August. Seven bedrooms allow for both shared accommodation and for those who would prefer an individual room.  Anglers can stay at either full board or B&B only rates.
What is the food like?
Food is of high quality and the addition of the Lax Café and pub makes for a very convivial atmosphere. It is used by anglers and locals for lunches and socializing with the main evening meal being held in the lodge dining room.
Does the lodge provide fishing tackle?
The lodge does not provide tackle apart from landing nets. There is a small shop selling flies.
Is internet and phone signal available?
There is free Wifi available in the lodge and mobile coverage.
Are there other activities available?
As you will have car hire for your week there are lots of non-fishing activities you can explore from historical sights to shopping.
How much does it cost?
We offer the complete package including all flights and transfers. To view all prices and availability click the "Dates & Prices" tab above.
Alternatively, if you wish to arrange all our own travel we can book just the lodge and fishing for you.
Tour Reviews
Sportquest Holidays is proud to be different, and one way we stand out from the crowd is our tried and trusted information we provide our customers. This information is not just provided on our own personal experiences but also REAL CUSTOMER reviews.
We are the only fishing & shooting tour operator to operate our own review system whereby customers can review both the packaged holiday and also how we performed on each destination.
How This Destination Performed
How We Performed On This Destination
How Our Customer Feedback Works
See how our customer feedback works and our latest customer reveiws.
Read More
Write a Review
Have you ever visited this destination? Why not write a review and let everyone know how you rated their services?
Write a Review
Malcolm says:
Overall Rating:
I had a fantastic time and caught my first Gaula Salmon, Im still gutted however about the one that got away! As there were only 4 of us fishing the guiding was provided by Matt Hayes himself. The way he manages the fishing is marvellous, his concern for welfare of the fish was so exemplary. Food was really good, although a bit more variety at breakfast would be appreciated!
Peter (Sportquest Holidays) says:

Thank you Malcolm for your kind words, I am thrilled that you had such a good time on this fantastic river. I agree with you about the way Matt approaches the rivers conservation efforts is first class, and he can take a great deal of credit for how this river continues to produce such good catch rates. I am pleased that you would like to go back and when you decide the dates please get in touch!

All the best

Jonny
Alex says:
Overall Rating:
I have some great pictures from our trip. If you send me a memory stick I will put them on it and send back.
Absolutely no complaints about our trip only minor gripe I would have is there were no tea / Coffee making equipment in the rooms.
Peter (Sportquest Holidays) says:

Alex

I was nice catching up with you and thank you for completing the feedback form. You and your group had a great time considering the conditions.

I will put a memory stick in the post today.

I look forward in looking after you all again soon.
Chris says:
Overall Rating:
One of the best holidays I've been on.
Sportquest made sure everything was organised.
Kept me up to date.
Shared all joining instructions.
Winsnes Lodge is an amazing place.
Super friendly and inclusive. 4km of the best fly fishing I've seen. Book it !!
Peter (Sportquest Holidays) says:

Chris

So glad that it all paned out in the end, as the low water was very worrying at times, but as they say thats Salmon fishing and when it comes right its great fishing. The times we all hope and pray for.

I have tried to call you please feel free to call me when you are free

Thanks again

Kind Regards Peter
William says:
Overall Rating:
Sportquest made booking simple. Great service. Winsness Lodge excellent, Great Food, Friendly people. On the doorstep to fishing. Fishing good in dificult conditions. Guide George Howard very good. Overall package very good.
(Sportquest Holidays) says:

William, Thank you for you kind review and Im very pleased you had a good trip. I will pass on your glowing report of George, who will be thrilled that you enjoyed his company and guidance during your time at Winsnes farm lodge.
Alex says:
Overall Rating:
Perfect
Peter (Sportquest Holidays) says:

HI Alex thanks for the review scores they mean a-lot to both me and the team


Steven says:
Overall Rating:
1st time over fishing in Norway on the Winsnes beat on the river Gaula.
Absolute 1st class service from both Sport Quest & the Hayes/Winsnes family.
The lodge was so relaxing you were under no pressure to go out & fish, you could come & go at your leisure.
I would recommend this package to anyone thinking about a trip away.
We are booked again for next year, that's how good a trip it was.
Peter (Sportquest Holidays) says:

Steven thanks for the kind review and great scores, we will make sure that all your great comments are passed on to the suppliers and guides. See you next year....
John says:
Overall Rating:
Thank you for a great trip.
(Sportquest Holidays) says:

John thanks for the reviews and scores, we will also be in-touch about Iceland for you all next year.

Talk soon and again thank you for your continued custom.
Douglas says:
Overall Rating:
Transfer in Schiphol onward was v. tight - it is a big place! Matt Hayes is a superb host. Anne Mariat also , whose family made us very welcome. Water was very low but no one can control that! We still caught fish. We will go back. Beautiful river and country. There were no guides but Matt talked us every pool on arrival and talked about what lie ie so we did not feel the lack hindered, with experienced fishers and the thin water, a guide was definitely not required.
The food was superb, the Elk stew a particular highlight. The whole family co operated in making our stay most comfortable and memorable Jakob is a real character and has good fishing tips to pass on.
Thank you for arranging a trip of a lifetime to celebrate my 60th birthday!
Peter (Sportquest Holidays) says:

Douglas, Thank you so much for a detailed review and your scores as they are very much appreciated. Yes the conditions have been tough this year but everyone has still managed to tweak a few fish. So so happy it made the holiday of a lifetime for your 60th birthday a huge congratulations from everyone at Sportquest Holidays.
Iain says:
Overall Rating:
A thoroughly enjoyable holiday on which I finally caught my first salmon despite the river being exceptionally low.
Matt went out of his way to encourage us all to try different tactics to ensure that we caught and it worked.
The Winsnes lodge is really pleasant and the family feel is really nice.
The flights were all good and the only possible issue would have been if the first flight (Manchester to Amsterdam) had been delayed at all, as the walk across the airport took us almost all of the time between landing and boarding the next flight.
We will almost certainly book to return to Winsnes in another couple of years.
Hopefully by then my spey casting will be better.
Peter (Sportquest Holidays) says:

Iain

Thank you for your kind feedback, you and your group did extremely well considering the low water conditions, the reason is simple you listened to what we said and how to fish in the low water which paid off. Many anglers think they know better and insist doing it their way which normally means they do not get the results.

We look forward in having you all back in a couple of years, so thank you for your custom and I hope to be talking to you all agin soon.

Tight Lines
Stuart says:
Overall Rating:
Very much appreciated the real fishing experience, not manicured in any way.
Good accommodation and excellent food. Very helpful advice and guidance from George and useful having tackle shop on site.
Definitely glad I took felt soles for my boots!
Beat /river map would be a good thing for next season and perhaps a little more communication regarding the extent of the beats on day one.
I would return!
Photos to follow
Stuart
Peter (Sportquest Holidays) says:

Stuart

Thanks fore the feedback and review thats just perfect.

So glad you enjoyed your time and yes agree the guides are really good that Matt has thiere now.

Good idea about the beat / river map and will put this forward.

I am sure both us and the lodge will look forward in having you back at some stage.

Kind Regards Peter
Graham says:
Overall Rating:
We had a great time loved the place and they took great care of us.
Between the 2 of us we landed 4 fish to 30LB and lost another. Not bad considering the river was out of condition.
The only downside was the hire car which had bold tyres (below legal limit). I did complain when we returned the car. Hertz may be a better option for the future. The car we had was dangerous in the rain and could have caused problems for us with the police.
Peter (Sportquest Holidays) says:

Graham, so good to catch up on the telephone, Glad that both you and Micheal enjoyed the week and well done both of you for the fish.

As discussed we will put in a complaint to Avis Car Hire about the bald tyres as this should never happen from such a large professional company. So please accept our apologies on this.

Once you have discussed dates with Micheal let me know which week you would like to return.

Tight Lines Peter

Paul says:
Overall Rating:
River was beautiful, but low, which made the fishing disappointing. Wisents and staff were welcoming and the guide (George) was excellent. Probably only 25% of the water truly fishable (very little flow).
I would be keen to return (earlier in the season next time), as definitely left with a feeling of "unfinished business".
Disappointing that the direct flight from Gatwick was changed, made it a long journey.
Peter (Sportquest Holidays) says:

Paul

Thank you so much for the feedback, such a shame that the river conditions made the fishing tougher than normal, if Atlantic Salmon fishing is not hard enough anyhow.

Glad you loved the place and would return as that always indicates a happy customer and I am sure you will sort out the feeling of unfinished business.

I agree its a pain when airlines either cancel flights or change flight times so they no longer work very well with the trip as the direct flight was just perfect before the airline changed things.

It will be a pleasure to have you back when you are ready.....

Regards Peter
Daniel says:
Overall Rating:
Another great time thank you.
Peter (Sportquest Holidays) says:

Danny

Thank you for your feedback it was good to have you both back with us again. I have tried to call you a couple of times but unfortunately keep missing you.

Feel free to call me in the office at anytime as it would be good to have a chat and also make plans for next year.
David says:
Overall Rating:
An excellent fishing trip, unfortunately the weather spoiled the fishing due to constant bright sunshine, high air temperature and low water, however I did manage to land a 7K hen fish which was returned safely after a quick photo session, I would definitely return to Winsnes due to the beautiful fishing location and friendliness of the entire staff,
Accommodation and food was excellent, the lodge has its own tackle shop above the log cabin restaurant, overall a great fishing trip and look forward to returning in 2017
Peter (Sportquest Holidays) says:

David

Thank you for your customer feedback, it was a shame about the weather and the low water, however during your trip you could see and appreciate just how good everything is and made even better when the fishing is on form.

Lets catch up in relation to getting you booked in a good week for 2017 as the dates are disappearing fast.

Kind Regards
George says:
Overall Rating:
Me and my son had a great time we managed in the first 2 days to catch and land 3 Salmon. Then the water level just became too low. I understand the water level has been low all season, this combined with 70 degrees temperature and full days of bright sun it was always going to be difficult.
The lodge is just what we wanted rustic and very comfortable. The glides took great care of us and can not fault them.
Peter (Sportquest Holidays) says:

George

Thanks for calling me back and taking the time to talk to me, plus completing the customer feedback form.

Congratulations on catching some fish very quickly. What a shame the water just became too low in the end. Its so frustrating when fishing is so weather and conditions dependant.

Also great news that your son managed to catch and land his very first ever Atlantic Salmon, a special moment that will never be forgotten.

I look forward in helping you both again soon on another adventure holiday.

Tight Lines Peter
Tim says:
Overall Rating:
Unfortunately the trip was disappointing due to very low river levels. Water had been low all season but the fishing had been good, but on our week it was even lower. There were plenty of resident fish showing but no chance of inducing one to take the fly.
I managed to catch one small grilse in a weeks intensive fishing.
A couple of others in the lodge had complete blanks.
Peter (Sportquest Holidays) says:

Tim

Thanks for calling me back, so so sorry that you had a tough week and that is typical because right up until that week we had been having one of our best starts to the season even though there is low water. The shear number of fish in the system this year has been amazing as we are seeing more fish each year.

Unfortunately if the water level continues to drop like your week and the days are long and hot, the Salmon are hard to tempt to bite. As you already know not long after your week there was some rain in the mountains and once this settles the river and fishing returned back to normal.

I thank you for your continued custom and look forward providing our services to you again.

Regards Peter

PS I have now updated the website with all dates for 2017
Max says:
Overall Rating:
The Salmon were very tricky this week. But that is salmon fishing and on reflection I am pretty pleased with my week. I learned a hell of a lot and my casting has definitely improved. And if you'd said I'd have four good hook ups at the start of the week, I'd have taken that. Shame I only managed to land 2 of them, a 9lb fish and a sea trout of about 1 lb.
But what the salmon didn't provide, the staff provided in abundance. Good food (I am going to miss that ham & cheese/prawn sandwich combo this week!!), great fishing chats, great company and great beers. The bonus of having a pub on site.
The river itself is beautiful, although make sure you have the correct gear. A shooting head set up is probably better than the Spey line I was using as quite a lot of water to cover with some pools having little room for a good D-loop (well, with my very average casting anyway!). That said, if you haven't got all the right gear there is a well stocked shop on site too.
The guiding service is light although I think there is more guiding in the early part of the season.
Peter (Sportquest Holidays) says:

Hi Max

Shame that the week was a tough one as there have been some cracking weeks. However the most important thing is that you still enjoyed the trip and learnt lots about Salmon fishing abroad.

Thanks for taking the time to complete the feedback and also for using Sportquest. We look forward in assisting you again soon.

Tight Lines Peter
Mark says:
Overall Rating:
Great place, accommodation and food. Unfortunately during my week Norway was experiencing unseasonal hot weather with the water temperature at 18 which is far to warm for Salmon to bite.
Peter (Sportquest Holidays) says:

Mark

Thanks for completing the feedback form as I know you are a very busy man. I am glad you liked the place and even though the fish would not bite due to the weather that you still had a good week. I was pleased that at least you got to watch all the salmon jumping in the river as at least this goes to show you what things should be like if the weather was normal.

I look forward in assisting you again soon.

Tight lines Peter
Neil says:
Overall Rating:
We had a great holiday in Norway fishing the river Gaula we knew it was going to be tough fishing so early in the season but decided to give it a go the fishing was great with a few fish lost and Derrick catching a nice salmon on our last day of fishing we also had great guides and all the staff were very friendly and made us feel right at home we also meet Matt and his family who were also great and made us feel really welcome were already looking forward to going back next year
Peter (Sportquest Holidays) says:

Neil thanks for taking the time to write a review and send me through some cracking pictures. It was a pleasure in managing you guys and I am glad that you enjoyed my recommendation. We also hope to see you guys again next year as it was a pleasure.

Kind Regards Peter

Matt says:
Overall Rating:
Big powerful river with powerful Salmon. Great holiday - Gillie's and the lodge was right on the mark and a big thank you to Jacob and his family for making us feel like home.
Peter (Sportquest Holidays) says:

Matt, we are very happy that you all enjoyed your stay. We will surly pass on all your great feedback to all the lodge staff. Hope to see you again soon

Regards Peter
Paul says:
Overall Rating:
Thank you to all the staff and the gillie's for taking good care of us. The 8 hours a day Grilling is definitely worth the extra as the fishing is so different to Scottish and Irish rivers.
Mel (Sportquest Holidays) says:

Paul, Grilling??? I know what you mean the extra guiding as you paid extra to have a full time gillie. Glad you thoroughly enjoyed the trip.
John says:
Overall Rating:
Fantastic Salmon fishing, highly recommend it.
Peter (Sportquest Holidays) says:

John, thanks for the online feedback form. It was great to catch up with you again on the phone. Glad you had another great trip. Look forward in seeing you again in Norway and Cuba.

Regards Peter
Mr Grapes says:
Overall Rating:
Just a quick thank you to you, all your staff in the office plus the amazing staff and guides at the lodge for such a great time, I even managed to nail my first Norway Atlantic Salmon on the fly….
Peter (Sportquest Holidays) says:

Congratulations on such a nice fish, we are so happy to know that you had a great time and I will sort out the dates for you for the return trip. Peter
Dr Cole says:
Overall Rating:
I must admit the fishing was more challenging than I had expected, however some of that is down to my experience. Fishing these Norwegian Rivers is quite different from Scotland. However, I must say with all the help and support from your staff they soon had my lines, leader, flies and my presentation sorted. Result a cracking 19lb fresh Atlantic Salmon. I was so so happy.
Peter (Sportquest Holidays) says:

Dr Cole, thanks for taking the time to talk to me on the telephone and to complete our online feedback form. Yes it is different to fishing in Scotland, just need to be more careful with the presentation and make sure you have a good tight line, so you get a proper swing through on each cast. Congratulations on the 19lb fish. I look forward to the pictures.

Regards Peter
John says:
Overall Rating:
2nd week of the season and understandable due to river conditions at the Gaula Foss fish above were few and far between, we did manage to catch some fish with my biggest being a 22lb fresh chrome Atlantic Salmon. Accommodation, food and hospitality was great. Will have to return no doubt about it.
Peter (Sportquest Holidays) says:

John, sorry to hear that the water levels were low at the start of the season, as you well know Salmon fishing anywhere in the world is effected by water levels. Mind you glad to got into a nice 20lb plus Atlantic Salmon from the famous Guala. One to remember for a long while. Thanks for your kind comments about all our operation, accommodation, guides and food etc. Look forward in dealing with you again soon and we will get you on a peak week next season. Regards Peter