Embarking on the season at Gaula often holds an unexpected twist. To relish in early June fishing, it is vital for the water to maintain a sufficiently low level long enough, allowing salmon to traverse upstream through the dense, cold waters to reach us. Typically, our first catches are recorded around weeks 24 or 25, and this season mirrored that pattern. Pleasingly, we experienced favorable water levels and an encouraging early salmon run, signaling a promising onset to our season.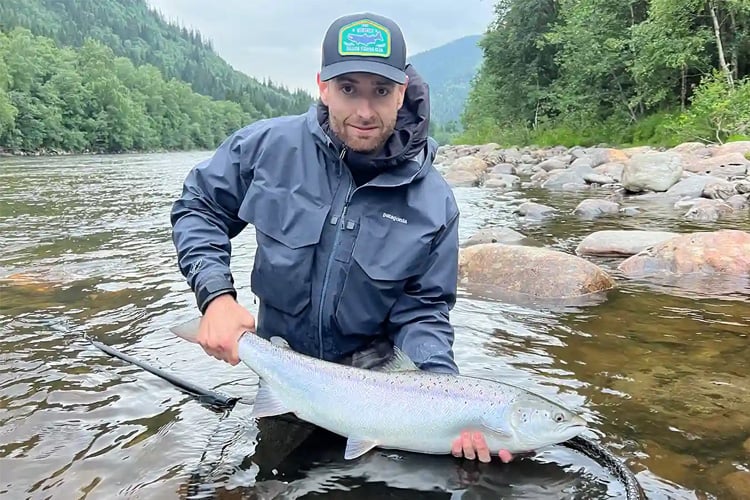 A spectacular season is often heralded by a generous snowpack, gently melted by a feeble sun amid a brisk spring. Ideally, this chilly weather lingers into early July, by which time the primary fish run has transpired, and the remainder of the season's fate is determined by the potential occurrence of the classic 'second run'. While water is essential, a second run, complemented by intermittent, substantial rainfall, typically forecasts a prolific August.
Regrettably, the anticipated second run did not materialize this year. Consequently, fishing in the latter half of the season yielded relatively meager results, with only a handful of exceptions standing out. Fishing reached its zenith in week 28 and subsequently tapered off, albeit with a few sporadic highlights intermingled.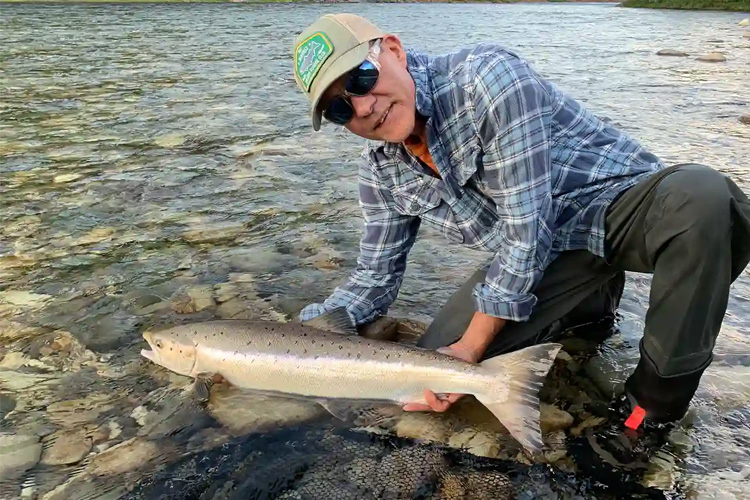 Throughout the season, the water conditions remained optimal, maintaining commendable levels and temperatures, except for a brief spell in June when temperatures catapulted, even exceeding 18 degrees in the water at one point. By the tail end of June, the temperatures settled into the low to mid-teens – a delightful range conducive to effective fishing.
Overview
The inauguration of our season occurred in week 24, following a mild and chilly spring, the river serenely reached a stable state rather promptly. My first catch of the season was notably at the tail of Kjellfloa, specifically on the final cast into the tail of the pool, just downstream of the rock. A modest salmon, weighing approximately 5 kilograms, took the fly in a typical running fish lie, marking the commencement of our adventures!
Week 24
Week 24 witnessed the capture of 5 fish, all hailing from the Malum Winsnes portion of the fishery. Traditionally, the salmon make their arrival amidst week 24 and conclude by the termination of week 25. An early onset, however, often harbors an unsuspected challenge. To relish in the delights of early-season fishing, low water is a necessity, and a vigorous beginning perpetually bears an apprehension that a year of scant water might be impending.
Conversely, 2023 presented a different scenario. Early June gracefully transitioned into a fortnight of balmy, sun-drenched weather, while the river was gently bolstered by a mesmerizing, slow melt of frosty waters.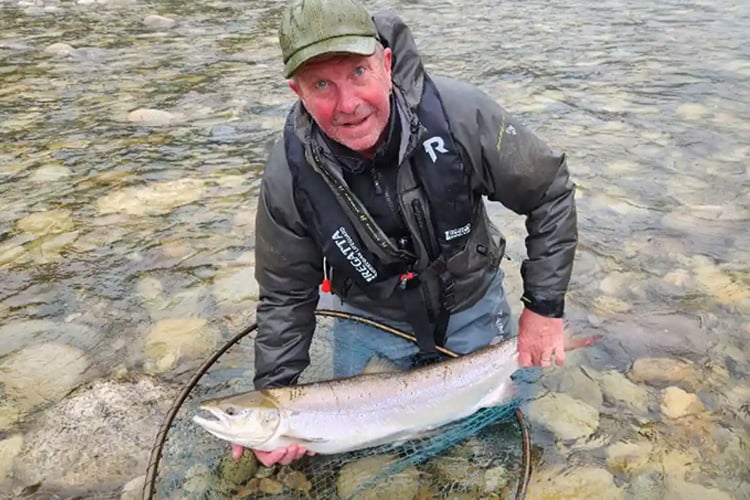 Week 25
Week 25 yielded 19 fish for 6 rods, which included a Norwegian debut for Bill and a second catch weighing 7.6 kilograms! Concurrently, salmon fishing expert Ed landed four fish, with an additional catch sneaking into week 26 before his departure home! The largest salmon of the week, a splendid 100cm, 9.8-kilogram fish, was nabbed by Ole Kristian.
The conditions were exemplary, featuring magnificent water levels and the river showcased a stunning bottle-green hue. Overall, it was an exceptional week complemented by fantastic weather!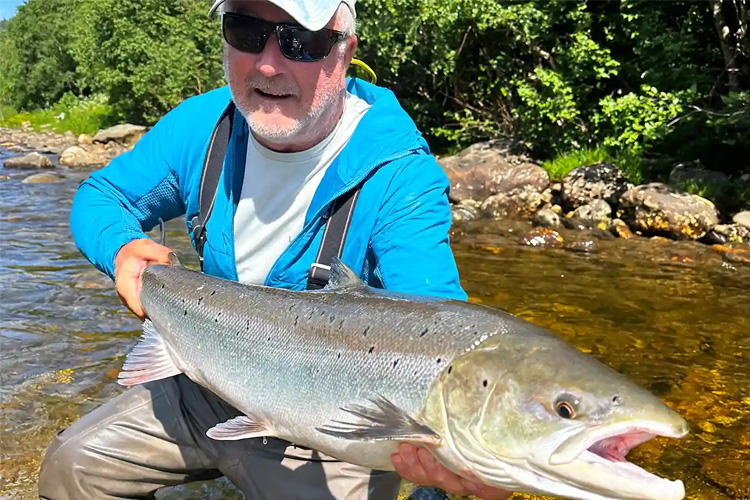 Week 26
Week 26 saw a commendable catch of 21 fish across 8 rods, an outcome that, while admirable, is scarcely surprising considering all the rods were wielded by seasoned Gaula anglers. Danny and Ryan skillfully averaged a fish per day, while Steve Atkins landed a splendid 9-kilo beauty in addition to a 5-kilo catch. In the meantime, the effective pair collectively added five fish to the week's tally. The week drew to a satisfying close with Ryan landing a splendid 9.5-kilo salmon. Amund also distinguished himself with a notable catch, reeling in a 96cm salmon that tipped the scales at roughly 10kg. This remarkable fish is a testament to the strides Amund is making in his salmon fishing endeavors.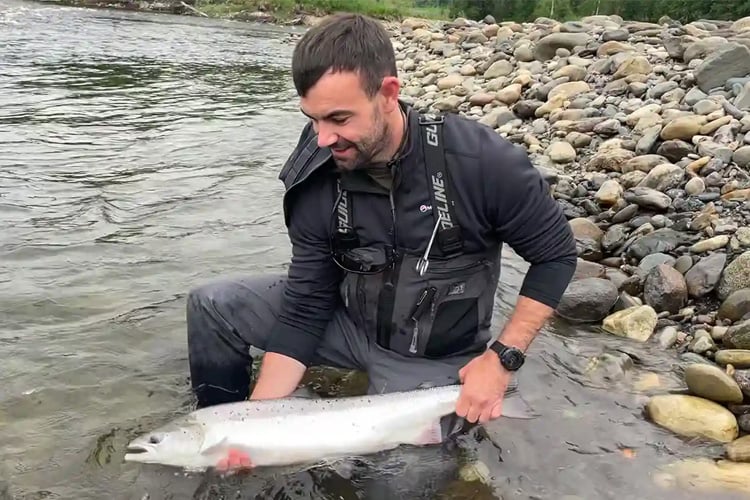 Week 27
Week 27 unfolded with the companionship of six rods, enjoying agreeable water levels that oscillated between low and medium heights. The week was infused with an extra dash of excitement as several guests were newcomers to the art of salmon fishing. Robust casting instructions were diligently administered in all instances, and it brought our team of fishing guides considerable pleasure to witness the participants enhance their skills daily. The week culminated in a total catch of 9 fish, with several losses, yet the consensus was unanimous: it was a splendid week. The modest results can be attributed partially to the group's nascent experience but also to the inherently challenging fishing conditions. Contrary to the seasonal norm, we found ourselves employing diminutive low-water flies, typically reserved for late August. In all my years here, I've never witnessed the river fish quite so meagerly during week 27, and I surmise that even a team of eight seasoned anglers might not have secured many more catches.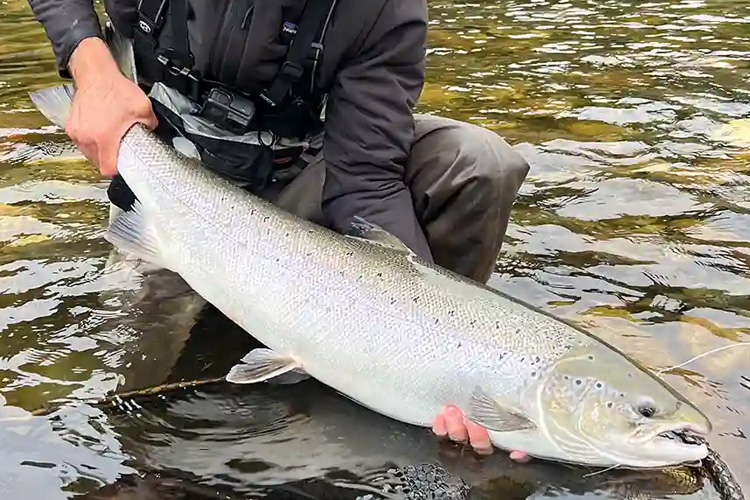 Week 28
Week 28 underscored the unrelenting challenges of the fishing season. Hosted by Petter and Anna, 8 regular Gaula anglers comprised the fishing team. Yet again, the fishing proved extremely arduous, and tactical fishing strategies became pivotal merely to secure a bite. Utilization of minuscule flies, riffle hitches, and late-season tactics once again dominated our approach. It became abundantly clear that we were witnessing a considerably lower fish run than typical, and furthermore, the fish seemed to be demonstrating fly fatigue. The surging popularity of fly fishing on the river is inevitably consequential, and this year, amid low fish numbers, we encountered its adverse impacts. Gratefully, the group's seasoned expertise led to some successful catches! Gary Maiment secured a magnificent 8.5-kilo salmon, a reward that was undoubtedly hard-earned. Gaula veteran Morten captured several fish, including a birthday special on his milestone 50th, celebrated with a bankside barbecue! Anna triumphed over her other half with a lovely approximately 7.5-kilo salmon from Kjellfloa. The week concluded with a tally of 17 fish – a respectable accomplishment considering the prevailing conditions!
The total was a strenuously attained accomplishment by a skilled assembly of anglers, signifying the shift from challenging to ultra-challenging fishing conditions!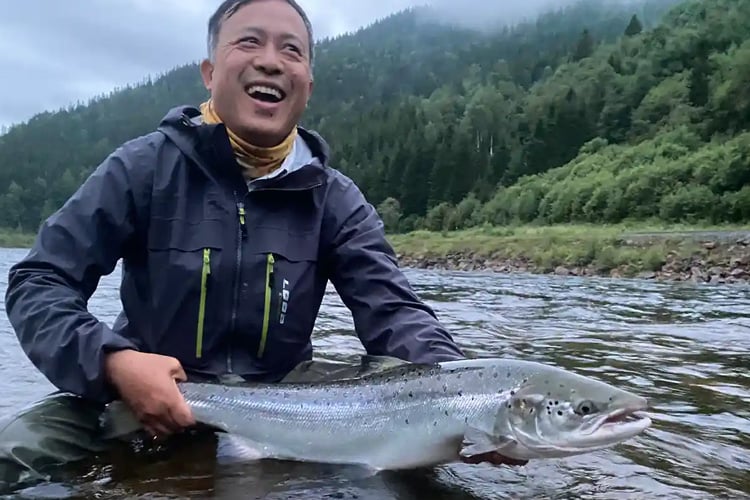 Week 29
Week 29 unfolded under the host John. The initial portion of the week was regrettably marred by washouts, causing three days of fishing to be forfeited due to elevated water levels. However, as the river began to stabilize, the team initiated contact with the fish, concluding the week with a modest sum of 8 fish across 8 rods.
At this juncture, the Gaula was broadly underperforming, devoid of indications of new fish supplementing the early-season run. A catch of eight fish for the week is notably beneath our average, yet given the conditions, it reflected a commendable effort by the participating anglers. Notably, several substantial fish were hooked and, unfortunately, lost.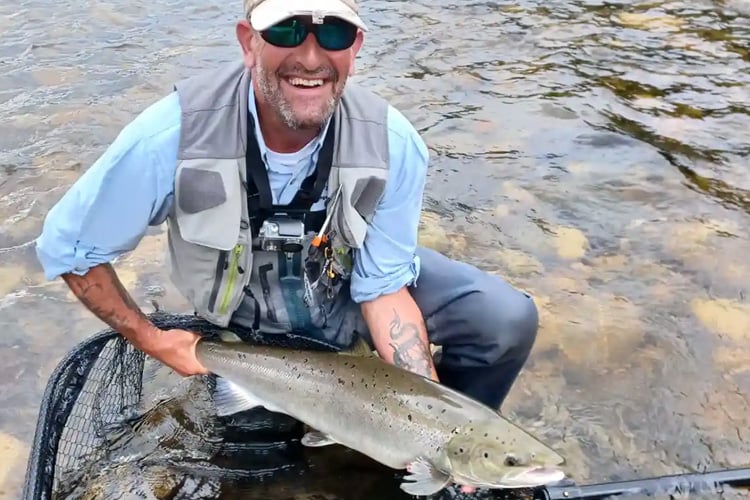 Week 30
Week 30 at the lodge was notably tranquil. A booking cancellation resulted in just two rods, Andrew and Morten, having shared access to the water. At this point, fishing in the Gaula was proving extremely poor, and the fish exhibited minimal enthusiasm for the flies, to put it mildly. Fortunately, Andrew, a regular at the location, secured the sole catch of the week from the top of the bottle pool. When a fish tips the scales over 30 pounds, other details pale in comparison, and Andrew's catch easily surpassed the 30 lb threshold. It measured 112 cm and was estimated to weigh in at 14.3 kilos!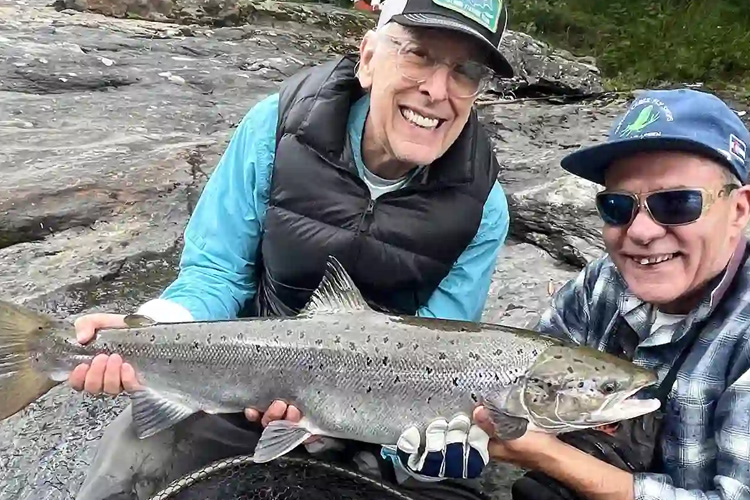 Week 31
Week 31 was characterized by suboptimal fishing conditions, resulting in just two guests sharing the waters. Among them was Matti from Finland, who exhibited an extraordinarily stellar fishing performance, landing five fish amidst truly bleak conditions. The finest catch of his week tipped the scales at 8.1 kilos, a remarkable fish that punctuated an unforgettable week for the Finn. The cumulative catch for the week, shared between 2 rods, amounted to 6 fish.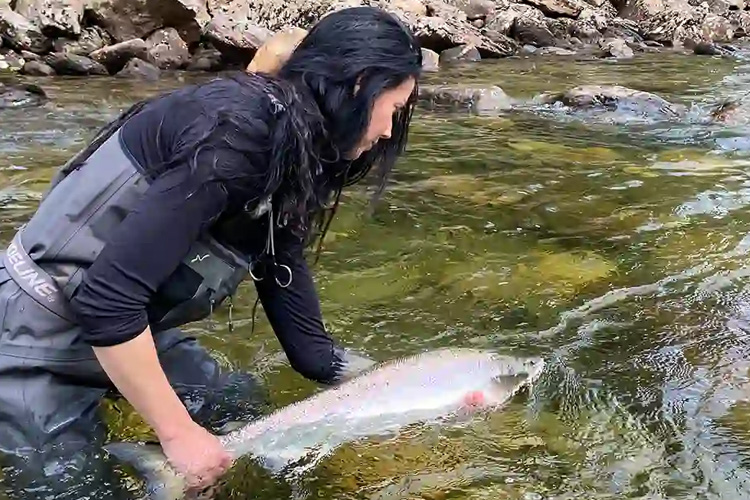 Week 32
The concluding weeks of the season witnessed sparse catches and were met with light fishing pressure. August, in general, proved to be a lackluster period for us, with the anticipated late-season bookings being scarce, attributable to the unsatisfactory returns from Gaula in the latter half of the season.
Nevertheless, there were a few noteworthy moments. Among them was the Ambassador from the USA to Norway, Marc, landing his very first Atlantic Salmon with us at the Old Bridge pool, while his son, Adam, also celebrated catching his initial Atlantic Salmon on the fly. Our esteemed friend, Patrick, made a notable impact during week 34, securing a superb 10.5-kilo salmon from the top of the bottle pool.
Week 35, the final week of the season, was busier, and we were thrilled to welcome back our old friend Vegard and his group to the lodge. Though the fishing remained modest, a few catches were recorded and the water conditions were exceptionally pleasant, ensuring the fishing experience remained a delight.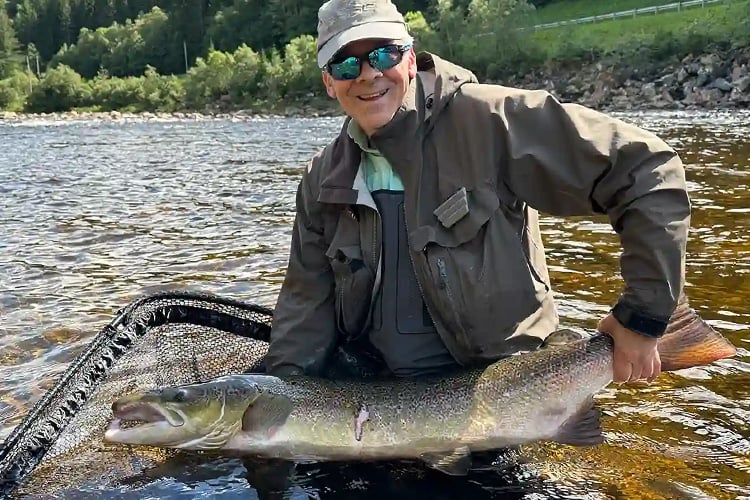 Season End Summary
As initially noted, a vibrant start to the season can subsequently be trailed by a decline in results as the mid-season approaches, and this season explicitly manifested this pattern. While not an outright calamity, it symbolizes that Norwegian rivers are enduring substantial angling pressure, and when fish runs are feeble, the fishing rapidly deteriorates.
I can convey that, now as the season inches towards its closure, there are respectable numbers of fish in numerous pools, which indicates that the somewhat weaker-than-average run encountered robust angling pressure, culminating in salmon developing a "lockjaw" during the season's latter weeks.
CONTACT US
Visit our website to learn more about all our Atlantic Salmon fishing lodges in Norway, or if you'd like to book your holiday, contact me today at peter@sportquestholidays.com or call me on +44 (0)1603 407596.