Overview
Category: Freshwater Fishing, Freshwater Fly Fishing


Lake Sibbo has been known for its predator fishing for centuries, firstly for its Pike and Perch and more recently for its potential record sized Zander. The fact that Sibbo is connected to the Baltic Sea allows these colossal predators to migrate out into the Baltic and gorge themselves on the huge herring shoals that inhabit these waters. Sibbo is an all-around predator anglers dream with the chance of taking personal bests of all species on both lure and fly.
We are very proud to be the only UK company working with Lake Sibbo. This incredible destination offers our customers world-class predator fishing for such an easily accessed destination. It has become the perfect place for us to send novice and expert anglers alike, as well as running our exclusive workshops.
Location
Based in the southern half of Sweden approx. 2hr south of Stockholm, Sibbo is located on a beautifully classic hunting estate in the Swedish Countryside. The local airport is known as Nyköping airport and is only a short flight of just over 2 hours, once you are on the ground at the airport the journey by hire car is just a short 20-minute drive.
The lake is approx. 600 acres of private fishing and we have 4 x 15ft StarCraft Alaskan aluminium boats with 15hp Honda engines, front mounted Minn Kota electric engines and modern fish finders. All the boats come with sea charts and life vests are available!
Fishing
Depending on the time of year, anglers can fish a variety of methods. Surface fishing with either a lure or a fly can be exhilarating. If you are looking to catch the massive Baltic Pike that uses Lake Sibbo as their hunting grounds then it is probably advisable to use large lures and flies. Heavier bait caster and Jerkbait setups will give you the edge for casting large soft and hard baits around the many known big pike areas of Sibbo. Fly setups are best in 10# to 12# to allow big flies to be cast especially if a breeze is present, It is wise to carry an array of different sink density lines from float to sink 3.
The Zander of Lake Sibbo are some of the largest in the world and fish over 20lb are not uncommon. The best ways to target them is either by bottom bouncing jigs in sizes between 3 to 6 inch or Vertical Sharpshooting. Sibbo's bed has many rocky areas that are full of freshwater mussels, these areas are very good Zander holding spots and by bouncing jigs close or tight to the bottom can account for good numbers of fish. At certain times of the year, the very large Zander will become pelagic in search of their food, this allows you to target them with the technical method of vertical sharpshooting.
We have started running workshops at Sibbo with the help of our expert guide Cecilia Grönberg to help you in the art of Zander fishing. The workshops run during peak Zander weeks and give advise on successful methods, in particular, vertical sharpshooting. These workshops will help you to become more confident with reading a fish finder and controlling your boat to achieve some remarkable captures.
Last but not least are the Perch of Lake Sibbo. These fish are plump and have exceptionally vivid colours. Light lure fishing for Perch is a growing phenomenon in Europe and Britain and to find private lakes with a head of specimen fish like that of Sibbo is exceptionally difficult. The best ways to target big Perch is with similar jig tactics to that of the Zander but with slightly downsized lures. The other way of getting big Perch in Sibbo is with the super sensitive drop shot rig.
Guides
At the start of your fishing trip, you will be met by one of our pro guides who will take you through hotspots and methods to get you started on the lake, this is an invaluable service as local knowledge can really make the difference between a good or excellent week! Those who want a fully guided service, the lake does have full-time guides who can be booked at an added cost to really give you a huge advantage on the lake.
For more information about this tour, contact our experienced team who will be happy to answer any queries you have. Alternatively, can request a free brochure.
Accommodation
Baltic House is a rustic Swedish house that is perfect to accommodate visiting anglers to lake Sibbo. The has a lovely little Sauna and shower in the basement, the first floor consists of a fully kitted kitchen, comfortable dinning room, a tv room for relaxing in the evenings and a toilet and additional shower. upstairs has three separate bedrooms that sleep 3+2+2, there is also a four bed guest house that is perfect to accommodate larger groups.
The house has a beautiful view of the Baltic sea and is just five minutes drive from the boats at lake Sibbo.
Rooms: Twins, Triple and a Quad
Internet: WIFI
The two studios at Lake Sibbo consist of spacious four-bed bedrooms, kitchen, and bathroom/laundry room.
Both studios are situated next to the lake and the windows on one side of each studio have a perfect view of the lake. The studios are built in the typical 17th-century style and have a rustic feel to them and making for the ideal base for a weeks fishing.
These studios are basic but very clean and very well maintained. Each studio has a well-stocked kitchen with cooker, microwave and cooking rings, a good sized fridge and all the cutlery. The bathroom comes with a powerful shower, toilet and sink with a wall heater. The bedrooms have single and/or bunk beds.  Bed linen and towels are included.
Board: Self Catering
Rooms: 4 bedded rooms
Internet: Free WIFI
Laundry: Washing Machine
Power: 230 Volts
Shop: Small selection
Species Information
Pike
Season: May to October
Peak: September
Weight: 2lb to 35lb
Average Weight: 8lb to 14lb

Zander
Season: May to October
Peak: May to June
Weight: 2lb to 25lb
Average Weight: 5lb to 11lb

Perch
Season: May to October
Peak: Aug to October
Weight: 1lb to 6lb
Average Weight: 1lb to 2lb

Suggested Itinerary
Although the fishing has standard set weeks we can if required extend your holiday with either additional days fishing or non fishing days in Sweden.
DAY 1: (Sunday)
Depart UK (alternative routes available)
Arrive Stockholm-Nykoping
Once you arrive at Nycoping Airport, make your way to the car hire desk to pick up your hire car, the hire cars have built in sat navs and you will have the details to enter so it can direct you to your accommodation. (approx. 40mins)
After checking into the studio and making yourself comfortable there will be a scheduled meet and greet by one of the lake guides. This is your opportunity to ask any questions about the fourth coming week.
Overnight accommodation: Sibbo Studios S/C
DAY 2: (Monday) Fishing Day.
You will meet one of the guides at your boat that is situated just a short walk from your accommodation (approx 100m), The guide will talk you through some hot spots and give you some tips on navigating around lake Sibbo as well as answering any last minute questions that you might have. Spend the rest of the day out on the lake fishing
Overnight accommodation: Sibbo Studios S/C
DAYS 3 & 4: (Tuesday & Wednesday) Fishing Days.
Now that you know your way around the lake you can start to explore more of the hotspots that the guides have told you about, or you can use your fish finder to find new hotspots! You will soon learn the feeding times that the fish are most active on and make sure you have your fly or lure in the water at these times.
Overnight accommodation: Sibbo Studios S/C
DAYS 5 & 6: (Thursday & Friday) Fishing Days.
Now that you have learned exactly where the fish are and what you want you can really start to target PBs of all the predator species that Sibbo has to offer.
Overnight accommodation: Sibbo Studios S/C
DAY 7: (Saturday) Fishing Day
Go big, then go home! Being your last day on the water and hopefully having put plenty of big fish in your boat already you now have the perfect opportunity to use methods to target the biggest fish in the lake and with luck go home with the fish of a lifetime.
Overnight accommodation: Sibbo Studios S/C
DAY 8: (Sunday)
Depending on the time of your flights, check out of your accommodation and take your hire car back to the airport in plenty of time to catch your return flight.
Depart Nykoping
Arrive Uk
Dates & Prices
Remember that Sportquest Holidays' services are completely FREE! When you book a trip with Sportquest Holidays, you never pay more than when you book directly with the lodge and flights independently. Plus what's more if you book with Sportquest Holidays your holiday is protect by our ATOL and the Travel Package Regulations Act. To see more details CLICK HERE.
Dates & prices are best viewed in landscape.
You can scroll the table left and right to view prices and availability.
Price Match Promise
We are so confident that our packaged prices are the best available and offer great value for money.
If, however, you find an identical holiday available with any other fully bonded Tour Operator at a lower price, we will match that price.
Price Notes
Prices are based on two adults sharing transfers, fishing and accommodation (unless otherwise stated) and are correct at the time of going to press. Subject to time of year or date and currency fluctuations, these prices may fluctuate slightly due to flight price increases or fuel surcharge.
ATOL
Holidays or flights booked with Sportquest Holidays Limited are protected by the Civil Aviation Authority by our ATOL bond (Number 6371). ATOL protects you from losing your money or being stranded abroad. It does this by carrying out financial checks on the firms it licenses and requiring a guarantee, called a bond
Price Supplements
Still need some inspiration
Why not enjoy browsing our destinations in the comfort of your own home.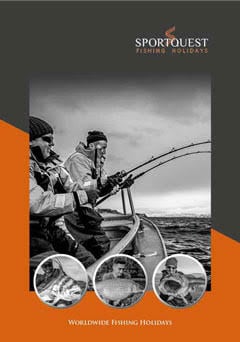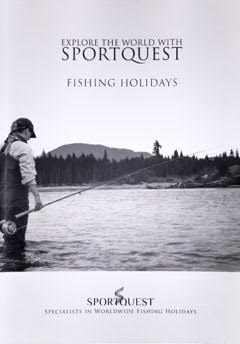 Request a free brochure
What's Included & Excluded
Included
All international flights
Car hire
All accommodation as per itinerary
Fuel for boat
6 days fishing via self drive boat
Fishing Boat with Sonar, chart plotter (GPS)
Access to professional guide for guidance
Fridge, cooking equipment and utensils
Bed linen, towels and final cabin cleaning
Excluded
Fishing tackle
Personal holiday insurance
Meals
Options
Fishing Guide £450 per day based on 2 anglers
Flight Upgrades
Full board upgrade to nearby hotel
Tour Notes
Visa
A machine readable passport with at least 6 months before expiry is required. No visa for UK citizens required.
Medical Requirements
No vaccinations currently required
Please Note
All details of visa and medical requirements are correct at time of press however please check these requirements for changes.
Departure tax
There is no additional airport departure tax when leaving Nykoping
Flight Route & Flight Time
UK – Nykoping (approx 2 hrs 15 mins)
Baggage Allowance
Your actual allowance is based on both which airline you are flying with and also what class of seat you are travelling in. Normally in economy it is 1 checked bag, Premium Economy / Business 2 checked bags, First 3 checked bags. In addition to your checked bags you are also allowed 1 cabin bag and either 1-laptop bag or ladies handbag. The actual size and weight limit for bags is dependent on the airline. We therefore recommend that once your flights are booked you check on the airlines website for the up to date allowances.
If your itinerary includes private light aircraft or helicopter flights we will advise you on your baggage and weight allowance.
Transfer Time
Nykoping – Studio (approx 40 mins)
Questions & Answers
Where is the destination?
Lake Sibbo is situated in the countryside of southern Sweden, it is approximately 70km south of Stockholm. You will fly to Nyköping and collect a hire car, it is then a 20-minute drive to reach the accommodation.
Where will I fish?
Each morning you will gather by the jetty. After a chat with the guides, you will either load up with your fishing partner into one of the hire boats or with your booked guide. Once out on the boat, you will be able to either follow the directions of the guide and mounted GPS or sit back whilst your booked guide takes you to the ideal spots. Lake Sibbo is full of structure such as oyster beds, rock beds, weed lines and submerged trees. These spots are known hotspots for hungry predators.
How long does it take to reach the fishing grounds?
 From the jetty, it can either take 1 minute or 20 minutes depending on what part of the lake you want to fish and where the fish are feeding.
What fish will I catch?
You will have the opportunity to catch Pike, Zander and Perch.
How many fish will I catch?
This is something that depends on whether you have a guide and your angling ability.
How will I fish?
The fishing at Lake Sibbo is lure fishing and fly fishing only. The way that you fish will greatly depend on the species that you are trying to catch. When fishing for the giant Pike larger jerk baits, spoons and 6 to 10inch flies are what generally do the best. If it is the record-sized Zander that you are after then using jigs or vertical sharpshooting techniques can be very effective.
When fly fishing, intermediate lines with sink tips are the way forward and flies from 2-5inch. The big Perch will take the same jigs as the Zander but if conditions are very still then small jigs and drop shots can increase the number of fish that you land.
Do the guides speak English?
The guides speak perfect English and know this lake as their own back yard.
Who is best suited to this destination?
Anyone who is interested in catching big predators on lure or fly will get a lot out of this trip. Because our guides are so experienced in targeting these different predators, this is a great trip to learn different techniques and give your confidence in these methods a real boost.
What skill level is required?
Unless you have hired the guide boat for the day, you will need to have a certain amount of experience and skill. You will need basic boat handling skills and an understanding of some of the techniques needed to catch fish.
How physically demanding is this trip?
This is one of the least physically demanding trips you can go on, the boats are based very close to the accommodation and unless you are fly fishing with big flies the fishing generally doesn't take a great deal of physical effort.
When is the best time to go?
The fishing can be good throughout the spring and summer. The season is May to October with the fishing only dropping off during periods of very hot weather.
How do I get there?
This is such an easy destination to reach. Flights from London take just over two hours and then it is a short drive of 30 minutes in your hire car to the lake.
What is the accommodation like?
The accommodation consists of shared rooms in either four bedroom apartments or in the  Sibbo House.
 What is the food like?
This trip is based on self-catering, in the local town of Nyköping you have several options to pick up fresh groceries or if you ask the guides they can recommend some of the lovely little restaurants that the town has to offer.
Does the Lodge provide fishing tackle?
This trip does not provide fishing tackle but any anglers wishing to know what gear to take will be well advised on enquiring about this trip. 
Is internet and phone signal available?
The accommodation does have limited amounts of phone signal and internet.
Are there other activities available?
The only other activities that can be done is sightseeing of the local area, the guides at the camp can give you advice on places to visit.
How much does it cost?
We offer the complete package including all flights and transfers. To view all prices and availability click the "Dates & Prices" tab on the Lake Sibbo tour page.
Alternatively, if you wish to arrange all our own travel we can book just the lodge and fishing for you.
Tour Reviews
Sportquest Holidays is proud to be different, and one way we stand out from the crowd is our tried and trusted information we provide our customers. This information is not just provided on our own personal experiences but also REAL CUSTOMER reviews.
We are the only fishing & shooting tour operator to operate our own review system whereby customers can review both the packaged holiday and also how we performed on each destination.
How This Destination Performed
How We Performed On This Destination
How Our Customer Feedback Works
See how our customer feedback works and our latest customer reveiws.
Read More
Write a Review
Have you ever visited this destination? Why not write a review and let everyone know how you rated their services?
Write a Review
Stuart says:
Overall Rating:
The fishing was very hard made difficult do to coloured water and clear blue sky.
The only method that was catching consistently was the Pelagic Jig Method. Unfortunately the guide to show us around did not show up until the last day. In his place was a relative of his who was very helpful but had little knowledge about the fishing.
One area that could be upgraded is the fish finders they are just Hummingbirds Helix 5 which are great for depth finding but not for spotting fish.
The accommodation and area was perfect, it was a nice trip just let down a bit by the lack of fish.
Peter (Sportquest Holidays) says:

Stuart

Thanks for talking to me on the phone, sorry the trip was nothing special and I am sure as you mention the weather did not help. However I am not sure what happened about the guide so I will bring this up with the owner of the operation.

I will also pass on the information about the fish finders. I will also try and contact bill to see if I can get hold of his pictures of his new PB Zander around 15lb as thats a cracking fish.

Regards Peter