Overview
Category: Fishing Holidays, Sea Fishing


Boat fishing is not for everyone and with that in mind, we have worked hard to bring you something different. This exclusive shore fishing destination in Lofoten Island Norway will give you the opportunity to catch one of the many sizeable Halibut which frequent these waters well within casting distance. On top of this, you will be joined by an extremely experienced shore angling guide who will assist you with everything you need.
Set in stunning surroundings, you will be fishing from some outstanding marks that all have the possibility of producing some incredible fish at the times of the year we will be sending you out there to fish. With the airport being only a 10-minute drive away, once you have landed you will soon be in your luxurious cabin getting ready for the week ahead and whilst you are unpacking you can chuck a rod out of the decking and try for the many fish that inhabit this part of the fjord. The accommodation is also set for single rooms meaning that you will not be sharing a room whilst fishing here.
Location
You will be fishing the world-renowned Lofoten Islands in Northern Norway. This stunning set of Islands will take your breath away with its impressive mountains and waters. Being based in Nappstraumen you have the advantage of not only being in one of the Lofoten Islands most fish-rich areas but you will also only be 10 minutes away from the closest town. This means you will have access to many shops to pick up your provisions if you need them.
This area is visited by many tourists every year who flock to sample and photograph the awe-inspiring scenery that surrounds you at every turn. If nature interests you then you will be amazed by the prolific bird life that inhabits the area with Sea eagles, Puffins and Gannets an extremely common sight when you are fishing. You may also get to come face to face with one of the many moose that inhabit this area.
Fishing 
The shore fishing around the Lofoten Islands is going to be some of the best shore fishing you will experience. We have marks to suit all abilities including easy access jetty's straight into deep water through to the more extreme rock fishing marks to test your skills on. All of these areas have the capability to produce fish with the main target species being the monster Halibut, massive Plaice and big Cod that inhabit these areas.
The chance of hooking into a lifetime fish from the shore is a huge possibility here with a 2-metre Halibut (250lbs +) being a feasible target. The majority of marks that we have found around the Lofoten Islands are clean ground which means you should keep tackle losses to a minimum. Other species that frequent these marks include Wolf fish, Lumb, Coalfish, Haddock and some seriously big Dabs.
Guiding 
You will be being guided by our shore fishing guide Ross Johnson. Ross is a very well-known angler from the UK with many big fish to his name and he has guided anglers to 200lb plus fish from the shore. Ross will be on hand to help you at every step of your fishing from driving you to the marks and advising on bait and rig selection to helping you land the fish and take photographs. He will work had to find you the fish ensuring that you get the most out of your shore fishing experience on the Lofoten Islands.
Want to learn more about this spectacular destination? Contact our sea fishing team for more information, they will be happy to answer any questions you have.
Accommodation
Nappstraumen Luxury Cabins
These luxurious cabins overlook the impressive Nappstraumen fjord. Downstairs you will find a large bathroom with a hot shower, heated floors and a washing machine. The kitchen area has touch sensitive hobs and fan assisted oven to cook on along with a microwave. These amenities also come with all the pots, pans, trays and cutlery. Each cabin also has a dishwasher. The communal area in these cabins consists of a very comfortable corner sofa, a large dining table and stools with a smart TV. Upstairs you will find 4 rooms all holding twin sleeping arrangements along with another bathroom area.
Rooms: Single Rooms
Internet: Free WiFi
Equipment Hire
Shop: On site tackle shop
Cards Accepted: Debit/Credit card
Freezer Room: Walk in freezer
Filleting Area: Fish cleaning areas
Species Information
Halibut
Season: February to November
Peak: Feb to March October to Nov
Weight: 20lb to 350lb
Average Weight: 20lb

Cod
Season: January to December
Peak: March to November
Weight: 5lb to 60lb
Average Weight: 10lb

Plaice
Season: February to November
Peak: March to November
Weight: 3lb to 12lb
Average Weight: 4lb

Wolf fish
Season: January to December
Peak: January to December
Weight: 4lb to 17lb
Average Weight: 6lb

Coal fish
Season: March to October
Peak: July to September
Weight: 4lb to 25lb
Average Weight: 9 lb

Lumb
Season: January to December
Peak: January to december
Weight: 3lb to 15lb
Average Weight: 6lb

Dab
Season: January to December
Peak: January to December
Weight: 1lb to 2.5lb
Average Weight: 1.5lb

Ling
Season: January to December
Peak: January to December
Weight: 5lb to 20lb
Average Weight: 8lb

Suggested Itinerary
DAY 1:
Depart UK (alternative routes available)
Arrive Oslo
Depart Oslo
Arrive Bodo
Depart Bodo
Arrive Leknes
On arrival you will be met and transferred via our private mini bus to the fishing camp (Approx 10 mins).
Depending on time of arrival you may have a chance to wet a line outside the apartments.
Overnight Accommodation: Nappstraumen Luxury Cabins (Single Rooms) S/C
DAYS 2 & 3: Fishing Days.
After breakfast you will be driven to the mark you will be fishing by your guide, he will chat with you about what you need to do to prepare for the day ahead and what species you want to target.
Once your fishing day is finished you will return to the cabins and prepare your evening meals. Then if you have discussed it with your guide you may be able to head out on a night fishing session.
Overnight Accommodation: Nappstraumen Luxury Cabins (Single Rooms) S/C
DAY 4: Fishing Day
What will you target today, will you head off to one of the amazing rock marks that frequent these shores after Cod and Halibut?
Or will you head out to one of the clean sandy marks and try and hook into a dustbin lid of a Plaice that may well be in front of you.
Overnight Accommodation: Nappstraumen Luxury Cabins (Single Rooms) S/C
DAYS 5 & 6: Fishing Days.
Depending on what species you wish to target you will be taken to whichever mark the guide feels will best suit your needs.
This is big Halibut territory so you could well be doing battle with a monster fish from the shore on one of these days.
If you wish to do a night session discuss this with your guide and he will arrange for you to fish the mark with the highest chance of fish dependant on winds and tides.
Overnight Accommodation: Nappstraumen Luxury Cabins (Single Rooms) S/C
DAY 7: Fishing Day.
As this is your last day discuss with your guide what species you really want to target, this could be a good day to head off on an all-out big Halibut hunt. These fish will be swimming in front of you on the marks it's just a case of when hooked up will you be able to land that fish of a lifetime or will you end up defeated by a monster from the deeps?
Overnight Accommodation: Nappstraumen Luxury Cabins (Single Rooms) S/C
DAY 8:
In the morning your party will be transferred back to Leknes airport for your return flights.
Depart Leknes
Arrive Bodo
Depart Bodo
Arrive Oslo
Depart Oslo
Arrive UK
Dates & Prices
Remember that Sportquest Holidays' services are completely FREE! When you book a trip with Sportquest Holidays, you never pay more than when you book directly with the lodge and flights independently. Plus what's more if you book with Sportquest Holidays your holiday is protect by our ATOL and the Travel Package Regulations Act. To see more details CLICK HERE.
Dates & prices are best viewed in landscape.
You can scroll the table left and right to view prices and availability.
Start Date
End Date
Days
Nights
Fishing
Angler
Non-Angler
Availability
09/09/2019
16/09/2019
8
7
6

£

1,133
On Request
Sold Out
16/09/2019
23/09/2019
8
7
6

£

1,133
On Request
Sold Out
23/09/2019
30/09/2019
8
7
6

£

1,183
On Request
Sold Out
30/09/2019
07/10/2019
8
7
6

£

1,033
On Request
Sold Out
07/10/2019
14/10/2019
8
7
6

£

1,183
On Request
Sold Out
14/10/2019
21/10/2019
8
7
6

£

1,153
On Request

Book Now

21/10/2019
28/10/2019
8
7
6

£

1,133
On Request

Book Now

28/10/2019
04/11/2019
8
7
6

£

1,183
On Request

Book Now

04/11/2019
11/11/2019
8
7
6

£

1,183
On Request

Book Now

11/11/2019
18/11/2019
8
7
6

£

1,183
On Request
Sold Out
18/11/2019
25/11/2019
8
7
6

£

1,183
On Request
Sold Out
25/11/2019
02/12/2019
8
7
6

£

1,183
On Request
Sold Out
02/12/2019
09/12/2019
8
7
6

£

1,183
On Request
Sold Out
17/02/2020
24/02/2020
8
7
6

£

1,183
On Request
Sold Out
24/02/2020
02/03/2020
8
7
6

£

1,183
On Request
Sold Out
02/03/2020
09/03/2020
8
7
6

£

1,183
On Request

Book Now

09/03/2020
16/03/2020
8
7
6

£

1,183
On Request

Book Now

16/03/2020
23/03/2020
8
7
6

£

1,229
On Request

Book Now

23/03/2020
30/03/2020
8
7
6

£

1,229
On Request

Book Now

07/09/2020
14/09/2020
8
7
6

£

1,133
On Request
Sold Out
14/09/2020
21/09/2020
8
7
6

£

1,133
On Request
Sold Out
21/09/2020
28/09/2020
8
7
6

£

1,133
On Request
Sold Out
28/09/2020
05/10/2020
8
7
6

£

1,133
On Request
Sold Out
05/10/2020
12/10/2020
8
7
6

£

1,133
On Request

Book Now

12/10/2020
19/10/2020
8
7
6

£

1,133
On Request

Book Now

19/10/2020
26/10/2020
8
7
6

£

1,133
On Request

Book Now

26/10/2020
02/11/2020
8
7
6

£

1,133
On Request

Book Now

02/11/2020
09/11/2020
8
7
6

£

1,133
On Request
Sold Out
09/11/2020
16/11/2020
8
7
6

£

1,133
On Request
Sold Out
16/11/2020
23/11/2020
8
7
6

£

1,133
On Request
Sold Out
23/11/2020
30/11/2020
8
7
6

£

1,133
On Request
Sold Out
Price Match Promise
We are so confident that our packaged prices are the best available and offer great value for money.
If, however, you find an identical holiday available with any other fully bonded Tour Operator at a lower price, we will match that price.
Price Notes
Prices are based on single rooms and 1 Sportquest Holidays fishing guide per 7 people and are correct at the time of going to press. Subject to time of year or date and currency fluctuations, these prices may fluctuate slightly due to flight price increases or fuel surcharge.
ATOL
Holidays or flights booked with Sportquest Holidays Limited are protected by the Civil Aviation Authority by our ATOL bond (Number 6371). ATOL protects you from losing your money or being stranded abroad. It does this by carrying out financial checks on the firms it licenses and requiring a guarantee, called a bond.
Price Supplements
There are no supplements for single anglers
Still need some inspiration
Why not enjoy browsing our destinations in the comfort of your own home.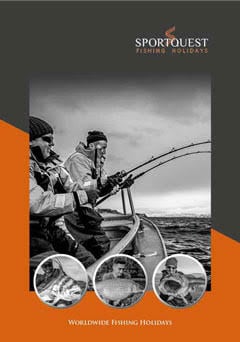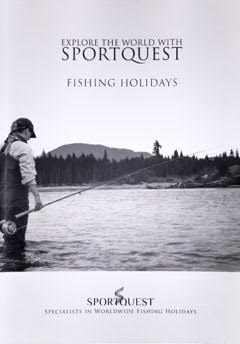 Request a free brochure
What's Included & Excluded
Included
All international flights (Based on London departure)
Transfers from Leknes airport to Nappstraumen Cabins
All accommodation as per itinerary
6 days guided shore fishing
Transport to the fishing marks
All vehicle fuel
Freezer storage for your fish
Access to professional guide for guidance
1x 23 kg bag
Bed linen, towels and final cabin cleaning
Fresh fish baits (including Bluey, herring & Mackerel)
Fishing Tripod
Fishing Seat box
Excluded
Personal holiday insurance
All meals
All tackle
Rod tube
Extra bags
Options
Other UK departure airports are possible (additional cost) Please call a member of the Sportquest team for further information.
Survival suits £40 pr week
Tour Notes
Visa
A machine-readable passport with at least 6 months before expiry. No visa for UK citizens required.
Medical Requirements
No vaccinations currently required
Please Note
All details of visa and medical requirements are correct at time of press however please check these requirements for changes.
Departure tax
There is no additional airport departure tax when leaving Norway
Flight Route & Flight Time
UK – Oslo (approx 2 hrs)
Oslo to Bodo (approx 2hrs)
Bodo to Leknes (approx 20 mins)
Baggage Allowance
Your actual allowance is based on both which airline you are flying with and also what class of seat you are travelling in. Normally in economy it is 1 checked bag, Premium Economy / Business 2 checked bags, First 3 checked bags. In addition to your checked bags you are also allowed 1 cabin bag and either 1-laptop bag or ladies handbag. The actual size and weight limit for bags is dependent on the airline. We therefore recommend that once your flights are booked you check on the airlines website for the up to date allowances.
If your itinerary includes private light aircraft or helicopter flights we will advise you on your baggage and weight allowance.
Transfer Time
Leknes Airport to Nappstarumen Cabins approx 10 mins
Questions & Answers
Where is the camp?
Nappstraumen is found just 10 minutes outside of Leknes in the area of Napp. Surrounded by towering mountains one side and a stunning fjord on the other this really is a place that once visited will never be forgotten.
Where do they fish?
The shore marks on the Lofoten Islands range in ability, we have some very easy to access piers and jetty's that offer up the chance of amazing fishing all the way up to some phenomenal deep rock marks that offer the chance for some really outstanding fishing in some exquisite scenery.
How long does it take to reach the fishing grounds?
Most of the marks on this Lofoten shore fishing holiday are under half an hour from the camp with the furthest being just an hour away, all these marks have the possibility to produce some great fishing to the angler visiting the Lofoten Islands.
What fish will I catch?
The shore fishing on Lofoten offers a huge variety of species. February and March are phenomenal months to try and target a very big Halibut from the shore as they come in close from the deep water, you will also find a wide variety of other species including big Cod and Plaice. Towards the end of the season from September to November, the Halibut fishing ramps up again as they come in close to feed on the baitfish that come inshore. Add to this the huge autumn Plaice that get caught here along with the Cod and other species you really have a recipe for some outstanding shore fishing.
How many fish will I catch?
When you are targeting big Halibut you are looking for that 1 specimen so big baits and sitting it out are the order of the day, you may get 1 run a day but when that fish is potentially a 200lb plus monster it makes the waiting all worthwhile. If you are targeting the other species such as Plaice and Cod the action can become incredible at various states of tide with multiple catches of great sized fish being a real possibility.
How do they fish?
The shore fishing on the Lofoten Islands is primarily done with baits specifically tailored to the fish you are targeting. For the big Halibut you will be fishing with large fish baits ledgered on the bottom. For the Cod and general species fishing you will be using smaller baits ledgered on the bottom. For the Plaice and Dab fishing you will be using lighter tackle with smaller hooks and baits using rolling leads to search the area for the fish. If you wish you can always take spinning tackle out as well and try shad fishing from the shore, you may be surprised at what you pick up fishing in this style.
Do the guides speak English?
Your guide on this holiday is an English shore guide and the other guides you will meet in the camp also speak extremely good English.
Who is best suited to this destination?
The Lofoten Islands are a great destination for all as we have marks for all abilities and ages.
What skill level is required?
A basic understanding of fishing from the shore is needed on this holiday, the ability to cast at least 50 metres is needed too. These marks can all be fished comfortably with a good overhead thump.
How physically demanding is this trip?
The destination is suitable for all abilities but some of the more advanced rock marks can involve a walk to reach them over rocky terrain.
When is the best time to go?
This destination fishes well from February to April for the Halibut and Cod that come in close to the shore. When Autumn arrives in September to November the big Halibut move back inshore along with some massive Plaice. All throughout the year, you will be able to find many other species residing in these waters.
How will I get there?
The normal route is from the UK to Oslo then a second flight from Oslo to Bodo followed by a  short flight (25 mins) to Leknes. This is where a representative from Sportquest Holidays will be waiting with a minibus to transfer you to the cabins which takes around 10 minutes.
What is the accommodation like?
On the Lofoten Islands, you will be staying in the luxury Nappstraumen cabins. These are fantastic cabins that we would say are some of the best fishing accommodation you will find in Norway. You will have single rooms and 2 bathrooms to each cabin, the facilities within these cabins are extremely high quality with outstanding cooking facilities and a smart TV.
What is the food like?
As these are self-catering cabins you will be cooking for yourselves so it really is dependent on what you take with you as to what you eat. We recommend taking your own food as Norwegian food prices can work out to be expensive.
Does the lodge provide fishing tackle?
The camp on the Lofoten Islands currently does not provide shore fishing tackle, you will however have a seat box and a tripod to use for the week which will be issued to you once at the camp.
Is internet and phone signal available?
The phone signal and Wi-Fi is very good all around the camp and it is free for customers to use. Just ask a member of the staff for the password when you arrive.
Are there other activities available?
Once the snow clears you will have the opportunity to walk up one of the many surrounding mountains that surround the camp. If you venture into Leknes you can partake in some ten pin bowling at the nearby alley.
How much does it cost?
We offer the complete package including all flights and transfers. To view all available weeks and prices click the 'Dates & Prices' tab above.
Alternatively, if you wish to arrange all your own travel we can book just the lodge and fishing for you. If you wish to book or have any questions please feel free to call our offices on 01603 407596.
Tour Reviews
Sportquest Holidays is proud to be different, and one way we stand out from the crowd is our tried and trusted information we provide our customers. This information is not just provided on our own personal experiences but also REAL CUSTOMER reviews.
We are the only fishing & shooting tour operator to operate our own review system whereby customers can review both the packaged holiday and also how we performed on each destination.
How This Destination Performed
How We Performed On This Destination
How Our Customer Feedback Works
See how our customer feedback works and our latest customer reveiws.
Read More
Write a Review
Have you ever visited this destination? Why not write a review and let everyone know how you rated their services?
Write a Review
Ross says:
Overall Rating:
Thank you for letting me conduct some test fishing for you out at Lofoten, the fishing was amazing, the first week the weather was tough however a real good point about this place even with tough weather we could still go out fishing everyday as there are so many marks to fish. Best part was the huge Halibut caught from the shore. So looking forward to next year as we have only scratched the surface of this fishing.