This week's fishing at Alphonse started off tough with lots of green, warm water around. However, as the week progressed the fishing improved with the start of the spring tidal cycle and some wind. We had a stunning week of weather and incredible week of fishing, with three GTs over one metre being caught.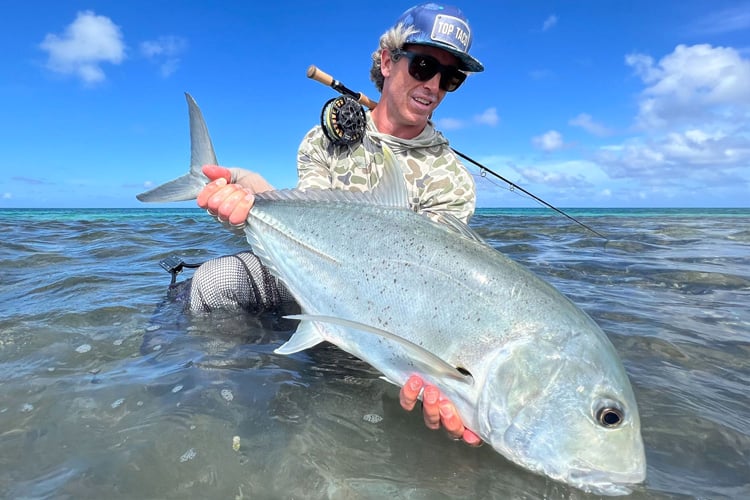 With the return of an easterly wind, the big Bonefish are showing themselves. Julianno, Samson and Marcio both caught their first Bonefish this week, while Bryan, Samson, Richard, Doc, Kendra, Scott and Adam all decided to target some bigger fish resulting in them all catching Bonefish greater then 60 cm. Scott managed to land a Bonefish of a lifetime and the biggest of the season measuring a whooping 72 cm. Samson and Sean took to the challenge of catch 20+ Bonefish in a day, which they both accomplished on their first day.
The Milkfish have been scarce as of late, however, both Lilly and Lucy managed to land their first Milkfish. The Triggerfish were out and about this week with six being landed. Sandro started off the week with a cracker of a day landing three Moustache Triggerfish. Later in the week Adam and Samson also managed to land a lovely Moustache Triggerfish and finally Nick landed a very special 50 cm Yellowmargin Triggerfish.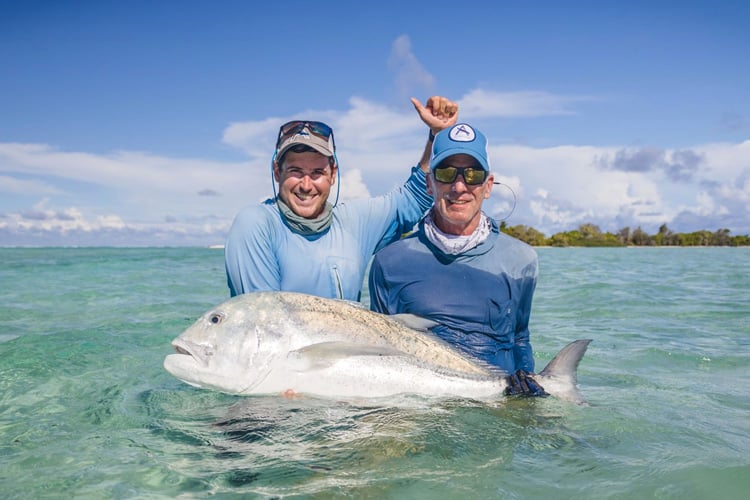 We had a week of some big GTs here on Alphonse. The first was caught by Bryan, which was a lovely fish of exactly 100 cm, later in the week Richard managed an incredible fish of 106 cm and Adam finished off a Flats Slam (Moustache Trigger, Bonefish and GT) with an awesome fish of 105 cm, all of which were their first GTs over one metre.
Julianno, Doc, Josh, Richard, Sandro and Samson joined in on the GT action and all caught their first GTs this week, while Robin also managed to add another GT to his growing tally. Last but not least was a very special catch for Doc, managing his first Indo-Pacific Permit.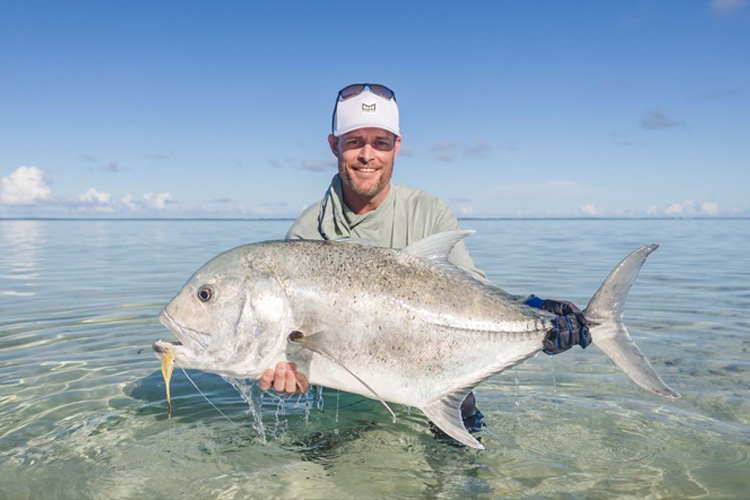 On the bluewater boat Grant, Robin, Lilly, Mia, Lucy, Jack, Ben, Anthony and Doc kept the kitchen busy all catching Wahoo, while Kendra managed to land herself a Dogtooth Tuna.
That's the end of another stunning week here on Alphonse. A massive congratulations to all the guests for some outstanding catches. Stay tuned for next week's catch report.
Tight lines,
From Alphonse Fishing Company on Alphonse Island
TOTAL CATCH STATS THIS WEEK:
Bonefish 260
Giant trevally 14
Triggerfish 5
Milkfish 2
Bluefin Trevally 22
CONTACT US
If you would like to know more about the fantastic fishing opportunities on offer on Alphonse island you can contact our saltwater fly fishing expert Peter Collingsworth on 01603 407596 or via email at peter@sportquestholidays.com. He would love to speak with you.