St. Francois Atoll saw six rods for an action-packed week! The moon was full, meaning strong gravitational forces creating spring tides with noticeable water movements. The week looked promising!
Full of anticipation, the anglers were on the water early on Sunday morning, ready for their first day on St. Francois. Our guests' rods were bent for most of Sunday while sight fishing to Bones on the white sand flats. Once we had warmed up well and were satisfied with our bread and butter, we turned our eagerness to focus on targeting other species.
The opportunity arose for our long-time return guest, Justin, to make shots at the elusive Indo-Pacific Permit. After perfectly placing the fly, he found himself reeling in a stunning 47 cm fish. It was a great taste of what was to come for the week…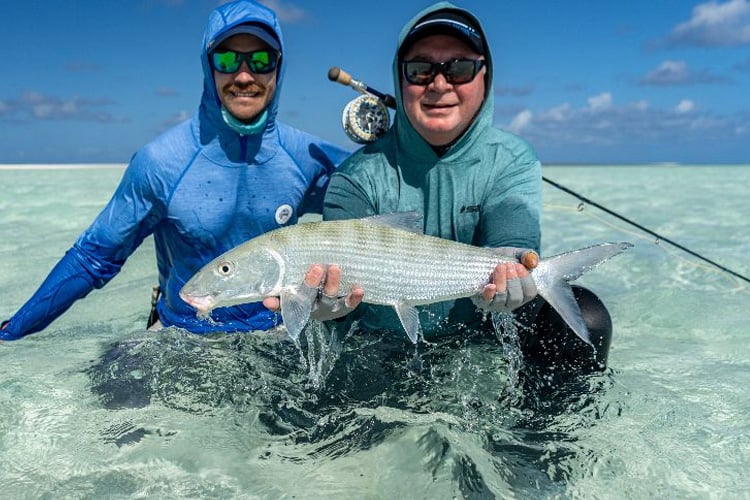 The permit were out in full force but ready to play games with us. We were presented with many opportunities and naturally made as many shots as we could, but despite near-perfect casts and placements with the best-looking flies, these golden nuggets were not giving in. Justin had another chance at a big Permit and took full advantage of the opening, and he managed to land a healthy 67 cm Perm, his second for the week!
The GTs seemed to be more active this week which has been exciting, and three were landed during the week, with the biggest measuring 90 cm and the other two being 80 and 82 cm.
The tides at spring low caused the flats to dry out for a couple of hours during the day, creating immaculate surf walking conditions. Many Triggerfish on the atoll live in the surf and being able to target them throughout the week paid off with two Yellowmargin, and three Moustache Triggerfish landed.
A fantastic week was had by all, and we can't wait to have you back on Alphonse Island with us again soon. Stay tuned for next week's report.
Tight lines,
Alphonse Fishing Co. on Alphonse Island
THIS WEEK'S CATCHES & RELEASES
Anglers: 6
Bonefish – 231
Giant trevally – 3
Yellowmargin Triggerfish – 2
Moustache Triggerfish – 3
Indo-Pacific Permit – 2
Milkfish -1
CONTACT US
If you would like to know more about the fantastic fishing opportunities on offer on Alphonse island you can contact our saltwater fly fishing expert Peter Collingsworth on 01603 407596 or via email at peter@sportquestholidays.com. He would love to speak with you.